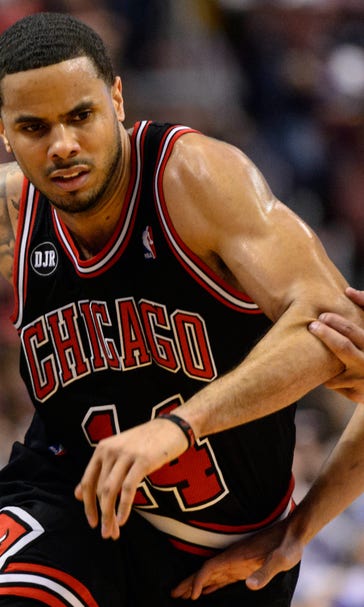 Report: Pistons reach deal with D.J. Augustin
July 13, 2014

The Pistons have apparently found their free-agent point guard.
After earlier reports that had them showing interest in Sacramento's Isaiah Thomas, Adrian Wojnarowski of Yahoo! Sports and Fox Sports 1 is reporting that they have reached a two-year, $6 million deal with 26-year-old D.J. Augustin. Augustin spent the first four seasons of his career with Charlotte, then played a year with Indiana before splitting last season between Toronto and Chicago.
Unlike Thomas, who could have threatened Brandon Jennings' starting job, Augustin appears to be a replacement for Will Bynum as a backup. The Texas product has only spent two seasons as a starter, and that was with a rebuilding Bobcats team that went 41-107 between 2010 and 2012. 
Last year, he averaged 30.4 minutes a game after coming to Chicago, filling most of the minutes left by Derrick Rose's injuries. Even with only nine starts, he averaged 14.9 points and 5.0 assists and, more importantly for the Pistons, hit 41.1 percent of his 3-pointers.
If Augustin can keep his 3-point rate over 40 percent, or even at his career percentage of 37.7, it will be an important addition to a team that finished 29th of 30 NBA teams from behind the arc. Augustin is also a career 87.4 percent shooter from the free-throw line, a statistic where Detroit finished last.
He could also help Stan Van Gundy's offense in the fourth quarter, where Jennings spent too much time freelancing and taking bad shots that he had passed up in the first three periods. 
Other media reports late Sunday had Detroit in serious negotiations with former All-Star Caron Butler. The 6-foot-7 Butler would be the latest acquisition as Van Gundy tries to rebuild the Pistons' wing positions. The team's new GM has already reached deals with shooting guard Jodie Meeks and swingman Cartier Martin, and Butler would be another player who could play both spots on the perimeter.
Butler's career peak began with Washington in 2006-07. He made the All-Star Game both that season and the next, and still averaged 20.8 points in 2008-09. The next season, at the age of 29, he was traded to Dallas, and has slowly seen his minutes fall from almost 40 a game with the Wizards to just over 25 last season with the Bucks and Thunder.
At 34, Butler would be another guy who can help the Pistons score from outside. In the last four season, he's averaged 38.4 percent on threes, and his ability to knock down jumpers became a key part of Oklahoma City's run to the Western Conference finals. 
The Pistons have now reportedly reached agreements with five free agents, four of whom will be expected to help Detroit's shooting problems. The fifth, center Aaron Gray, will probably replace Josh Harrellson as the last big man in Van Gundy's rotation.
---