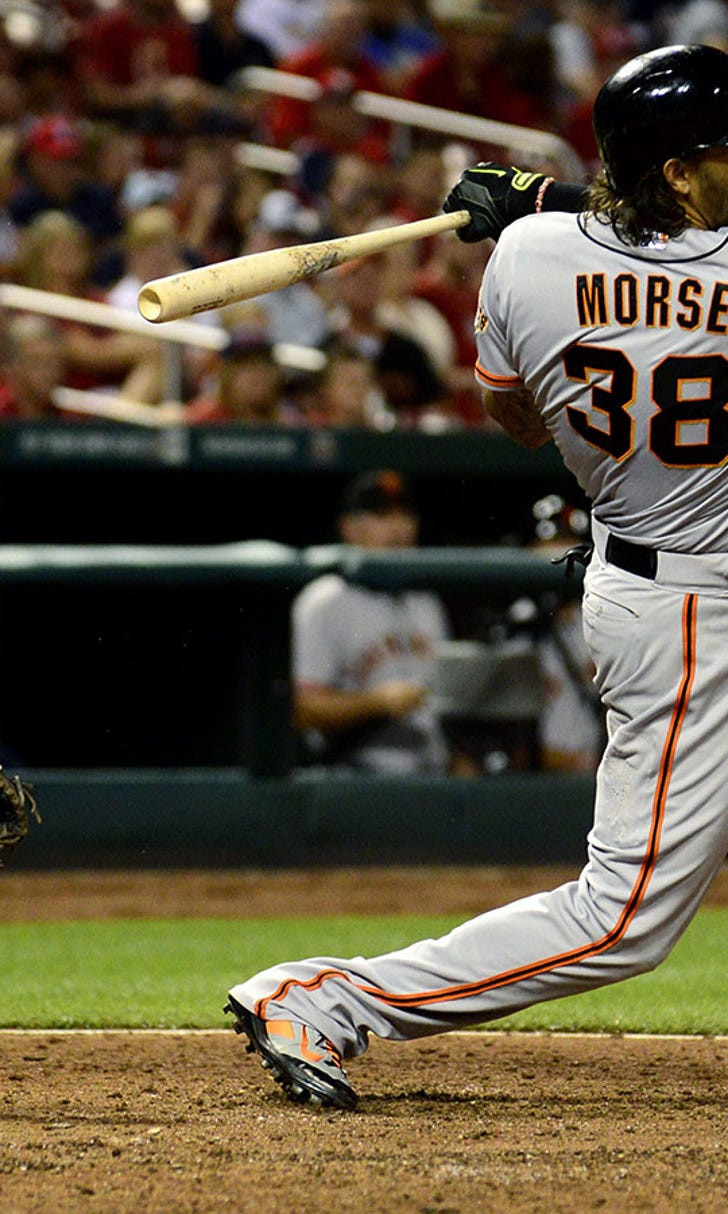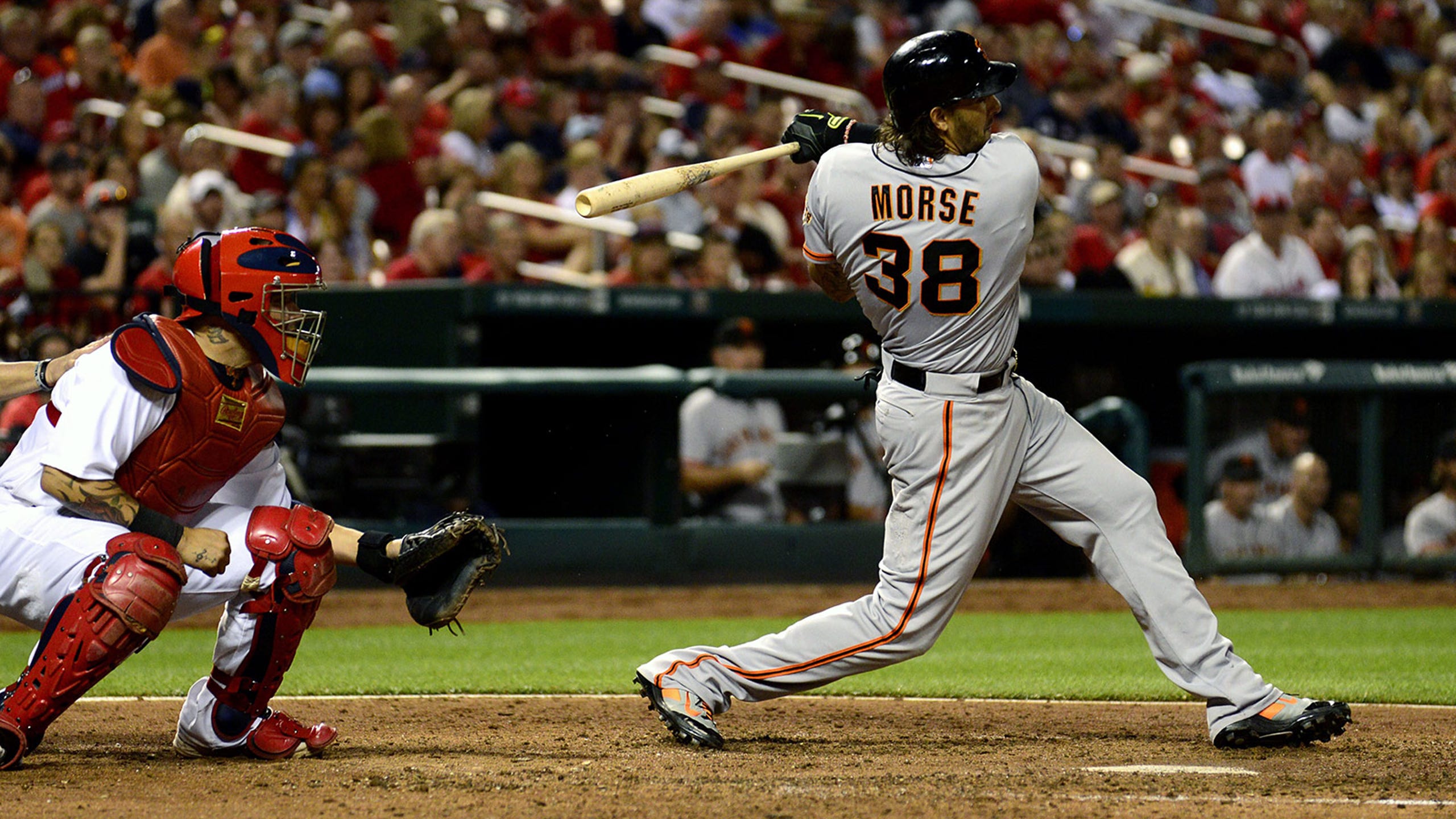 Remember when we all hated the Mike Morse signing?
BY foxsports • November 2, 2014
This postseason took joy in reminding us how little we know about the game. Whether it was the Royals, the team that felt least likely to advance to the World Series, reaching the Fall Classic with a perfect postseason record; or the Giants, another Wild Card team turned pennant winner, taking the whole thing despite having five starts last four innings or fewer, and three end in under three innings; this October created self doubt for everyone at some point or another.
Among those moments was Mike Morse's status as, well, not a hero—that term will be reserved for Madison Bumgarner—but a central figure in the Game Seven drama. It was Morse who plated two of San Francisco's three runs. The first came on a sacrifice fly against Jeremy Guthrie with the bases loaded in the second. After fouling off a first-pitch cutter on the outside corner, Morse waited back on a misplaced fastball—Salvador Perez wanted it down and away, Guthrie delivered it over the plate—and hit it hard enough to send Nori Aoki toward the warning track, leaving him unable to make a competitive throw. Just like that, it was 1-0 Giants.
Morse's other blow proved fatal, as it was the decisive run. It came in the fourth against Kelvin Herrera. Morse had fouled off consecutive high-and-tight heaters to greet Herrera, and was able to keep a third fastball—this one clocked at 99 mph and the farthest inside of the bunch—in play, lining it to right and allowing a runner to score. The feat was more impressive for two reasons: 1) Herrera had allowed 28 two-strike hits all season and 2) Morse's arms are longer than Viking ships, which in theory should make it tough for him to fend off the hot stuff inside. He managed, nonetheless.
There's also the matter of what Morse didn't do—play defense. Because the American League won the All-Star Game, there was no need to park Morse in left field. Instead Bruce Bochy was able to start defensive whiz Juan Perez, who would go on to make a necessary, pivotal catch on an Aoki liner later in the game—a catch made possible, it should be noted, by some good advance scouting and defensive positioning. Factor in how Morse probably wouldn't have started in left field anyway, given that an oblique injury had limited him to DH and PH work throughout the postseason, and the entire sequence of events favored the Giants.
Morse's Game Seven triumph is a good keepsake for the offseason, during which some deals are panned as illogical—like the one-year deal worth $6 million he signed with the Giants last winter. When the deal was announced, we wrote of the pair: "Rather, he'll be a left fielder for a team that plays in a spacious field. It's an awkward fit that seems derived from the allure of power."
Put simply, we didn't think Morse would hit enough to atone for his substandard left-field play. Add in his shaky health record, and there was a chance for disaster. But it wasn't a disaster. If power is what the Giants desired from Morse, then he fulfilled their dreams by finishing second on the roster in ISO. He wasn't just all about the bass, either—he posted the second-highest True Average, too. All told, Morse played as much as he had in all but one season, and put together the third-best offensive season of his career that saw him notch triple-digit plate appearances. He wasn't as good as the Giants could have helped, he was better. To think, we were skeptical that an odd couple could lend itself to grand results.
Of course that's not to say everything about the game and the Morse signing were unpredictable. The original Morse deal analysis ended with, "The good news for San Francisco is they have depth to cover for the inevitable Morse injury. Gregor Blanco is a capable fourth outfielder, and Brian Sabean tends to find a useful piece each winter on a minor-league deal." Sure enough, Morse did miss time, Blanco did step in (for Angel Pagan, but whatever), and Sabean did find a useful piece on a minor-league deal, in Travis Ishikawa, albeit during the season and not the winter.
What you have there is a combination of on-the-field talent, careful planning by a front office, and yes, some good fortune to have the first two pay off at opportune moments. Add it all up and you have why the Giants are champions for the third time in five years. If only we could've seen that coming. But we didn't, because whenever you think you have the game figured out, it develops a new wrinkle.
This column was written by Baseball Prospectus author R.J. Anderson.
---