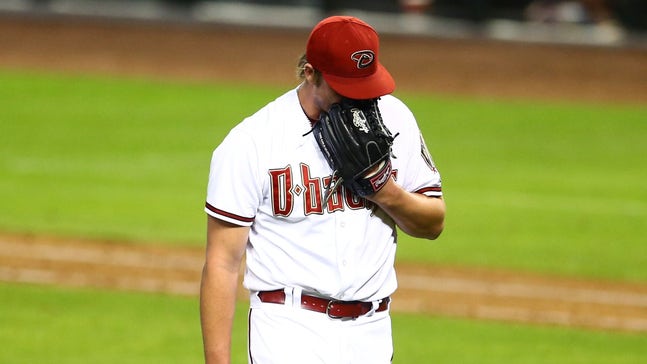 Reed coughs up lead with two home runs
Updated
Mar. 4, 2020 2:05 p.m. ET

PHOENIX -- Closer Addison Reed had his string of five consecutive save conversions broken Monday, when the Diamondbacks came up an inning short of carrying their strong road run into Chase Field.
Danny Espinosa tied the game with a leadoff home run in the ninth inning off Reed, and pinch-hitter Kevin Frandsen hit a two-out homer to lift Washington to a 6-5 victory over the D-backs on Matt Williams' return to town.
Espinosa and Frandsen hit fastballs for the fifth and sixth homers Reed has given up in 19 2/3 innings. It has been either feast or famine. Reed has converted 11 of his 13 save opportunities, including all five on the D-backs' 6-3 road trip that included series wins against San Diego, Milwaukee and the Chicago White Sox. But homers factored into both failed conversions, and two have turned tie games into losses.
"I am locating the ball bad now, and they are making me pay for it," said Reed, 1-3 with a 5.03 ERA. "I just have to keep the ball down and throw the ball where I am trying to throw it. Location is everything in pitching. Right now I am not."
Reed gave up a run in the ninth inning but saved a 4-3 victory in Chicago on Saturday, and he was warmed up and ready to pitch Sunday until the D-backs scored twice in the ninth and he was not needed in a 5-1 victory. Reed's velocity was in the 90-91 range on the stadium radar gun Monday, a bit slower than normal, and Gibson said he believed the workload might have be a factor. Reed has pitched eight times in 14 days.
"He didn't have as much (velocity) coming out tonight as he did over in Chicago," Gibson said.
Reed refused to accept that as a reason for his struggles.
"I feel fine. I don't even pay attention to how fast I am throwing. I don't have an answer for that," Reed said.
A fastball-slider guy, Reed has yet to find his best slider this season, which is also an issue.
"Still a work in progress," Reed said of his slider. "When you are not throwing your slider where you want to or how you want to, it kind of makes it easier on the hitter."
After A.J. Pollock's two-run home run put the D-backs ahead, 5-4, in the sixth inning, the D-backs turned to a bullpen rotation that worked well on the trip -- Evan Marshall in the seventh inning, Brad Ziegler in the eighth and Reed in the ninth.
Marshall pitched another scoreless inning, escaping when shortstop Chris Owings made a sliding stop in the hole of a potential two-run single by Anthony Rendon and threw Rendon out at first base.
Ziegler ran his scoreless streak to 19 appearances and 18 1/3 innings with a 1-2-3 eighth, striking out the final two batters on 73 mpg breaking balls that ended two feet off the plate.
Espinosa hit a 1-0 pitch off Reed, and Frandsen hit a 2-0 pitch.
"There is no controversy here," Gibson said in a preemptive statement. "He is our closer. It didn't work out tonight, and it sucks. We've gone this way (in the bullpen) for several wins. We have to regroup."
The D-backs made some noise against Washington closer Rafael Soriano, getting two hits in the ninth. Ender Inciarte singled to left to open the inning before Eric Chavez grounded into a double play. Gerardo Parra doubled but Martin Prado grounded out to end the game. Gibson said bunting Inciarte over was never an option, and sabermetricians would agree.
"With Eric up, I was going for the win," Gibson said. "I've got the hole (between first base and second) there. I've got a guy who runs good. Got a guy who throws a lot of cutters, hoping he can pull it in the hole or hit it out of the ballpark. 
"For all you sabremetricians, you are going to score more runs that way than you are the other way. The guy I had up there, I had the right guy up there. It was a no-brainer."
A.J. Pollock is on a nice run since returning to the lineup in the final game of the Milwaukee series. He singled and homered Monday to extend his hitting streak to six games, during which he has two doubles, a triple, a homer and five stolen bases. He also turned a couple of well-hit balls into routine-looking outs with his speed and quick breaks to deep center and right-center.    
10 -- game hitting streak by Gerardo Parra, three short of his career high set last April.
The D-backs played one of their best defensive games of the season, with shortstop Chris Owings and second baseman Aaron Hill making acrobatic plays on consecutive Washington at-bats. Owings dove into the hole and threw out Anthony Rendon with runners on second and third to end the seventh inning, and Hill made a full dive to stop Jayson Werth's grounder and throw him out leading off the eighth. "We know that's how we play," Gibson said. "We expect to win that game."
Follow Jack Magruder on Twitter
---