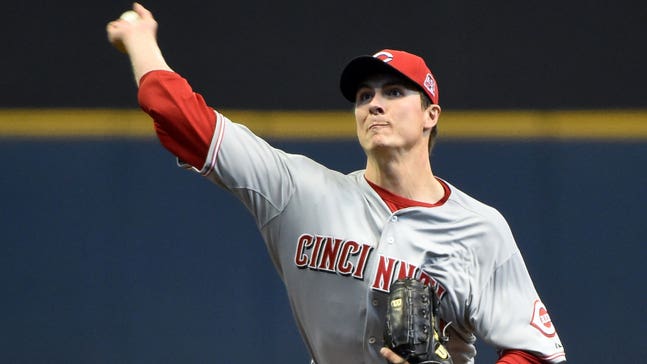 Reds' Bailey to have Tommy John surgery, miss rest of season
Published
May. 1, 2015 2:34 p.m. ET

The Cincinnati Reds announced Friday afternoon the worst fear regarding Homer Bailey's most recent elbow problem has been realized. The right-handed starter will have Tommy John surgery to repair a torn ulnar collateral ligament in his right right elbow and miss the rest of the season.
According to the team, he is expected to return at some point during the 2016 campaign.
Reds general manager Walt Jocketty said through a team release surgery was determined to be the best option "with the most predictable outcome" after consultations with Reds medical director Dr. Timothy Kremchek and other orthopedic surgeons.
"It does not appear the injury is at all related to the right elbow flexor mass injury Homer sustained late last season," Jocketty added.
Kremchek will perform the surgery next Friday at his facility in Cincinnati.
Although a final decision about surgery had not been made at that point, Bailey told FOX Sports Ohio's Hal McCoy earlier this week, "I'm not going to cry about it or moan about it or feel sorry for myself. What good would that do? That won't help anything. Hey, there are people out there dying every day. There are people a lot worse off than I am. I'll get through this just fine."
And it turns out Bailey is not the only member of the organization to undergo reconstructive elbow surgery. The team also announced minor leaguer Donald Lutz had the procedure done Friday morning after being injured at Triple-A Louisville.

Lutz played 13 games this season and was hitting .190 at the time of his injury. He has played 62 games with the Reds over two seasons, hitting .211 with one home run and nine RBI.
---