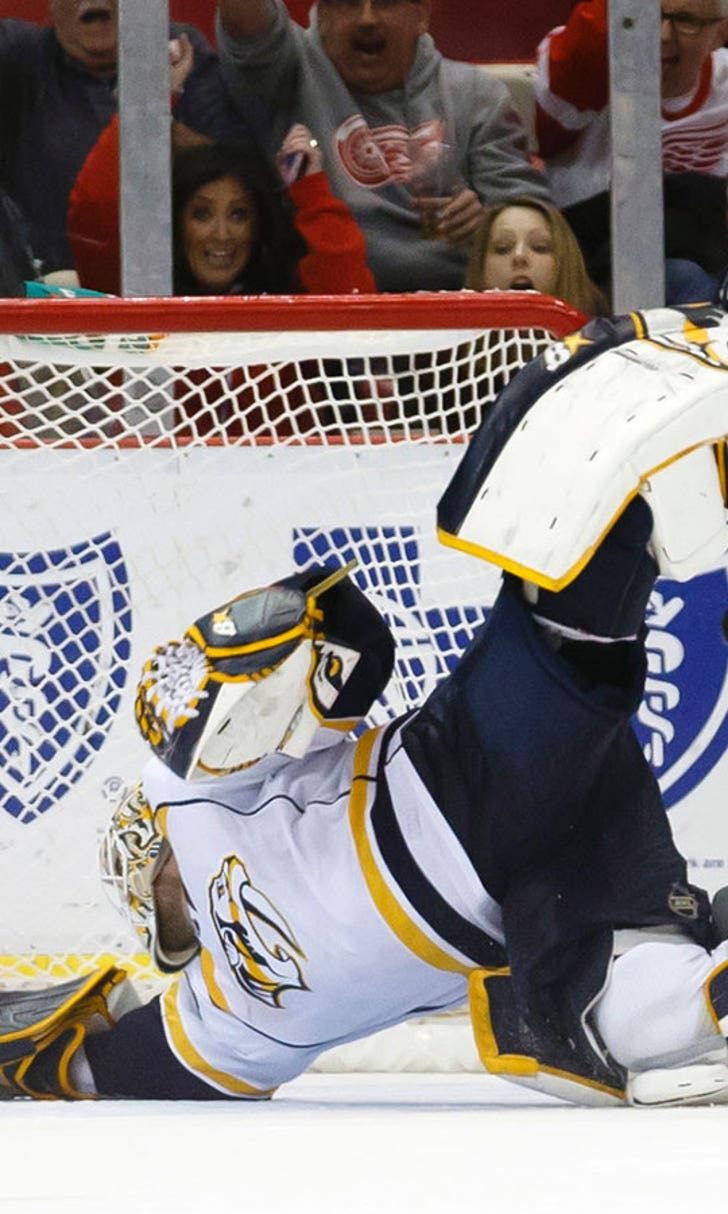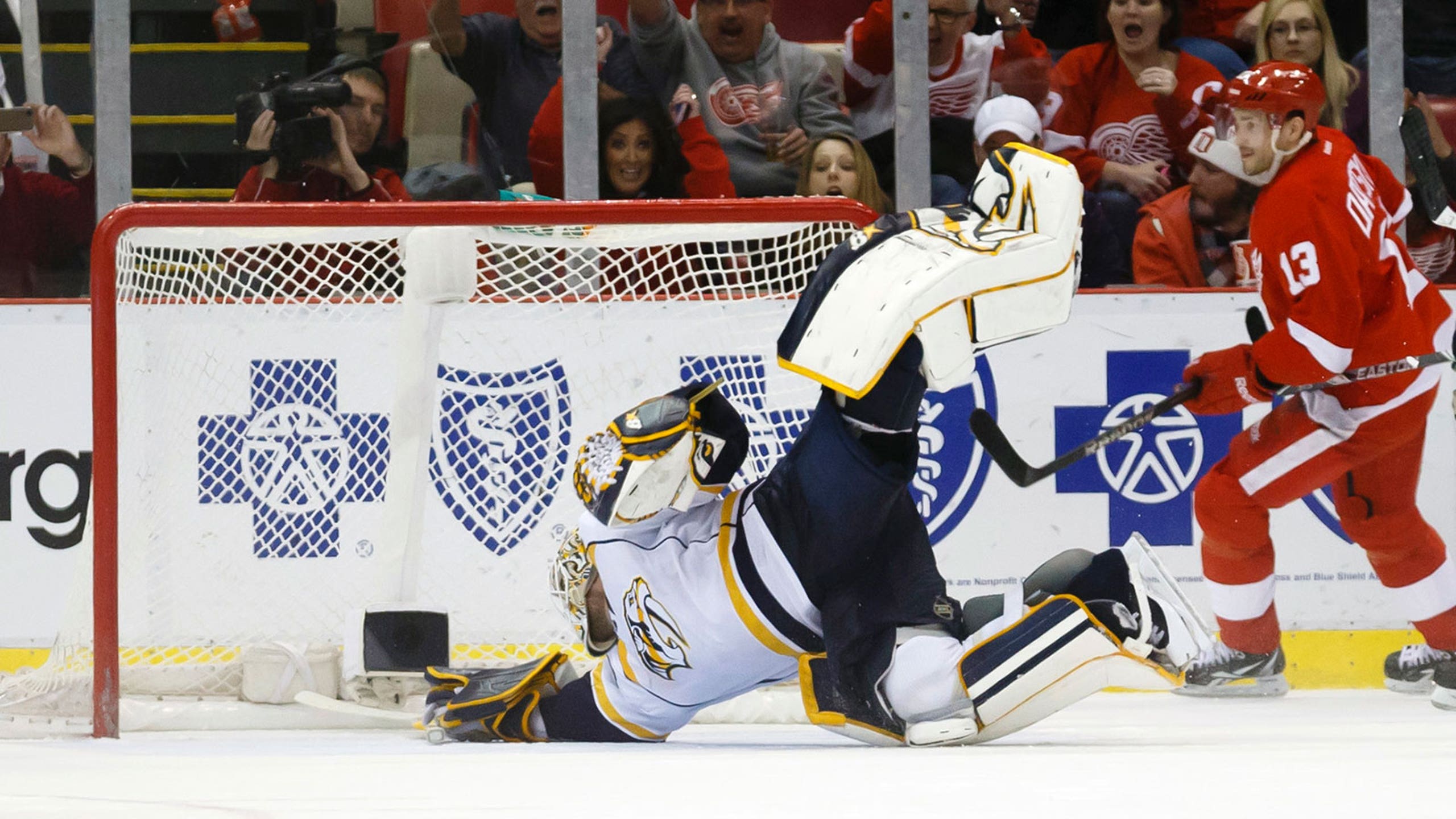 Red Wings wrap up road trip today at Nashville
BY foxsports • February 28, 2015
Losing at Bridgestone Arena has been a rarity for the Nashville Predators this season. Dropping two in a row at home has been near-unthinkable.
The league-leading Predators will look to avoid that outcome Saturday (2:30 p.m. pregame, 3 p.m. face-off on FOX Sports Detroit) when they host a Detroit Red Wings club that's wrapping up a six-game trip.
Nashville (41-14-7) is an NHL-best 26-4-1 at home but fell 4-2 to Minnesota on Thursday, snapping a six-game home winning streak with just its second regulation loss in its previous 11 overall.
Filip Forsberg, who leads all rookies with 52 points, recorded a career-worst minus-3 rating, and Shea Weber extended his streak without a point to five games - his longest since a nine-game stretch Jan. 19-Feb. 5, 2013.
"We know they were desperate tonight and that they were going to come out with a good effort, and we weren't good enough," Weber said. "We got what we deserved."
Pekka Rinne's campaign for the Vezina Trophy has hit a bump with three losses in his last four starts. He has a 2.98 goals-against average in that span after posting a 1.38 mark during a five-start winning streak Feb. 7-17.
Regardless, he remains a force in net. Rinne's overall 2.03 GAA and .930 save percentage rank second in the NHL behind Montreal's Carey Price.
Nashville stands as the best even-strength team in the Western Conference with a plus-38 goal differential, and owns a seven-point lead over St. Louis in the Central Division. While the Predators have finished second in the Central six times, they have yet to win a division title in their 16-year history.
Detroit (34-15-11) can counter with the NHL's top-power play unit, which has converted on 25.1 percent of its opportunities. The Red Wings have scored with the man-advantage in three of their last four games.
They went 2 for 2 on the power play en route to trouncing Nashville 5-2 in Detroit on Jan. 17. Gustav Nyquist, Kyle Quincey and Tomas Tatar all scored within the game's first 13 minutes to chase Predators goalie Carter Hutton.
Jimmy Howard was sidelined by injury in that one and has been less-than-stellar since returning Feb. 14. Howard has a 2.97 GAA in his last six starts, but earned his first regulation win in that span Thursday when the Red Wings rallied to beat San Jose 3-2.
Pavel Datsyuk tied it with under seven minutes remaining and Luke Glendening netted a backhanded winner with 1:15 left in regulation.
"It was great to see Glennie get rewarded with his eighth goal of the year," coach Mike Babcock told the Red Wings' official website. "For a guy who does what he does, eight goals is good. Good win for our team and our guys competed hard and it sets us up for a game in Nashville."
Datsyuk has five goals in his last four games and has 71 points in 64 career matchups against Nashville, his second-most versus any opponent.
Henrik Zetterberg has also dominated the Predators with seven points in the last five meetings, but Detroit's captain remains doubtful. He has missed three straight with concussion-like symptoms after getting hit in the head by Dallas' Jamie Benn on Feb. 21.
Quincey may also miss Friday's game as he continues to deal with an ankle injury.
The Red Wings, who lost 6-2 during their last visit to Bridgestone Arena on Dec. 30, 2013, have earned seven of 10 possible points on their current road swing.
---