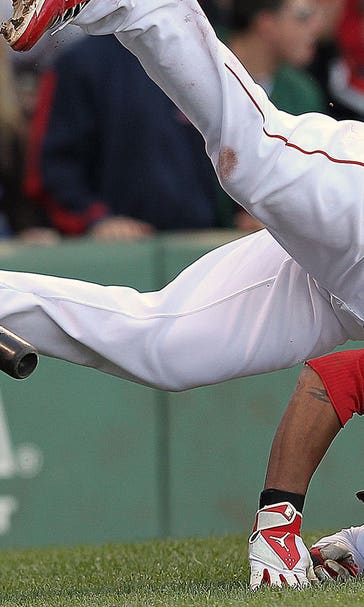 Red Sox splurge on Pablo Sandoval, Hanley Ramirez looks a lot like the last one that didn't work
BY foxsports • November 24, 2014
Wait, haven't we seen this movie in Boston before?
Why yes, during the 2010-11 offseason, when the Red Sox signed free-agent outfielder Carl Crawford for $142 million and traded for first baseman Adrian Gonzalez knowing they would award him a $154 million deal.
Oh, Hanley Ramirez will cost a mere $88 million and Pablo Sandoval another $100 million or so -- bargains! The Red Sox are so loaded with prospects and outfielders, they can now trade for Cole Hamels and maybe even another stud pitcher -- genius! The plan is in motion, the payroll remains flexible, the offense will be a monster, the pitching much-improved ...
Wait!
We have seen this movie before. It didn't end well the last time. And why should anyone be convinced it's going to end any better this time, when the Red Sox won the 2013 World Series by pretty much taking the opposite approach to the one they're taking now?
True, the Sox added two elite hitters at a time when the game is starved for offense. True, they still can sign free agents such as left-hander Jon Lester and lefty reliever Andrew Miller along with trading for other pitchers. True, they're a heck of a lot more interesting today than they were yesterday.
OK, fine, but most of us still remember the Sox accepting congratulations for their wildly successful short-term signings of high-character types during the 2012-13 offseason, after they had dumped Gonzalez, Crawford and Co. on the Dodgers.
Most of us also remember Theo Epstein, the Sox's former GM, lamenting the team's decision to add Gonzalez and Crawford in the first place, saying the franchise lost its way by trying to generate "sizzle" and pursue "sexy guys."
The Sox gushed about Crawford's all-around game, only he couldn't handle Boston. They talked about Gonzalez having the perfect left-handed swing for Fenway Park, and he mostly performed well over nearly two full seasons. But they couldn't wait to escape his contract, which still has four years remaining.
Now, get ready for another round of Red Sox spin, beginning at Tuesday's news conference introducing Ramirez and Sandoval.
You will hear about how Ramirez is thrilled to be back with the Sox, who signed him at age 16 out of the Dominican in 2000. You will hear about how general manager Ben Cherington never wanted to trade him in a deal that helped the Sox win the 2007 World Series. And you will hear Ramirez say he will be happy in left field, anything to help his new team win.
Sandoval, too, will be all smiles. He will talk about how he wants a new challenge, pay tribute to Red Sox Nation, promise to remain in peak condition. Like Ramirez, the Panda will be all soft and cuddly. And like Ramirez, he must now deal with the weight of a new contract, a change in leagues and a fan base that is more demanding than the one he previously experienced.
Giants fans loved Sandoval because he was homegrown and because he played a major role for two World Series champions and contributed to a third. Think Red Sox fans care? They will judge Sandoval only by how he performs in Boston. And his regular-season OPS has declined three straight years.
Then there is Ramirez, whose reputation for occasional petulance is well-established. I wrote in July 2013 about his seeming transformation, concluding with the words, "This is the last 'New Hanley' story I will ever write. We are talking, at last, about a player in full." Not exactly. Ramirez often seemed distracted while playing for a new contract last season.
Maybe he felt that the Dodgers played mind games with him during stop-and-start negotiations. Maybe his various injuries took a toll. Still, even if you give Ramirez every benefit of the doubt, this much is undeniable: He has missed 110 games the past two seasons. And now he must learn a position he has played only in winter ball.
What happens if Ramirez struggles to adjust, or if his offense suffers during his transition? Will he blame his troubles on the position change and decide that maybe it wasn't a good idea after all?
Fear not, the Red Sox will say: David Ortiz will be a positive influence on Ramirez, whom he has said is "like a little brother" to him. No doubt, Ortiz's clubhouse presence is real, but it only goes so far. "Big Papi" seemingly had little influence over Manny Ramirez and couldn't prevent the fried-chicken-and-beer episode from occurring in 2011.
Did the Dodgers even want Hanley Ramirez back? It sure didn't seem that their new front office pushed to keep him, and it's telling that he ended up with only a four-year deal. And, while the Giants offered Sandoval $95 million and were willing to increase their bid, how upset were they to lose him, really? Sandoval's fluctuating weight no longer is their problem. And they can spread around the $95 million to other players.
Maybe the deals will work out better than I expect -- Ramirez and Sandoval certainly are talented enough to make a major impact. But forgive my skepticism as the house lights dim and the curtain rises on the Red Sox's 2015 season, with Ramirez and Sandoval replacing Gonzalez and Crawford in leading roles.
We've seen this movie before.
---
---