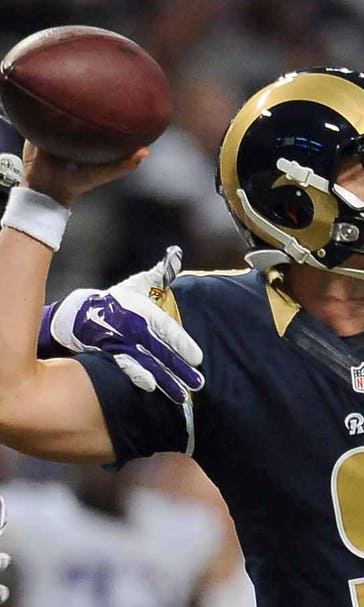 Ready or not, Austin Davis looks like the Rams' best QB option in Week 2
September 10, 2014

ST. LOUIS -- Coach Jeff Fisher didn't provide any reassuring news on the Rams' troubling quarterback situation Wednesday afternoon.
Starter Shaun Hill's quad strain kept him out of practice, leaving backup Austin Davis to take the majority of reps with St. Louis' first-string offense. Fisher said newcomer Case Keenum also started to look more comfortable in his fourth official practice since being claimed off waivers.
NFL Media Insider Ian Rapoport reported Monday that Hill underwent an MRI and appeared to be "a longshot" to play Sunday against the Buccaneers. That would almost certainly mean the first career start for Davis, whose roster spot was in doubt a mere three weeks ago.
"I played in a lot of preseason games," Davis said Wednesday. "Is it a little faster (in the regular season)? Yeah, probably one more step faster, but it's not that much different."
Perhaps there's some truth to that, considering Davis got sacked nine times in the preseason, more than anyone other than Indianapolis Colts reject Chandler Harnish. But even though Tampa Bay's defense may not be among the league's elite, its starters will provide a tougher challenge than any group Davis saw in the preseason, as will the hostile crowd at Raymond James Stadium.
It's easy to believe Davis when he says a week spent with the first-team defense should make him more comfortable, but it's not clear whether it will improve his pocket presence. That's a scary prospect for a team with a virtually nonexistent run game in last week's 34-6 home loss to Minnesota.
Before kickoff, Fisher spoke with quarterback Sam Bradford and they decided to move forward with surgery on his torn ACL, which Fisher said was completed successfully on Monday. Bradford has another long and grueling rehabilitation process in front of him, and the search for an adequate replacement just keeps getting tougher.
You can follow Luke Thompson on Twitter @FS_LukeT or email him at lukegthompson87@gmail.com.
---