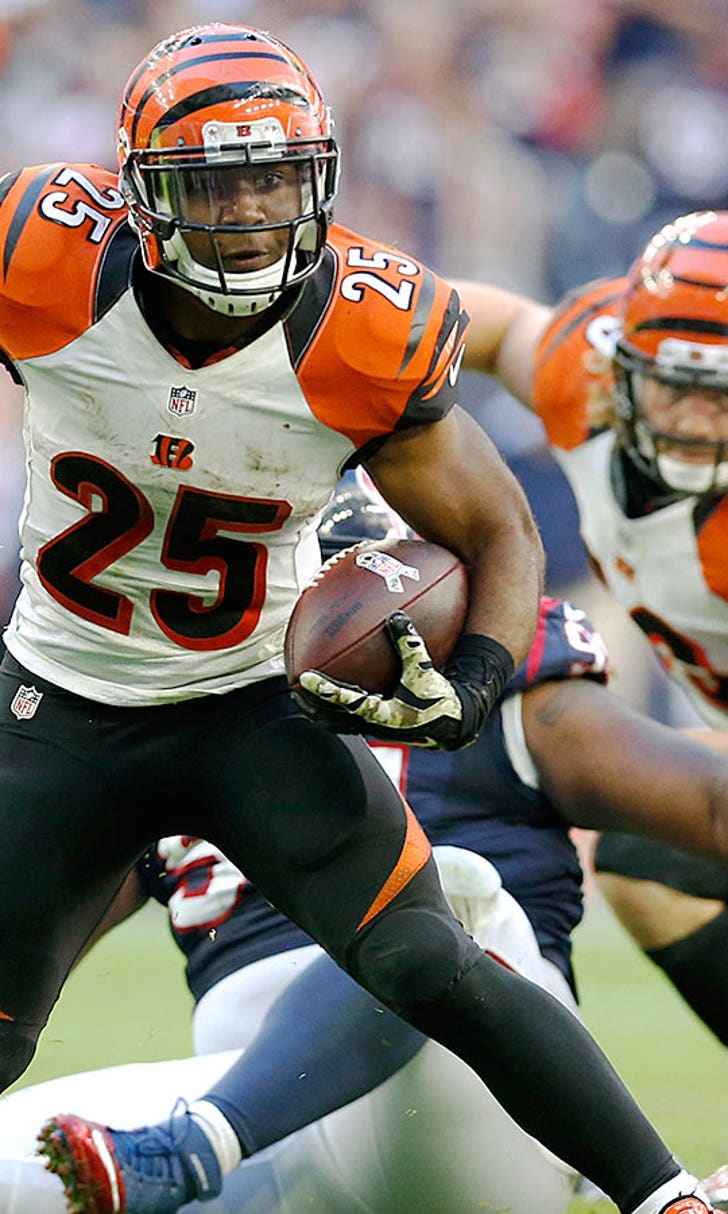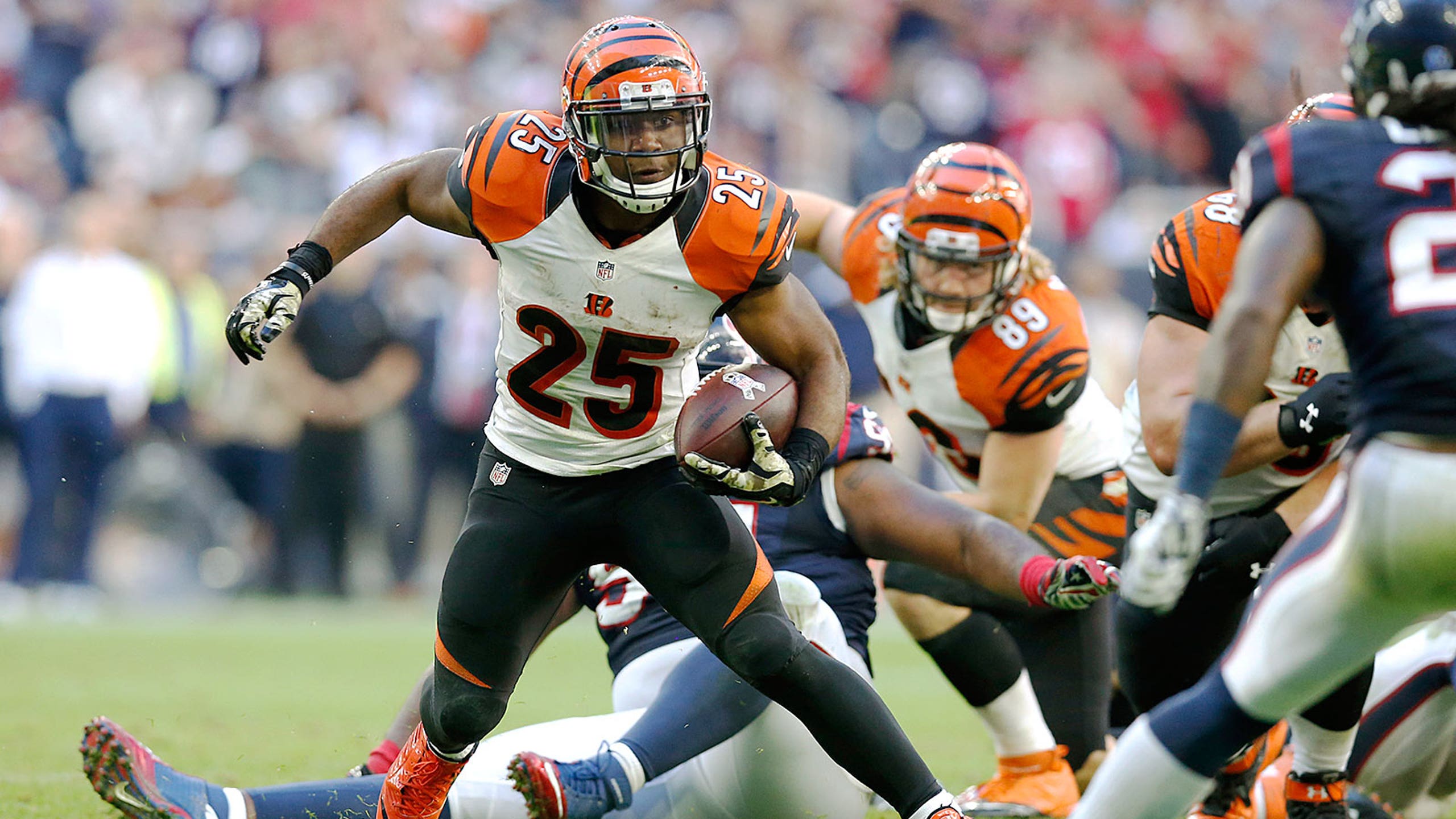 RBBC: Gio Bernard, Jeremy Hill return to timeshare
BY John Halpin • November 25, 2014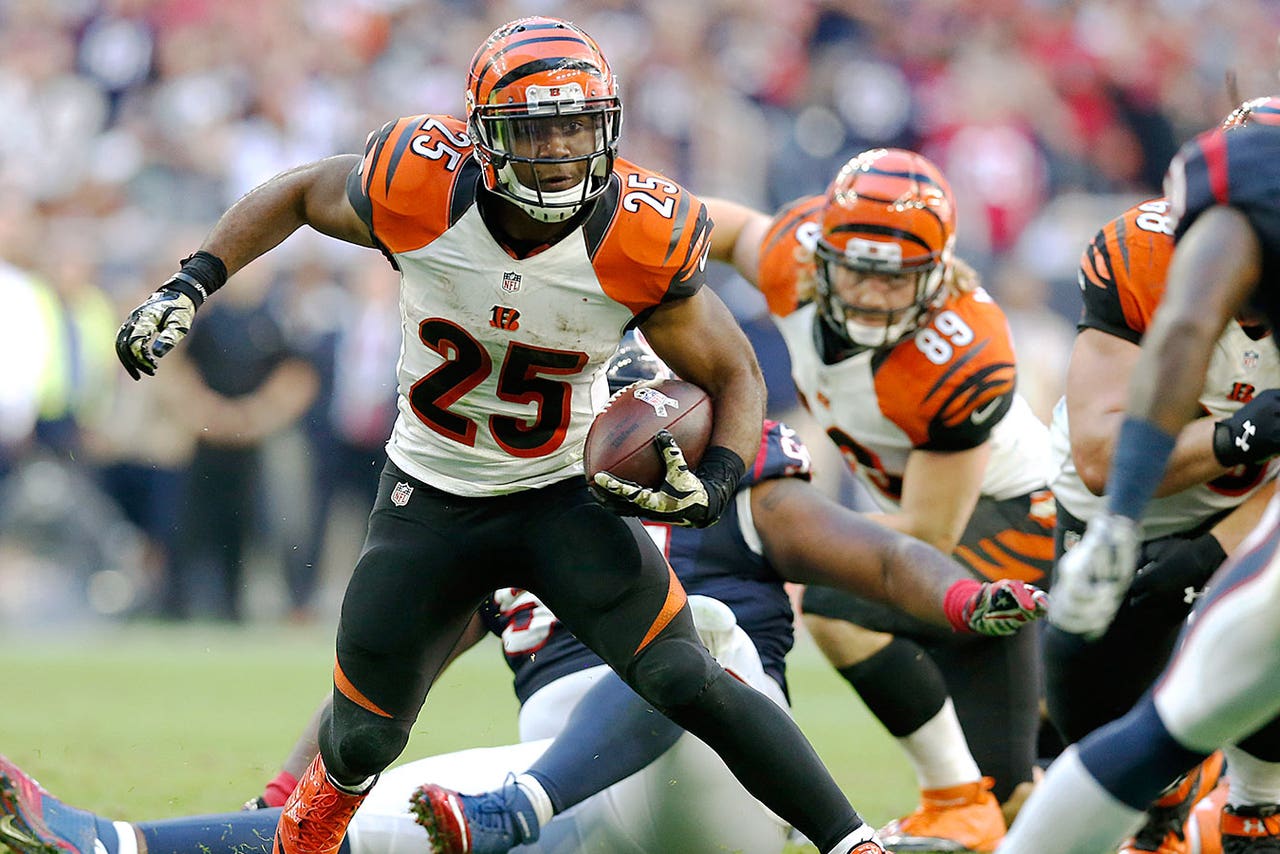 Each week during the 2014 season, we're going to take a look at five running-back-by-committee (RBBC) situations that you should keep a close eye on. Some will have big questions, while others might be noted due to their circumstances becoming clearer. Finally, we're going to focus more on the week ahead than look down the road.
(Actually, forget about the five-team limit. We're going with seven this week. It's the season of giving, after all.)
And now, in alphabetical order ...
Buffalo Bills
Maybe it's because Fred Jackson has been slow to heal from his recent groin injury, but he and Boobie Dixon rotated for most of Monday's 38-3 demolition of the Jets. Jackson and Dixon had 13 touches apiece, and while Jackson might get busier as his health improves, Dixon probably isn't leaving this picture anytime soon. I wouldn't feel good about starting him against the Browns in Week 13, though. Jackson is flex-able.
Cleveland Browns
Speaking of the Browns, Isaiah Crowell (12 carries, 88 yards, two touchdowns) and Terrance West (14 carries, 62 yards; one reception, nine yards) formed a nice one-two punch against the porous Falcons' run defense in Week 12. Crowell had a 60-40 edge over West in snaps, and that sounds like a reasonable split to expect moving forward. Against the eighth-ranked Bills' defense, start the explosive Crowell as an RB2, but be careful about flexing West due to this strong opponent.
Cincinnati Bengals
In Gio Bernard's return to action at Houston, he and Jeremy Hill had 19 touches each, with Bernard getting a 52-31 edge in snaps. Hill's owners shouldn't like this one bit, as their dreams of him being an RB1 are dashed until Bernard gets hurt again.
Against the Bucs in Week 13, Bernard and Hill can both be viewed as RB2-level starts.
Indianapolis Colts
BOOM! In Week 1 A.B. (After Bradshaw), Dan Herron ran 12 times for 65 yards, and caught five passes for 31 yards. Trent Richardson had 13 carries for 42 yards and a touchdown, but was on the field for 41 snaps to Herron's 32.
Richardson reportedly didn't start because he was suffering from the flu, but Herron looked pretty good, so he figures to stay busy in the Colts' passing game. T-Rich is probably a better fantasy option (busier, more goal-line work) than Herron, but maybe not by as much as we thought. Both backs should be in Flexville this week, with Richardson probably in the high 20s and Herron in the 30s.
New England Patriots
Oh, Jonas Gray. You were late for practice five days after running for 199 yards and four touchdowns, and one day after your team re-signed LeGarrette Blount? We could have told you this wouldn't work out well.
OK, maybe we didn't know things would be THAT bad. Blount ran 12 times for 78 yards and two scores against the Lions, while Gray was on the field for exactly ZERO snaps. What to do moving forward? Well, you can't trust Gray until you see him produce again. You can start Blount as a flex option against the 30th-ranked Packers' defense, but you never know when Bill Belichick will decide to get Gray back into the mix. Blount is owned in 15.5 percent of FOXSports.com leagues, and RB-needy owners should try to grab him.
As for Shane Vereen, he's still a must-start in PPR leagues, and a borderline RB2/flex type in standard formats.  
New Orleans Saints
What's this? On Monday night, Pierre Thomas was on the field for 39 snaps to Mark Ingram's 26, and had 11 touches to Ingram's 13. The snap differential widened with Thomas on the field for so many passing downs late in the game, but this is a far cry from the recent dominance we've seen from Ingram.
Maybe - just maybe - the Saints altered their gameplan to adjust for the Ravens' strong run defense. This week's matchup at Pittsburgh isn't TOO much better, but the Steelers aren't as suffocating as the Ravens. Look for Ingram to return to the 15-carry range, making him startable as an RB2. Thomas is an interesting PPR back, and I'm a fan, but I think I want to see a repeat performance before starting him with confidence.
Tampa Bay Buccaneers
Thanks to Doug Martin for coming back in Week 12 to further muck up this situation. We all appreciate it.
Martin was on the field for 26 snaps against the Bears, with Charles Sims and Bobby Rainey seeing 25 snaps each. None of the backs were particularly effective, but don't you think Martin's leash will run out at some point? For Week 13, I'd start Sims if I had to pick one against the Bengals' 27th-ranked run defense, but I'd need to be fairly desperate to do so. Forget about the others.
---