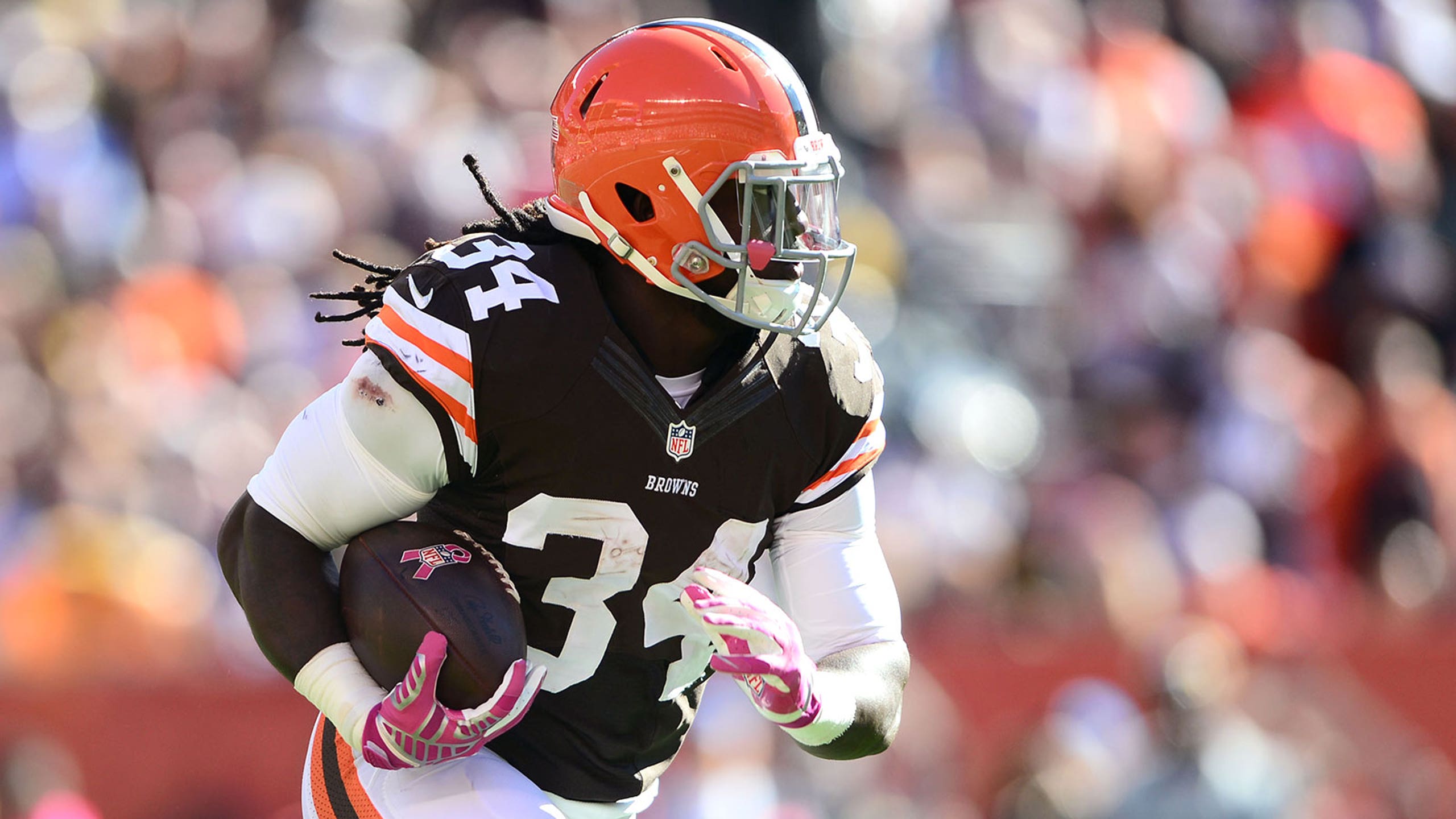 RBBC: Crowell leads, Tate gone in Cleveland
BY John Halpin • November 18, 2014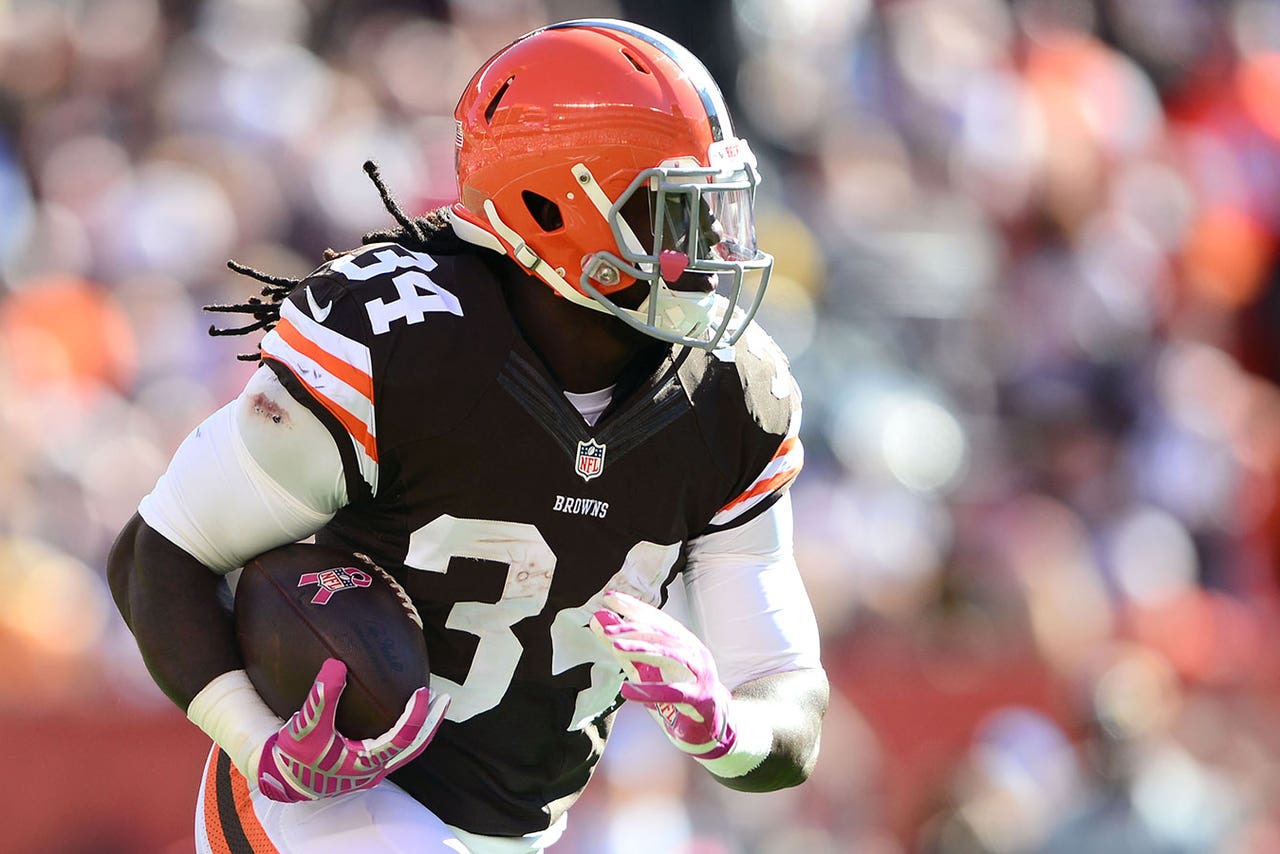 Each week during the 2014 season, we're going to take a look at five running-back-by-committee (RBBC) situations that you should keep a close eye on. Some will have big questions, while others might be noted due to their circumstances becoming clearer. Finally, we're going to focus more on the week ahead than look down the road.
Week 12 byes: Panthers, Steelers
And now, in alphabetical order ...
Cleveland Browns
On Sunday morning, the Browns announced that Isaiah Crowell would start against the Texans. Crowell led the Browns' rushing attack with 14 carries for 61 yards, and added two receptions for 30 yards, but lost a second-quarter fumble. Still, his 16 touches were far more than Terrance West's five and Ben Tate's two. Since Crowell didn't get yanked after the fumble, it's apparent that the team wants him to be their top back. Plan to start him against the Falcons this week.
As for Crowell's teammates, West should be kept, since one week of Crowell doesn't necessarily mean stability in this situation. West's value increased when Tate was released on Tuesday. Being a second banana is better than being part of a three-headed monster, and a 12-touch West could have fantasy flex value against the 24th-ranked Falcons' run defense.
Minnesota Vikings
Jerick McKinnon got 12 touches to Matt Asiata's four against the Bears, and was on the field for 27 snaps to Asiata's 20. Chalk one up for McKinnon's owners, right? Eh - Asiata still figures to get the goal-line work and many of the third-down snaps, so McKinnon will continue to be a fantasy tease (albeit a flex-worthy one). I hate starting guys like Asiata, and would rather live with the occasional pain of his touchdowns.
Note: We don't know if Adrian Peterson's appeal will succeed - or if the Vikings will activate him should a successful appeal happen. The advice here is still to proceed as if Peterson won't be back in 2014.
New England Patriots
Jonas Gray's carry totals over the last three games: 17-12-38. As you may have heard, Gray rumbled through the Colts for 199 yards and four touchdowns, while Shane Vereen ran just once for 18 yards, and caught four passes for 59 yards. We noted here last week that Gray was flex-worthy, but we didn't quite anticipate that explosion.
The Pats' offensive gameplans tend to vary - they attack different opponents in very different ways. This week, they host the Lions' top-ranked rushing defense (3.0 yards per carry, 68.8 yards per game). Gray is certainly startable in fantasy leagues, but he could return to the 15-carry range, and you shouldn't plan to have an every-week star on your hands. Vereen is once again better for PPR owners, but a low-end RB2 in standard leagues.
San Diego Chargers
The Chargers wanted to ease Ryan Mathews back into action, but they still gave him plenty of work in the form of 16 carries for 70 yards. Mathews was on the field for 32 snaps, compared to Branden Oliver's 23 and Donald Brown's 21. Mathews figures to get busier, and should be a solid RB2 against the Rams this week.
Brown was mainly on the field for passing downs, and that's a bad sign for Oliver. Oliver had 13 carries against the Raiders, but as the apparent backup runner on first and second downs, he'll be hard-pressed to reach 10 touches in most games. There's no reason to hold Oliver at this point, unless you want to wait for another injury to Mathews or Brown.
Tampa Bay Buccaneers
Committee ... OVER! Rookie Charles Sims had 16 touches for a modest 44 yards against the Redskins, but Bobby Rainey ran just five times for four yards and didn't catch a pass. Sims was in the game for 31 snaps to Rainey's 19, and got some short-yardage work as well. After the game, head coach Lovie Smith talked about Sims' "high ceiling," and said he's "looking better and better." The Bucs still have some O-line issues, but Sims is worth an RB2 ranking at Chicago this week. Rainey needs to be benched until further notice, and Doug Martin ... ugh.
BONUS NOTES
Interim head coach Tony Sparano said Monday that "we'll see more of" Latavius Murray after a four-carry, 43-yard performance in Week 11. See if you can stash Murray on your bench for now, and hope for a solid game on Thursday night. It's hard to count on Murray getting busy this week, but it's also not like the Raiders lose anything by playing Murray ahead of DMC and MJD, right? ... With Antone Smith (knee) done for the season, Devonta Freeman is Steven Jackson's clear sidekick in Atlanta ... Ahmad Bradshaw broke his ankle, so Trent Richardson takes over lead-back duties for the Colts, with Dan Herron probably getting 8-10 carries as a second banana ... Fred Jackson should be back this week for the Bills, but Bryce Brown (seven receptions, 57 yards in Week 11) could still catch some passes while Jackson gets some breathers ... Arian Foster's Week 12 status is TBD, so get ready to fire up Alfred Blue again ... Reggie Bush says he'll play at New England in Week 12.
---