Rays sign closer Grant Balfour to two-year, $12 million deal
Published
Jan. 23, 2014 2:25 p.m. ET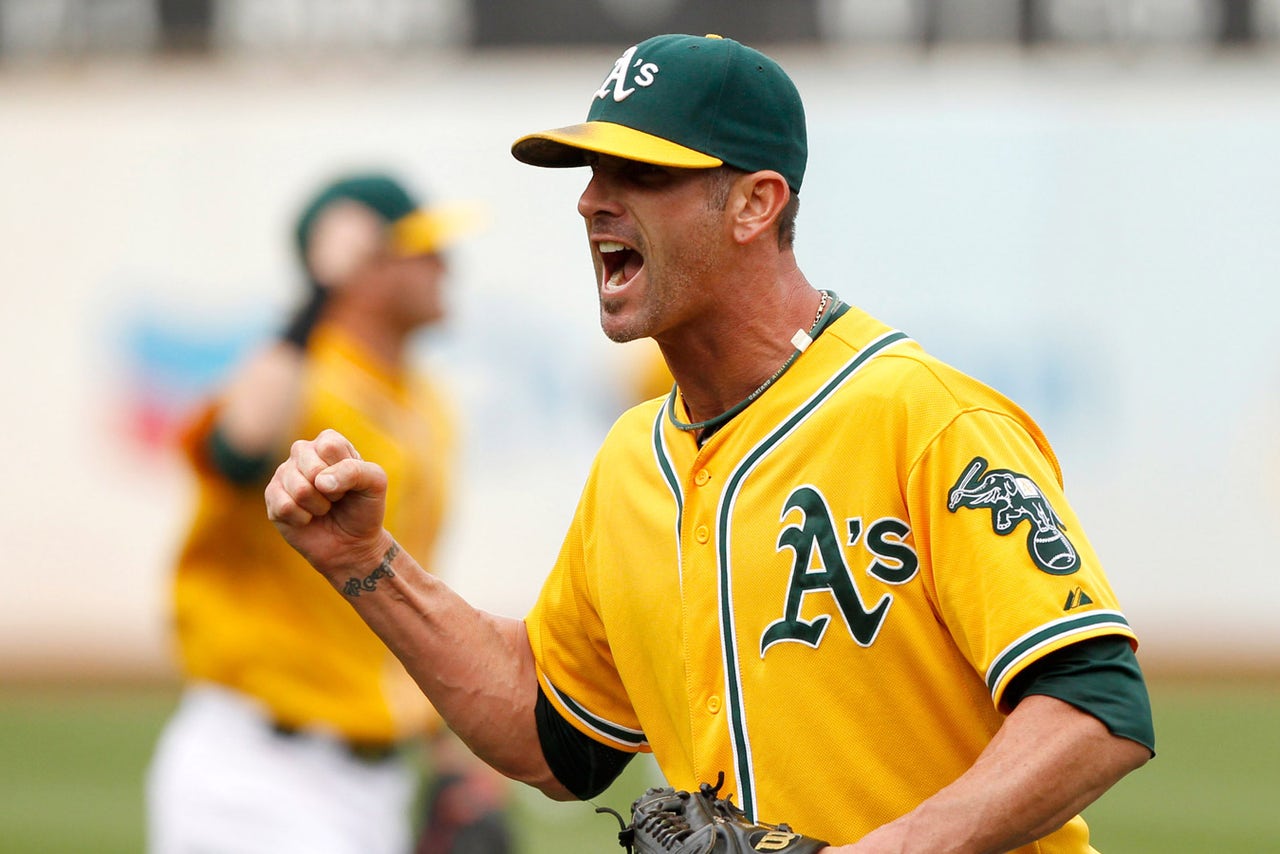 TAMPA, Fla. -- Joe Maddon has found his closer for next season, and he's unafraid to say so.
On Thursday, the Tampa Bay Rays manager spent the moments before free-agent reliever Grant Balfour was introduced as the Rays' newest bullpen addition texting with Andrew Friedman, Tampa Bay's executive vice president of baseball operations. He wanted to check with Friedman about the title, one Maddon has been hesitant to grant in the past.
There will be no confusion about Balfour's place within the Rays' vision. Yes, Maddon and Friedman decided, Balfour will be their closer, a choice made after the 36-year-old right-hander decided to make a homecoming of sorts after signing a two-year, $12 million deal.
"We're actually going to use the 'C' word this year, which is very unique for me and for us," Maddon said. "It's a radical departure."
Much about Balfour's presence during his introduction at the Tampa Museum of Art felt familiar. He pitched for the Devil Rays/Rays from 2007 to 2010, when he compiled a 14-7 record with a 3.33 ERA and eight saves. He signed as a free agent with the Oakland Athletics before the 2011 season, and he spent three quality seasons there, earning a 9-7 mark with a 2.53 ERA with 64 saves.
Balfour, a native of Sydney, Australia was particularly effective the past two seasons. He was 62-for-67 in save chances in that window, the fourth-best percentage in the major leagues for the stretch behind Huston Street, Joe Nathan and Craig Kimbrel. He posted a streak of 44 consecutive saves, an Athletics record and the sixth-longest save streak in major-league history.
Balfour, who has spent parts of 10 seasons in the major leagues, has appeared to peak with age. In the past four seasons, he has earned a 2.59 ERA or lower in each campaign, with a combined 2.47 total. Since 2008, he stands second among American League relievers in strikeouts (410), appearances (383), innings pitched (380 1/3), and he's fourth in opponents' batting average (.194).
"It's always a place that has been on my radar," Balfour said. "I'll be entirely honest -- I never wanted to leave here. It was one of those things where it's baseball, and I get it. So I spent three years in Oakland. It was three good years. It was a lot of fun. A lot of my great memories are here in Tampa Bay. I call it home."
The signing brings closure to Balfour's odd offseason. In December, he appeared bound for the Baltimore Orioles when the two sides agreed to a reported two-year, $15 million contract. But the deal fell through after his physical with concerns about his right shoulder, though the risk seemed low to most observers.
On Thursday, Balfour said he had taken a physical for the Rays and that he had passed "with flying colors." He said what happened between him and Baltimore was "in the past," and he anticipated the start of a new stint in an environment that makes him comfortable.
"There were other teams that were definitely out there," Balfour said.
"Yeah, there was more money to go somewhere else."
Balfour's presence bolsters what should be a formidable Tampa Bay bullpen. It includes right-handers Heath Bell, Joel Peralta and Juan Carlos Oviedo, in addition to left-hander Jake McGee.
With his arrival, Balfour offers an All-Star pedigree. Last year, he was named to his first All-Star team after recording a 1.63 ERA and going 25-for-25 in save opportunities in the season's first half.
He'll take over the role most recently occupied by Fernando Rodney, who remains unsigned as a free agent, though he's reportedly drawing interest from the Orioles. Rodney had a 1.91 ERA with 85 saves in two seasons with the Rays.
"This is a very big deal for us," Rays principal owner Stuart Sternberg said. "We've had a history the last few years of bringing in fellas to close our games who have been incredibly successful. We expect the same thing. We believe we're going to get that from Grant Balfour for the next couple years at least."
If recent history is a reliable guide for the future, Balfour could meet those expectations. Then Maddon's choice to use the "C" word will seem wise.
"To have all these different tools in the toolbox all of the sudden," Maddon said, "it's really kind of neat."
You can follow Andrew Astleford on Twitter @aastleford or email him at aastleford@gmail.com.
---