Rays notes: Drew Smyly reports to Tampa Bay, eager for new chapter
Published
Aug. 2, 2014 9:09 p.m. ET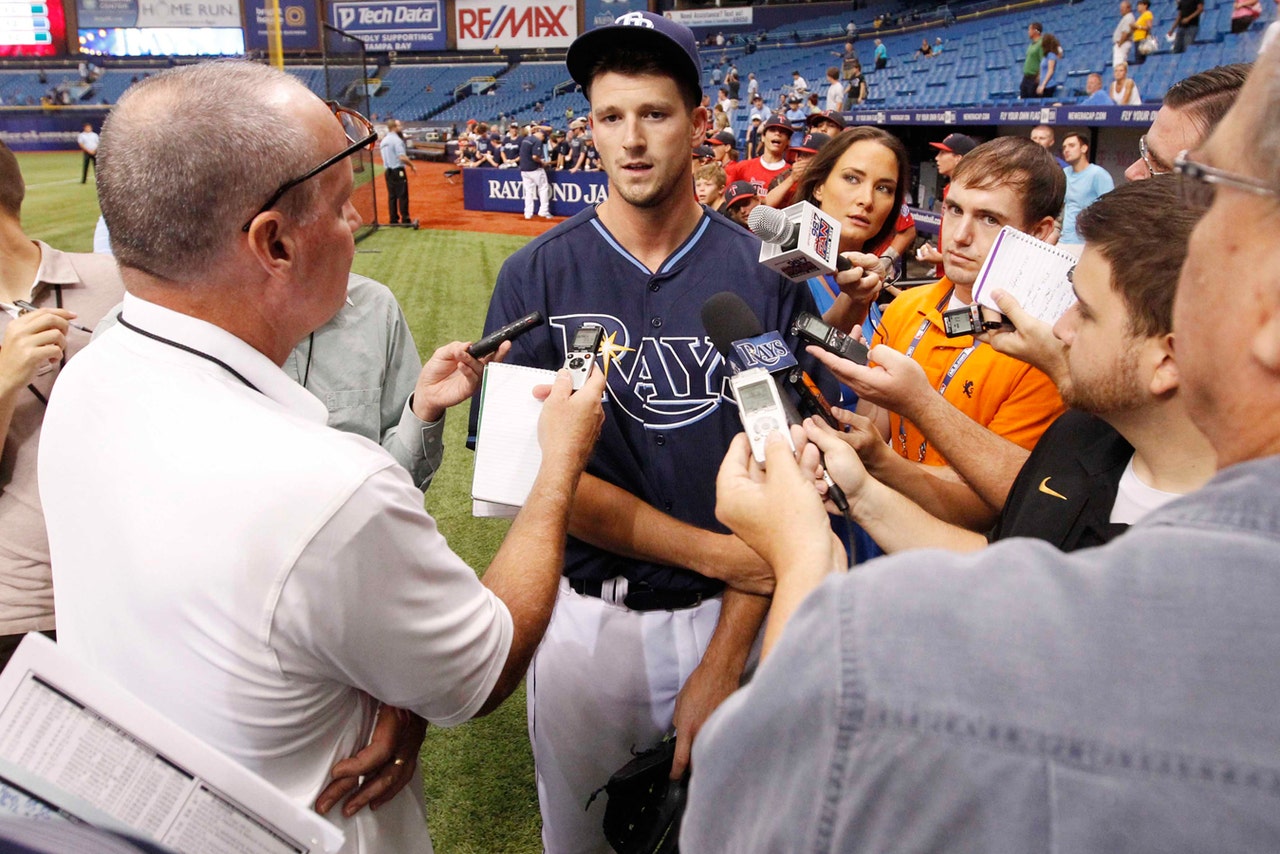 ST. PETERSBURG, Fla. -- Left-hander Drew Smyly wants it known that he hasn't arrived to the Tampa Bay Rays to fill David Price's shadow, but he's eager to accept the trust placed in him.
"Yeah, he's very big shoes," Smyly said. "He's David Price. He's outstanding. He's awesome to watch. But the Rays, they made the move, so they obviously see something in me.
"I'm really excited to be playing for them, for a team that wants you. And hopefully, I can learn a lot more from them. So I'm excited to play these next two months."
Smyly arrived at Tropicana Field on Saturday afternoon, carrying a black Detroit Tigers equipment bag in his right hand while walking toward the home clubhouse. It was a reminder of a former professional life that ended Thursday, when he was part of a three-way deal that sent Price to Detroit, Tigers center fielder Austin Jackson to the Seattle Mariners and Mariners utility man Nick Franklin and Detroit shortstop prospect Willy Adames to Tampa Bay.
Smyly said he was caught off-guard when he learned of the trade, after pitching five innings in a start against the Chicago White Sox that afternoon at Comerica Park. He said he received text messages from friends and family saying that he might have been traded. Soon after, Tigers general manager Dave Dombrowski pulled Smyly aside after the appearance and told him about the deal.
"I had no idea that was happening going into my start," Smyly said.
Smyly, 25, projects as a middle-of-the-rotation starter. He's 6-9 with a 3.93 ERA and 89 strikeouts this season. Already, he has posted a career-high 105 1/3 innings this season, passing the 99 1/3 he threw in 2012 and the 76 in 2013.
"You can't put too much pressure on yourself," he said. "It doesn't matter who you're playing for. It's competitiveness, and you're going to go out there and play the best you can and not try to give in to anybody else. I try not to put too much pressure on myself. You've just got to have fun. Whatever, it's a game. Just try to do the best you can."
Smyly, who's 16-12 for his career with a 3.53 ERA and 264 strikeouts, said he throws a fastball, curveball, change-up and cutter. Tampa Bay manager Joe Maddon said the Rays are still configuring their plan for Smyly, who could start Tuesday when Tampa Bay faces the Oakland Athletics at O.co Coliseum in Price's former slot in the rotation.
"I'm very aware that he has not been a big-inning guy," Maddon said. "So we need to talk to him, figure it out. And of course, watch him. Absolutely watch him. But I don't have any kind of specifics yet."
Still, Smyly was indoctrinated into the Rays' way early. Upon his arrival to Tropicana Field, he was fitted for a tuxedo as part of the team's next themed trip that begins after a three-game series against the Los Angeles Angels concludes Sunday.
"I show up, and they're like, 'We're actually doing a tuxedo on this trip,'" he said. "They were all ready for me to get sized up. I'm excited to wear it."
MASHED JOE-TATOES
Saturday's game featured the much-anticipated Joe Maddon Mr. Potato Head giveaway at Tropicana Field. The first 20,000 fans received one, and Angels manager Mike Scioscia found a creative way to use his own.
Maddon, who worked under Scioscia in his time with the Angels organization before joining the then-Devil Rays before the 2006 season, received a video that revealed Scioscia crushing Mr. Potato Heads in a game of soft toss from the manager's office in the visiting clubhouse.
"I got a video of him soft-tossing a Mr. Potato into the wall," Maddon said.
"So there's mashed potatoes."
Scioscia said he asked Maddon for a Mr. Potato Head to see what it looked like. Maddon, though, delivered much more than a single item with his likeness.
"I went in there, and I had just asked him for one Potato Head, you know, to see what it was, and it looked like it was a Potato Head farm in my office," Scioscia said. "They were everywhere."
Apparently, Scioscia knew what to do to cut down on the clutter. Maddon approved.
"I'm sure he saw Mr. Potato Head as being a baseball of sorts," he said. "So it's just pretty creative."
MYERS AND HANIGAN UPDATE
Outfielder Wil Myers (wrist) will travel to Port Charlotte on Monday to hit batting practice on the field. He'll go to Durham on Wednesday and is expected to start a rehab assignment next Saturday.
Catcher Ryan Hanigan (oblique) was sent on a rehab assignment with High-A Charlotte on Saturday. He went 1 for 3 with a walk and two runs scored in the Stone Crabs' rain-shortened 10-0 victory over Daytona that ended in the sixth inning. He's expected to rehab there until at least Wednesday.
WORTH NOTING
--- With Friday's loss, the Rays dropped consecutive games for the first time since July 9 against the Kansas City Royals and July 11 against the Toronto Blue Jays.
--- Utility man Ben Zobrist recorded his 216th career double Friday night, allowing him to pass Carl Crawford for second place on the Rays' all-time list. Evan Longoria leads Tampa Bay with 218.
--- The Rays-Angels series features the majors' two best teams since June 11. Entering Saturday, Tampa Bay was 29-14 and Los Angeles 29-15.
You can follow Andrew Astleford on Twitter @aastleford or email him at aastleford@gmail.com.
---