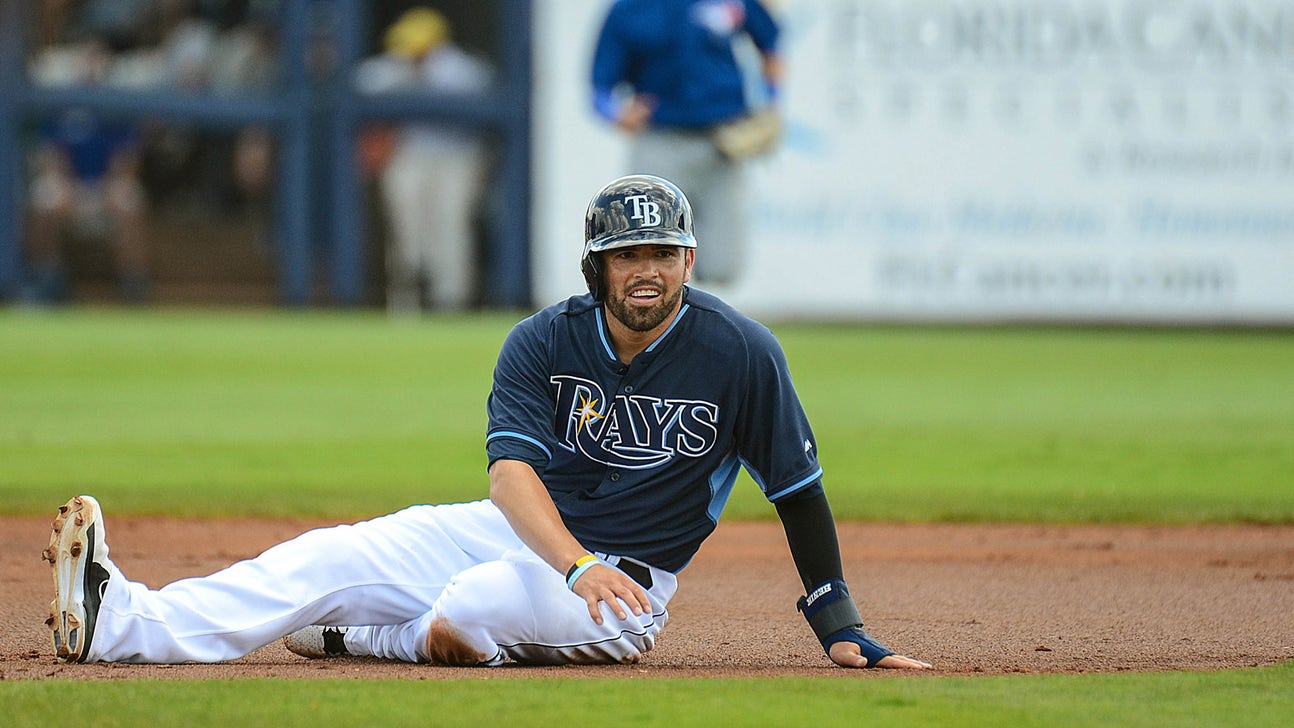 Rays fall to Blue Jays, 5-0
Published
Mar. 21, 2014 4:23 p.m. ET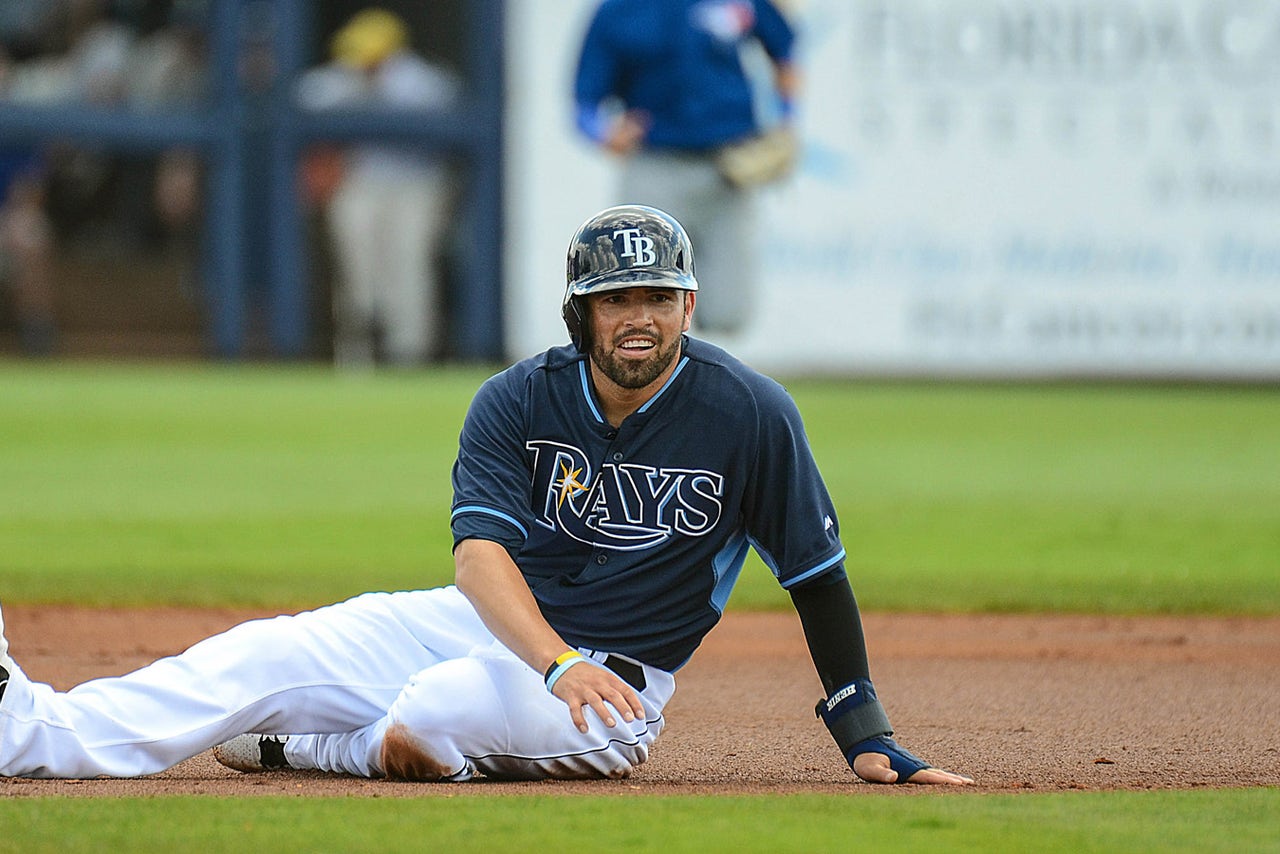 PORT CHARLOTTE, Fla. -- Brett Lawrie hit his first homer of the spring and the Toronto Blue Jays held AL East rival Tampa Bay Rays to just three hits in a 5-0 victory Friday.
Erik Bedard, in his final bid to earn the Rays' fifth rotation spot, struggled through 5 2/3 innings. He gave up four runs over 94 pitches, walking one and striking out four.
Bedard is in a three-way competition with LHP Cesar Ramos and RHP Jake Odorizzi. Manager Joe Maddon said the decision on the fifth starter will come Saturday morning.
"The other guys I'm competing with are really good, (so) I'm sure it's a hard decision to make," Bedard said. "They're probably going to crunch some numbers and go with their gut feeling, and we'll see. When you don't have a guaranteed deal, you have to compete."
Bedard signed a minor league deal with the Rays in February. As recently as March 18, he said he would opt out of his contract if he doesn't make the starting rotation, but he appeared to relax his position Friday.
"Competition is always fun, but I guess everyone is ready to know," Bedard said. "I feel good, and maybe the numbers don't show, but they show for Ramos, who had a very good spring. We'll have to see because I don't make the decision."
Bedard has a 6.88 ERA over 17 innings with 13 strikeouts and two walks, while Odorizzi has a 3.75 ERA over 12 innings with eight strikeouts and six walks.
Ramos has the best numbers of the competition: a 2.63 ERA over 13 1/2 innings with 11 strikeouts and a walk.
"It's not easy," Maddon said. "They've all represented themselves extremely really well. We just got to try and figure out how this thing fits and who's going to give us the best chance to win coming out of the gate."
STARTING TIME
Rays: Opening-day starter David Price threw 106 pitches in a simulated game vs. minor league hitters Friday morning. Price pitched into the eighth inning and said he didn't reach a three-ball count until the last hitter in the seventh.
"Curveball was extremely sharp -- it was a good day," Price said. "It was essentially a game, minus an anthem, walkout songs and umpires. Guys were out there trying to get on base and steal. It was good."
Jays: Aaron Sanchez, the team's 21-year-old top pitching prospect who hasn't been above Class A, looked sharp in his first start of the spring Friday, throwing 5 1/3 scoreless innings, while giving up just three hits, walking three and striking out two over 69 pitches. Sanchez has a perfect 0.00 ERA over 12 1/3 innings of this spring, but will probably be sent to Double-A New Hampshire.
"I won't be disappointed if that's what happens," Sanchez said. "I'll go there and keep working to get better."
NAVARRO BACK IN AL EAST
When the Blue Jays signed journeyman catcher Dioner Navarro to a two-year, $8 million deal in December, they put faith in the former Tampa Bay Rays All-Star would be able to catch more than a 100 games, something he hasn't done since 2009.
"I'm 100 percent sure I can play all season," he said. "Physically, mentally and spiritually feel ready and they obviously have faith that I can, too."
Navarro will be seeing familiar faces back in the AL East, and for Maddon, that's a good and bad thing.
"He helped us become the Rays," Maddon said. "As a young player, he was very calm through some stressful situations and threw out some good baserunners in some big moments. I like him. I've always like him and really happy it's worked out well for him, though not liking that he's in our division now against us."
Last season, Navarro started 89 games for the Chicago Cubs, hitting 13 homers with a .300 average. He knows coming back to the AL East will be a challenge.
"Everyone always talks about the (AL) East -- always have, so it's no different (to be back)," Navarro said. "You have to have your A game every day."
TRAINER'S ROOM
Juan Carlos Oviedo said he won't be ready by opening day because of his visa issues getting into the country. Oviedo said he's feeling good and expects to pitch Sunday vs. Boston in Fort Myers. ... Matt Joyce received more treatment for his stiff neck, and Maddon said he was uncertain about when he will return to the lineup. ... Jose Molina has not played in the previous two games, but Maddon says it's not injury related.
---