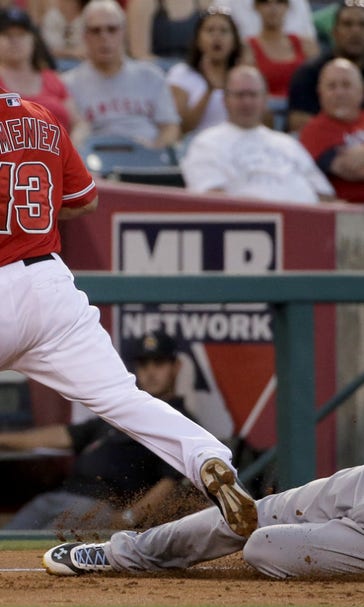 Rays blow three-run lead in the ninth of 6-5 loss to Angels
May 16, 2014

ANAHEIM, Calif. -- Erik Bedard pitched well enough to win. He even had a three-run lead in the ninth thanks to Desmond Jennings' home-run-saving catch against C.J. Cron. Then the bullpen made it all go away.
Mike Trout greeted Brad Boxberger with a three-run walkoff homer to cap a four-run rally by the Los Angeles Angels, and the Rays were saddled with a 6-5 loss Thursday night in the opener of a four-game series.
Rays closer Grant Balfour came on in the ninth and walked his first two batters before giving up an RBI single by Collin Cowgill. Trout jumped on a 1-1 pitch from Boxberger (0-1) and drove it into the top tier of the double-decker bullpen in left field for his eighth homer.
"We did a lot of good things to get to where we wanted it to be," Rays manager Joe Maddon said. "We had a three-run lead with our closer coming in against their 8 and 9 (in the order), and he walks both those guys and gives up a base hit. ... He just got a pitch in a bad spot to Trout."
The walkoff homer and three RBIs were Trout's first in the big leagues in both categories.
"I just told myself to be calm and get a pitch to hit," Trout said. "I was just trying to get a base hit, put a good swing on the ball and it went over the fence," Trout said. "It's an unbelievable feeling."
Fernando Salas (3-0) pitched a perfect inning to get the victory.
Angels manager Mike Scioscia won two replay challenges with his team at bat, though the Angels didn't score in either time.
Angels starter Tyler Skaggs gave up five runs and eight hits in six-plus innings, remaining winless in five starts at Angel Stadium this season with a 6.91 ERA.
Brandon Guyer hit his first home run of the season, helping Bedard take a 4-0 lead into the sixth. The left-hander was charged with two unearned runs and four hits through 5 2-3 innings and struck out five.
"I was throwing strikes, mixing my pitches and getting ahead. That makes it a lot easier," Bedard said.
Rays first baseman James Loney, playing in on the grass, allowed a two-out grounder by Erick Aybar to get under his glove with runners at the corners in the sixth. Howie Kendrick scored on Loney's third error of the season, ending a string of 22 consecutive scoreless innings by Tampa Bay pitchers -- five short of the franchise record set last September.
Pinch-hitter Raul Ibanez greeted Brandon Gomes with an RBI single before Jake McGee came in and struck out Grant Green. Guyer chased Skaggs with a leadoff homer in the seventh to give Tampa Bay a three-run lead.
"If this is my role the whole year, I'm ready for it," Guyer said. "And whatever happens happens. I just want to be prepared and do anything I can to help the team."
In the fourth, Jennings took away Cron's bid for his third big league homer and first at Angel Stadium with a leaping grab in left-center -- two innings after Guyer raced in from left field to make a diving grab of Cron's Texas Leaguer.
Thanks to Jennings' catch, Bedard has thrown 46 1-3 consecutive innings without allowing a home run since last Sept. 16, when he was pitching for Houston and gave up a 2-run shot by Cincinnati's Zack Cozart at Minute Maid Park.
Tampa Bay scored three runs in the sixth. Jimenez, making his fifth start at third base while David Freese remains on the disabled list, went into the hole for Wil Myers' sixth-inning grounder with Aybar standing right behind Jimenez waiting for the ball. It deflected off Jimenez's glove and into short left field, and Myers was credited with an RBI double.
Loney, who leads Tampa Bay with 24 RBIs, doubled inside first base two batters later to drive in another run.
"It's a tough loss, but we're just got to come back out here tomorrow and keep clawing and grinding," Guyer said.
NOTES: The Rays put switch-hitting 2B Ben Zobrist on the 15-day DL because of a dislocated left thumb, which he injured on a headfirst slide while trying to steal second base in Wednesday's 2-0 victory at Seattle. ... Rays RHP Alex Cobb, sidelined since April 13 because of an oblique strain on his left side, is scheduled to make a rehab start on Saturday with Class-A Charlotte and will be limited to five innings or 75 pitches.
---