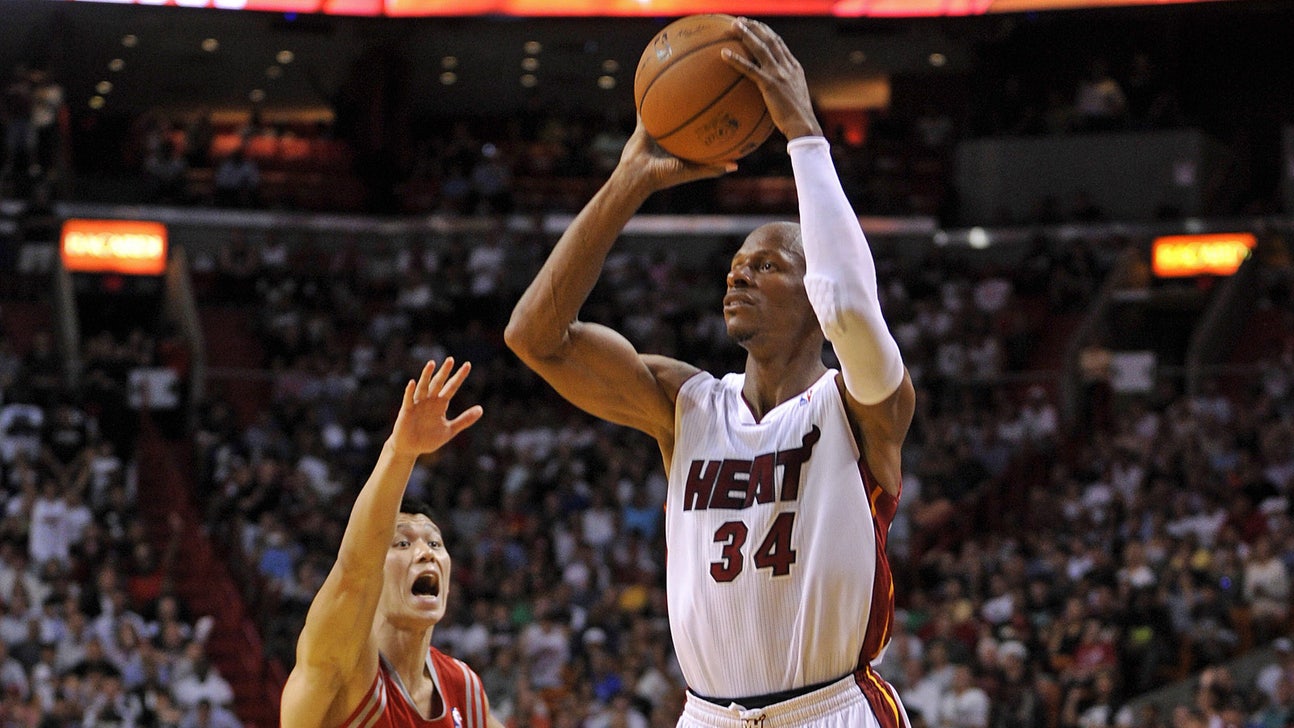 Ray Allen stays on target to help Heat end skid
Published
Mar. 16, 2014 8:49 p.m. ET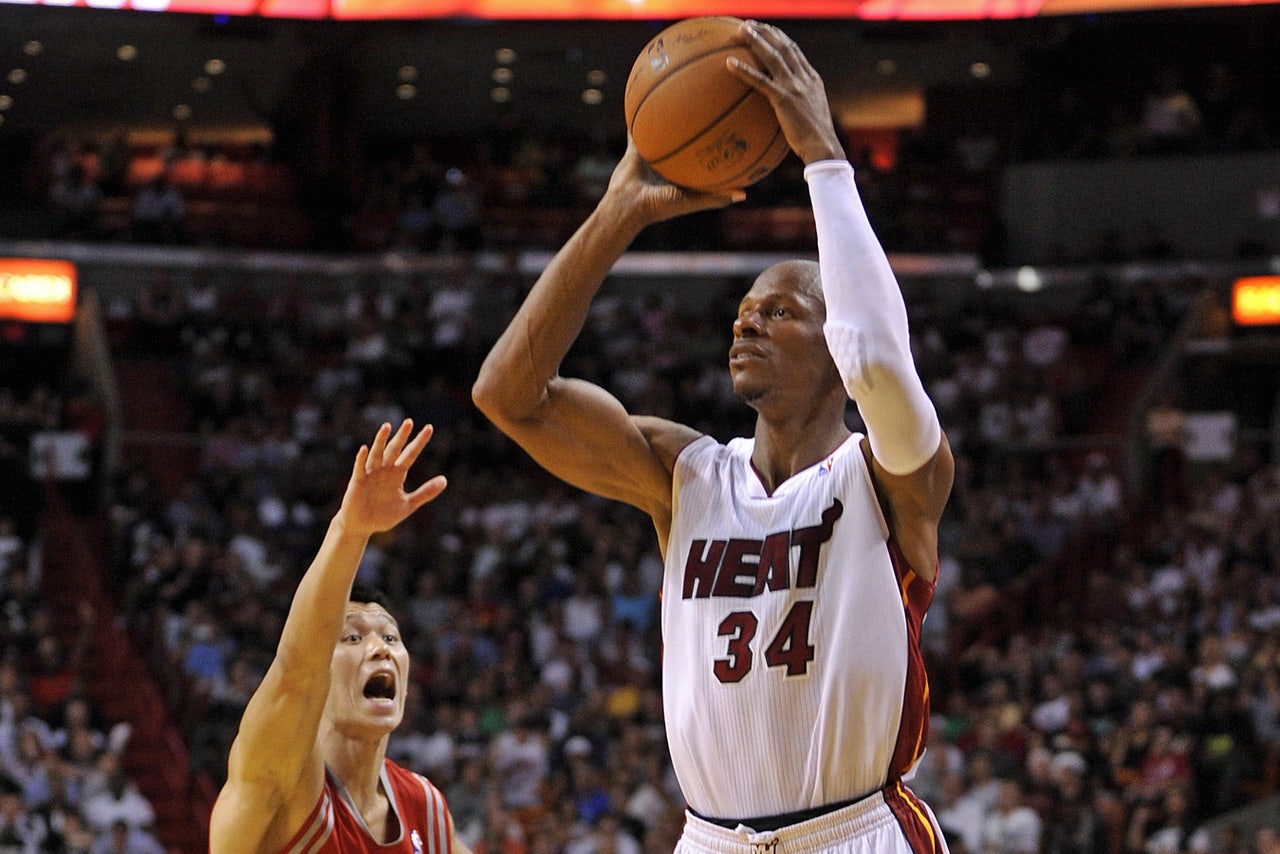 MIAMI -- Ray Allen has lived an NBA shooter's life for 18 seasons.
After beginning the New Year shooting 17 percent from 3-point range, hitting just 9 of 52 attempts, Allen believed there was just one way to snap out of the slump.
"You just have to keep chucking away at it," the Miami Heat veteran said Sunday.
That could mean taking a tiring amount of free throws before practice, as Allen did Saturday, or not shying away from unloading when open during a game. Sooner or later, in the veteran's mind, the accuracy was sure to return.
Fortunately for the Heat, Allen was on target Sunday. He scored a season-high 25 points and sparked a fourth-quarter rally during a 113-104 victory against the Houston Rockets amid a playoffs-atmosphere battle at AmericanAirlines Arena.
Allen hit 7 of 11 from the floor, including 4 of 6 from 3-point range, to help Miami snap a two-game home skid and avoid dropping its sixth game in seven tries.
That performance followed Allen's 22-point effort in a loss to Denver on Friday night, when he shot 7 of 9 overall and 5 of 7 from long distance.
"When he gets in a rhythm, he's the best 3-point shooter of all-time," teammate Chris Bosh said. "We have to use Ray a lot more, and we've been doing that the past couple of games, getting him involved more, getting him into a rhythm mentally.
"Not so much shooting the ball, but putting the ball in his hands and allowing him to make plays. When he does that, with anybody, you're going to feel a little more involved and will shoot it with confidence when you get it."
Allen, who missed his first jumper Sunday, actually said that it was more important for him to get in the flow of the offense than sink his first attempt.
"I don't worry about whether I shoot the ball," he said. "It's a matter of getting the ball in your hands. You take a dribble and come up pinned down, and you make a pass, get somebody else involved. There's a rhythm that we need as a team.
"When we do need that swing-swing ... and (Norris) Cole, myself, Shane (Battier) ... we're in the corner, we've had touches. So you're familiar with the ball and you have a great opportunity hitting that shot."
Allen, 38, said the other key factor to his outside game was practice, such as when he arrived several hours before Saturday's practice to work on his stroke.
Asked how long it takes to attempt a figurative thousand jumpers, as coach Erik Spoelstra estimated, the NBA's all-time leader in both in 3-pointers made and attempted said: "That depends how many you make."
But such a routine is not just about finding net.
"What I focus more on is the conditioning aspect of it," Allen said. "You just kind of fight through the fatigue. When you're shooting shots, it's frustrating to miss but you fight through it. You're really just training your body. You're trying to put yourself in fourth-quarter situation so when you do feel fatigued and you have 35 minutes on your body already you can fight through it."
Allen certainly had late-game stamina against the Rockets. He scored 10 points -- including two treys and two free throws courtesy of technical fouls -- during a 14-5 run that turned a five-point deficit into a 106-102 lead with 2:55 to go. Houston got no closer the rest of the way.
Allen is one shooter who likes getting technical with free throws.
"Any time you get to the free-throw line, it just helps you get the ball in your hands, get a feel, see the ball go through the hoop," Allen said. "Anytime somebody else doesn't have a rhythm, even though I shoot the technicals, it's always like, 'Let somebody else go feel the ball little bit and get a little rhythm.' "
Allen scored 14 fourth-quarter points for the second straight game. LeBron James, meanwhile, failed to get a field goal in the final period and has scored just 17 points total in the past six fourth quarters.
"We have so many weapons on the floor," said James, who finished with 24 points. "Between Ray and CB (Bosh), they are always the recipients of open looks, whether it's uncontested or at the end of a play. We always know they are our outlets."
You can follow Charlie McCarthy on Twitter @mccarthy_chas or email him at mac1763@bellsouth.net.
---