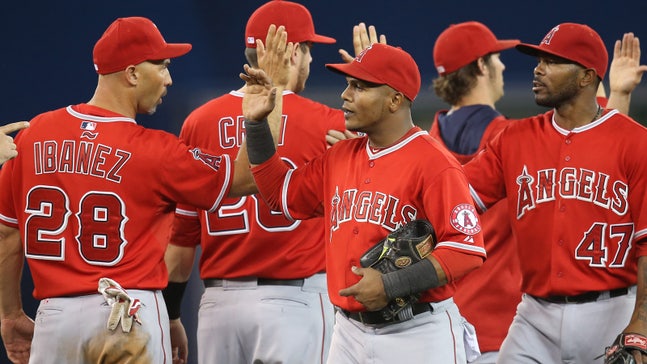 Raul Ibanez delivers, Angels beat Blue Jays 4-3
Updated
Mar. 4, 2020 4:35 p.m. ET

TORONTO (AP) -- Joe Smith and Ernesto Frieri insist they don't mind which one of them is called on to pitch the ninth inning for the Los Angeles Angels, even if it means some bullpen mixing and matching from game to game.
Raul Ibanez drove in the tiebreaking run with a sacrifice fly in the ninth inning, Mike Trout hit a solo home run and the Angels won their fifth straight game in Toronto, beating the Blue Jays 4-3 on Friday night.
Smith returned after a four-game absence to work the eighth, giving up a game-tying homer to Jose Reyes. Frieri, who started the season as the closer before being replaced by Smith, finished it off with a perfect ninth, picking up his fourth save in six chances.
"Whenever they feel like they need me, I'm going to be ready," Frieri said. "Doesn't matter what inning, doesn't matter what situation. I'm a competitor. I just want to compete."
Smith said he's equally untroubled about whether he's the one handling setup duties or nailing down saves.
"I'm going to pitch whenever they need me," he said. "Whatever helps us win."
Bench coach Dino Ebel, who is managing the team for two days while Mike Scioscia attends his daughter's college graduation, said he and pitching coach Mike Butcher decided before the game that Smith would get the call if the top of Toronto's lineup was due up in the eighth.
"We felt Smith would be a good matchup for the top of that order and getting to (Jose) Bautista and (Edwin) Encarnacion," Ebel said.
Erick Aybar had three hits and scored twice, including the decisive run in the ninth, as the Angels won for the eighth time in nine meetings with the Blue Jays and halted Toronto's season-best winning streak at five games.
Ibanez called Aybar "an electric player to watch."
Aybar tripled off Brett Cecil (0-3) to begin the ninth and Trout reached safely when first baseman Encarnacion couldn't find the bag after taking the throw on Trout's infield grounder. Albert Pujols was intentionally walked to load the bases for Ibanez.
Smith (2-0) got the win despite giving up Reyes' homer, his first appearance since May 3 after being sidelined with a sore muscle in his right side.
"After not being out there for a couple of days it felt a little awkward," Smith said. "I missed with a pitch right down the middle and that's what happens."
Toronto took an early lead against right-hander Garret Richards. Reyes led off the first with a single, moved to second when Melky Cabrera walked and came around to score on two wild pitches.
The Angels tied it in the second when Efren Navarro hit a two-out double and scored on Collin Cowgill's single.
Trout made it 2-1 with a leadoff homer in the third, but the Blue Jays tied it again in the bottom half on Richards' third wild pitch of the game, with Cabrera coming home after the ball bounced away from catcher Hank Conger.
The Angels thought they had reclaimed the lead when Ibanez slid home after a wild pitch by Toronto's Dustin McGowan sailed to the backstop in the fifth. Blue Jays manager John Gibbons challenged the call by plate umpire Angel Hernandez and Ibanez was ruled out after a replay review that took 3 minutes and 20 seconds.
McGowan allowed two runs and seven hits in five innings. He walked two and struck out two.
"I thought he labored most of the night," Blue Jays manager John Gibbons said.
Los Angeles broke the tie with a run off Sergio Santos in the seventh. Aybar doubled and went to third on a grounder before Pujols was intentionally walked. After Ibanez walked to load the bases, Steve Delabar came on and walked Howie Kendrick on four pitches to give the Angels a 3-2 lead.
Richards allowed two runs and five hits in seven innings. He walked two and struck out six.
"Richards is one of the best young pitchers in the game," Gibbons said. "He can overpower you."
NOTES: Navarro was recalled from Triple-A Salt Lake City before the game and made his first major league start in the outfield. ... Blue Jays 3B Brett Lawrie (right hamstring) missed his fourth straight game. ... The Blue Jays wore red caps to mark Canada's National Day of Honour, a tribute to those who fought in the war in Afghanistan. A moment of silence was held before the anthems. Angels LH Tyler Skaggs (2-1) faces Toronto LH J.A. Happ (1-0) on Saturday.
---