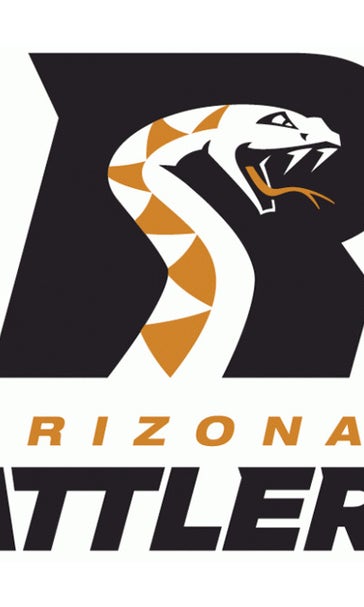 Rattlers handed first loss by Predators
May 8, 2016

ORLANDO, Fla. -- The Arizona Rattlers (5-1) dropped their first game of the season against the undefeated Orlando Predators (6-0) by a score of 77-59 at the Amway Center in front of 10,512 fans.
Quarterback Nick Davila had a solid night, completing 23 of 34 passes for 301 yards and seven touchdowns. He also had one interception, and was sacked once. His efforts, however, were not enough to get the win.
Despite the loss, there was one bright moment of the night for the Rattlers. Wide receiver Rod Windsor became the all-time receptions leader for the Rattlers, eclipsing Rattlers' legend Hunkie Cooper (776).
Orlando received the ball and got the scoring started with a six yard pass from Predators' quarterback Randy Hippeard to wide receiver Brandon Thompkins.
The Rattlers responded two plays later with a 29-yard touchdown pass from Davila to wide receiver Anthony Amos. After a four and out which featured multiple penalties by Orlando, and a sack by defensive end Damien Borel, Arizona scored again with a two yard pass from Davila to wide receiver Maurice Purify. Orlando tied the game again at 14 with a 35-yard touchdown pass from Hippeard to wide receiver Greg Carr as the time expired.
The Rattlers took the lead again early in the second with a touchdown pass from Davila to Windsor, the pass that made him the all-time receptions leader. The point-after from kicker Kenny Spencer was missed, making the score 20-14.
At this point, the Predators re-took the lead and would never relinquish it. Orlando scored with a one-yard rush by jack linebacker Terrance Moore. The next series, Davila threw an interception in the end-zone to defensive back Paul Stephens. Orlando scored again with a 1-yard run by wide receiver Larry Brackens.
The Rattlers scored again with a 6-yard touchdown pass from Davila to wide receiver / jack linebacker Chase Deadder. The Predators, however, would close out the half with two touchdown passes from Hippeard to Brackens. At halftime, the Rattlers trailed the Predators 42-27.
The third quarter was a see-saw battle, where each team traded scores. The Rattlers scored on two touchdown passes from Davila, one to Purify, the other to Windsor. Rattlers kicker Spencer left the game early in the third, causing Arizona to go for the two-point conversion through most of the second half. Amos also returned a kickoff for a touchdown late in the third.
The Predators answered every Rattlers' score with three touchdown passes from Hippeard, one to Carr, one to Thompkins, and one to wide receiver Jordan McCray.
The Predators pulled away in the fourth quarter where after a four and out by the Rattlers, Hippeard threw a 38-yard touchdown pass to Carr, which was the Cutters Catch of the Game. The Rattlers were able to score two more times, but the Predators would be able to hold on with a final score of 77-59.
---