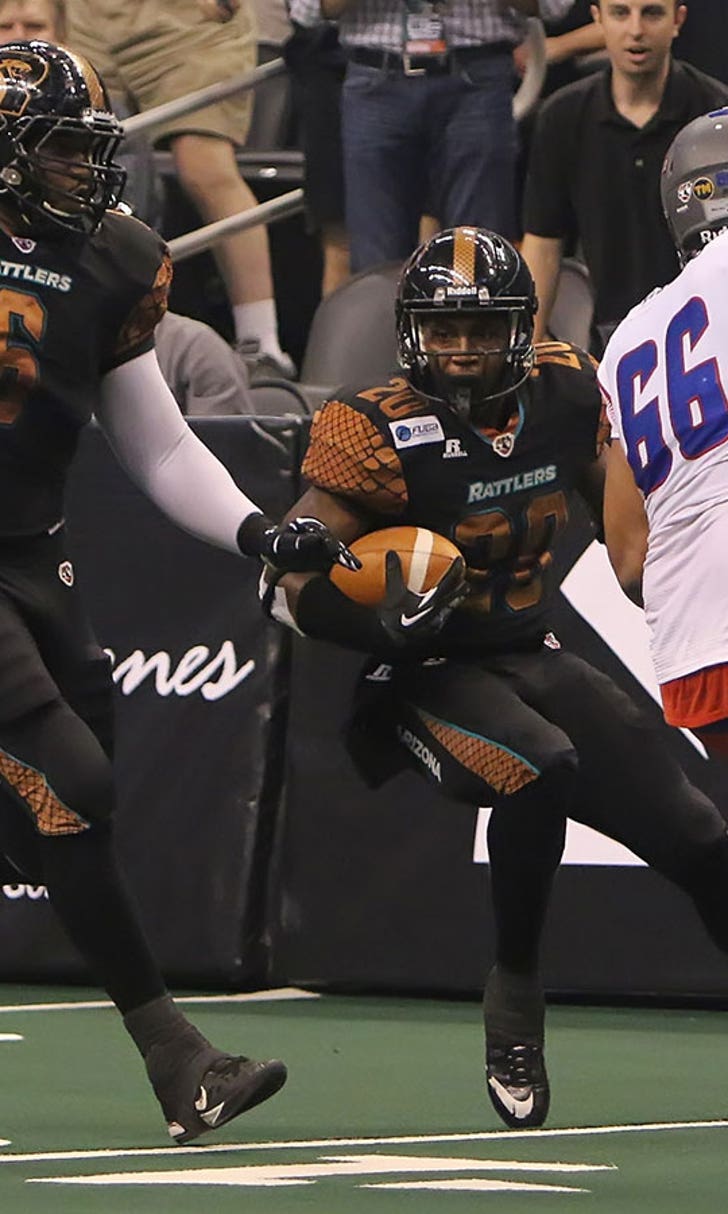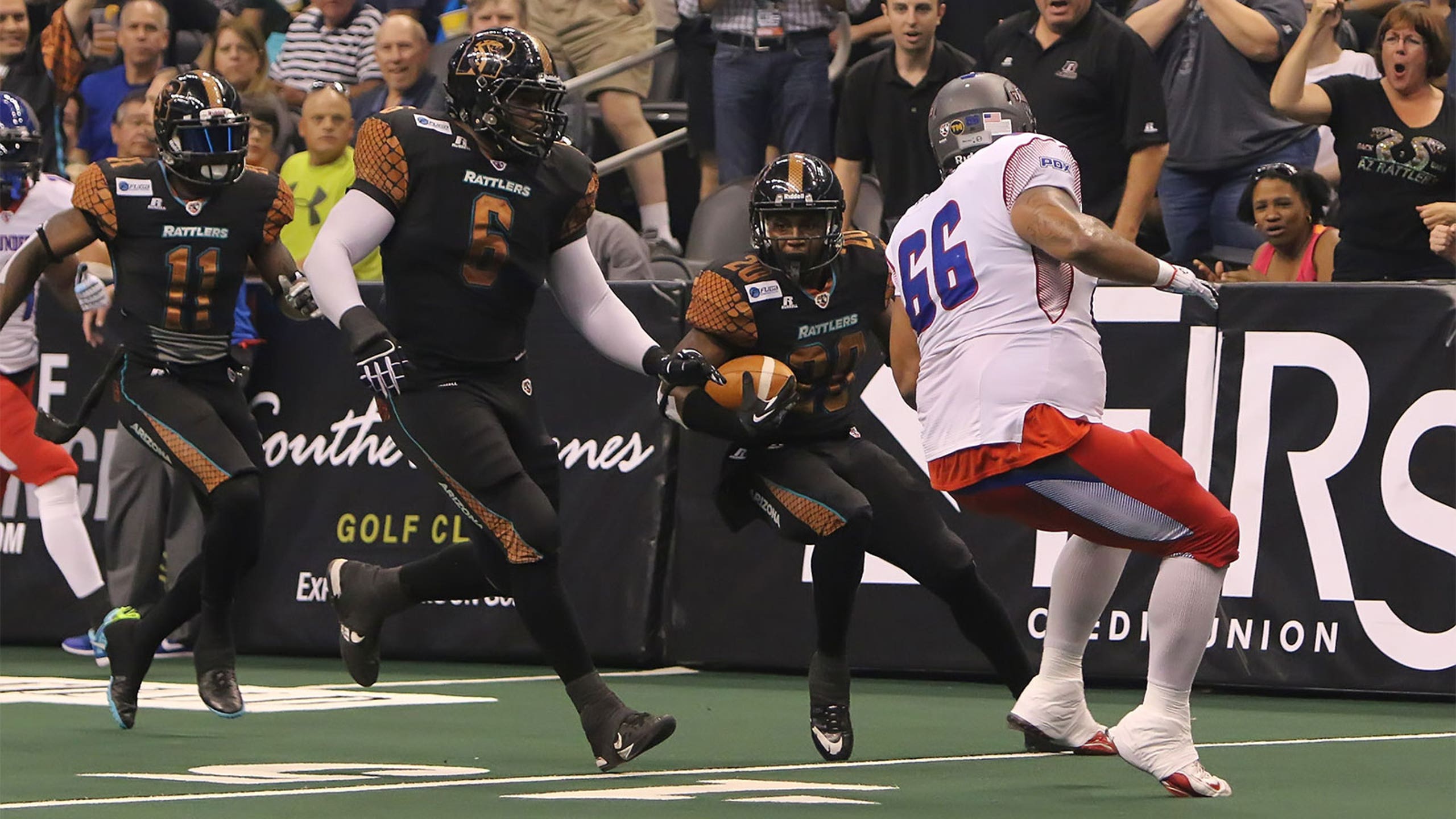 Rattlers advance in Arena playoffs
BY foxsports • August 3, 2014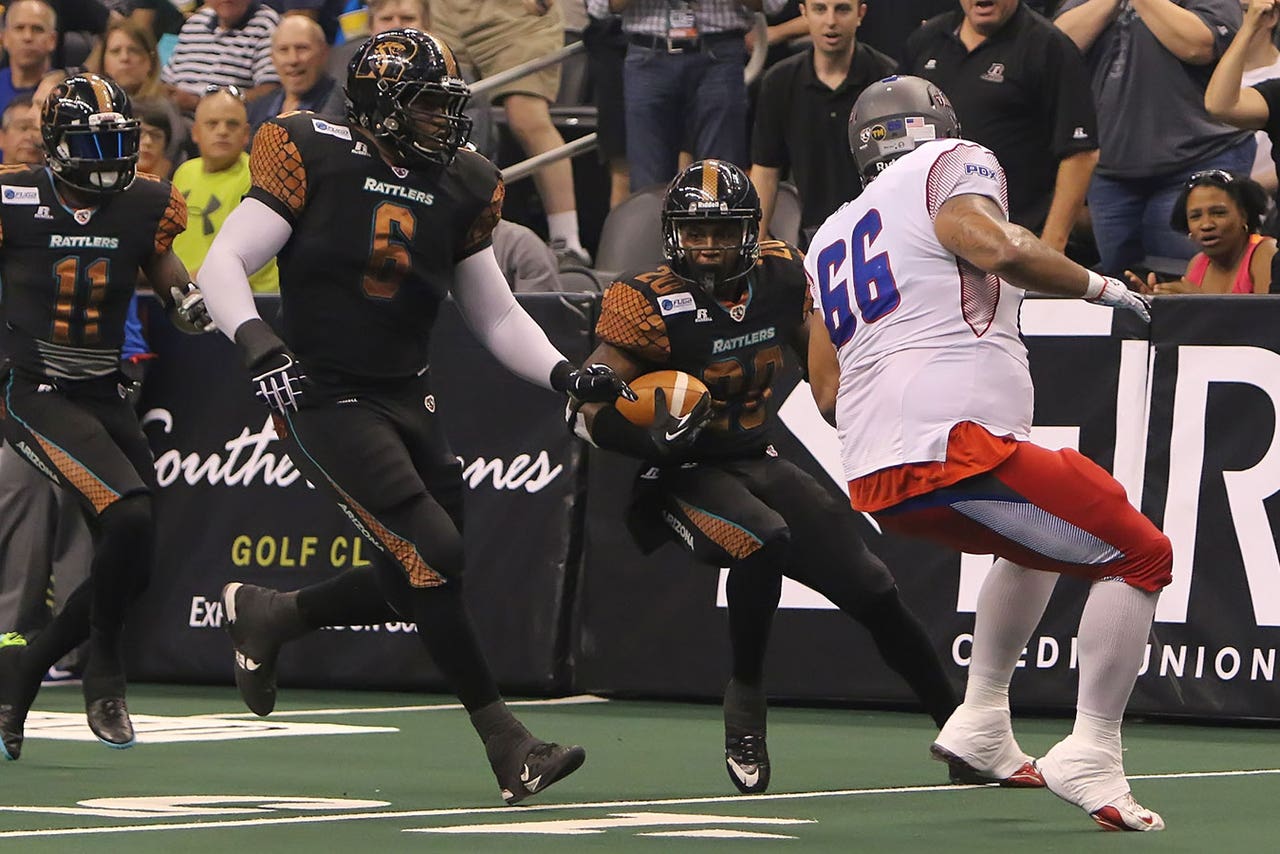 PHOENIX -- Arizona Rattlers defensive back Marquis Floyd intercepted a pass with 5.4 seconds left to preserve a 52-48 victory over the Portland Thunder in an Arena Football League quarterfinal game Sunday.
The Rattlers, the back-to-back Arena champions, advance to the National Conference title game against the San Jose Sabercats. The winner of that game moves on to ArenaBowl XXVII on Aug. 23.
Portland took its first lead of the second half at 48-45 when quarterback Kyle Rowley connected with wide receiver Jeffrey Solomon on a 14-yard touchdown pass with 55 seconds left in the fourth quarter.
Arizona (16-3) responded on its next possession when quarterback Nick Davila completed three straight passes for first downs, setting up a 4-yard touchdown run by rookie fullback Alex Singleton that gave the Rattlers a 52-48 lead with 29 seconds remaining.
The Thunder (5-14) ran two plays before Floyd stepped in front of a pass intended for wide receiver Douglas McNeil III. Floyd dropped to the turf to seal the outcome at US Airways Center.
Floyd's interception -- his 14th in his last 11 games -- was the AFL Highlight of the Game, but defensive back Jeremy Kellem was the Rattlers' top defender from start to finish. He led all players with 10 tackles and seven pass breakups, and he also had an interception late in the first quarter.
Davila, who didn't throw an incompletion until the closing seconds of the first half, finished with 247 yards on 19-of-28 passing. He threw for five touchdowns, including four to wide receiver Rod Windsor. Davila also ran for a touchdown midway through the second quarter.
Windsor caught nine passes for 113 yards. One of his touchdowns came on a 4-yard pass from Davila, as Windsor fell over the boards and into Portland's bench on the second play of the fourth quarter.
The game marked the return of Jason Geathers, who was assigned to Arizona this week and played for the Rattlers in 2011. Geathers started at Jack linebacker, which allowed Kerry Reed to play wide receiver, but Geathers also saw some action on offense and collected two passes for 23 yards, including one for 16 yards.
Rowley completed 26 of 50 passes for 305 yards and six touchdowns, five of those to McNeil III, who finished with 10 catches. So did Jamar Howard, who led all receivers with 126 yards but didn't score a touchdown.
---