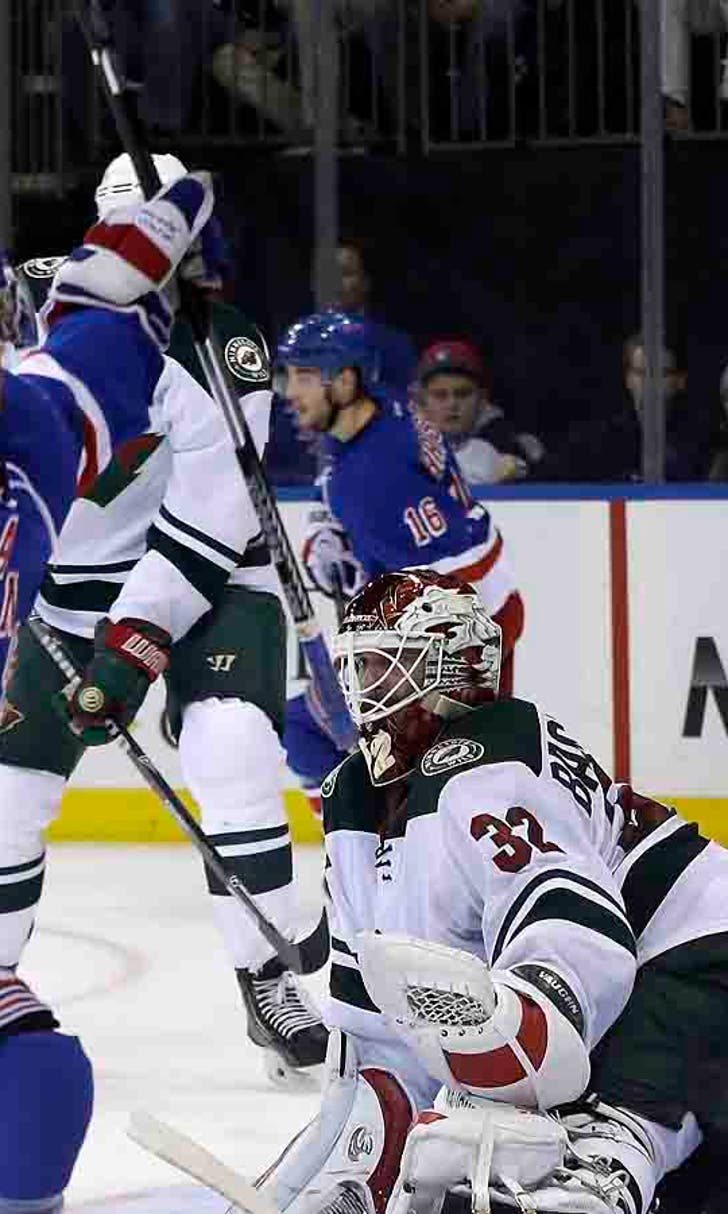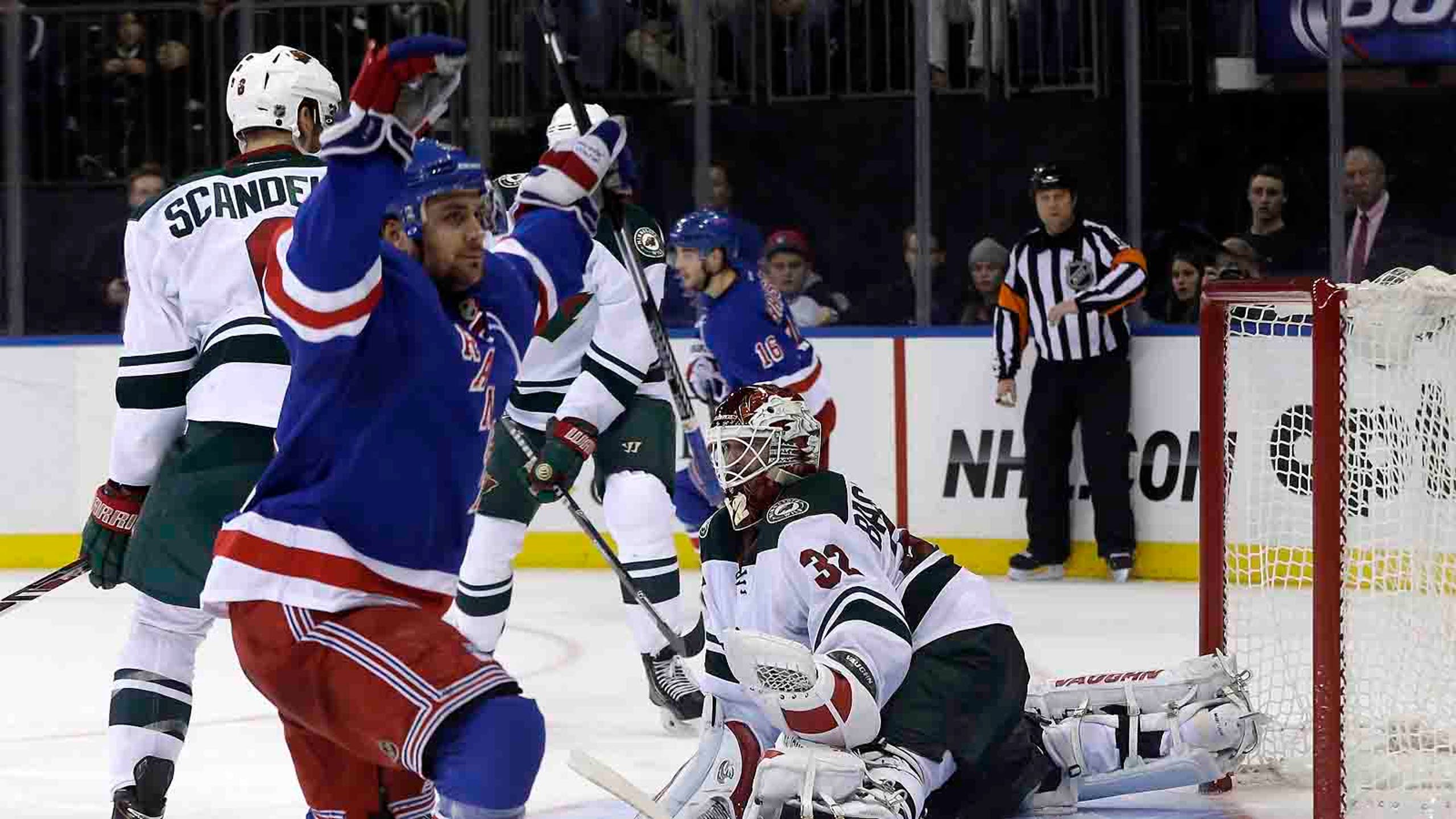 Rangers use big 2nd period to beat Wild 4-1
BY foxsports • December 22, 2013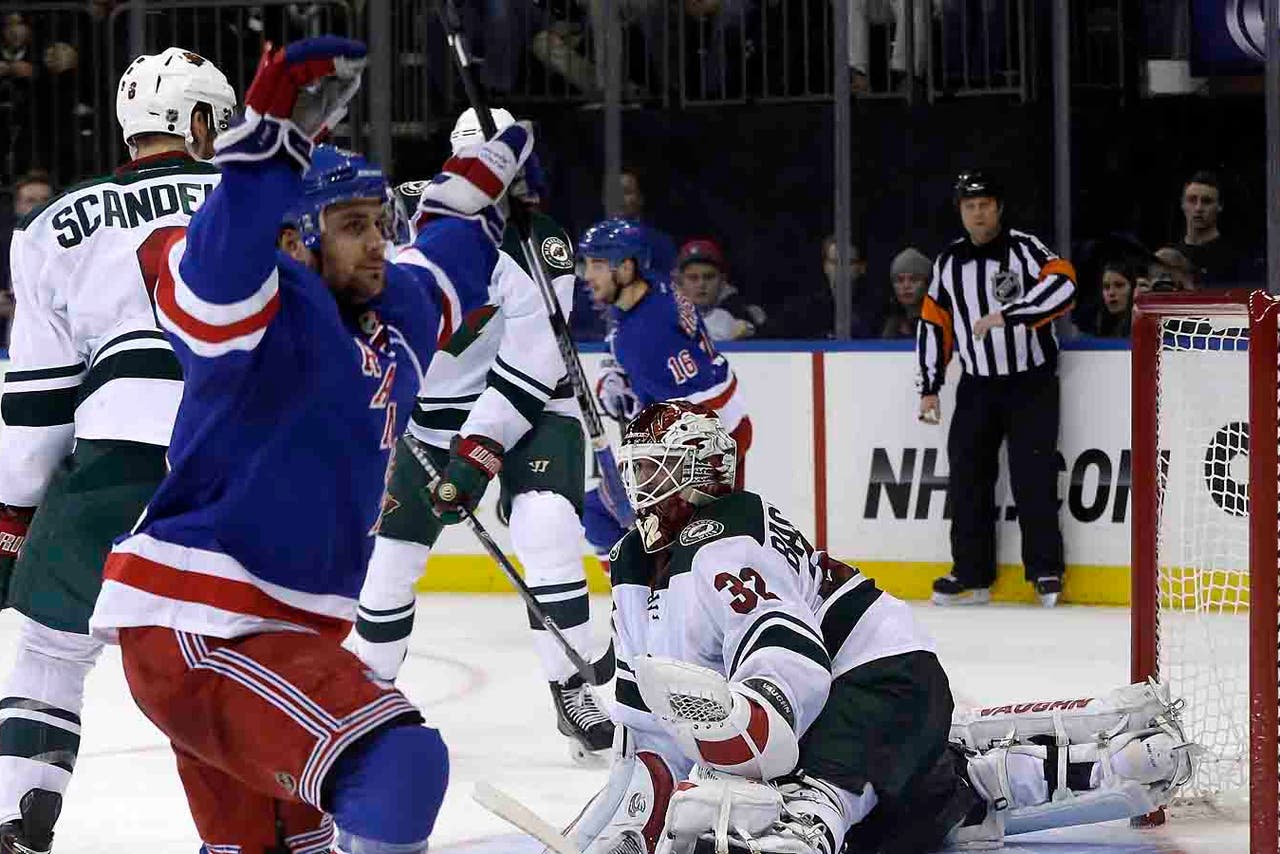 NEW YORK (AP) -- Carl Hagelin and Mats Zuccarello scored second-period goals, and backup Cam Talbot made 24 saves in the New York Rangers' much-needed 4-1 victory over the Minnesota Wild on Sunday night.
Talbot allowed the first goal but was steady the rest of the way in relief of struggling No. 1 goalie Henrik Lundqvist, who started the previous eight games after signing a long contract extension and allowed at least three goals in the last seven outings.
Benoit Pouliot tied it in the first period, Chris Kreider added a goal in the third, and Derick Brassard had two assists. Kreider made it 4-1 with 7:14 remaining.
New York improved to 2-4-2 on its team-record, nine-game homestand that concludes Monday against Toronto.
Jason Pominville had the lone goal for Minnesota, which got 32 saves from Niklas Backstrom. He made his second straight start in place of Josh Harding, who is on the injured list while adjustments are made to medication for multiple sclerosis.
Minnesota has lost four of six.
New York took control during a dominant second period in which the Rangers outscored the Wild 2-0 and outshot them 17-5 to take a 3-1 lead and a 29-16 edge in shots.
Just 9 seconds after New York's Brian Boyle left the penalty box, he earned the second assist on Hagelin's eighth goal. Hagelin took a pass from Derek Dorsett in the right circle and snapped a drive that beat Backstrom's left arm at 11:26 for his third goal in four games.
The Rangers made it 3-1 with 1:25 left in the second when Brassard skated the length of the ice, curled behind the net, and flung a backhanded pass into the slot to the charging Zuccarello.
New York fell behind 4:08 in on Pominville's team-leading 17th goal. Mikael Granlund, who returned after a long absence, won a faceoff in the Rangers zone. The puck came to Pominville, who moved it back to Ryan Suter at the left point and then cut to the front.
Suter sent him a quick pass to the right post for a deflection past Talbot. It marked the first time in 11 road games that Minnesota scored first.
New York cashed in on its second power play when Pouliot finished a crisp passing sequence that was started by Brad Richards. Brassard moved the puck to Ryan McDonagh, who sent a floating drive toward the net that Pouliot deflected in with 3:52 left. Pouliot, who has five goals, has scored in three of his last six games and has a point in four straight and five of six.
Notes: The Rangers improved to 3-16-1 after allowing the first goal. The Wild fell to 14-2-2 after scoring first.  . . . Suter has a six-game assist streak, his longest since another six-game run in December 2011 with Nashville.  . . . The 21-year-old Granlund had missed 11 games with a head injury. He was hurt on his first shift against Phoenix on Nov. 27 in his first game following a two-game absence caused by another head injury.  . . . Wild defensemen Jared Spurgeon and Clayton Stoner played in their 200th NHL game.  . . . Zuccarello has a point in 10 of 15 games.
---