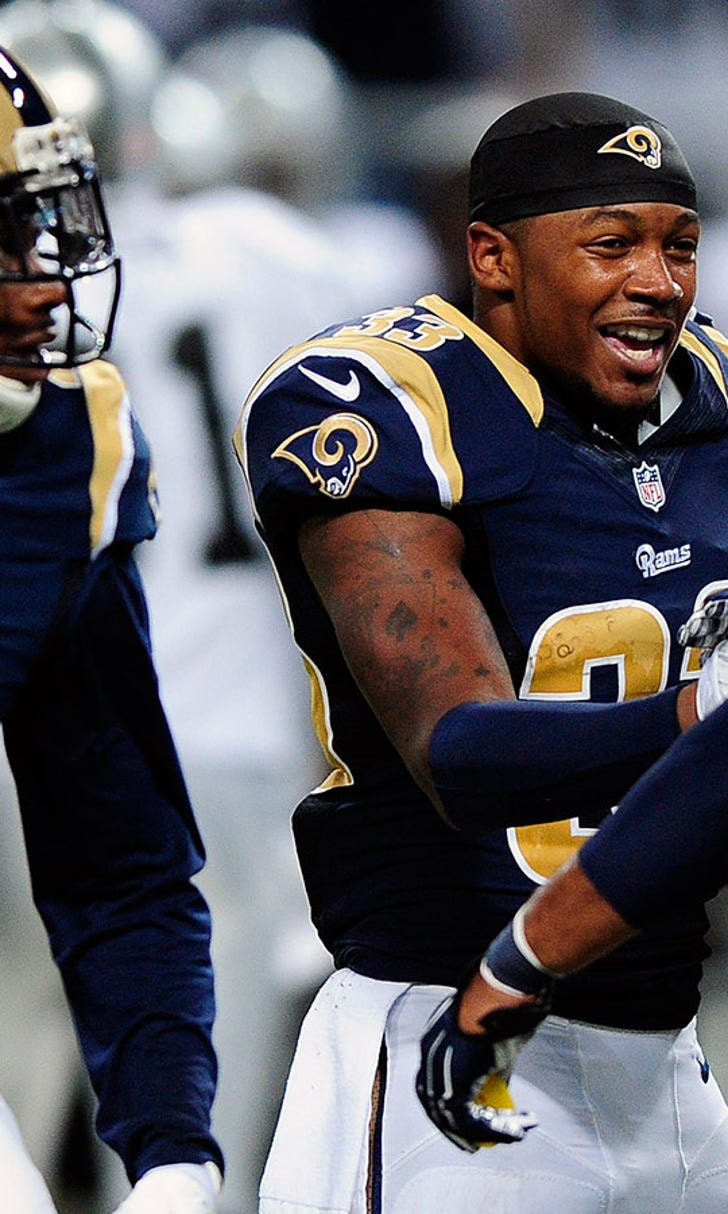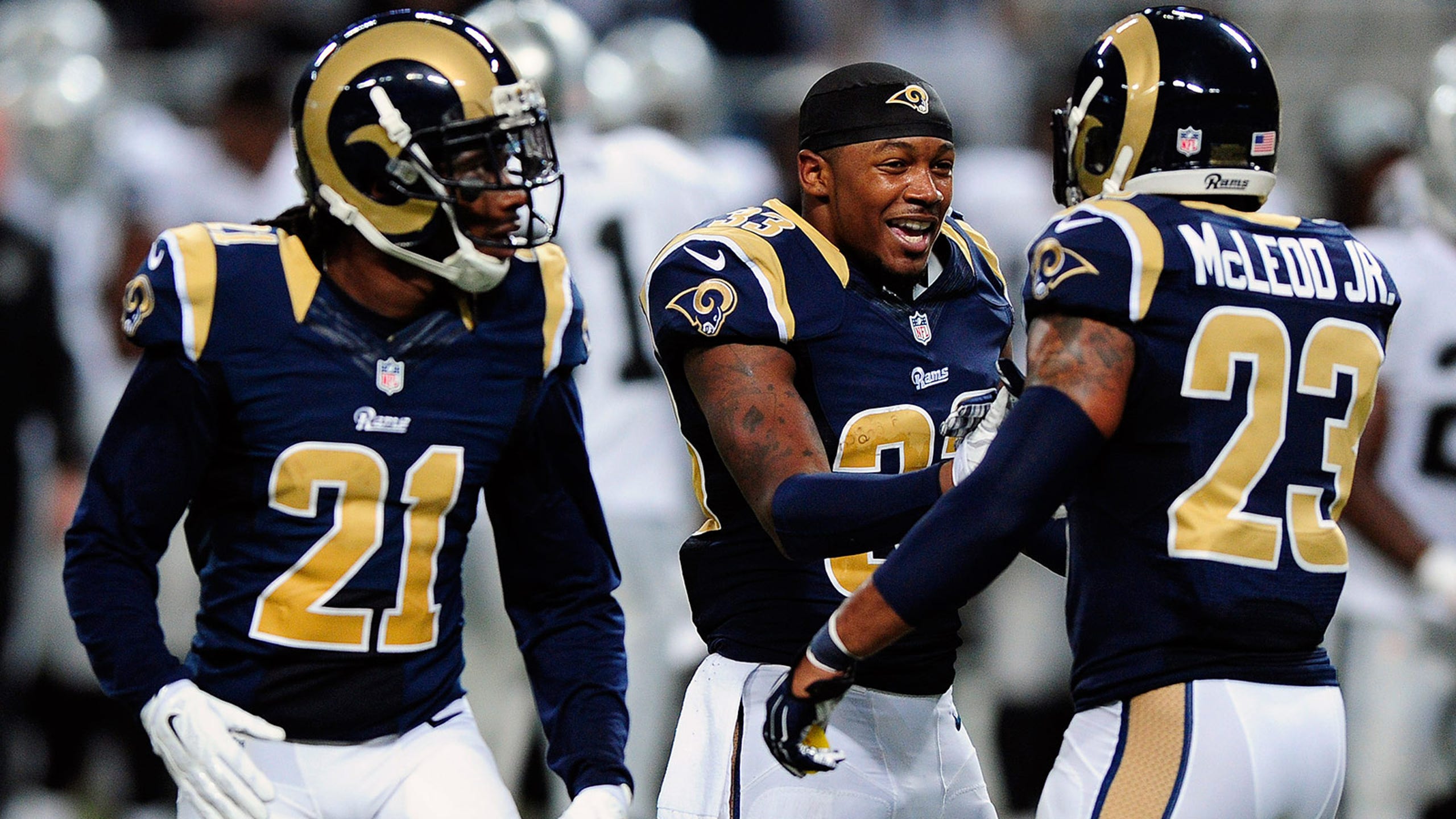 Rams' secondary on a mission to cement hard-hitting reputation
BY foxsports • December 19, 2014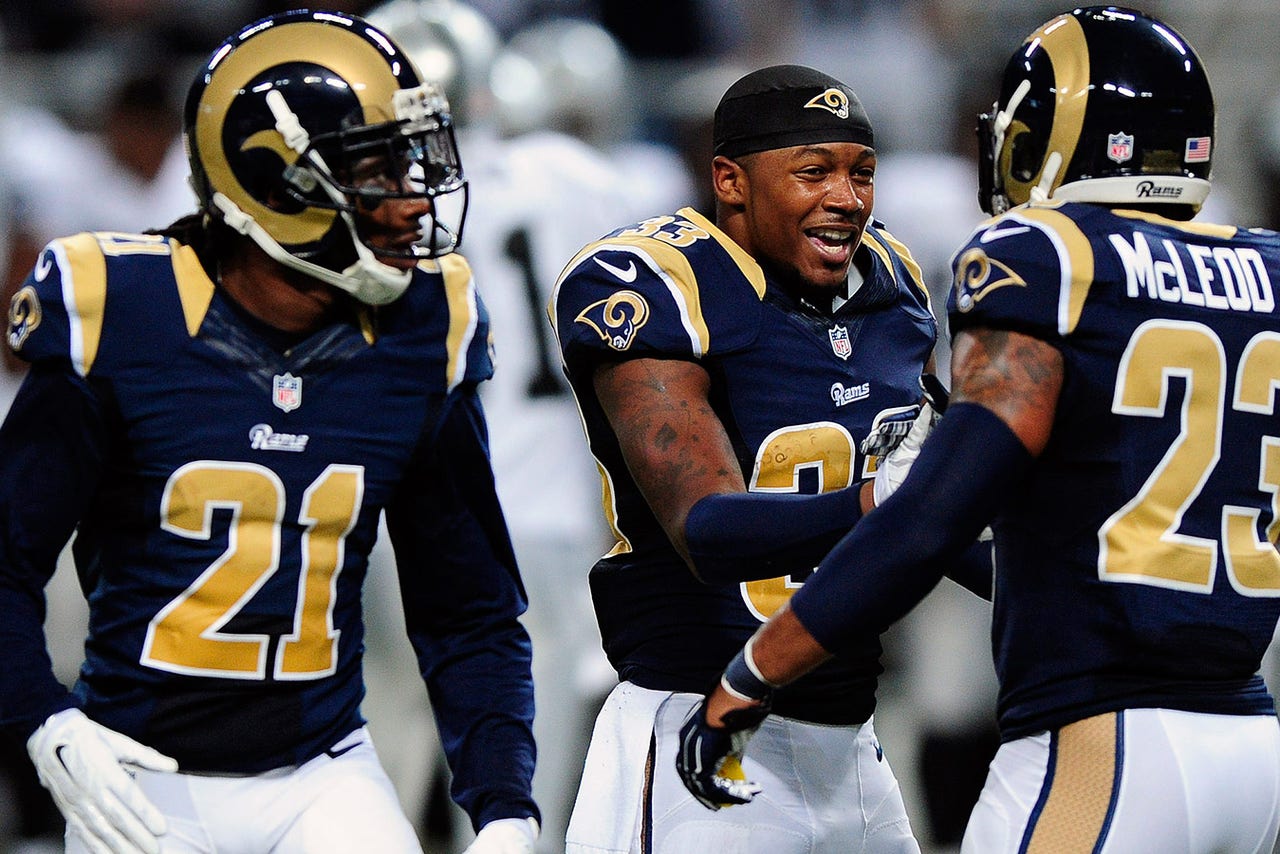 ST. LOUIS -- The most improved unit on the Rams' defense might not be the first one that comes to mind.
Sure, a resurgent defensive line has provided the most obvious impact, contributing heavily to 29 sacks in the last seven games after collecting just one in the first five. But it's clear those talented pass rushers are considerably more effective when a young secondary can offer strong support behind them.
"We've got some hard hitters back there," says cornerback Trumaine Johnson, the team's leader with three interceptions. "Guys can cover pretty good. We can get better, though."
His knee has been feeling better every week since his return from a preseason injury that kept him out the first seven games, and Johnson's experience has been a huge benefit for St. Louis' young group. Strong safety T.J. McDonald and rookie corner E.J. Gaines both say just having everyone healthy again may be the biggest reason for their recent success.
Starting corners Johnson and Jenkins didn't get a chance to play together until the eighth game of the season at Arizona, which allowed defensive coordinator Gregg Williams to move Gaines to nickelback. Naturally, it took some time to adjust, but the former Mizzou standout continues to impress as the only rookie corner to start every game this season.
"He's a guy that whether he's in the middle, in the inside, outside, he can just cover guys," McDonald says. "He's got good feet. He can run with everybody, so wherever he's at he's going to be able to make a play."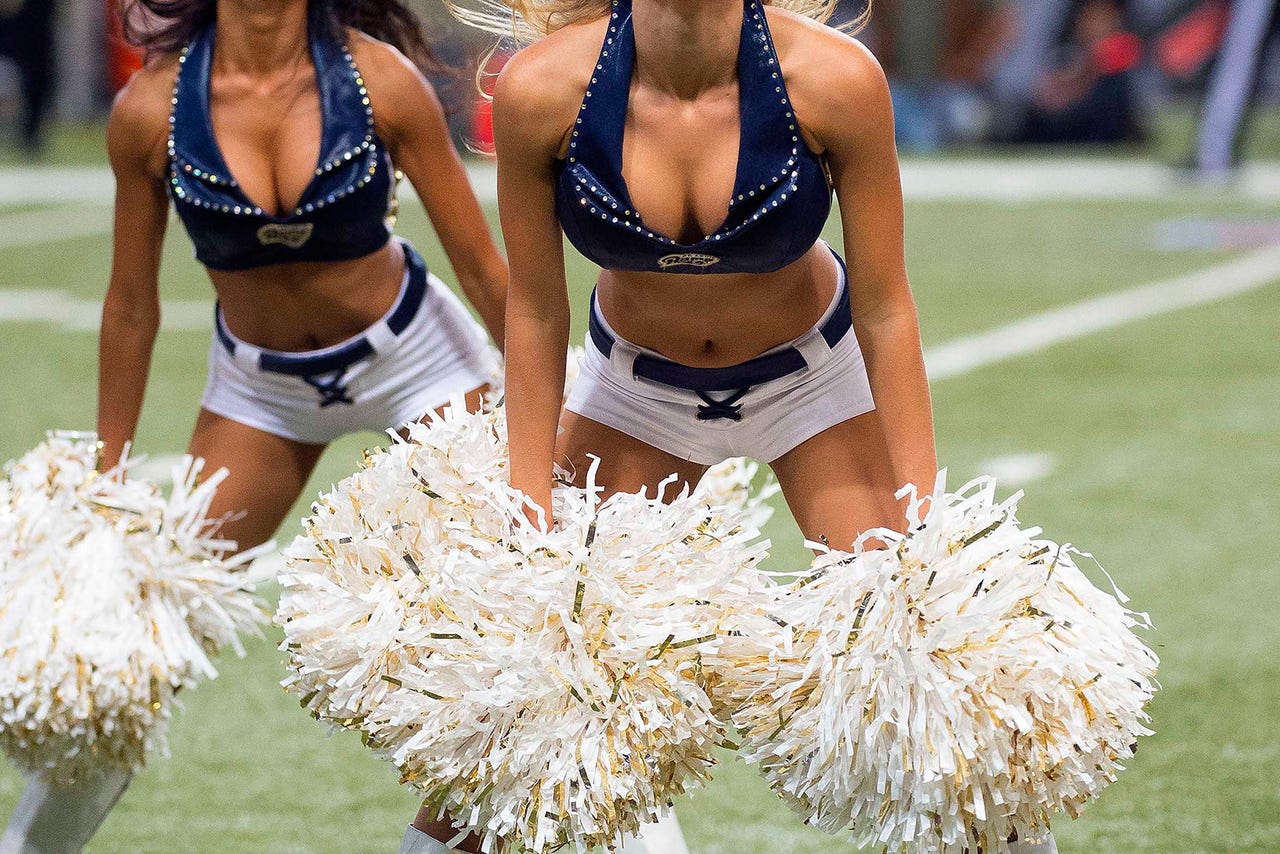 Flip through our photo album of NFL cheerleaders.
Better options in coverage have allowed Williams' defense to turn up the intensity in recent weeks, making life tough for quarterbacks even when they can avoid the pressure up front. St. Louis got eight of its 12 interceptions for the season during a four-game stretch prior to last week's 12-6 loss to Arizona, when a safe and limited pass attack netted just 16 completions and 131 yards on 30 attempts, despite only one sack.
That style perfectly fits players such as McDonald, who leads all Rams defensive backs with 116 tackles, according to coaches' review of the film. Johnson says he's inspired to follow the safety's example, and Gaines has proven himself to be a sure tackler as well, notching a career-high 13 against Arizona last week.
Some of that aggressiveness left St. Louis susceptible to long bombs early in the season, when Dallas' Dez Bryant and San Francisco's Brandon Lloyd scored on plays longer than 65 yards. In the past three weeks, only two passes have gone for longer than 35 yards, and quarterbacks have scored just two touchdowns against a defense Johnson says focuses on staying on top of receivers.
New York Giants quarterback Eli Manning noticed the difference, and he should provide the toughest test the Rams have seen since they last allowed a touchdown in the fourth quarter of a 27-24 loss to San Diego four weeks ago. Manning has thrown for 240 yards in eight consecutive weeks, a streak that won't be easy to extend Sunday in St. Louis.
"They have a good feel for what teams are trying to do and trying to take away some of their key routes," Manning says. "I feel like they tackle well. They get their hands on balls and they're doing a great job."
Constant improvement remains a priority for a young group featuring no one who has spent more than three seasons in the league, with the exception of recently acquired safety Mark Barron. Johnson says even though he's one of the oldest players in the secondary, he still feels like he just started in the league.
That strong desire to keep learning should ensure the Rams stay motivated through the last two weeks of the season, even though their dim playoff hopes have officially faded. McDonald wants to add to the message they've already sent by limiting the effectiveness of Denver's Peyton Manning and Seattle's Russell Wilson in surprise wins over teams likely to make the playoffs.
"I think that we've kind of established an identity defensively as a physical defense and being able to make our presence felt in the games we play no matter who our opponent is," McDonald says. "We want to just keep that going and make sure regardless of how this season ends up, next year teams know that Rams D is no joke."
It's unlikely anyone is still laughing after three straight weeks without a touchdown against St. Louis, but it can't hurt to make sure the message gets received.
You can follow Luke Thompson on Twitter at @FS_LukeT or email him at lukegthompson87@gmail.com.
---