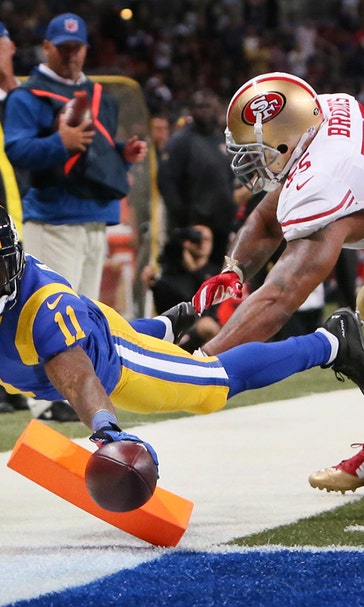 Rams own winning record in November for first time since '06
November 2, 2015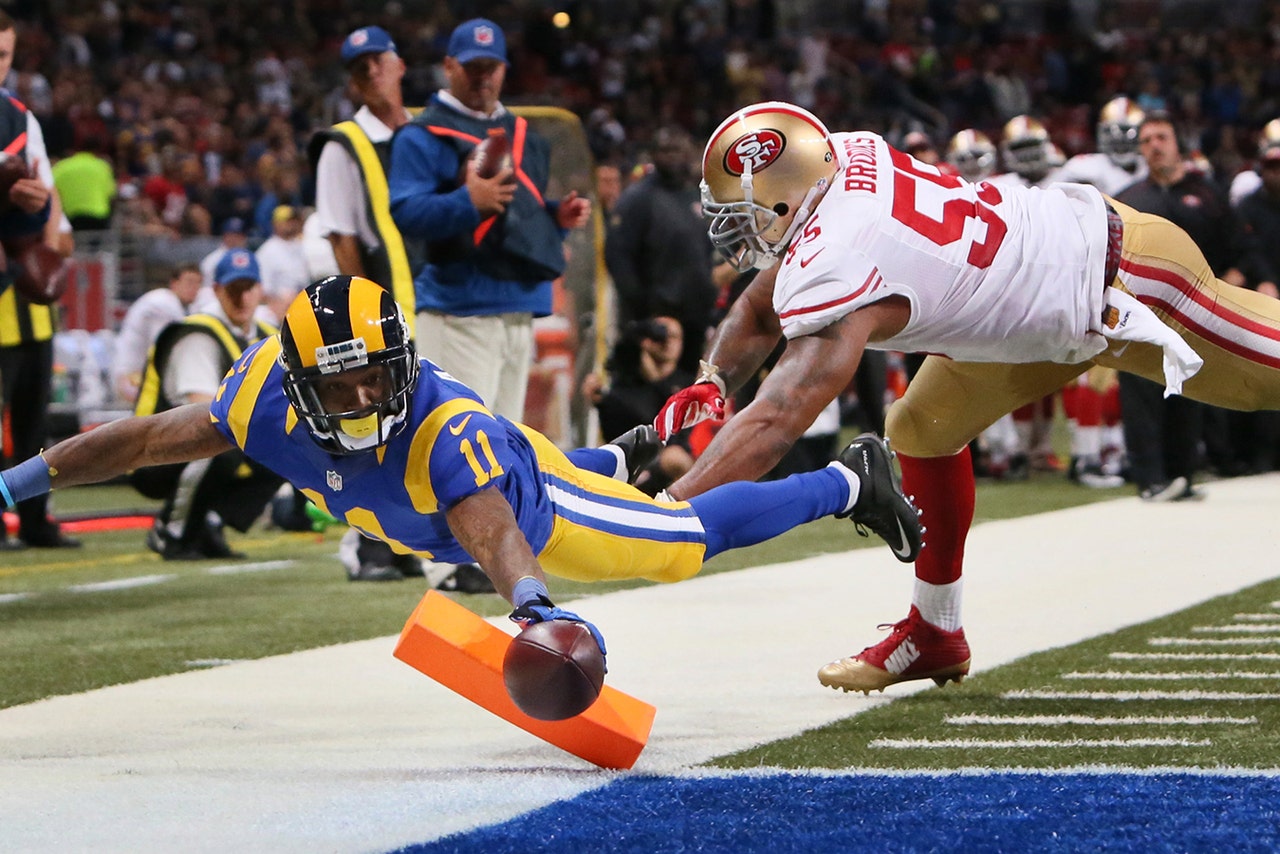 ST. LOUIS -- Don't look now but the St. Louis Rams have found a winning combination.
Behind the rushing of rookie Todd Gurley and a smothering defense, the Rams own a winning record in November for the first time since 2006 after handling the struggling San Francisco 49ers 27-6 Sunday.
"It's a nice change," middle linebacker James Laurinaitis said. "This is what we expected. Quite frankly, we expected it last year but more so this year."
St. Louis (4-3) hasn't finished with a winning record since 2003.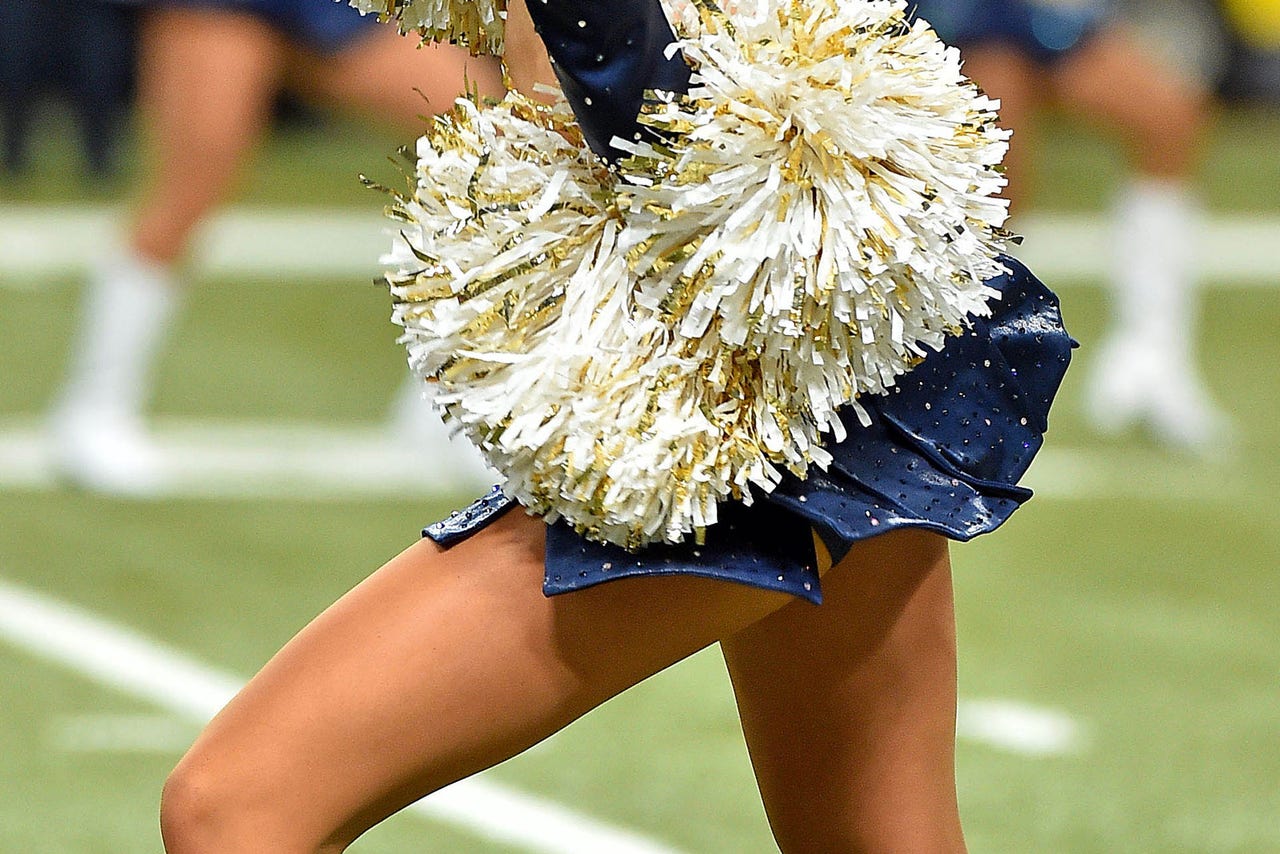 Lookin' good! Flip through our photo album of NFL cheerleaders. 
Gurley rushed for 133 yards on 20 carries, topping 125 yards for the fourth straight start. He's the first rookie to open his career with four consecutive 125-yard games.
Gurley went up the middle for a 71-yard touchdown in the second quarter that combined with a 2-point conversion pass put the Rams up 10-3, and asserting control.
"I knew I wasn't going to get caught on that one," Gurley said. "There's no better feeling than going untouched for a touchdown."
The Rams' defense was stout with three sacks and a safety, limiting San Francisco to 189 yards and two field goals by Phil Dawson. St. Louis hasn't allowed a touchdown in winning consecutive games.
"I could name anybody and everybody on the defense," end Robert Quinn said. "Everyone made some incredible plays."
Gurley's running helped speedy Tavon Austin have a big game, too. Austin went for a 66-yard touchdown on a screen play in the fourth quarter and outran the defense to the pylon for a 2-yard score in the second quarter, compensating for an early lost fumble. With a team-leading seven touchdowns, Austin has surpassed his career best of six that he scored as a rookie in 2013.
"Anybody with a great running back, their receivers should get a lot of chances outside," Austin said.
As impressive as Gurley was, he knows that Austin holds the edge in speed.
"Oh yeah, I'm 225," Gurley said. "I can't beat a guy that's 180."
The 49ers (2-6) were hit hard by injuries, losing Reggie Bush early to a left knee injury, and haven't scored a touchdown in two games. They've lost six of seven, are 0-3 in the division and have lost two straight to St. Louis for the first time since 2004.
Bush slipped on concrete near the stands a week after Browns quarterback Josh McCown was shaken up sliding on concrete into a pad in front of the stands at Edward Jones Dome.
Laurinaitis and Michael Brockers tackled Mike Davis in the end zone on a run for a safety in the first quarter.
"When your nose tackle throws the center back three or four yards and you're unblocked, it's easy to run in there and it's just don't miss the layup," Laurinaitis said.
Some other things to know from the Rams' win over the 49ers:
KAEPERNICK STRUGGLES: 49ers QB Colin Kaepernick completed 21 of 40 passes for 162 yards and did little to cool the criticism that dogged him last week. Niners coach Jim Tomsula did not give his quarterback an endorsement after the game when asked how he performed.
"I'm not going to get into all that. I'll get into that after we've had the opportunity to watch the tape," Tomsula said.
Said Kapernick: "We've done different things to try and move the ball down the field. The bottom line is our performance hasn't been good enough."
ANOTHER SLOW START: The Rams, after amassing just 3 first-quarter yards against the Browns last week, gained 53 in the first quarter but failed to score a touchdown. Gurley was held to 15 yards rushing on six carries and Foles went 4 for 8 for 38 yards. The Rams' offense has scored only one touchdown in the first quarter.
M.A.S.H. UNIT: Already without starting running back Carlos Hyde (foot), the 49ers lost running back Mike Davis (hand) after Bush departed. That left them with fourth-string running back Kendall Gaskins, who was activated before the game. Gaskins rushed five times for six yards as the Rams limited San Francisco to 38 rushing yards.
Safety L.J. McCray (knee), tight end Garrett Celek (head), cornerback Keith Reasor (ankle) and punter Bradley Pinion (calf) also left and did not return.
---