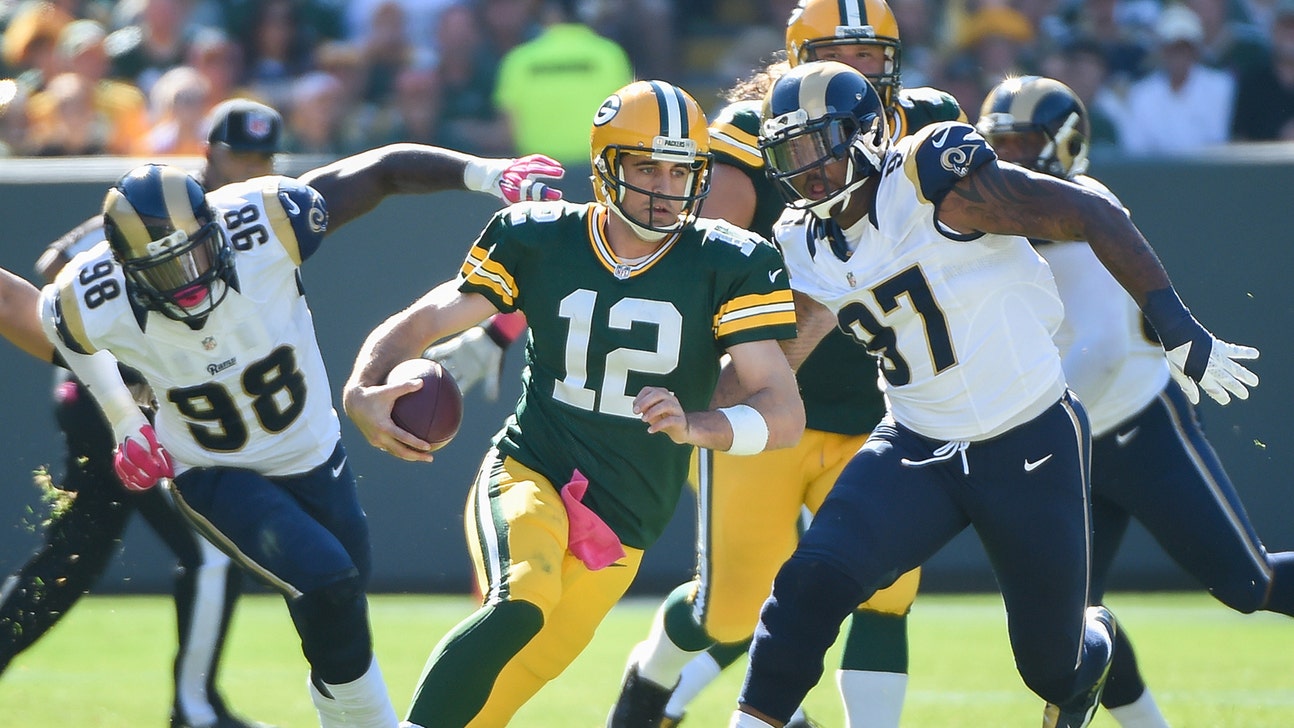 Rams get to Rodgers but can't bring down the Packers
Published
Oct. 12, 2015 11:16 a.m. ET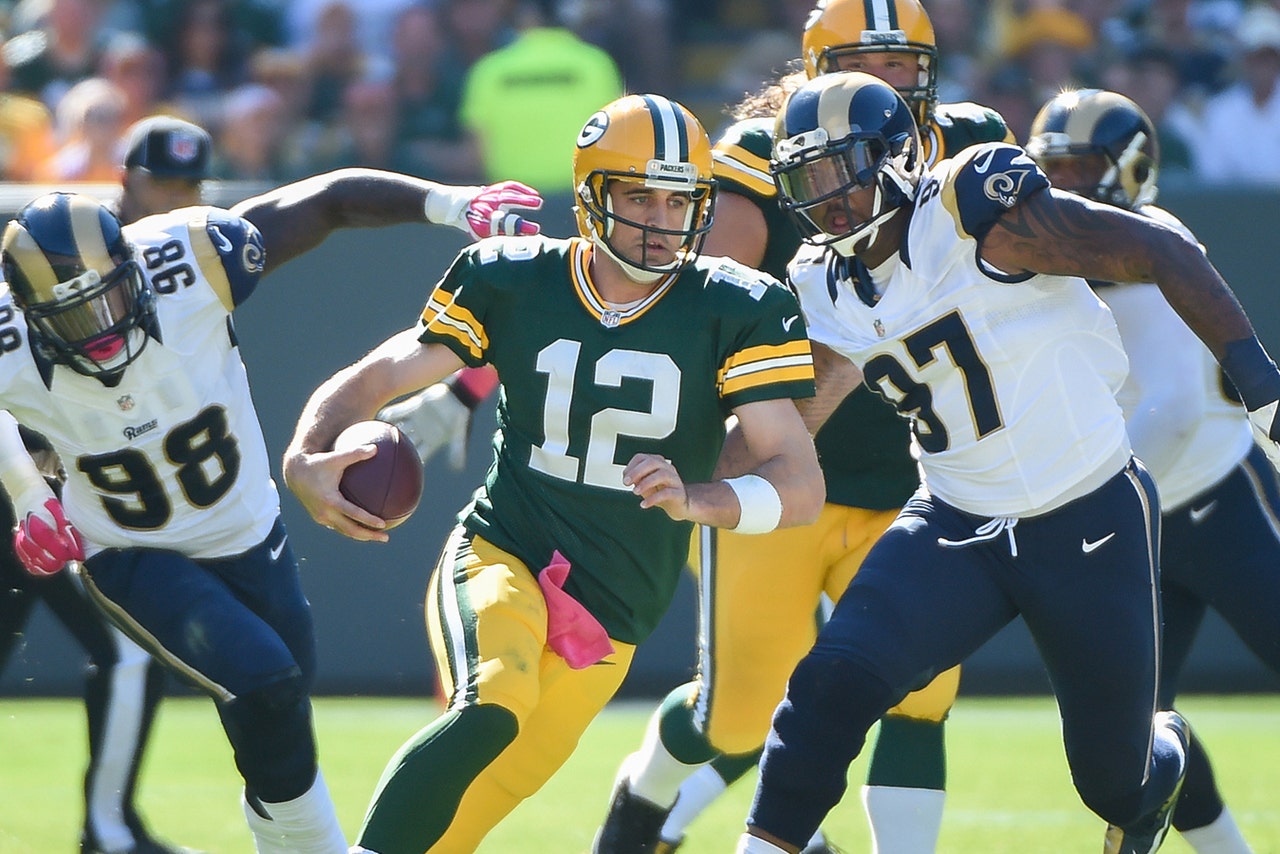 GREEN BAY, Wis. -- The Packers will probably always be known more for offense as long as they have quarterback Aaron Rodgers.
Clay Matthews is reminding the NFL that Green Bay's defense can make big plays, too.
The long-haired linebacker led a withering pass rush on St. Louis' Nick Foles, and rookie cornerback Quinten Rollins had two of the Packers' four interceptions in a 24-10 victory on Sunday over the Rams.
"It still is an offensive team, but it's nice when the defense can hold their own," Matthews said. He had 1 1/2 of the Packers' three sacks.
This is no one-week exception for coach Mike McCarthy's defense, which is deep and athletic across the field and improving each game.
The defense backed up Rodgers on a day when the MVP quarterback's remarkable run of mistake-free football at home came to an end.
"Good team win today, start with the defense," McCarthy said. "I thought they were clearly the key to our victory."
Rodgers was 19 of 30 for 241 yards with long scoring strikes to receivers Ty Montgomery and James Jones for the Packers (5-0).
But NFL-record streaks of 587 pass attempts and 49 touchdown passes at home without an interception for Rodgers ended in the first quarter on linebacker James Laurinaitis' diving pick of a tipped ball for the Rams (2-3).
Rodgers threw another interception in the second quarter before losing a fumble in the third on a sack.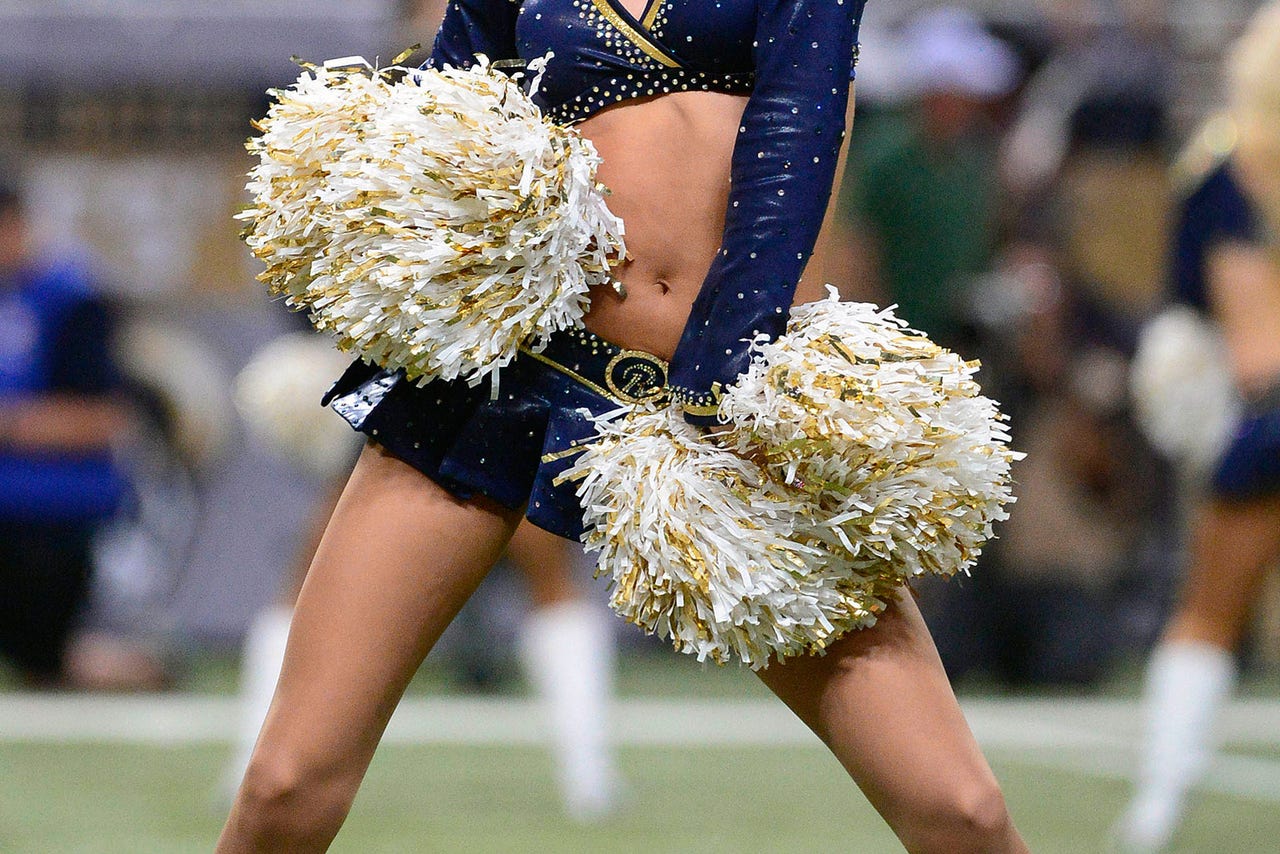 Lookin' good! Flip through our photo album of NFL cheerleaders. 
"All of them," Rodgers said when asked which turnover bothered him the most.
The Packers defense was still better. It was credited for 12 quarterback hurries and nine pass deflections.
Other notes and takeaways from Sunday's game:
UNDER PRESSURE: Foles' four interceptions were a career-worst, with two in the fourth quarter inside the Packers 10.
"I've got to make better decisions to give my teammates an opportunity to make a play," Foles said.
Rollins returned an interception 45 yards for a touchdown for a 14-0 lead in the first quarter, and picked off another pass at the 7 with 23 seconds left. Safety Ha Ha Clinton-Dix intercepted a tipped pass in the end zone on third-and-goal at the 7.
Foles was 11 of 30 for 141 yards and a touchdown. His longest completion came on a 68-yarder to Stedman Bailey late in the fourth quarter.
COVERED: Montgomery was wide open over the middle in the first quarter for a 31-yard catch-and-run for a score. Rodgers threw a perfect pass in stride to a covered Jones, who ran left-to-right across the field before getting the ball across the goal line on a final lunge forward on his score.
Otherwise, the Rams did an effective job of covering the Packers receivers on short routes. Rodgers was the Packers' leading rusher with 39 yards on eight carries, and running back Eddie Lacy was held to 27 yards on 13 carries.
"I think offensively some of the things, we weren't as effective as we'd have liked to have been today," McCarthy said. "But you know this game was an excellent team victory."
OUT-KICKED: St. Louis' Greg Zuerlein was 1 for 4 on field-goal tries, hitting from 42 but missing his other three attempts, all coming from at least 50 yards. One kick in the second half was blocked by Datone Jones.
"Missed three field goals for whatever reason. You're down 21-10, you miss three FGs, the odds of you pulling a game out like that aren't very good," Fisher said.
BIG GURLEY: The mistakes wasted another strong effort for Rams rookie Todd Gurley, who for the second straight week had his best production, with 159 yards rushing on 30 carries. He dented a defense that had held opposing starting running backs to an average of 36 yards on 11 attempts the previous three games.
"We're running the football right now. We're 1-1 since Todd's got his opportunity, so we just need to keep improving," Fisher said.
MEDICAL REPORT: The Packers' pass rush overwhelmed an inexperienced Rams offensive line that lost veteran guard Rodger Saffold in the first quarter to a shoulder injury. Defensive end Chris Long later left with a knee injury. ... For the Packers, the defense held up in spite of losing tackle B.J. Raji to a groin injury and linebacker Nick Perry (shoulder). Guard T.J. Lang left in the first quarter with a knee injury.
---