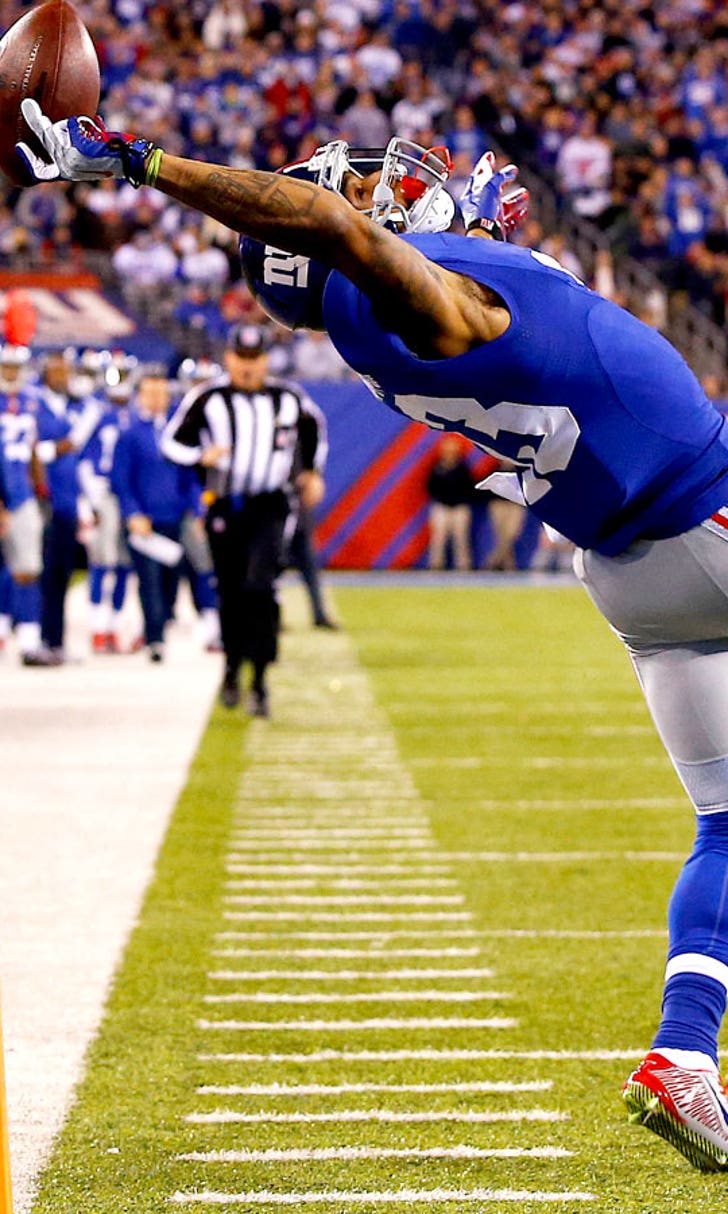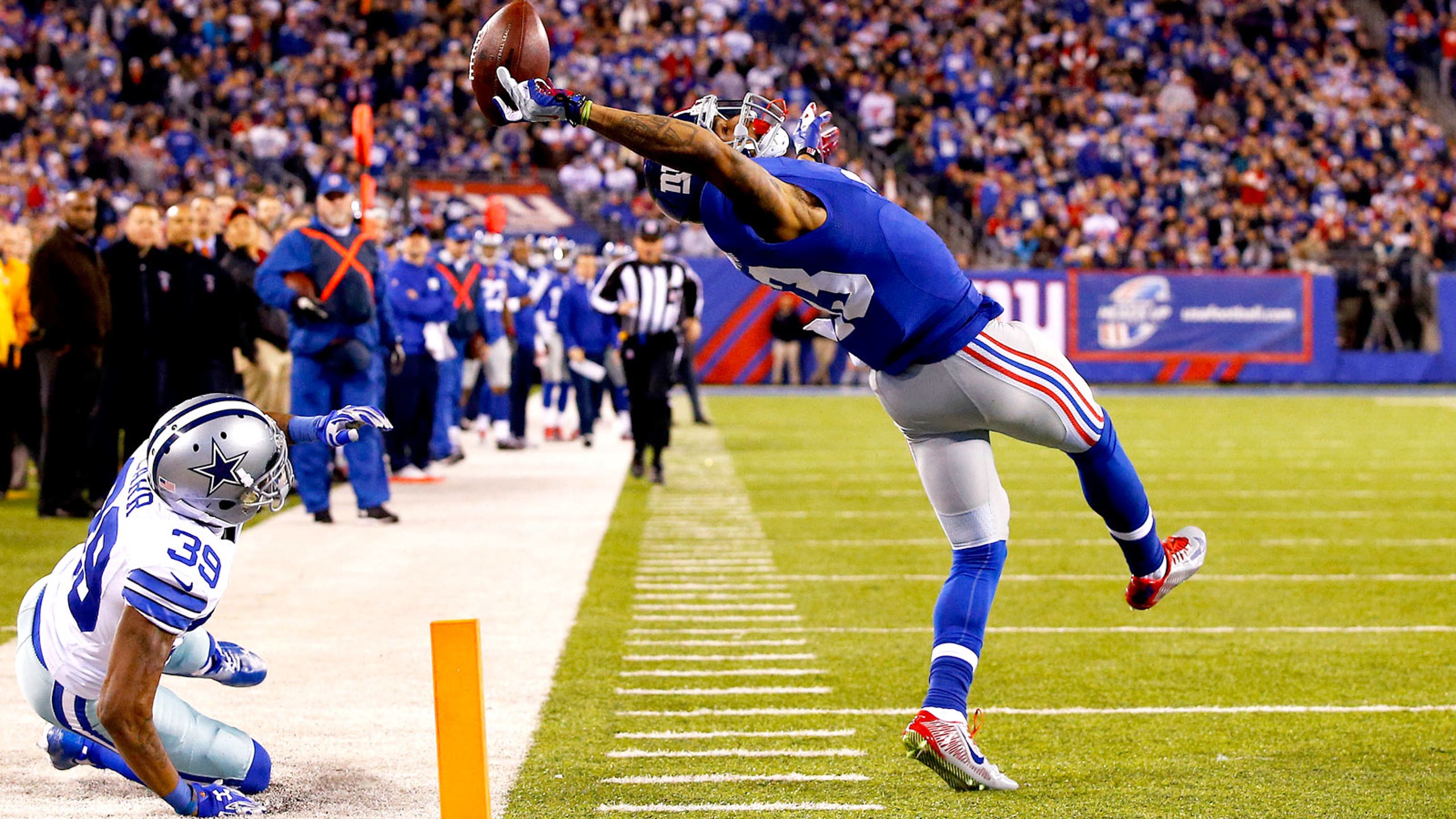 Rams DBs have been GR8 of late but OMG, here comes ODB
BY foxsports • December 18, 2014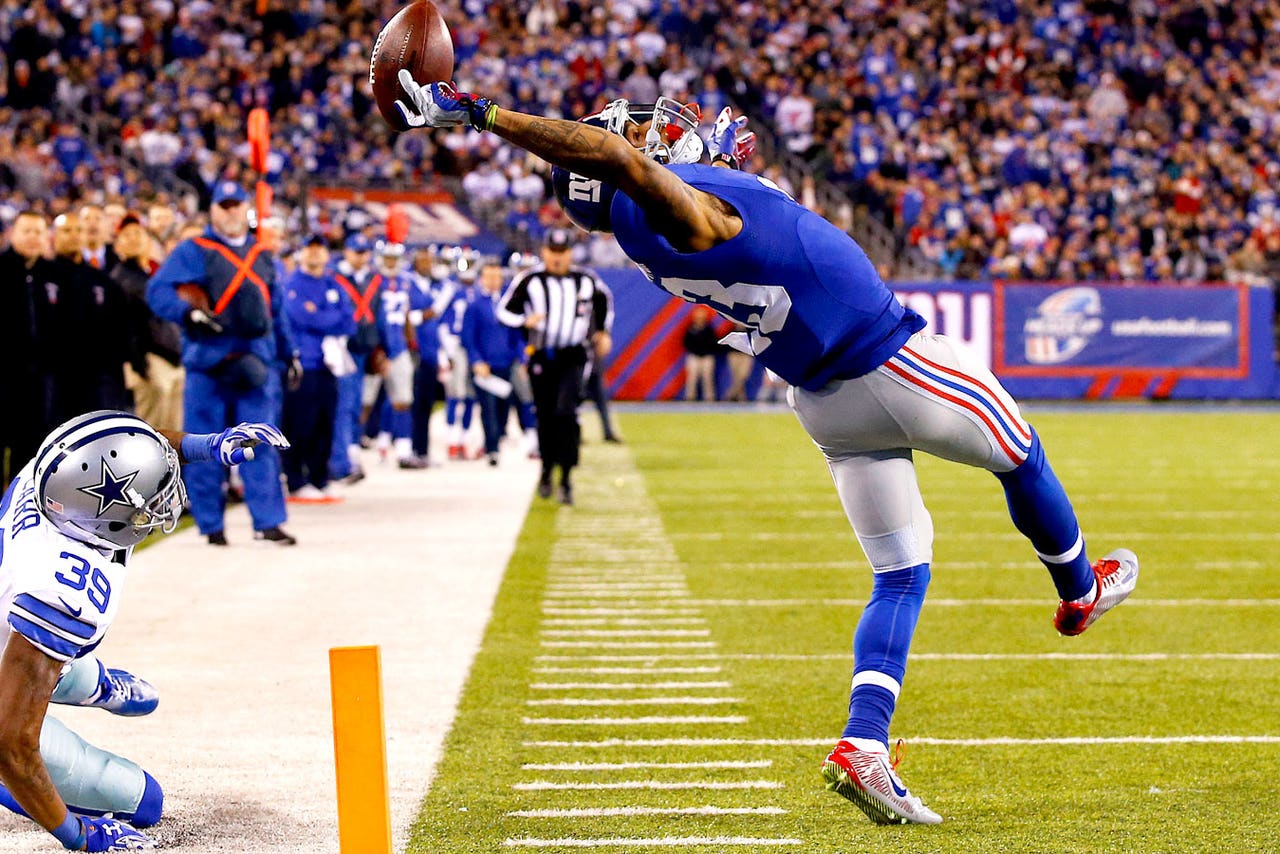 ST. LOUIS -- New York Giants wide receiver Odell Beckham Jr. became a household name by making one of the most ridiculous catches ever last month, and he's much more than just a one-hit wonder.
Anyone who follows the NFL in any capacity has seen the play by now, when the rookie fought off a clear pass interference from Dallas defensive back Brandon Carr near the front corner of the end zone. Then he reached back and caught Eli Manning's pass one-handed with his right arm nearly parallel to the ground, falling backward for a 43-yard touchdown.
"You can't defend that one catch. You know which one I'm talking about," Rams cornerback E.J. Gaines says. "But just defending him any way we can, getting hands on him, being physical and playing great defense on him."
That will undoubtedly be the biggest challenge this weekend for the St. Louis defense, which hasn't allowed a touchdown in three weeks. But Rams defenders haven't seen any receivers during that stretch like Beckham, who linebacker James Laurinaitis says Rams coaches compared to a young Steve Smith.
The Giants took Beckham with the 12th pick of the NFL Draft last spring, one spot ahead of St. Louis' standout defensive tackle Aaron Donald. An injury kept the former LSU star off the field through most of the offseason and he didn't make his debut until Week 5, when he caught four passes for 44 yards and a touchdown in a 30-20 win over Atlanta.
"Since he's been healthy we kind of slowly threw things at him and made sure we weren't overloading where he could do just a few things well," quarterback Eli Manning said in a conference call earlier this week. "He's picked things up quickly and now we're trying to move him around and get him in different spots."
A season-ending injury to Victor Cruz gave Beckham his first start as the Giants' No. 1 receiver in just his third game, and he responded with four catches for 34 yards and two touchdowns at Dallas. The 5-foot-11, 198-pound receiver exploded for eight catches and a season-high 156 yards the next week vs. Indianapolis, starting his current streak of seven straight games with at least 90 yards.
Despite grabbing just 10 catches for 104 yards in the team's first seven games, Beckham is tied for 14th in the NFL with 972 yards and 11th with nine touchdowns. His remarkable hands complement an impressive ability to retain information that gives him plenty of versatility, Giants coach Tom Coughlin said in a conference call.
More than half of Manning's touchdown passes since Cruz went down have gone to Beckham, including the last four. It's no wonder New York continues to look for ways to get the ball in his hands, and he's been the target of 15 Manning passes in each of the last two weeks.
"They're really on the same page," Rams coach Jeff Fisher says. "The run-after-catch ability is off the charts. They ran a reverse pass and he threw the ball 40, 50 yards. They tell us that he throws with either arm. He's an outstanding athlete."
Those attributes seem nearly impossible, but after seeing his famous catch it's hard to doubt Beckham's ability to defy the standard rules of logic and physics. It's even more difficult to believe he's only 22, and Laurinaitis agreed with Manning and Coughlin, who say their new star will only get better.
He took another step forward last week against Washington, with career highs of 12 catches and three touchdowns in a 24-13 win. No players have caught more than nine passes or scored two touchdowns against the Rams all season, and starting strong safety T.J. McDonald and top cornerback Trumaine Johnson are eager for their next challenge.
"He's a good receiver, a playmaker," Johnson says. "They get the ball to him in a lot of ways. We've got a tough matchup this weekend."
Tru that.
You can follow Luke Thompson on Twitter at @FS_LukeT or email him at lukegthompson87@gmail.com.
---