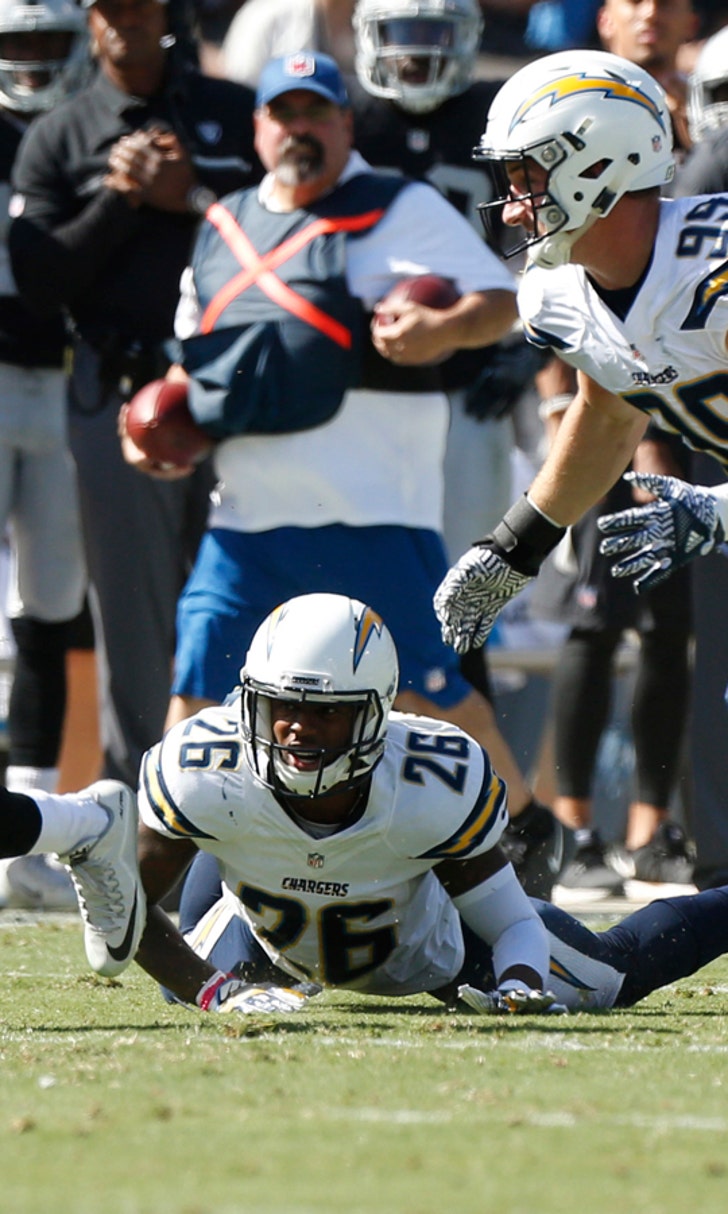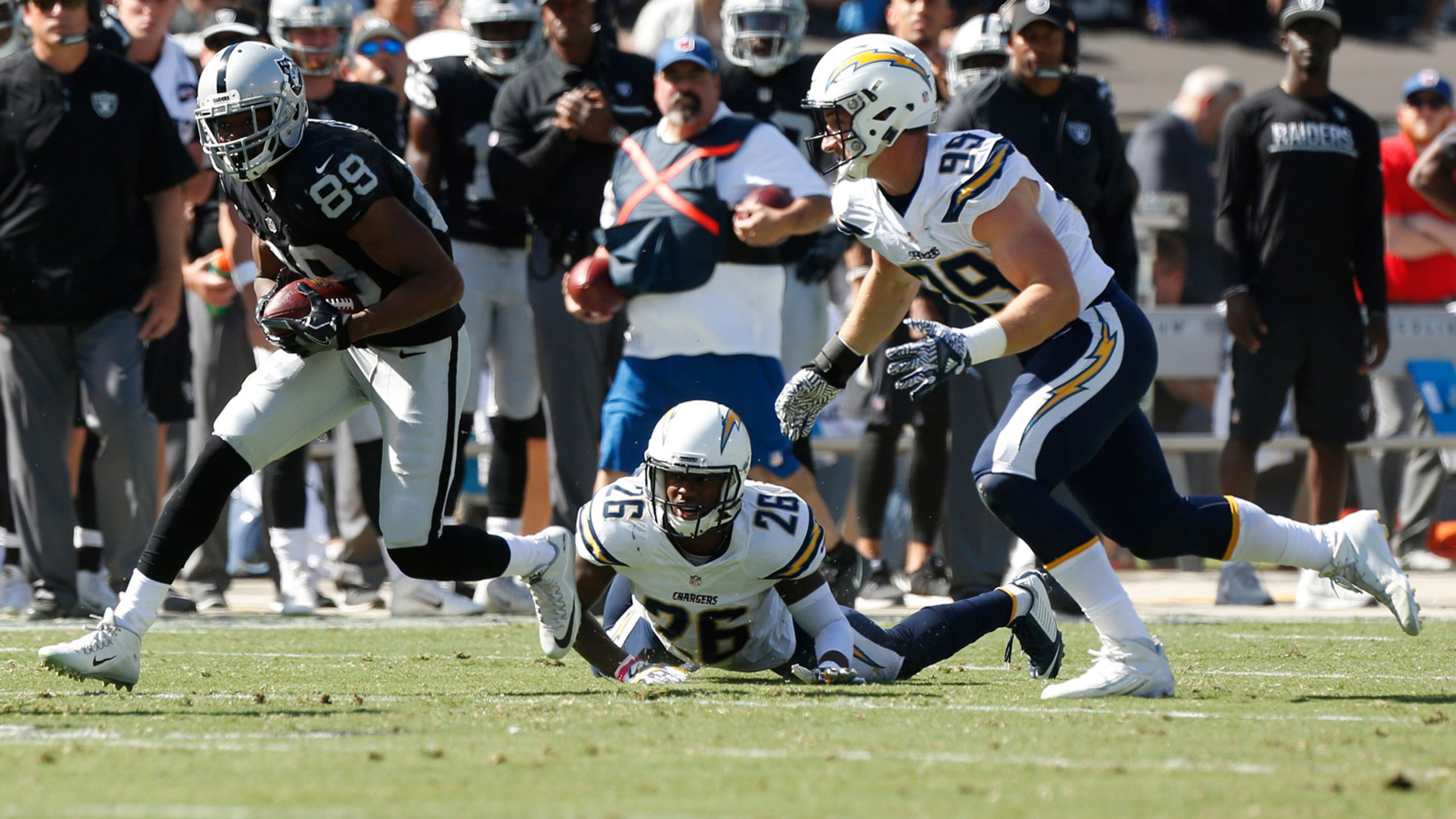 Raiders take advantage of Chargers mistakes in 34-31 win
BY foxsports • October 9, 2016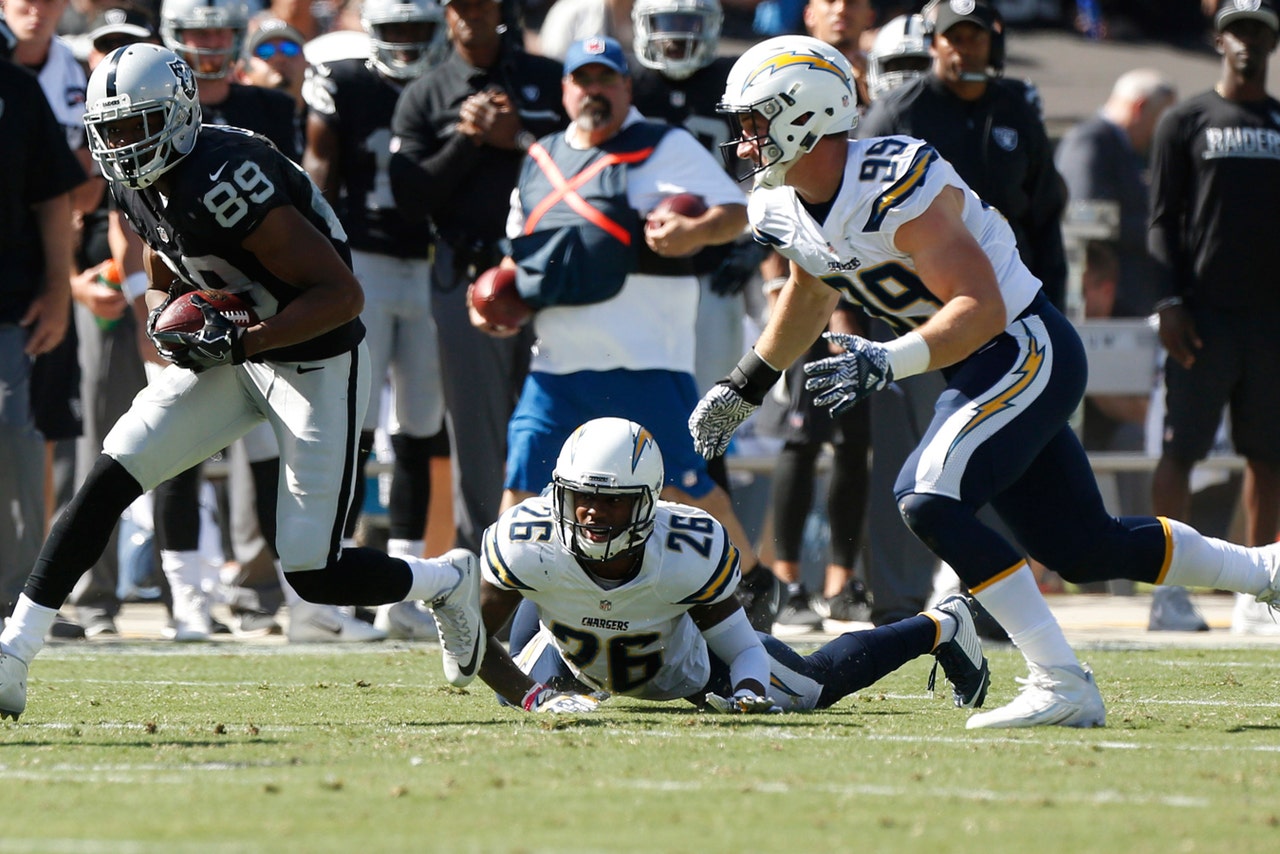 OAKLAND, Calif. (AP) -- The Oakland Raiders keep finding new ways to win late in games, while the San Diego Chargers somehow manage to find even more painful ways to lose.
Derek Carr threw a go-ahead 21-yard touchdown pass to Michael Crabtree on a fourth-and-2 gamble and the Raiders survived when the Chargers botched a potential tying kick late in a 34-31 win Sunday.
"Sometimes you just have to find ways to win and get it done at the end," Carr said. "It would be nice if we didn't have to do all the stress and drama at the end. That would be nice."
After using a late 2-point conversion to win the opener, stopping a late Tennessee drive in a Week 3 win and using a late score and defensive stop to beat Baltimore last week, the Raiders (4-1) survived against the Chargers (1-4) to post their first three-game winning streak in five years.
Philip Rivers threw his fourth TD pass of the game to cut a 10-point lead to three midway through the fourth and then drove San Diego down the field late. But after Melvin Gordon was held to 1 yard on third-and-2, coach Mike McCoy opted for a 36-yard field goal.
Mike Windt's snap was on target, but rookie Drew Kaser couldn't get down the hold and the Chargers never got a chance at the tie.
"You can't make this stuff up," Rivers said. "You think, `Is there any other way we can find a way to do this?'"
The Chargers had already lost three games they led at the two-minute warning, blowing a 21-point lead to Kansas City and a 13-point fourth-quarter advantage last week versus New Orleans.
Then came the latest loss that included four turnovers and the botched kick, leading to a 10th straight division loss.
"Just when you think you've seen it all, something like that happens," McCoy said.
COOPER SCORES: Raiders receiver Amari Cooper hadn't scored a touchdown in four games before breaking through against the Chargers. He scored on a 64-yard pass from Carr in the third quarter and added a 2-point conversion after Crabtree's TD. Cooper also nearly had three more scores, but couldn't get both feet down inbounds on two throws into the end zone and was unable to re-establish himself after being interfered with on a third play.
"First one is always the hardest, no matter what it is," Carr said. "I'm just happy for him because he works his tail off."
BOSA'S DEBUT: Chargers defensive end Joey Bosa made an impressive debut after missing training camp during a nasty contract dispute and sitting out the first four games with a hamstring injury. He came in on the second drive and had a sack and a tackle for loss. He added a second sack in the fourth quarter.
"It felt pretty natural," Bosa said. "It's nice to get the butterflies out because I was pretty nervous coming into this game."
BIG PLAY ROOKIE: First-round pick Karl Joseph, who started the season on the bench in Oakland, has made a big impact since becoming a starter in Week 3. He intercepted a pass from Rivers late in the first half to set up a field goal and then recovered a fumble by Gordon to set up Crabtree's TD.
LEAKY D: Despite the win, the Raiders allowed more than 400 yards for the fourth time in five games. Big plays were the problem in this game as the Chargers had three passes go for at least 50 yards.
"We're not even close to the standard we need to be at," linebacker Bruce Irvin said. "What'd we give up today, 400 yards or something? That's bad. Happy about the win, but I'm not in a good mood about how we performed."
GIVE IT AWAY: After committing turnovers on the final three drives in last week's loss to New Orleans , the Chargers picked up where they left off. Antonio Gates was stripped on San Diego's first drive and lost a fumble with the Chargers in position to score. Rivers then was intercepted by Sean Smith on a deep pass on the Chargers next play from scrimmage. Rivers threw another interception late in the half, giving San Diego six turnovers in eight possessions. San Diego committed a fourth turnover late in the third quarter when Gordon fumbled, setting up Oakland's go-ahead score.
---
---