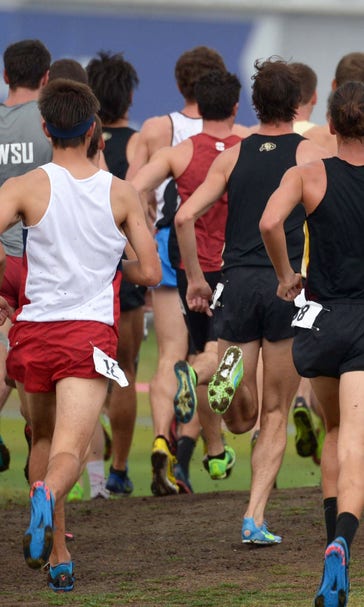 Racer DQ'd after winning cross country meet for helping collapsed opponent
October 27, 2015

A celebratory moment quickly turned sour when a high school cross country runner was disqualified after thinking he had won Iowa's 2A district championship at Columbus.
Zach Hougland, a senior at Davis County High School, crossed the finish line of last week's meet thinking he had won the school's first district championship in cross country.
About five minutes later, as he was walking back to his team, he noticed another runner, Garrett Hinson, struggling to finish the race.
"Zach saw him and shouted at other runners, 'Is anyone going to help him?'" Hougland's coach Josh Husted told ABC News.
Nobody helped, so Hougland re-entered the course, put his opponent's arm around his shoulder and helped him for about seven meters before letting Hinson finish the race on his own.
"I knew I couldn't help him finish so I just gave him a push and told him you can do it," Hougland told MileSplit USA.
The result of that sportsmanship move? A disqualification for both runners.
According to National Federation of State High School Association rules, a runner cannot aid or receive assistance from another runner during a race.
"An athlete who receives or gives assistance to another running in the same race is disqualified. While it was a sportsmanlike act to help someone in distress, it remained a violation and the official had no choice but to enforce the rule," Iowa High School Athletic Association's Bud Legg said in a statement.
"I didn't want anyone to see me break down because I couldn't take it," Hougland told WHOtv about hearing he had been disqualified. "I did all that hard work for nothing."
"Cross country is a sport where in some of these places they're kind of off by themselves so it's nice to think that the kids have each other's backs," Hougland's mom Nancy told ABC News.
"If I could do it all again I wouldn't change a thing because I did what I thought was right." Hougland told WHOtv.
But the story is not over for Hougland. Despite the DQ, his team still earned enough points to qualify for the state championships.
"Our next five boys were able to help us beat one of the top teams in the state," Husted said according to the Ottumwa Courier. "Fortunately, Zach's going to get another chance to run with us."
The Iowa state championships take place Oct. 31.
---