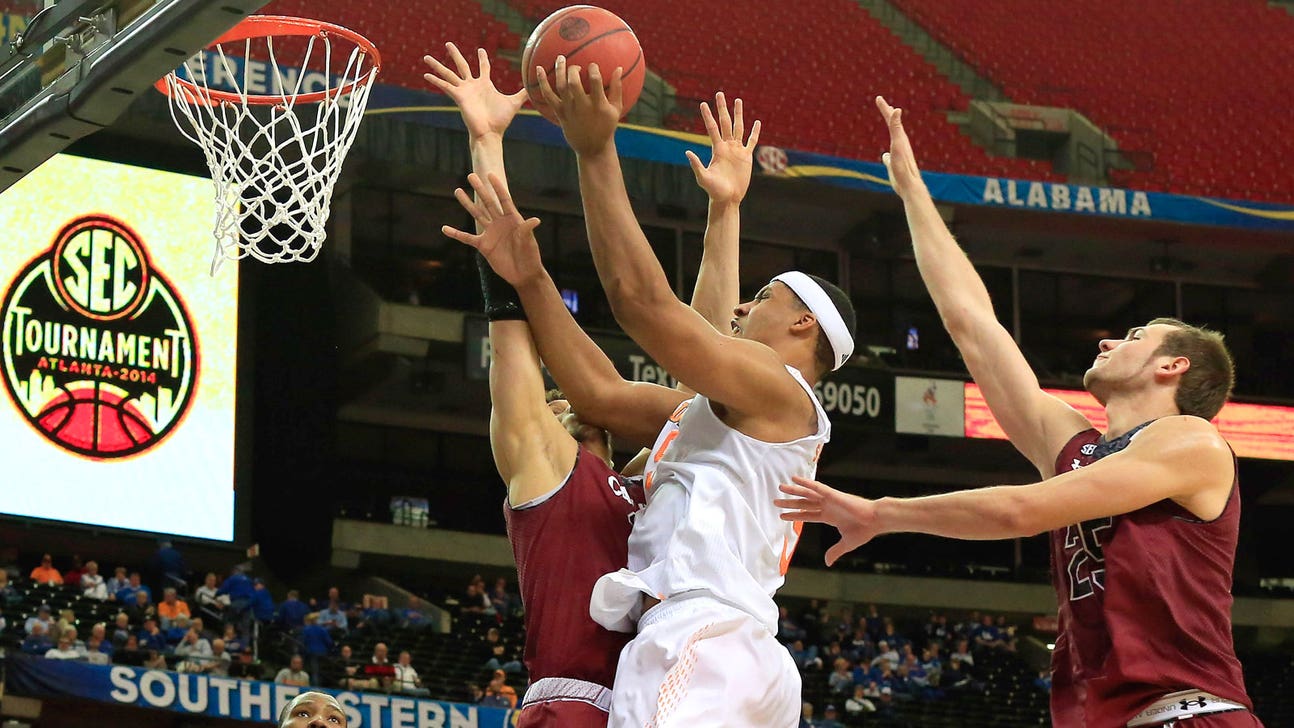 Quick Hitters: Vols vanquish Gamecocks, reach SEC semis
Published
Mar. 14, 2014 7:38 p.m. ET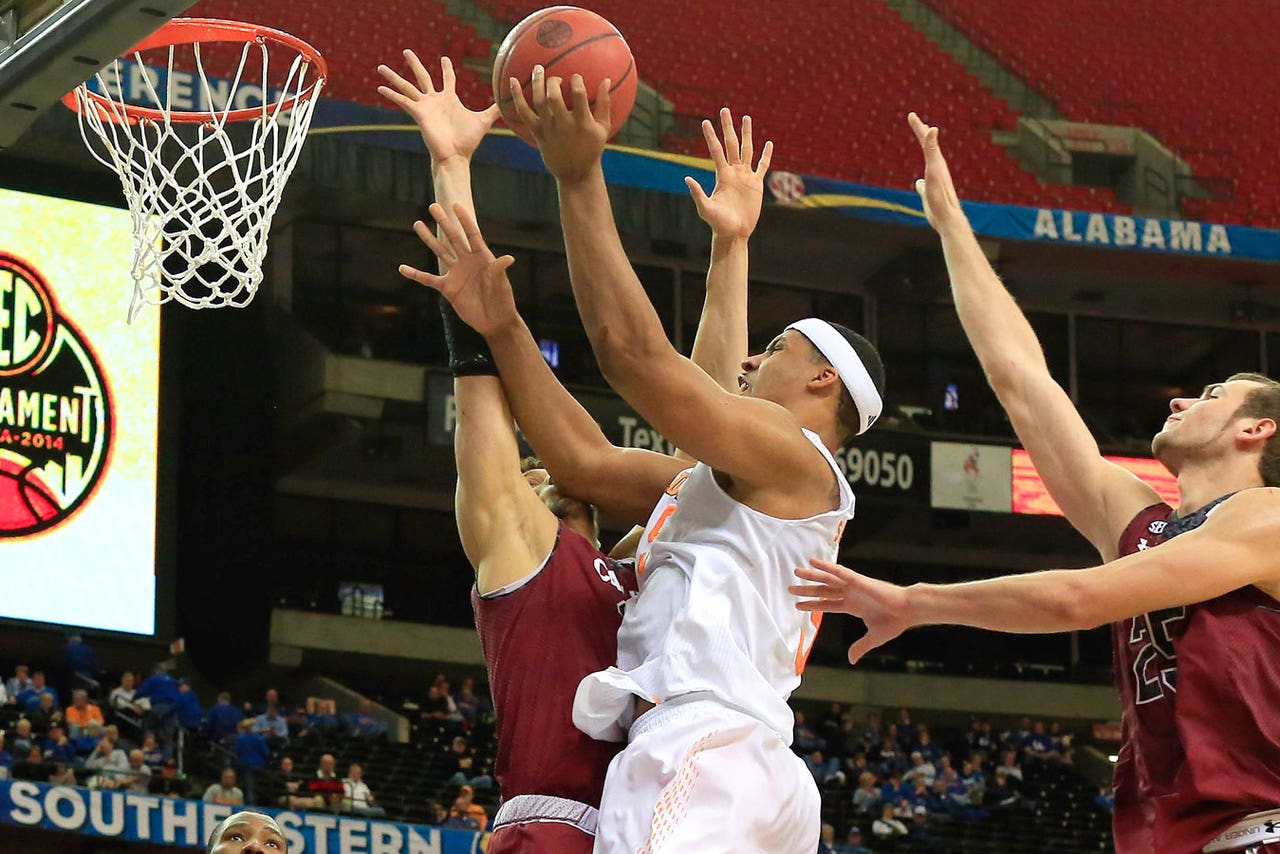 ATLANTA -- Here are six quick things we gleaned from Tennessee's 59-44 victory over 13th-seeded South Carolina at the Georgia Dome, the second of four quarterfinal matches at the SEC hoops tournament.
1. Jarnell Stokes was the most dominant figure on the court ... and it wasn't even close
The above statement goes deeper than Stokes rolling for 22 points and 15 points -- both game highs.
Of Friday's eight planned TV timeouts (the 16-, 12-, 8- and 4-minute marks), Stokes would likely have been voted the MVP for at least seven quadrants -- with the lone period maybe going to teammate Jordan McRae and his sublime dunking prowess (more on that later).
Looking for a reason why Tennessee has double-digit margins for eight of its last nine victories? Look no further than Stokes' amazing progress in recent weeks, notching double-figure points 16 times since Jan. 15 -- with 11 outings of double-digit rebounds in that same 17-game span.
Of equal importance, since that Jan. 15 win over Auburn, Stokes has shot 50-percent-or-better 13 times.
Not bad for a proverbial tweener at 6-foot-8 and 260 pounds.
2. Tennessee (21-11 overall) likely has the goods to make the NCAA tournament
Obviously, the Vols (11-7 in SEC play) should only get a marginal bump in BPI and Ratings Power Index rankings, if that, for taking down a 20-loss Gamecocks club that played three games in a 44-hour span.
But that scenario is a thousand times more appealing than actually falling to South Carolina on Friday.
From that perspective, Tennessee's triumph was a must-win situation. It also greatly benefits the SEC -- a likely three-bid conference now -- which still must sweat out the NCAA fates of Arkansas (No. 71 RPI) and Georgia (No. 75) through the weeekend.
Unless the Bulldogs capture the conference championship, of course.
At the time of this writing, the Vols hold an RPI quotient of 45th nationally, ahead of bubble teams like Oklahoma State (lost in the Big 12 quarters to Kansas) and St. Joseph's (beat Dayton on Friday) ... but trailing potential giant killers BYU (No. 33) and Toledo (No. 37).
3. The NCAA tournament committee can breathe easy, knowing South Carolina cannot bring chaos to the finalized 68-team field
Sunday's SEC final is slated to end sometime near the 6 p.m. hour on Sunday -- or roughly 30-35 minutes before the official NCAA pairings are revealed on CBS.
That wouldn't have left the committee much time to deconstruct a certain sector of the pairings, if the Gamecocks had somehow pulled off a miraculous five-wins-in-five-days sweep of their SEC brethren.
But that doomsday scenario -- at least from the committee's perspective -- has officially been put to rest.
And even if LSU, Georgia or Ole Miss advance to Sunday's championship, it should be easy for the tourney committee to establish a swap-in/swap- out contingency plan ... without the necessity for blowing up an entire region.
4. Jordan McRae's thunderous dunk might have been the tourney's seminal moment
Ole Miss guard Marshall Henderson certainly has the "Crazy Game Of The Week" award in his favor, busting seven three-pointers -- accounting for all of his 21 points -- in the Rebels' comeback win over Mississippi State (Thursday).
But McRae (14 points, three rebounds, three assists vs. South Carolina) best captivated the Georgia Dome faithful, on a singular level, late in the second half against South Carolina.
Here's the scene: With UT holding a 51-35 lead at the 6:35 mark, Darius Thompson (three points, four boards) snagged a long rebound and fired a full-court pass to McRae, who perfectly timed the run-out with his arrival at the free-throw line -- prompting a rim-rattling, tomahawk jam that elicited fond memories of Dominique Wilkins or Larry Nance (both NBA slam dunk champions in their heyday).
5. We can sum up Friday's futility with one quick factoid: Not a single Gamecock scored in double figures
For its three-game winning streak leading up to Friday, South Carolina averaged 73 points against Mississippi State, Auburn and Arkansas.
But therein lies the rub: None of those schools can match the athleticism, length and/or sheer know-how of the Tennessee defenders, who held the Gamecocks to 27-percent shooting from the field (16 of 59) and a paltry 25 percent from beyond the arc (4 of 16).
Things looked rather dire early on, with South Carolina going scoreless in the opening 6:02 ... and then not making a second shot of any kind (jumper, free throw) until three-plus minutes after that.
To the Gamecocks' credit, they rallied somewhat in the first half, trimming their deficit to four shortly before halftime. But all told, this was the Vols' game to lose from the opening tip.
For South Carolina, Friday's effort represents a new low in seasonal points (slightly worse than its 46 against Florida on March 4). And by all accounts, it stands as the Gamecocks' only outing this year without one double-digit scorer.

One last thing: In fairness to South Carolina, Tennessee produced just five scorers of four points or more.
6. Don't be surprised if Tennessee slips into Sunday's championship
The above speculation isn't a knock on No. 1 Florida in any way. As the nation's top-ranked club and a prohibitive Final Four favorite next month, the Gators are obviously strong candidates to bring home the SEC title.
However, history is littered with undefeated teams from the regular season that inexplicably fell short in the conference tournament.
For example, take North Carolina's vaunted squads of 1984 (starring Michael Jordan, Sam Perkins) and 1987 (featuring Kenny Smith, J.R. Reid). Both times, the Tar Heels cruised to 14-0 records during league play ... only to get booted from banner consideration in the final weekend.
Bottom line: It's human nature for nationally renowned clubs (firmly entrenched as No. 1 seeds) to minimize the importance of a conference tourney title -- especially if they're batting injury concerns. Plus, there's that pesky, time-tested basketball adage to consider:
The hardest thing to do in college basketball ... is beat the same team three times in the same season.
And for one day, Tennessee certainly has the experience, athleticism and revenge chutzpah to upset Florida on a random Saturday in March.
---