Quick Hitters: No. 1 Florida routs Mizzou in SEC quarters
Published
Mar. 14, 2014 4:22 p.m. ET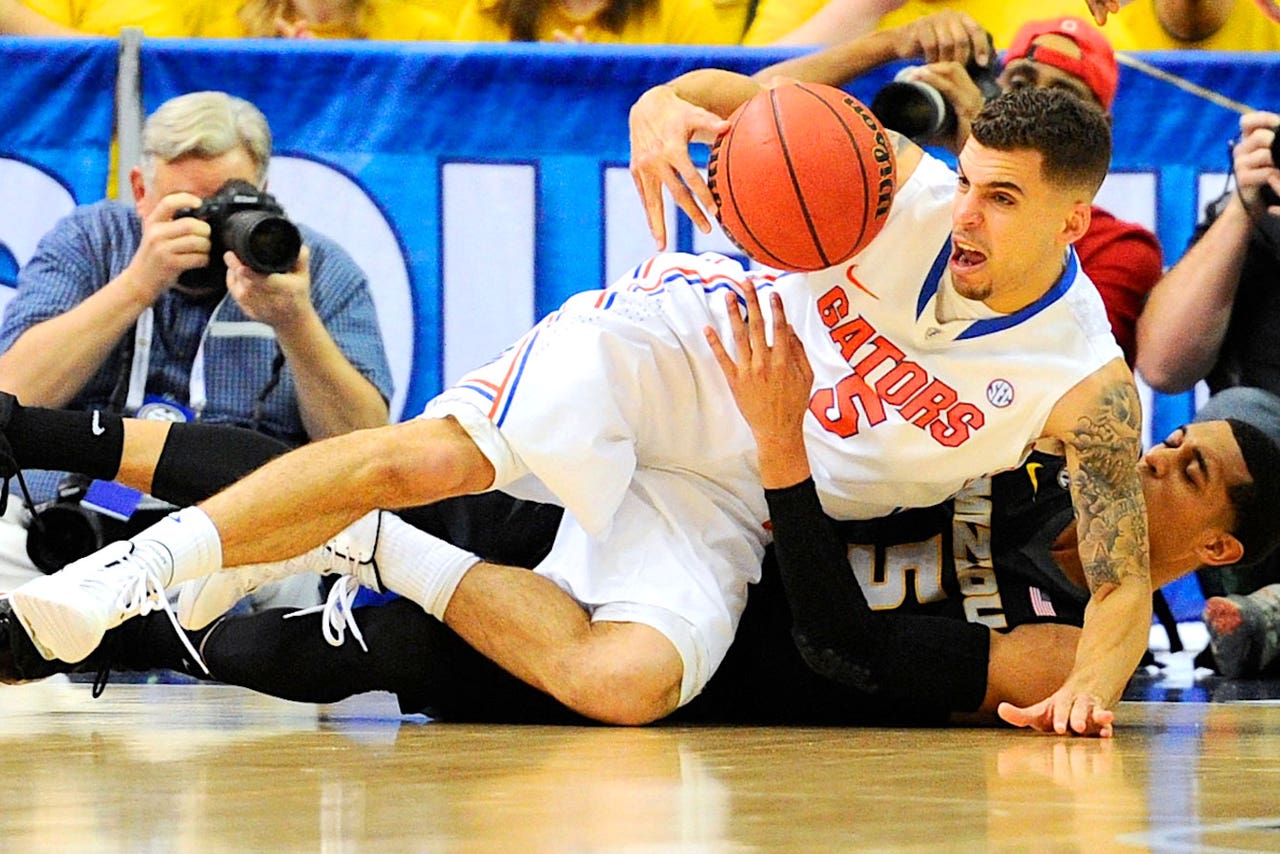 ATLANTA -- Here are seven quick things we gleaned from No. 1 Florida's 72-49 thumping of 8-seeded Missouri at the Georgia Dome, the first of four quarterfinal matches at the SEC hoops tournament.
1. It's a little disconcerting that Missouri's perimeter players could easily get to the rim in the first half, particularly on baseline drives. As a result, the Tigers converted on nine of 18 two-pointers in the first 20 minutes.

That all changed in the latter half, though, with Mizzou tallying just 19 shots and 20 points after the intermission.
2. Guard Scottie Wilbekin (15 points, four steals, two assists) sparked Florida to its first major run of the second half. After a Will Yeguete layup put the Gators up 40-36, Wilbekin made a diving snag of a Missouri inbounds pass, flinging it to Yeguete before touching the ground.

Wilbekin then hurried back to a comfy spot beyond the arc and buried a three-pointer, thus crushing a suddenly weary wave of Tigers defenders.

Florida would notch another seven unanswered points -- increasing its once-razor-thin lead to 14 -- before Mizzou could (temporarily) find its bearings.
3. Florida might have one of the deepest short rotations in the country. How else to explain an outing where only seven Gators logged 17 or more minutes ... and yet, the club had little difficulty forcing its defensive will onto Missouri in the second half?

The core six Gators -- Casey Prather, Patric Young, Wilbekin, Michael Frazier II (15 points, five boards, two steals), Kasey Hill (seven points, five boards, five assists) and Dorian Finney-Smith (10 points, nine rebounds) -- all proffered substantial contributions on Friday. And the seventh member of the 17-Minute Club had an impact, as well (more on Yeguete later).
4. The Gators' hot shooting day from beyond the arc was a tad misleading. Yes, they nailed 12 of 21 triples, but UF didn't truly catch fire until 10 minutes left in the game, when Wilbekin (twice), Frazier (twice) and Finney-Smith connected on five straight three-pointers.

By then, Florida already owned a sizable advantage over Mizzou.
5. Yeguete was far more productive than his stat line would indicate (three points, four rebounds, two steals in 17 minutes). In the second half, Yeguete's athletic presence near the basket was a constant distraction to Missouri's 2-3 zone.

On at least three different possessions, a Mizzou back-end defender momentarily lost sight of Yeguete roaming the baseline, enabling various Florida players to attack the basket against out-of-position rim protectors.
6. The referees were a little shaky early on -- perhaps distracted by the late-arriving crowd -- missing a pair of easy "traveling" calls and getting crossed up on a few loose balls along the respective baselines.

Overall, though, the crew did a marvelous job of letting the kids play throughout the game, cultivating a free-flowing pace that had few lulls.
7.  Frank Haith and the Mizzou coaches should be commended for conceiving a rock-solid game plan against the Gators, initially limiting the tempo to half-court sets (and easy breakaway chances), with an emphasis of getting to the rim against man defenses.

But aside from guard Jordan Clarkson (11 points on 5 of 13 shooting) and maybe Jabari Brown (game-high 18 points, thanks to 10 made free throws), the Tigers simply don't have the horses to confound the lengthy Gators from the perimeter.
Especially on days when the Tigers make only one of 13 triple tries.
---