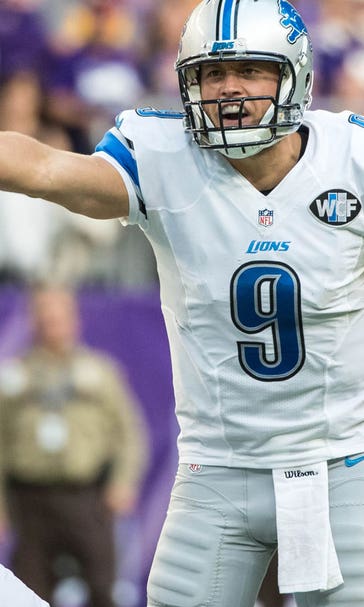 Quarterbacks in spotlight as Lions visit Saints
December 3, 2016

NEW ORLEANS -- Drew Brees and Matthew Stafford may be separated only by age and career accomplishments, but two of the NFL's best quarterbacks are primed to ignite an impressive fireworks show Sunday when it counts -- in the fourth quarter.
Stafford's 7-4 Detroit Lions have won five of their past six games to move to the top of the NFC North, and Brees' 5-6 New Orleans Saints, coming off a 49-point, 555-yard shellacking of the Los Angeles Rams last week, need a victory at the Mercedes-Benz Superdome (1 p.m. ET, FOX) to climb back to .500 for the second time this season and into the NFC playoff picture.
But what makes this chess match so intriguing is what each quarterback is doing this season with the game on the line.
Despite trailing at some point of the fourth quarter in all 11 games, the Lions came back to win seven times, a tribute to Stafford's gunslinger arm and efficiency under pressure.
Stafford, 28, has a 70-percent completion rate with five touchdowns and two interceptions in the fourth quarter, good enough for a fourth-quarter passer rating of 102.2.
Brees, who at 37 is having one of the greatest seasons of a stellar career, has been even more on point in the fourth quarter. Brees leads the NFC with a 113.4 fourth-quarter passer rating, throwing for 11 touchdowns and completing 72 percent of his passes.
Brees has completed at least 70 percent of his passes in each of the past six games -- a career-best streak -- and his uncanny accuracy prompted Lions head coach Jim Caldwell earlier this week to reference the incredible "Sports Science" clip on ESPN (available on YouTube) of Brees throwing a football more accurately than an Olympic archer hitting the bull's-eye at 30 yards.
"You better be able to play defense well across the board because he spreads it around quite a bit," Caldwell said. "You can tell by his numbers he's difficult to handle, difficult to manage. ... He was 32 of 39 against us (the Indianapolis Colts) in the Super Bowl (XLIV in February 2010), and he's still obviously performing great. Every single game, he's going to put numbers up. He's as good as they come."
Brees said Stafford, a fellow Texan, has "some of the best arm talent in the league -- top three for sure."
"He can make some throws that most guys can't or certainly couldn't even attempt to make," Brees added. "He has got some moxie and savvy to him. He just has that playmaking ability in critical situations. I feel like he's always had that."
That ability is even more apparent this season as Stafford -- with a strong assist from the powerful right leg of kicker Matt Prater -- repeatedly led the Lions back from the brink of defeat.
Stafford is doing it despite the retirement of star wide receiver Calvin Johnson.
"You evaluate a quarterback often when you want to see how he does when he's behind," Saints head coach Sean Payton said of Stafford. "He has had an outstanding season. His numbers are fantastic. I think he's playing as well as he has in his career. He's found different ways to win, and everyone's involved."
Brees is the master at spreading the ball around, although there was a rare -- for the Saints -- mini-soap opera after their 49-21 rout of the Rams last week. Wide receiver Brandin Cooks went to Instagram seemingly to bemoan Brees not targeting him once in his 49 snaps.
Cooks, who has the longest scoring reception in the NFL this year (98 yards), was used twice as a decoy on jet sweeps that resulted in huge running plays. Brees tried to quell any sense of discontent.
"We talked about it after the game," Brees said. "If we can go out and score 49 points, play like that and win every week, then I think everyone will be OK with it. The statement it makes is that we can win games in a lot of different ways. Just because Brandin Cooks didn't catch a ball doesn't mean that he didn't have a huge role and responsibility in the game."
Both teams are relatively healthy. Detroit could be on the verge of welcoming back linebacker DeAndre Levy (knee), who practiced the past two weeks. Tight end Brandon Pettigrew also is working his way back from the physically unable to perform list.
Saints running back Mark Ingram, selected the NFC offensive player of the week for amassing 167 yards from scrimmage and two TDs against the Rams, is bothered by a lingering toe injury and is questionable. Starting left tackle Terron Armstead is battling knee and quad injuries.
The Lions won the last two against the Saints (24-23 in Detroit in 2014 and 35-27 last season in New Orleans). Detroit faces the Saints, the New York Giants and the Dallas Cowboys on the road in the next four weeks.
---
---