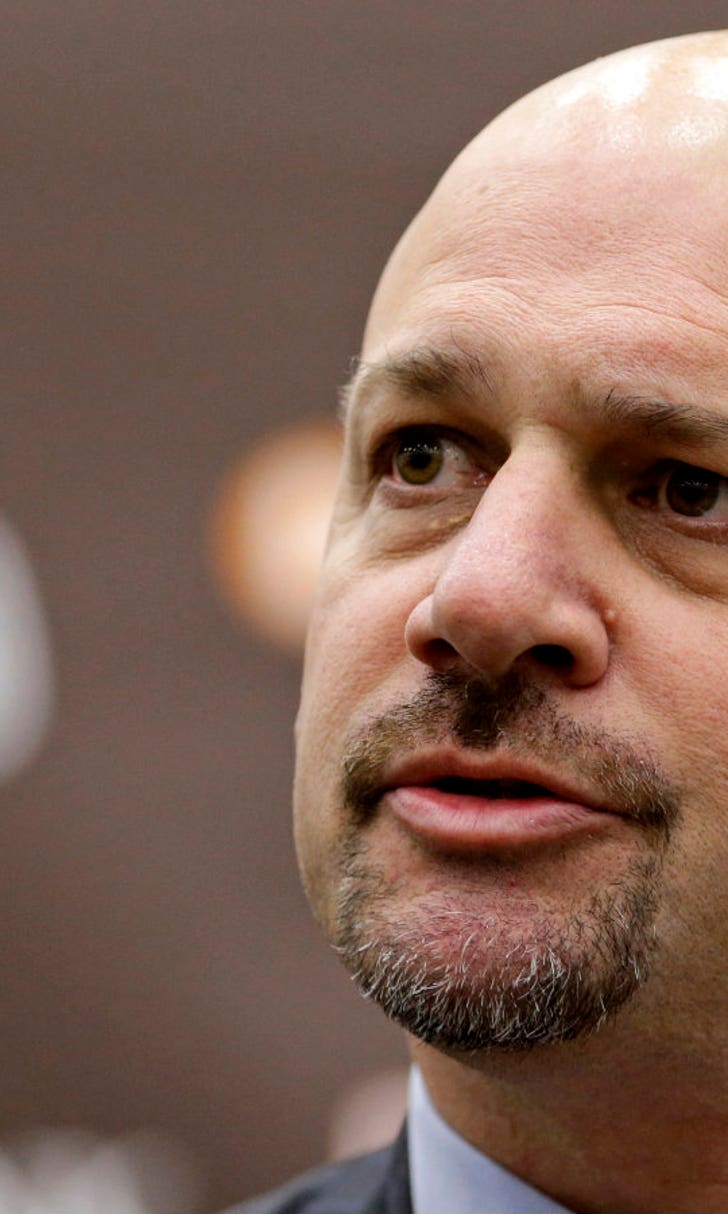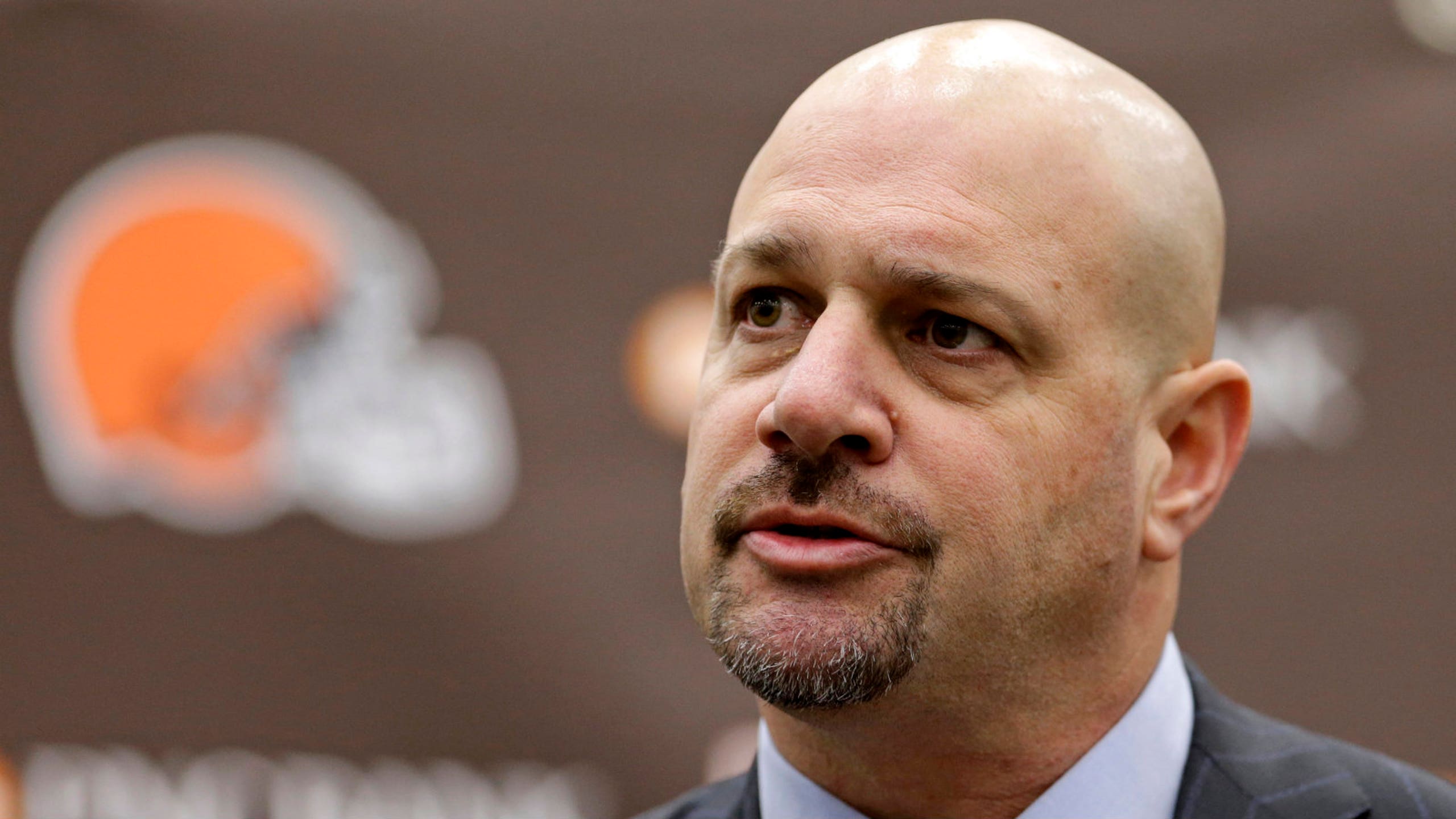 Q&A with Haslam and Banner
BY foxsports • January 23, 2014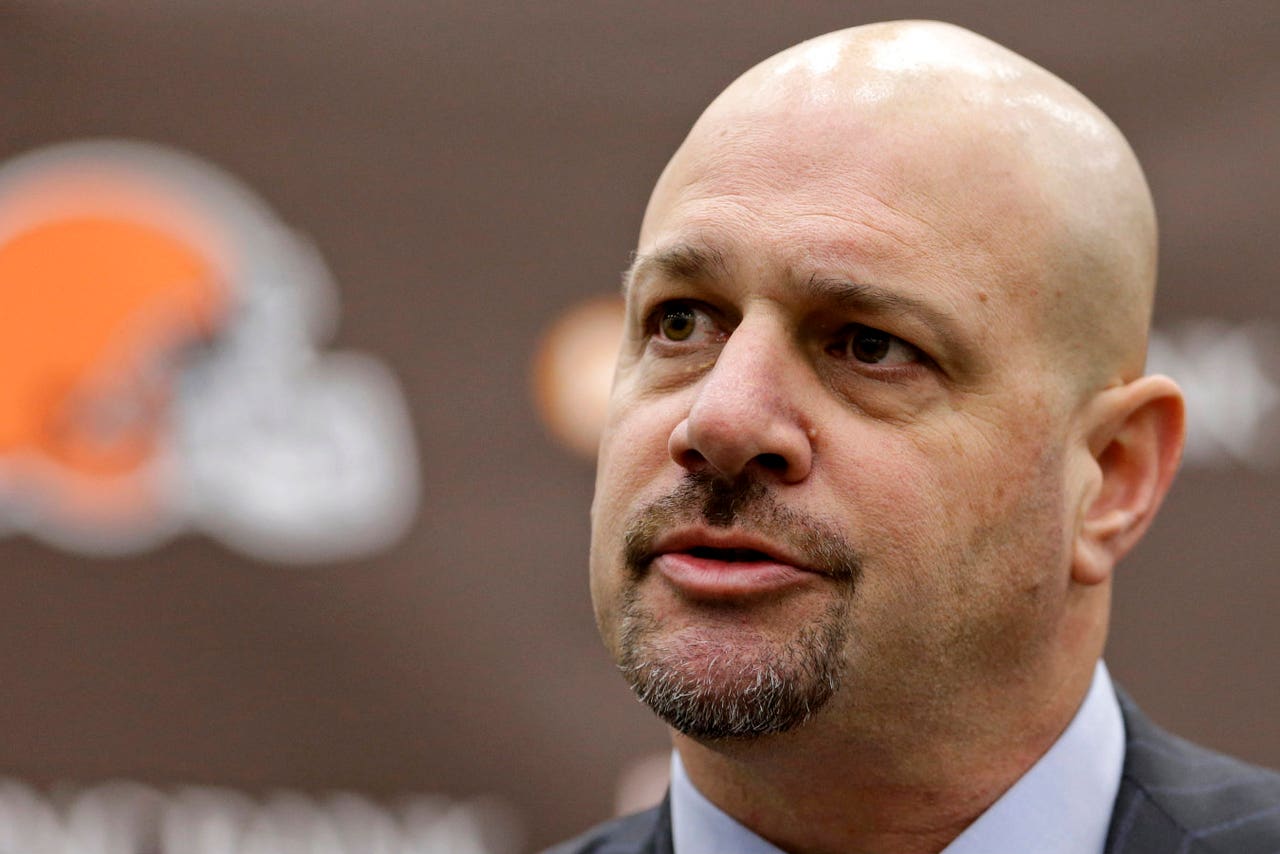 Haslam and Banner addressed various topics during the session after the introduction of Pettine.
Q: What initially impressed you about Pettine?:
Banner: "I think he's a very good communicator, but he's a football coach. He's tough and he's demanding and sometimes you don't like the message or how it's delivered, and other times you're thrilled that somebody's putting their arm around you and comforting you and asking you about your family. And our expectation from players we talked to was that he's got that."
Q: When did you make the determination Mike was the coach you wanted?
Banner: "We were confident, but there we a few things we wanted to go over with him today, frankly a few things he was working on relative to staff that we wanted to try to iron out. We spent about an hour with him today still open-ended issues and I think when we were done with that."
Q: Did firing Rob Chudzinski after a year hurt you?:
Banner: "As we've been trying to say, it's not as uncommon as people portray it and frankly some of the smartest organizations, Green Bay fired their coach after one year. Seattle's coach right before Pete Carroll was fired after one year, so it certainly came up and everyboyd wanted to ask about it and hear our explanation as to why. But that was really the extent of it. They asked. We answered and we moved onto the next questions."
Q: How have you handled the beating the Browns have taken in perception nationally?:
Banner: "It's not pleasurable, personally or for the organization. But to honest, from our seat somewhat unjustified and not completely agreeing that we made a mistake by our own assessment in making a change after one year so I'm not oblivious to the questions that that creates and they are justifiable questions. I think since there is a long history of coaches being hired later and those coaches in the playoffs doing well, the idea of taking the time to make sure we reviewed everybody that we thought had a chance to be a really good coach. To us, it seems obvious even though it's not what most teams have done historically and that doesn't make it wrong or necessarily create a perception of dysfunction, or at least it shouldn't. So it wasn't fun, and it was also hard to not be in position to respond to it, but what you've got to do in the end is try to focus on what you're trying to do which is find a coach you think can lead your team effectively for a long time and try to stay focused on that."
Q: Thoughts on being compared to the Three Stooges:
Banner: "It never burned. It didn't feel justified. But there was humor in it and there's still humor in it and there's nothing wrong with being able to poke a little fun at yourself from time to time."
Q: Will the structure change of picking players?:
Banner: "No."
Q: Does Pettine fit into that structure?:
Banner: "Yes, he fits in that structure. It's the same."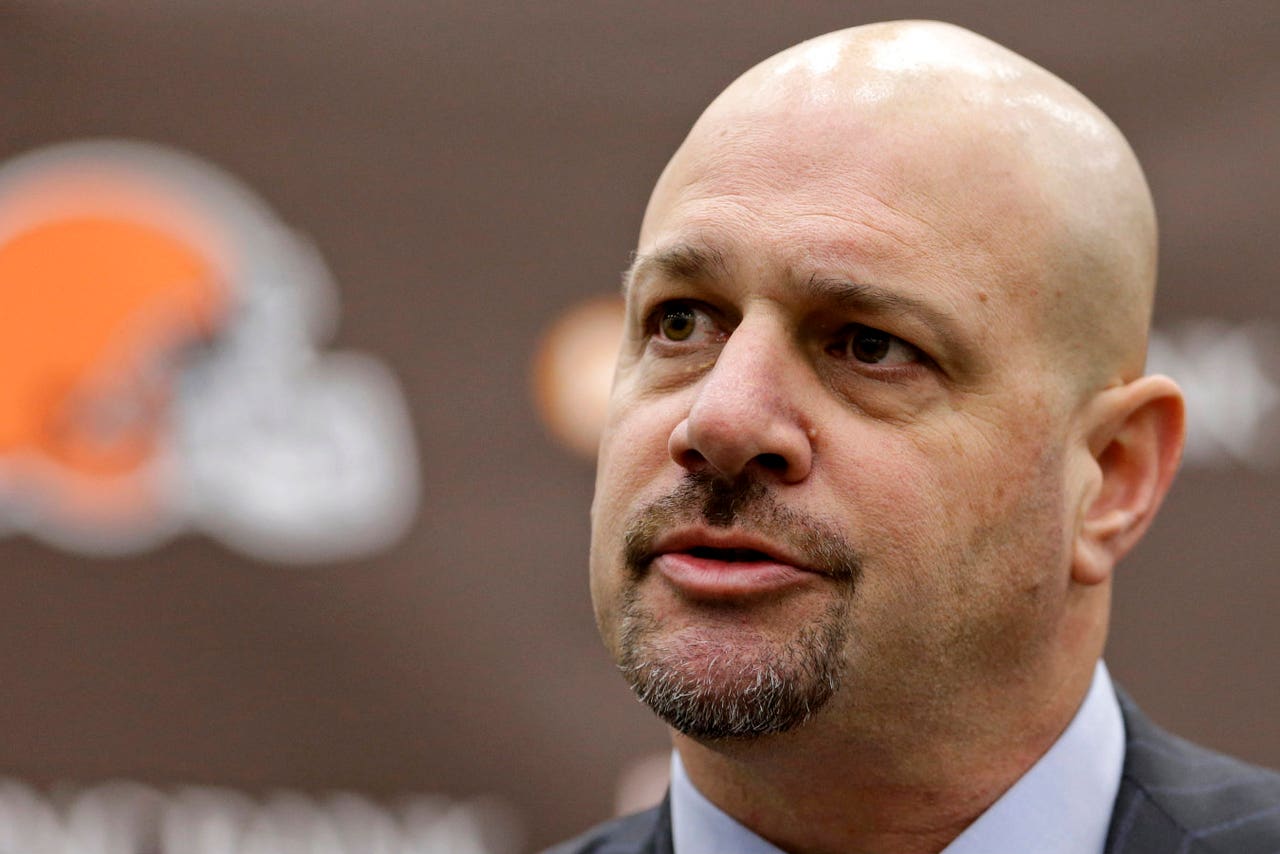 Browns have a new general in town
Q: Willl his defense fit into what you did last year?:
Banner: "He plays a multi-front. That's what he does. He plays it a little bit differently, but from a personnel perspective, it's a good fit."
Q: What makes him the best of all the candidates?:
Haslam: "I think we said at the outset we were looking for an individual who was smart, you can clearly see Mike is a very smart man. A strong leader, I think that came across very well today, and somebody who would be a great coach of the coaches. I think he's going to provide our team with edge, with intensity, with toughness that you need to compete in the AFC North. I'm tremendously excited about Mike."
Q: Some fans perceive you struck out on the best candidates:
Haslam: "I actually take real strong exception to that. We've had tremendous fan support. I think what's important to understand is the fans up here have great passion and interest. The fact that they have opinions we take as a real asset to the organization. The fact that the process took a while, we candidly feel very good about."
Q: Why did it take so long to hire Pettine when he was available since the end of the season?
Haslam: "I'll make an analogy here. We're going to spend thousands of hours researching whether to pick a quarterback in the draft or not. Why would you not spend a lot of hours researching who the head coach of your organization is going to be? This thought that the first person to finish the coaching search is the winner I think is extremely far fetched. This is an important hire. To not take your time and talk to people and do the research, the background checks we've done I think would be inexcusable. We think it was a great process. We've said all along it was not about how long it was going to be, it was about finding the right person. I couldn't be more excited and I know our whole organization is excited to get Mike Pettine."
Q: What can you say to convince fans you've done what you set out to do?
Haslam: "There's no convincing the fans. I'm highly confident Mike is going to put together the kind of team with the kind of effort that will consistently win games over a long period of time. It doesn't do any good for me to talk about it. I think we picked the right guy. I feel really good about the selection of Mike."
Mike: He's very smart, he's aggressive, he's innovative. I think you can see he's tough. He's going to be very demanding. He's going to set high standards for our organization. I personally talked to several Buffalo Bills players that I happen to have a relationship with and they could not have been more complimentary about how demanding he was and what a good person he was.
Q: Does he remind you of any other coach?:
Haslam: "A little Bill Cowher toughness: He's got that Cowher jaw, I believe. Let's face it,we play in the AFC North. I think he's going to bring the kind of toughness we need to compete with those teams. You're not going to get very far if you're not competitive in your division. I think he'll bring that attitude to our team."
Q: At what point does the front office get held accountable, instead of the coach?
Haslam: "I'm not going to address that right now. I'll take the ultimate responsibility that we did not perform last year. It's all on me. I call all the shots at the end of the day. That's all on me. We're highly focused on putting together a team that will win consistently over a long period of time."
Q: What did you know about the Davone Bess situation?
Haslam: "I personally did not, so I can't answer that."
Banner: "The only part of that I'm going to answer is we've been in contact and trying to do everything we can to support and help Davone through the entire process.
Q: Will he remain on the team?:
Banner: "He's on our active list while we speak. I don't anticipate that changing, but obviously at some point we'll review that."
Q: You had the same confidence in Rob Chudzinski a year ago, what's different?:
Haslam: "He's smart, he's a good leader, I think he has high standards. I think he'll be demanding. I think you can see the intensity, I think you can feel the toughness and I think he's going to be a great head coach."
Q: What impressed you about him first time you met him?
Haslam: "With Mike, we spent four or five hours twice, we spent another hour today. These are exhaustive sessions when you ask all kinds of intense questions. They ask us very good questions. You tell a lot about the candidate by the questions they ask. There's not one moment, it's over a period of time. These are extremely important hires, so to rush into it in any way would be a huge mistake. Candidly, the first time we were impressed, the second time we were more impressed and the last time we said, 'Here's our man.'"
Q: Do you like he's from a football family?:
Haslam: "I like what he was saying about kids, family. I come from a family business that happens to be the truck stop business. His family business is football. He's a serious guy. He's intense. He's competitive. The only time I really see him smile is when he talks about his dad and when he talks about his kids."
Q: Did his father's coaching success impress you?:
Haslam: "They call my dad the senior scout. We laughed about having two senior scouts. Mike said the only thing we have to do for his dad is provide him with all the Browns gear he'd want and we're happy to do that.
I could tell it pained him when I said, 'Did you ever coach against your dad?' He said, 'Did you have to ask that?' I said, 'What was your record?' He said, '0-5.' I said, 'Does your dad bring that up?'
Q: What is your message to Browns fans?:
Haslam: "We think we've hired the kind of coach the fans want. He's tough, he's demanding and he's going to produce a winner for our fans.
Q: Are you relieved to have hired a coach?:
Haslam: "Despite what everybody thinks, this is a great process to go through. You talk to lots of smart, interesting qualified candidates. You learn from every one of those candidates. You learn from every one of those candidates. It's very interesting as these are very productive coaches. I know there was a sense that we were in a big hurry and we felt pressure to hire someone, we said all along we were going to take our time and get the right guy. If it had taken a couple more weeks, we were willing to do it. I don't feel any sense of relief. I'm very happy that we have Mike.
Q: When did Pettine come onto the radar?:
Haslam: "Mike was on our radar to be our defensive coordinator last year and Doug Marrone got hired before we hired Rob Chudzinski."
Q: There's a perception that you hired someone down the list:
Haslam: "The order you interview people means nothing. It means who's available at a certain time. You have to work around people in the playoffs. The fact you interviewed Coach X first and Coach Y third means nothing."
Q: Was he your first choice?:
Haslam: "I don't know that you have a first choice. You have a list of individuals we were going to talk to. This is a fluid process and it changes all the time. Candidates become available. Candidates may decide they don't want to enter. We had a very qualified list of people who were interested in being coach of the Cleveland Browns. It's viewed as a very positive place. We felt great about the people we talked to and we feel great about the guy we hired and that's what counts.
Q: Nationally, there is a perception that the Browns job was not desirable:
Haslam: "I think that's a perception that you all have generated. That's not the perception among the candidates. That's not the perception among football people that I've talked to around the country. They talk about the birthplace of football, great fan base, great cap space, young roster, five Pro Bowlers, 10 draft picks, three of the first 35. This perception that's been created out there is not reality."
Q: Are you happy that Ray Farmer is staying?:
Haslam: "It's a compliment to our organization that another organization wants to hire him to kind of go from the No. 2 position to the No. 1 position. I'm really excited Ray's standing. He's smart, he's focused, he'll play a key role in this draft and in free agency.
I spent about an hour with him today right before lunch. He's a good man and we're glad to have him on our team."
Banner: "Yes, Ray is staying. Double good day."
Q: What does that mean?:
Banner: "We've retained an outstanding employee that we were excited when he decided a year ago to come here, and we're really excited that he decided to stay. I've been calling Ray an up-and-coming star, which probably haunted us and tipped off the rest of the league how good he was, so I'll be more careful. He's an up-and-coming star. He's high, high character, outstanding employee and a really valuable part of our team."
Q: Have you talked to the players about the process?:
Haslam: "We talked with 6 or 8 players Chud had as the leadership council. We understand it. We had good conversations. The main thing that came out of that, I've had several individual ones since then, we want to win. And we want to win bad. We assured them, we want to win, too."
Q: What have you learned being an NFL owner?:
Haslam: "I've learned a lot since I faced you all on Aug. 3, 2012 in Berea. Are there some things we could have done better? Absolutely. I'll be a better owner and we'll be a better organization in two or three years than we are now. It is the NFL, it's highly competitive and there's people who have been doing this for a long time. I feel good about the talent we have around us, both on the field and off, yet we've still got to get better.
---