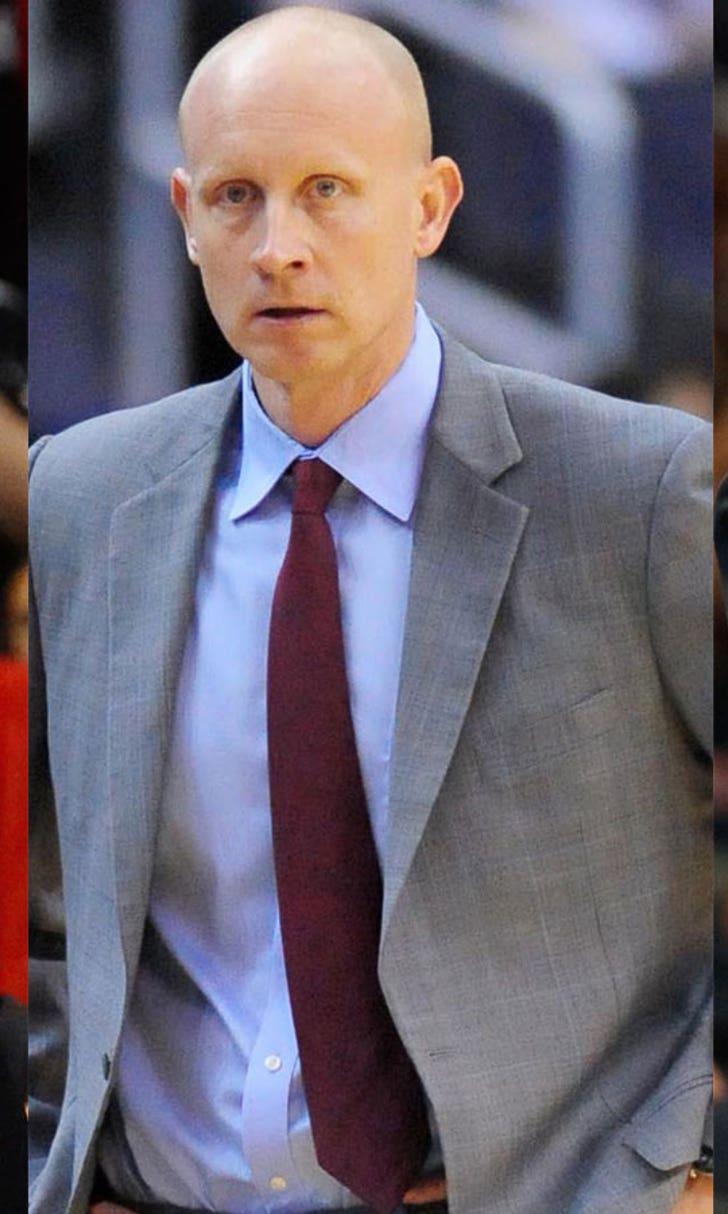 Push to postseason coming for UC, Xavier, UD
BY foxsports • February 11, 2015
No league road game is easy, as Cincinnati, Dayton and Xavier all found out in differing manners Tuesday night. All three teams fell behind in the first half, which proved to be too much for UC to overcome in a 75-59 loss at Temple. UD never found its normal offensive flow but did find a way to beat Saint Louis, 51-44, while Xavier came back from an early 11-point deficit to win going away at Marquette, 64-44.
There are three-and-half weeks left before the teams begin their respective conference tournaments and all three are in the fight for either the top seed or at least a high enough finish to earn a bye in the first round. All three are eying strong final pushes to earn return trips to the NCAA tournament. It would be the first time since 2003 and 2004 that all three programs have been in the NCAA bracket in consecutive seasons.
While the focus is on conference games, next Wednesday's Skyline Crosstown Shootout will take on added significance for UC and Xavier. It's a rare non-conference game scheduled this late in the season and will bring its own brand of intensity back to campus after two years at neutral U.S. Bank Arena. The winner at Fifth Third Arena will be able to claim another quality victory for their NCAA tournament resume.
That would be especially important for UC, which doesn't have the same opportunities for quality wins as Xavier does with its Big East league games.
The three teams get a little rest before their next games at home this Saturday -- Xavier against St. John's, Cincinnati against Tulane and Dayton hosting St. Bonaventure.
As the regular season winds down, here's a look at where the three teams stand.
Cincinnati (17-7, 8-4 AAC)
RPI -- 28
Remaining games -- Tulane, Xavier, at Houston, Central Florida, at Tulane, at Tulsa, Memphis
Game to watch -- March 4 at Tulsa
Outlook -- The Bearcats turned the ball over 17 times at Temple, which the Owls converted into 25 points as they became the first team to top 70 points against UC in the last 28 games. It was the third game in six days for UC. After getting back to within five points early in the second half, 45-40, the Bearcats played like a tired team.
UC's next four conference games are against Tulane (home and away), at Houston and home against Central Florida. Those are four games that from a RPI standpoint would be more harmful losses than beneficial wins. They are four games from a conference standings standpoint the Bearcats can't afford to lose if they are to challenge for first place in the American. Tuesday's loss at Temple dropped the Bearcats to fourth in the league.
They close out the regular season with games at current leader Tulsa on March 4 and at home against Memphis on March 8 before heading to the AAC tournament in Hartford.
Dayton (18-5, 8-3 A-10)
RPI -- 35
Remaining games -- St. Bonaventure, Saint Joseph's, at Duquesne, George Mason, at No. 22 VCU, Rhode Island, at La Salle.
Game to watch -- Feb. 28 at VCU
Outlook -- Dayton was held to a season low by Saint Louis but was able to rally from a six-point halftime deficit to win 51-44. Leading scorer Jordan Sibert (16.1 ppg) was limited to just eight points but Darrell Davis, who had scored just 13 points in the last five games, made four 3-pointers as the Flyers overcame the defensive-minded Billikens.
The Flyers are 11-3 since the dismissal of Jalen Robinson and Devon Scott from the team for violations of the player code of conduct. All three losses have been on the road, including by a combined three points at UMass and George Washington. They are one-half game behind VCU and Rhode Island in the A-10 standings, with games against both still on hand.
Depth, especially at the pace the Flyers would prefer to play at, has been a question since the roster transformation but UD has handled it well. Archie Miller hasn't allowed that to be used as an excuse. The Flyers have won in different styles, which it showed Tuesday at Saint Louis.
Xavier (16-9, 7-6 Big East)
RPI -- 32
Remaining games -- St. John's, at Cincinnati, No. 18 Butler, at St. John's, No. 6 Villanova, at Creighton
Game to watch -- Feb. 21 vs. Butler
Outlook -- The Musketeers got their second Big East road win Tuesday despite Marquette getting off to a 16-5 start. It was the seventh time in the last nine games Xavier has fallen behind by at least 10 points in the first half. That's a dangerous way to play but XU quickly answered Marquette's opening spurt and led by three at halftime.
When Xavier plays a modicum of defense, which it did Tuesday, the Musketeers have the makings of a team that can play deep into March. They've got a lot of different pieces to the puzzle. Sophomore forward Jalen Reynolds is showing consistent improvement on both ends of the floor, something to match the potential he brought to campus. He only scored six points against the Golden Eagles but had nine rebounds, two blocked shots and one steal. When he brings energy to his play, and stays out of foul trouble, he is a matchup issue for opponents.
The Big East has six teams ranked in the top 51 of the RPI. Combined with the UC game, Xavier plays five of its final six regular season games against teams in the top 51. That's a big test for a team that has been searching for its own mental consistency all season. Consecutive wins against Providence and at Marquette are positive signs the Musketeers just might have found that consistency.
---