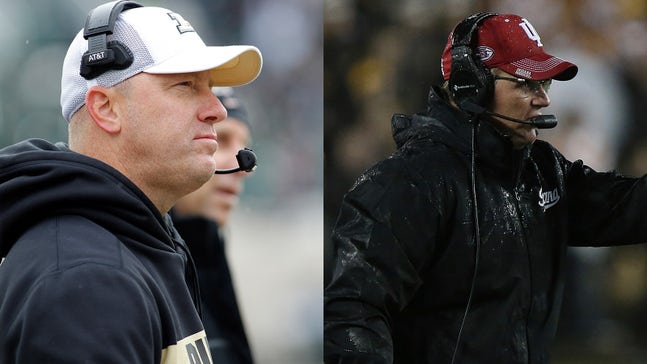 Purdue, Indiana chase postseason action down the stretch
Published
Nov. 5, 2018 5:42 p.m. ET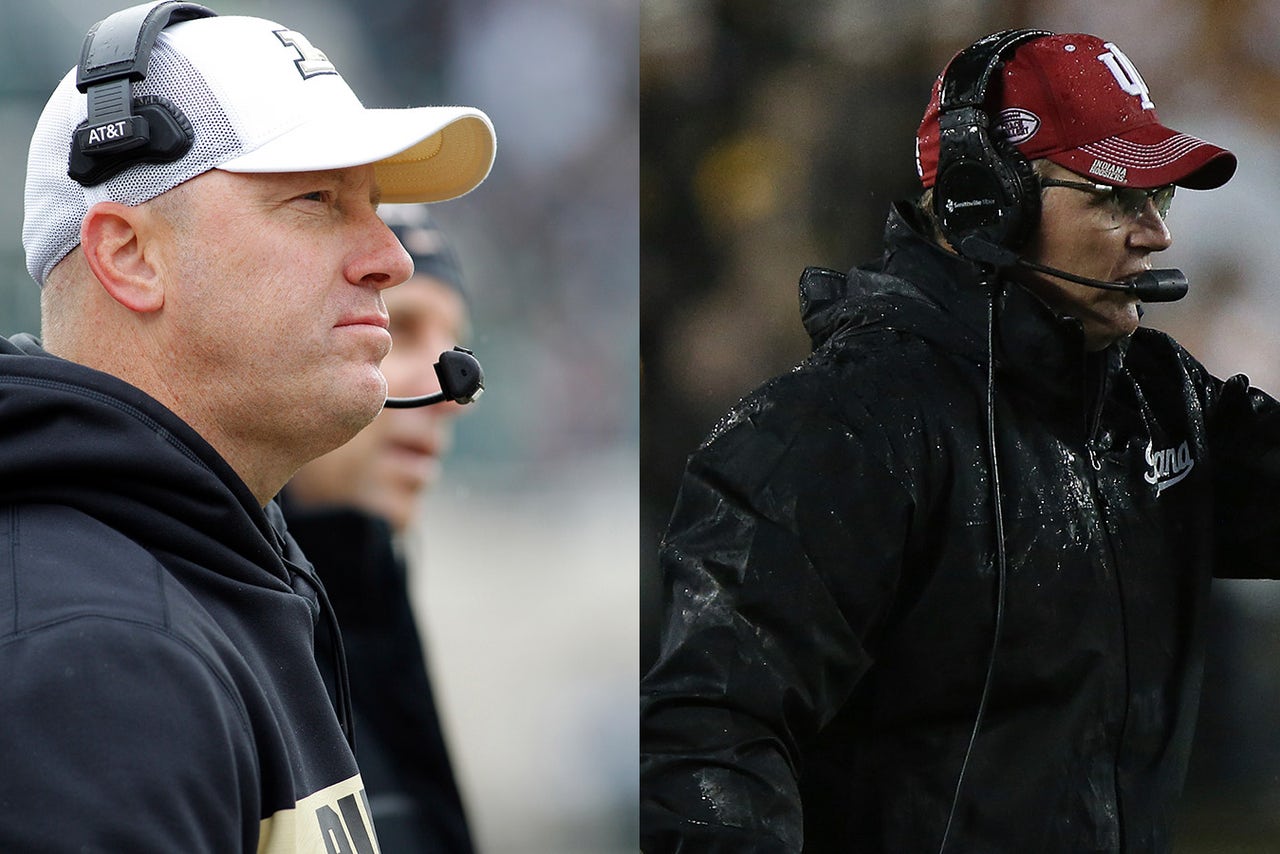 WEST LAFAYETTE, Ind. — Jeff Brohm turned around Purdue's season with a style change.

After starting 0-3, Purdue finds itself one win from becoming bowl eligible, one game behind Northwestern in the Big Ten West Division and perhaps one week away from knowing whether a division crown remains a possibility.

"Going back to those other three games, I think they had it in them," Brohm said following Saturday's upset of No. 19 Iowa. "But they had a head coach that wasn't as aggressive as he is now."

Brohm has long believed the path to victory in college football comes by staying on the attack. But after losing twice in part because of late personal foul calls against his defense and a third time after a replay review overturned a go-ahead touchdown, Brohm decided his team wasn't going down without a fight.

The Boilermakers (5-4, 4-2) won five of their next six by routinely throwing deep and using a full gamut of trick plays — everything from the quarterback touchdown reception to the daring first-down run from punter Joe Schopper on a fake field goal in the upset of Ohio State.

Brohm acknowledges his stint as a quarterback in the XFL taught him serious players could still have fun playing the game, a lesson he puts to use seemingly every week.

"If you want to be a contender in the conference, you've got to win, and if you don't, you're out," Brohm said Monday. "That kind of happened to us at the end of last year and we kind of had something similar where we knew our backs were against the wall and we had to win to advance. In our mind, we have to win to advance and stay a contender."

It's a big reason Brohm appears to be headed toward a fifth straight bowl game as a head coach and perhaps a conference championship game appearance. A win at Minnesota on Saturday and a home win over Wisconsin would put Purdue in the mix — if Iowa beats Northwestern at home this weekend.

Meanwhile, the Indiana Hoosiers are staring at an all-too-familiar fate.



Coming off their bye week, the winding road to the postseason is full of challenges after starting 4-1. They've lost four straight and need to win two of their last three just to become eligible for their third bowl bid in four years.

But even if they beat Maryland at home Saturday, they still must beat either No. 4 Michigan or the rival Boilermakers at home. Indiana hasn't won in Ann Arbor since 1967, though it will get the Wolverines the week before they face Ohio State. The Hoosiers have defeated Purdue in four of the last five meetings.

Like the Boilermakers, the Hoosiers have remained competitive against some of the Big Ten's top teams. Unlike Purdue, though, Indiana has struggled to close out games. The difference has put their postseason hopes in peril.

"For me, it's continuing to keep our guys locked in, keeping where they need to be mentally, which I feel we have some strong leadership that has helped with that," coach Tom Allen said Monday. "The bottom line is it's about us finishing in key situations."

One possible solution: Stealing a fashion tip from Brohm.

"We started 0-3 and lost to some teams maybe we shouldn't have lost to," Brohm said. "We weren't aggressive in our approach. We didn't go for the win. We played not to lose at times. We made critical mistakes that hurt us."


---
---