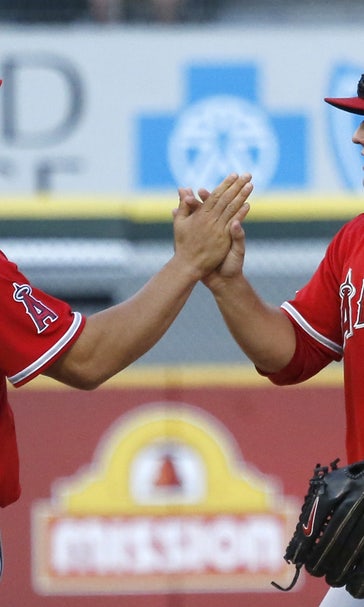 Pujols, Trout power Angels past ChiSox 8-4 in opener
BY foxsports • July 1, 2014
CHICAGO (AP) -- Garrett Richards gave up an early three-run homer to the major league leader and then dominated the rest of the way.
Richards threw eight innings of two-hit ball and the Los Angeles Angels got back-to-back home runs from Mike Trout and Albert Pujols to beat the Chicago White Sox 8-4 Tuesday in the first game of a doubleheader.
"I think I was the same pitcher from beginning to end," Richards said. "I wasn't going to let three runs in the first ruin my day. I think that's a maturing process that I've gone through as a pitcher and I'm happy with the direction I'm moving in."
Trout hit a three-run homer, Pujols followed with No. 509 of his career and Josh Hamilton also went deep for Los Angeles, his first since June 3.
Trout's shot off starter Hector Noesi (2-6) evened the score at 3 in the fifth. Pujols put the Angels ahead with his 17th of the season, tying Gary Sheffield for 24th place on the career chart.
Jose Abreu hit his major league-high 26th home run in the first to give Chicago a 3-0 cushion. Richards (9-2) quickly recovered and improved to 5-0 since May 30.
"(Richards) was great," White Sox manager Robin Ventura said. "We got him early when Jose (homered) in the first inning, but after that, we didn't get many good swings against him. He had good stuff. That's the part that stings -- we actually got three runs off the guy on only two hits, but we couldn't make them hold up."
Angels newcomer Rich Hill loaded the bases with none out in the ninth, but the White Sox scored only once as Joe Smith earned his eighth save.
The Angels are 4-0 this season against the White Sox and have won eight of 10 overall since June 20.
Chicago had its three-game winning streak snapped.
There was a 30-minute break between games of the single-admission doubleheader, quickly arranged following Monday's rainout.
Abreu's three-run shot to right came after walks to Adam Eaton and Gordon Beckham, giving Noesi a lead he held until the fifth.
Richards struck out nine, walked two and matched his longest outing of the season. He went 4-0 in June with a franchise-record 1.05 ERA.
"He's been good all year," Angels manager Mike Scioscia said. "He's had really one tough start at Oakland where he didn't get out of the first inning. Outside of that, I think you're seeing power stuff. He's getting into the zone with good movement."
Noesi didn't allow a hit until the fifth, when Chris Cowgill beat out an infield single. Trout went deep on a 2-2 pitch with one out, scoring Chris Iannetta and Cowgill to tie it 3-all.
Pujols followed with a drive to center field.
Noesi was pulled with none out in the sixth and charged with five earned runs and three hits. He walked seven and struck out seven.
Ronald Belisario gave up an RBI single to Iannetta that scored Howie Kendrick for a 5-3 Angels lead. Hamilton's solo shot to center made it 6-3 with two outs in the seventh.
Iannetta's RBI single with one out in the eighth scored pinch-runner John McDonald. Pujols scored in the ninth on a fielder's choice to make it 8-3.
NOTES: Ventura said left-hander Chris Sale (7-1, 2.30 ERA) is a worthy All-Star candidate despite spending a month on the disabled list. "You're looking at a guy at the top of his game," Ventura said. "His numbers prove it." ... Abreu extended his hitting streak to 15 games, the longest by a White Sox rookie since Ross Gload ended 2004 with a 16-game run. ... Pujols was in the lineup despite a swollen lymph gland near his right groin. "It shouldn't be anything that's going to impact what he needs to do," Scioscia said. ... The Angels acquired Hill from Boston for cash earlier in the day. The left-hander had a 3.23 ERA in 25 relief appearances for Triple-A Pawtucket.
---