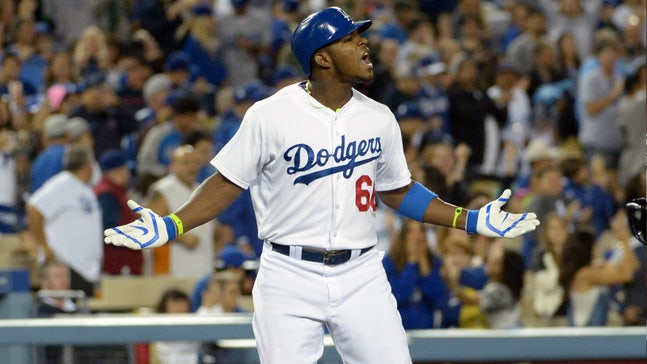 Puig, Bumgarner have words as Dodgers fall to Giants, again
Published
May. 10, 2014 2:26 a.m. ET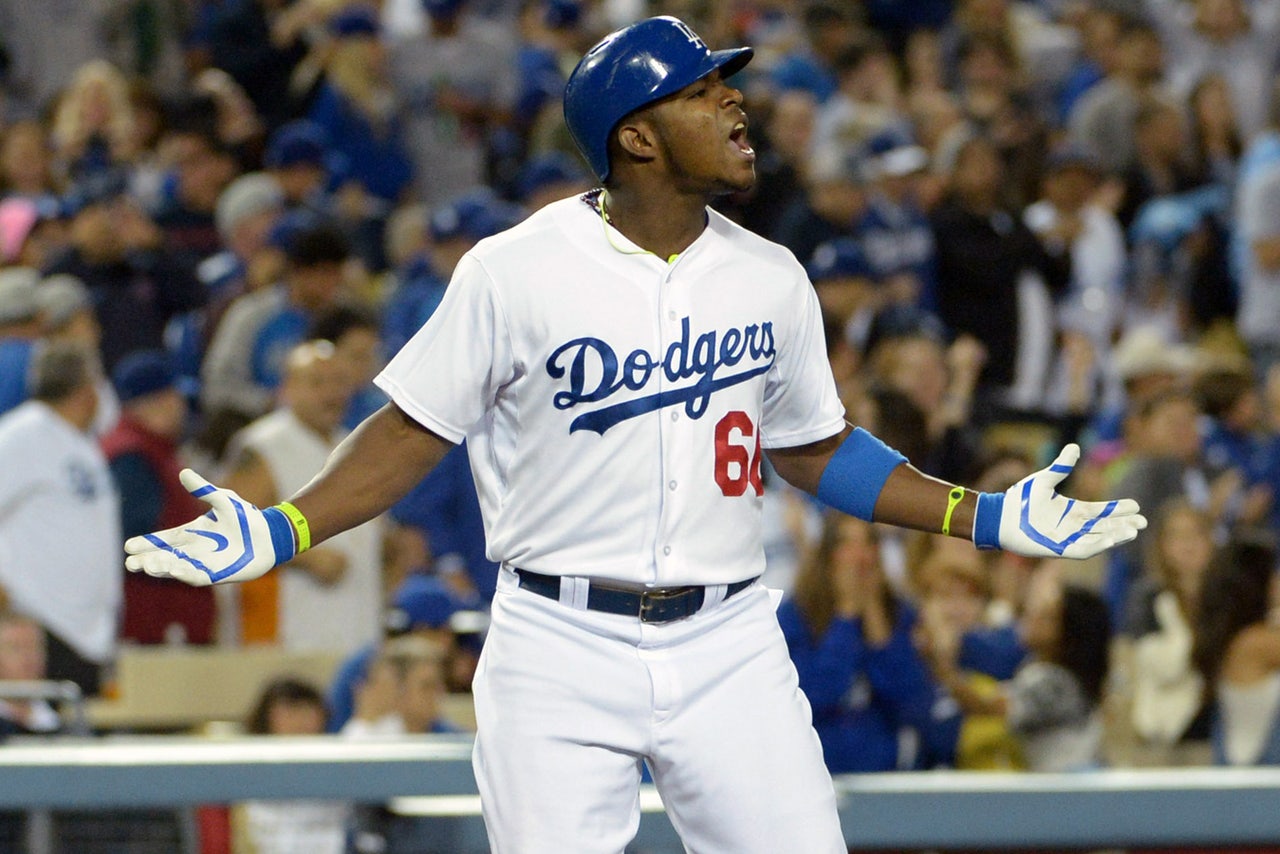 LOS ANGELES  -- A part of what has made Yasiel Puig such a polarizing figure since being called up by the Dodgers 11 months ago is his antics.
Whether you love them or hate them, those antics provide plenty to talk about. They were the talk on Friday night as well in the Dodgers' 3-1 loss to the Giants.
With the Dodgers trailing 3-0 in the bottom of the sixth inning, Puig put them on the board with a solo home run to center field.
He flipped the bat and circled the bases, but it appeared Giants starter Madison Bumgarner took exception. As Puig rounded third and headed home, Bumgarner stood near the third base line as he and the Dodgers right fielder traded barbs.
"It surprised me a little bit that he was there after I hit the home run but it seems like I may have done something that he didn't like but, from my perspective, it's just part of the game," Puig said through a translator.
A bit chippy here after Bumgarner took exception to Yasiel Puig's home run trot. Don Mattingly is ejected from the dugout. #Dodgers

— Los Angeles Dodgers (@Dodgers) May 10, 2014
It was also perplexing to Dodgers skipper Don Mattingly.
"It really always surprises me when guys react to things when their team does the same type stuff," said Mattingly, who was ejected later in the inning by home plate umpire Will Little for arguing balls and strikes. "It's always the double standard. One team's mad when one guy does it but it's OK for them to do different things, so it's always amazing to me.
"He hit it, he flipped it and he ran, so I'm not quite sure what he's upset about."
Bumgarner sang a different tune in the Giants clubhouse following the game.
"I was just congratulating him," Bumgarner said. "That was a really good swing. I don't know why everybody got so mad. I mean, that was pretty impressive. I don't know what happened."  
While it certainly appeared to be more than just a congratulatory chat between the two, Puig's home run off of Bumgarner was all the Dodgers could muster off of the Giants lefty. He was his usual self against the Dodgers tossing eight innings and allowing just one run on four hits while punching out eight.
As a result he picked up his fourth win of the season. Half of those wins have come against the Dodgers as he improved to 2-1 with a 2.41 ERA against Mattingly's squad this season.
The Dodgers have lost five of their last six games and are just 2-6 against their rivals from up north this season.
"We've played a lot of games against them and we haven't won too many so you could imagine (how frustrating it is)," Puig said.
---