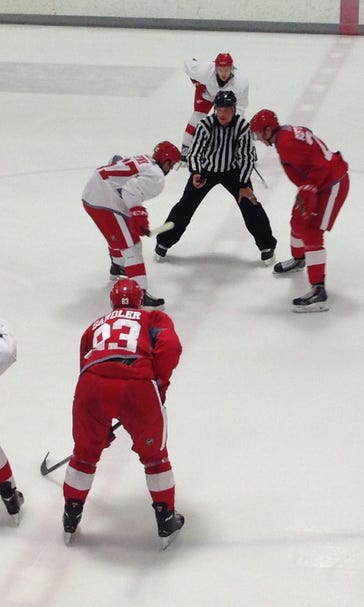 Prospects impress at Wings' first development camp scrimmage
BY foxsports • July 5, 2014
Less than one month after joining the Red Wings' organization, three of Detroit's prospects didn't waste any time impressing at the team's 2014 Development Camp.
Two draftees, Julius Vahatalo (2014 6th round pick) and Christoffer Ehn (2014 4th round pick), and Tomas Nosek, who was signed as a free agent by the Wings on June 14, netted goals in the camp's first scrimmage Saturday, which pleased Grand Rapids Griffins head coach Jeff Blashill.
"I thought all of our young draft picks did a good job," said Blashill, who is directing the development camp. "But I did think that our European draft picks seemed to assimilate to the smaller sheet real quickly in this game. Now this isn't real hockey, this is still summer hockey, so it's much looser than what you're going to find as the year begins. But I thought they did a good job of assimilating and it resulted in goals for them."
The smaller rink wasn't the only thing Ehn had to adjust to.
"I realized on the first day that there are a lot of big guys and they know how to play physical, so you have to be ready at all times," Ehn said.
And one All-Star still hasn't even stepped on the ice, although he hopes that changes Sunday.
Defenseman Alexey Marchenko, who made his NHL debut with the Wings and was also an AHL All-Star for the Griffins last season, underwent ankle surgery after a severe sprain, and just had the screws removed last week.
"We would like to try to get him out onto the ice," Blashill said. "He'd like to skate a little bit. But we also know that it's early in July and we certainly don't want to have any type of setback.
"We expect that he'll be fully ready come the fall. If anything he's pushing to skate and we're going to hold him back a little bit."
Camp invitees Alex Globke (Lake Superior State) and Joe Hicketts (Victoria, WHL) also tallied goals in the scrimmage, in which Team Yzerman won 3-2 over Team Lidstrom.
Anthony Mantha, Dylan Larkin and Kyle Baun skated on Team Yzerman's top forward line, while Andreas Athanasiou, Tomas Nosek and Zach Nastasiuk were Team Lidstrom's.
Although Mantha, the Canadian Hockey League's Player of the Year, didn't find the back of the net, he felt his line made steady progress throughout the scrimmage.
"It felt good," Mantha said. "First half maybe it was a little bit more difficult to find my teammates on the ice, second half just we knew where the other guy was and the chemistry was coming and as the week goes on I think it's going to get better and better."
Mantha and company have three more days to continue building chemistry, improving their skills and impressing the Wings' staff, and Blashill expects Day 3 to be the toughest yet.
"This will be a tough day for the guys because you come in and you're excited on the first day and then the next day is a scrimmage," Blashill said. "Those are easy days. Now you have to come in a grind it a little bit. Purposely, we have practices designed to where they are about grinding and showing our guys that you just can't show up for two days and then not be good the third day. You have to have a good mental attitude every day."
---
---