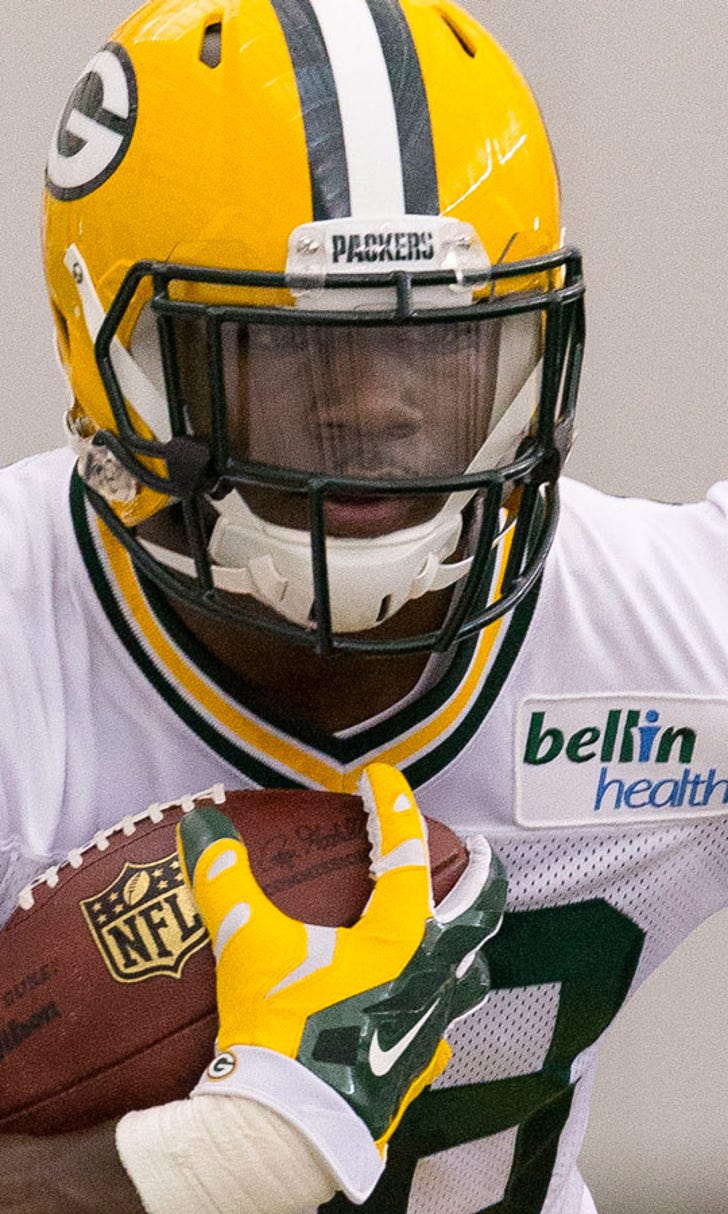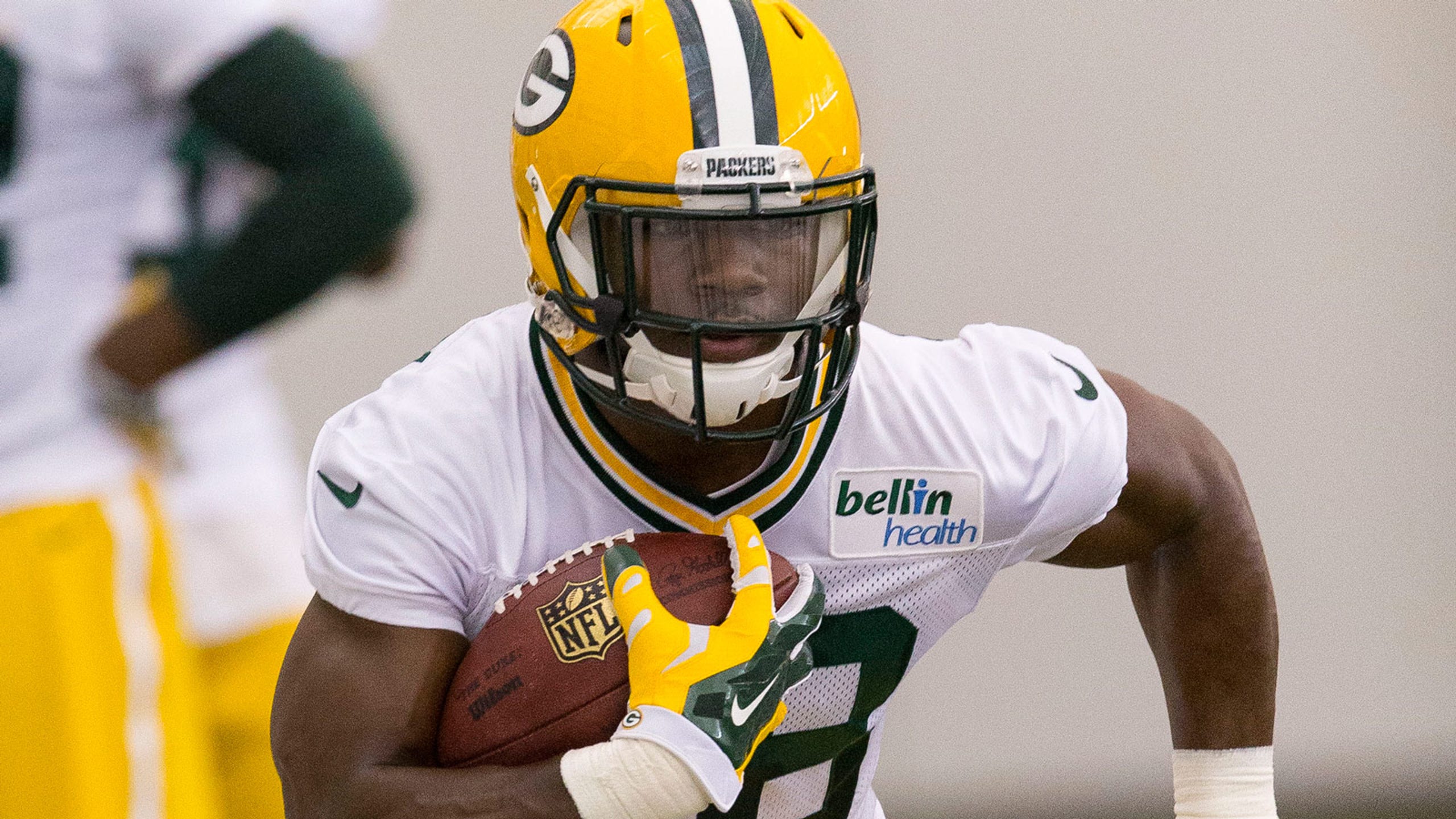 Promising Packers rookie WR Montgomery trying to make up for lost time
BY foxsports • June 19, 2015
GREEN BAY, Wis. -- Aaron Rodgers didn't want anyone to get too excited about third-round draft pick Ty Montgomery too early. After the month that the Packers' rookie receiver has had, Montgomery was far too busy catching up in the playbook to worry about whether he's being proclaimed as the next great Green Bay wideout.
Montgomery missed eight practices in his first seven weeks in the NFL.
Initially it was a league rule that prevented Montgomery from practicing, one that prohibits rookies from working out with their team until their college class finishes graduation.
As his graduation date of June 10 neared, Montgomery was at Stanford, splitting his time between studying for finals and studying the Packers offense.
"I had my playbook, so I was basically going through about 400 slides of install on my own every day that I could," Montgomery said. "I did what I could."
A family emergency forced Montgomery to temporarily step away from both final exams and football preparation. That situation turned out OK, but over the past eight months, two of Montgomery's grandparents and one of his great-grandparents died.
It was a promise he made to his family, as well as to himself, that he would earn his college degree before officially beginning his NFL career.
"That Stanford degree can never be taken away from you," Montgomery said. "I'll get old, I'll be done playing football, but that Stanford degree is not going anywhere. That being said, I did want to be out here (at practice in Green Bay) a lot."
It was difficult for Montgomery to know he was falling behind and not being seen by the coaching staff. No matter how much work he put in by himself, it couldn't replicate actually being there alongside his teammates.
"It just sucked," Montgomery said. "It kind of felt like being grounded and all your other friends get to go play, and you're grounded. That's kind of what it felt like. But graduation means a lot."
Montgomery's graduation ceremony took place June 14. It was just another significant life moment happening for him in a very short span of time.
"With graduation, it felt like I was done, and getting drafted, it felt like it's just beginning," he said. "That was the difference for me."
Offseason practices had been so productive for the Packers that head coach Mike McCarthy canceled a day of minicamp in order to take the team clay shooting. On the final day of minicamp, McCarthy felt comfortable enough to let all of the players with seven-plus years of experience head home early without practicing.
For Montgomery, it was a completely different story. He was trying to learn eight installs in two days.
Montgomery gave himself three goals to achieve during minicamp. He wanted to play fast, play with confidence -- "meaning if I make a mistake, make it full speed" -- and to finish every play.
"I still fell behind," Montgomery said.
Montgomery had a very good showing in practice Tuesday. He caught a Scott Tolzien pass across the middle of the field, showing good speed. Later, Montgomery showed good hands when catching a touchdown from Matt Blanchard.
"I thought Ty looked excellent," McCarthy said that day, adding that Montgomery was also "very good" during the June 12 practice. "He does some things very natural. He's picked it up really quick, especially for someone that hasn't been here."
Most of the positive comments about Montgomery have included some type of asterisk that notes the number of practices he missed.
"There's a lot of potential," position coach Alex Van Pelt said. "He's a smart guy; he retained a lot of information from our rookie camp coming back. He's a guy that's attention to detail. You come back and ask him a question from rookie minicamp, he can tell you verbatim what the route is and the concept. So that's impressive to see.
"From the few days he's been out there, I think you're going to see more out of him as we get to training camp, just because of his ability to now understand the system -- because he missed a lot of days."
Rodgers has been throwing around a lot of compliments for second-year receiver Davante Adams, as well as for his veteran receivers Jordy Nelson and Randall Cobb. With Montgomery, however, Rodgers doesn't want to get ahead of himself yet.
"I think you have to temper your expectations, but he seems to be a real good kid," Rodgers said. "Seems to be pretty intelligent. Obviously has the body type to do some things that we like around here. Looks to be athletic, quick, has caught the ball well.
"But it's two days. We're not going to put too high of expectations for him or give up on him too early, either. I think he has a bright future with us. But this was just his first couple days with us."
Rodgers was told that "a lot of guys were really excited about (Montgomery's) rookie minicamp performance," but it all comes back to those eight missed practices.
"Then he was gone for a long time, had some tough things he had to take care of," Rodgers said.
Even when Montgomery's raw skills were on display, it wasn't able to be near the full extent of his capability.
"My comfort level I wouldn't say is very high just yet, by my confidence level is," Montgomery said.
After what Montgomery described as a "little overwhelming, very busy" few weeks, he was just happy to finally focus entirely on football.
"I've still got to get comfortable in the huddle and hearing the whole play, but I feel good and I'm just ready to get more work," he said.
Follow Paul Imig on Twitter
---