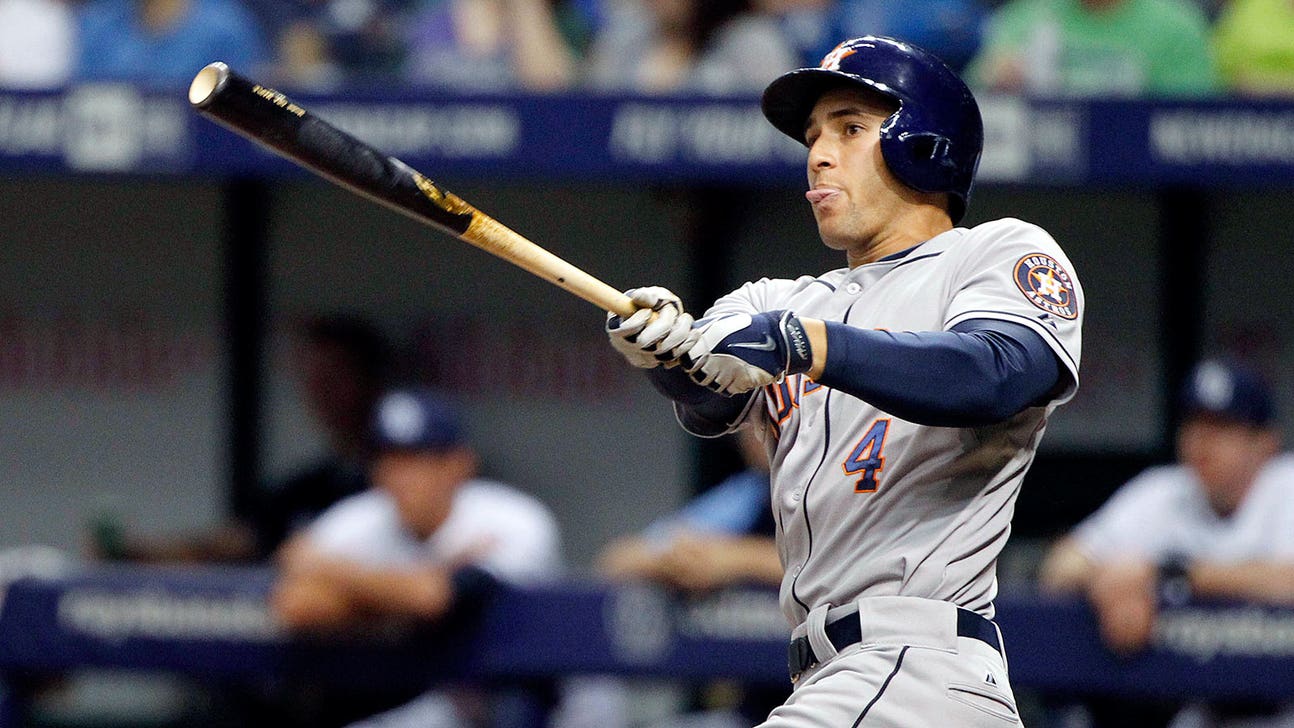 Problem in Houston: Springer has rehab setback
Published
Aug. 7, 2014 11:30 a.m. ET

George Springer's fantasy owners were happy this week. Their prized rookie slugger was doing well in his rehab from a left quad injury, and expected to return to the lineup by Thursday or Friday. Well ... not anymore. Springer "tweaked" his quad during a Wednesday Class A game, according to the Astros' website, and was pulled from the game "for precautionary reasons," said manager Bo Porter. Springer wlll be re-evaluated on Friday, but you shouldn't expect to see him until at least sometime next week. Hopefully, this setback is a minor one.
Wednesday's studs & duds
Stud: Brewers OF Carlos Gomez had a homer, a steal, an RBI and two runs scored. That's a productive day at the fantasy office.
Stud: Nationals 1B Adam LaRoche hit two home runs while scoring two runs and knocking in three.
Stud: LaRoche's teammate, Doug Fister, threw seven-and-one-third scoreless innings and whiffed seven Mets on the way to his 11th win. Fister ranks ninth in ERA (2.49) among starters with more than 100 innings pitched.
Dud: Cubs SP Jake Arrieta gave us a glimpse of his old, underachieving self by allowing nine runs on 13 hits in five innings against the Rockies. Coors Field is a pitcher's house of horrors.
News & notes
Braves SS Andrelton Simmons (ankle) was on crutches Wednesday, and the team is hoping he'll only miss three or four games instead of going on the DL. Ramiro Pena started in Simmons' place.
Troy Tulowitzki complained about the Rockies' perennial suckitude on Wednesday, but he also took batting practice. The Denver Post reports that Tulowitzki will participate in some defensive drills today, and if all goes well he could start a rehab assignment soon.
No, Bryce Harper is not going to the minors. How did anyone listen to or read Matt Williams' original quote and think this was possible?
Joe Mauer (oblique) is "on track" to come off the DL on Monday, according to the St. Paul Pioneer Press. In other Twins' news, SP Trevor May (2.93 ERA at Triple A) might get his first big-league start on Saturday, and hulking 1B/DH Kennys Vargas figures to stick around for awhile.
In Red Sox' news, Mookie Betts could be headed back to the minors very soon, and Jackie Bradley Jr. has been benched for the last two games because he can't hit (though he should return to the lineup soon). GM Ben Cherington said Wednesday of JBJ, "At some point, there is going to have to be more offense." No kidding.
Look for Giants OF Angel Pagan (back) to be reactivated and play today.
Yankees 1B Mark Teixeira needed three stitches to close a cut on the inside of his left pinky on Wednesday night. Teixeira probably won't play today, but could be back soon after that. Per the team's website, he thinks the injury would affect him more from the right side of the plate, and the Yankees face righties on Friday and Saturday.
Phillies' ace Cliff Lee won't need elbow surgery, but he also won't pitch again this season.
Indians SP Danny Salazar was sent to the minors following a disappointing Wednesday outing. Part of the reason is for extra rest, and the team's website reports that Salazar could be called up to start again on August 17.
A's SS Jed Lowrie missed another game with a bruised right index finger, but is expected to play tonight.
Mariners OF Michael Saunders (oblique) will start a rehab assignment today.
Streaming starters
Jeff Locke was solid in a win over the Marlins, so we're up to 67-47 for the season. Today's original pick, Miami's Jarred Cosart, has been scratched due to an oblique issue, so we'll cautiously switch to Pittsburgh's inconsistent Edinson Volquez (owned in 8.7 percent of FOXSports.com leagues), who faces the Marlins. Friday's selection is Volquez's teammate, the surging Vance Worley (12.1 percent owned), against the Padres. Worley has allowed a total of two earned runs over his last three starts, and the Padres are terrible.
See you back here tomorrow morning.
---