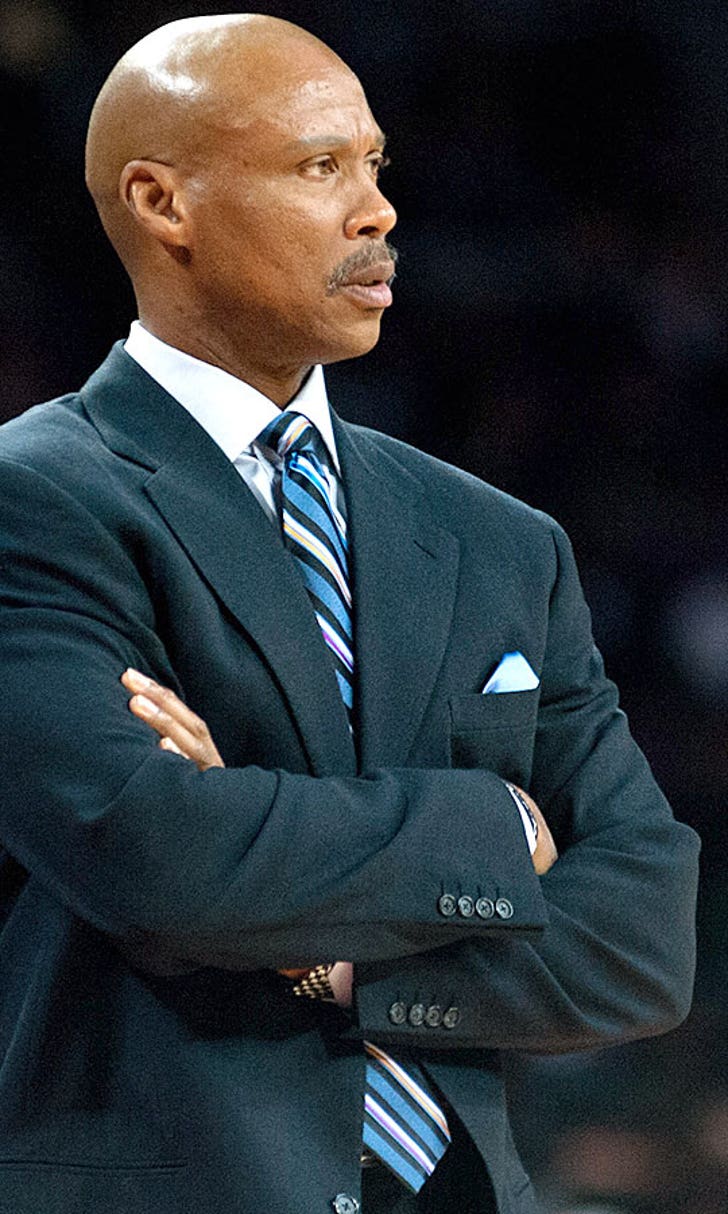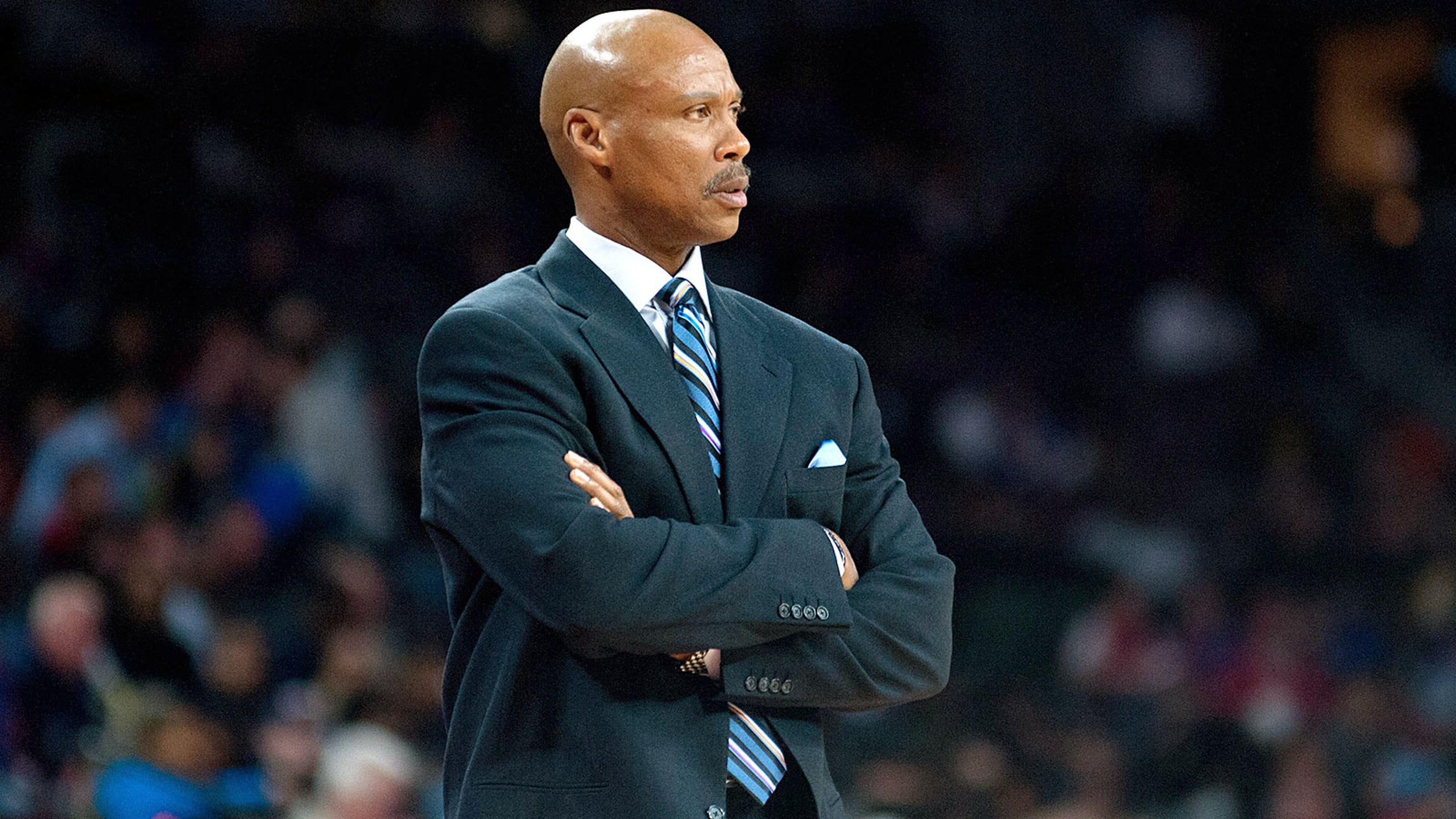 Pregame dribbles: Scott not thrilled with how Cavs' reign ended
BY foxsports • February 8, 2015
Tipoff: Quicken Loans Arena, Cleveland, 3:30 p.m.
Records: Cavaliers 31-21; Lakers 13-37.
TV: ABC. Radio: WTAM 1100, 100.7 WMMS, 87.7 FM La Mega, AM 1590 WAKR (Akron)
Projected Starters
Lakers: C Robert Sacre; PF Ryan Kelly; SF Wesley Johnson; SG Wayne Ellington; PG Ronnie Price.
Cavaliers: C Timofey Mozgov; PF Kevin Love; SF LeBron James; SG J.R. Smith; PG Kyrie Irving.
Injury Report
Cavaliers: C Anderson Varejao (Achilles) out.
Lakers: G Ronnie Price (elbow) probable; SG Kobe Bryant (shoulder) out; PF Jordan Hill (hip) out; PG Steve Nash (back/nerve) out; PF Julius Randle (leg) out.
Dribbles
1. When Byron Scott was fired as Cavaliers coach after the 2012-13 season, one of his assistants said, "We were just doing what they wanted." By that, the Cavs had a plan to build via high draft picks and trades (especially high draft picks). And the best way to get high draft picks is to lose -- a lot.
2. So Scott played young guys. He tried to develop talent. There was never a premium on winning. The Cavs were run by general manager Chris Grant at the time, and rather than try to put a good product on the floor, Grant sold ownership and fans on the idea of acquiring assets. The bad basketball, according to Grant, was all part of a larger plan. Scott became the fall guy. And last year after a terrible home loss to the Lakers (with Mike Brown as coach), so did Grant. Brown was fired, too.
3. Now, this isn't to rip Grant or Scott or Brown, who got fired, too. Some of Grant's assets actually have been quite helpful recently. And some of those guys would still be here had LeBron James not decided to leave for Miami for four years in 2010. Scott actually had the job back then, and traveled to Akron to beg James to stay. You know the story from there.
4. But while Grant held office, his plan only got worse. It never really took shape. Instead of getting better, things began to unravel. One NBA coach described Grant's plan to me this way: "He's in cover-my-butt mode with all these assets and picks. How about winning some damn games?" Grant, Scott and several others lost their jobs. And Scott and several members of his staff never understood why. They were just doing what Grant wanted.
5. As Scott said Saturday: "Sometimes ownership gets a little antsy. They tell you it was a four-year plan and all of a sudden it's a 2½-year plan and you're on the outs."
5. In Scott's first season, the Cavs tied an NBA record with 26 straight losses. The Lakers rocked them by 55 points. There aren't a lot of great memories. Unfortunately for Scott, things aren't much better for him now. The Lakers' roster is awful. Like the Cavs of the Scott era, the Lakers want to play the draft lottery.
6. But did Scott get a fair shake with the Cavs? Former Cavs forward Antawn Jamison sure doesn't think so. "Hell no," Jamison, now a Lakers TV analyst, told the LA Daily News. "He just didn't have the talent. Coach Scott went over every concept night and day, especially on the defensive end. But when you don't have the players to execute your game plan, there's not much you can do."
7. Again, Scott is in a similar situation with the Lakers. For now, it's OK to lose. As Scott will tell you, LA management just wants to see the younger players forming good habits, and veterans such as guard Nick Young and forward Carlos Boozer playing hard. "I'm OK with it because I know in due time we can turn it around. I'm not worried about that," Scott said.
8. As for the Cavs, James' status for today's game has not been officially updated. He remains unofficially questionable with a sore wrist. He initially injured the wrist in a fall at Detroit a few weeks back, and fell on it again in Friday's loss at Indiana. "I'll be fine," he said after. Still, this may be a game the Cavs want to let him rest.
9. When scoring 100 or more, the Cavs are 24-4 overall and 15-0 at The Q.
10. The Cavs fell one short of tying the franchise record of 13 straight wins in Friday's loss. Coincidentally, the 12-game winning streak started against the Lakers.
---