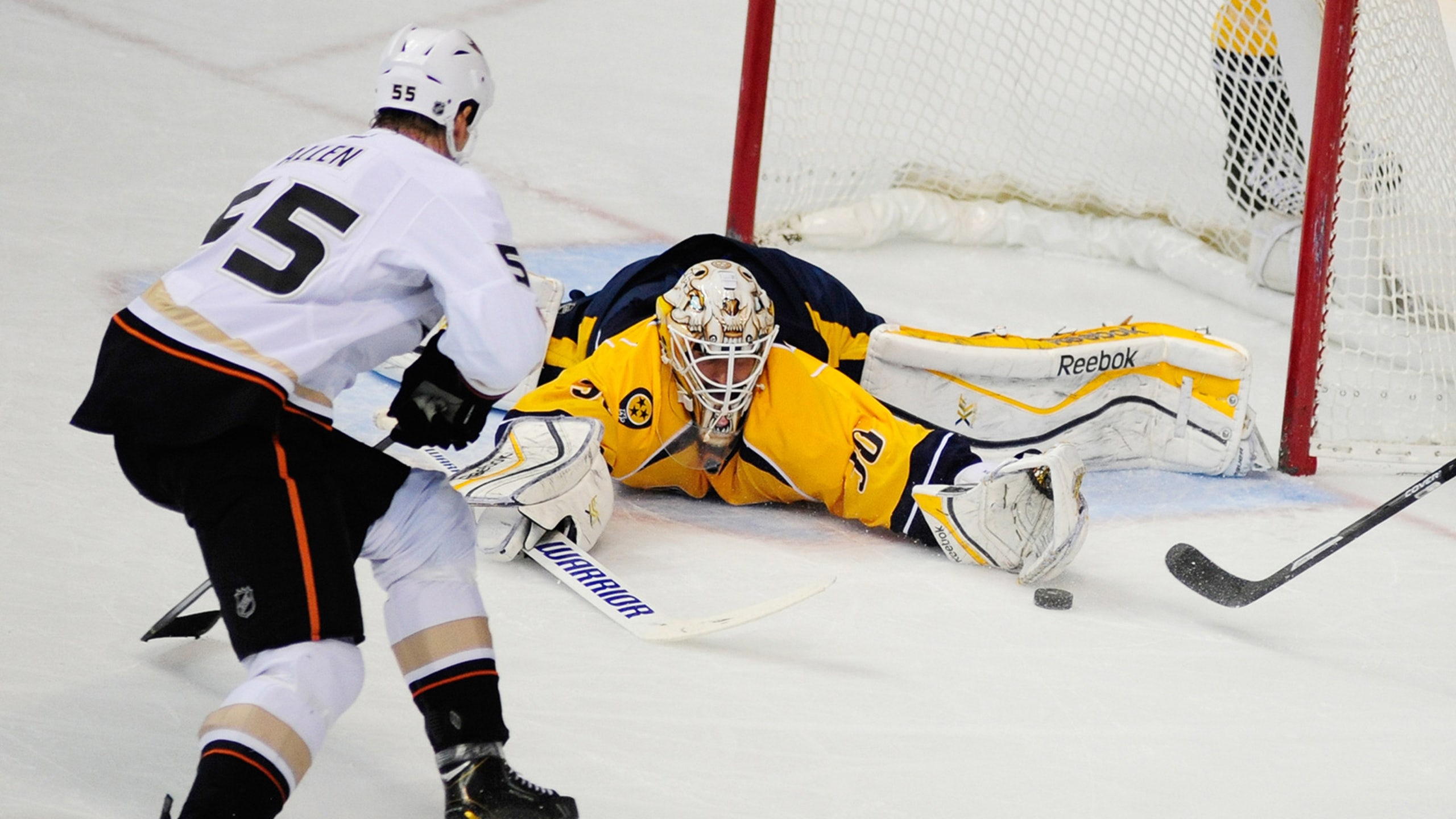 Preds goalie Hutton holding his own in Rinne's absence
BY foxsports • February 28, 2014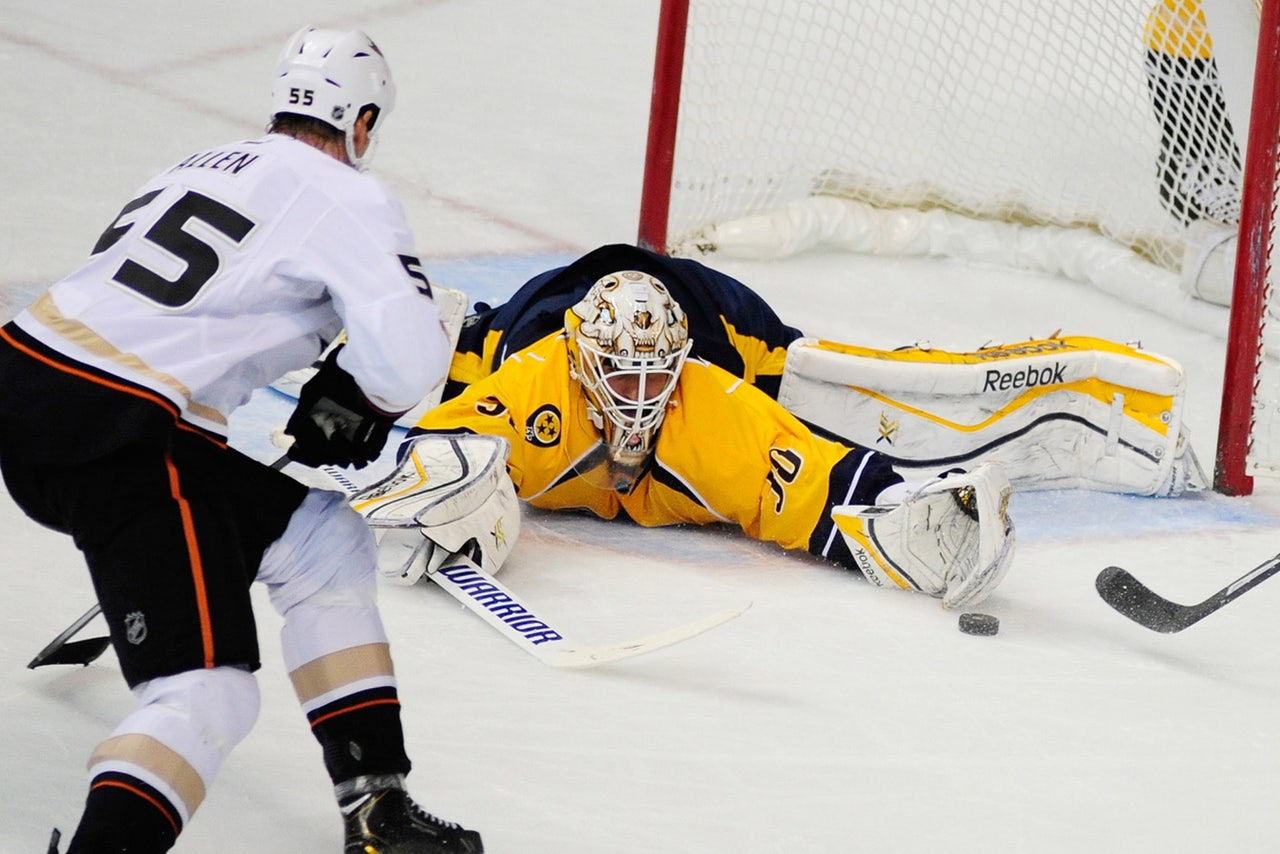 In a matter of days, it is expected that Carter Hutton will hand off the duties as the Predators' No. 1 goaltender to Pekka Rinne.
There won't be any pomp and circumstance. There won't be a formal ceremony like a presidential inauguration. It will be more like the invocation of the 25th Amendment when the president is temporarily impaired, goes in for surgery, deputizes the vice president and then resumes his duties as soon as he's ready.
Sometime next week, presuming all goes well, Rinne will return from his conditioning assignment in the American Hockey League and will be ready to play again for the first time since Oct. 22 and Hutton will go back to serving as the backup the team signed him to be.
But at this point, roughly three-quarters of the way through the Predators' season, it's worth recognizing Hutton's contribution. Thanks to Hutton, Nashville has a fighting chance to make the playoffs. With Thursday's 3-2 win over Tampa Bay, Hutton improved to 7-2-2 in his past 11 starts. The Predators remain four points out of the final playoff spot in the Western Conference.
If they don't make it, it's most likely because it's not a two-team race. In fact, it's a five-team race with Nashville presently bringing up the rear. One of those teams will get exceedingly hot and will win out. Even those that do well above average might not make it. Such is life in the highly-competitive West.
But back to Hutton. On Thursday, Predators coach Barry Trotz said not only was Hutton, a 27-year-old rookie at the time, surprised to find himself as the team's No. 1 goalie when Rinne went down with a hip infection, but the team was, too. It hasn't all been pretty -- Hutton gave up an ugly goal on Thursday that allowed Tampa to take a 2-0 lead, the kind of event that has occurred from time to time, but he still won the game -- but the important part is that he helped to stabilize the team during a deeply destabilizing period. After Thursday's win, he is 14-9-4.
He was asked on Thursday morning if he's proud of his record. He said yes, but added a qualifier.
"Obviously, I want to have a better record, shootouts, (overtime) games, you never want to lose those," he said, noting that one of those shootout losses came to St. Louis and he gave up a goal to T.J. Oshie, a player whom the rest of the world now knows for his shootout prowess following the Olympics. "That's kind of my thing. I don't pay a ton of attention to my statistics. I think people around me do more. It kind of drives the position but, for me, I don't really look at it. My ultimate goal is just to win every time I'm in the net and if you win games the rest will kind of take care of itself."
At a certain point during the season -- maybe those last 11 games he has started, beginning on Jan. 14 -- he underwent a transformation from having a backup's mentality to having that of a No. 1. Before Jan. 14, he had a 3.08 goals-against average and a .903 save percentage. In the 11 games since, he has shaved nearly half a goal off that average and has a .907 save percentage.
Trotz said that Hutton's season has been about growth and that becoming a No. 1 is a hard thing to do, especially with a defense as young as Nashville's. (Since trading Kevin Klein, four of the six regulars are 23 and Seth Jones is 19.)
"He's grown to be able to handle the consistency factor that is demanded of a No. 1 goaltender," Trotz said. "Not just physically but mentally."
Trotz said Hutton has earned the respect of his teammates because of his work ethic and his performance.
"He's come a long way in a year and totally by surprise."
In this day and age, Hutton is a bit of a throwback. He is listed at 6-foot-1, but looks, and perhaps plays, a bit smaller. Contrast him with many who play the position today -- Tampa Bay's 6-foot-7 Ben Bishop, the 6-5 Rinne with their endless legs that make it almost impossible to score on the lower part of the goal -- and he looks like he would have been the kind of goalie playing a generation ago.
Hutton entered this season with just one game of NHL experience. He said simply practicing at the NHL level all season has helped him to become a better player. He thinks that once Rinne returns things will not change a lot for him.
"I'm going to come here and come to work and just try to keep developing my game," he said. "I can't stop now. Obviously, Pekka is a world-class goalie. Even the time that he's been back practicing with us, he doesn't look like he's lost anything. He's as good as he was before. He's a great guy to be around and to learn from and he's become a really good friend of mine.
"So whatever role I take on after that, whatever games I get a chance to play in or whatever happens, you've got to be ready to go. That's what I signed up for and I'm excited. He's going to be a great boost to our team and he's a guy who's well respected in the room, on the ice and off the ice so we're pretty excited to have him back."
No doubt. But for having helped to get the team as far as he has, Hutton deserves his share of praise.​
---