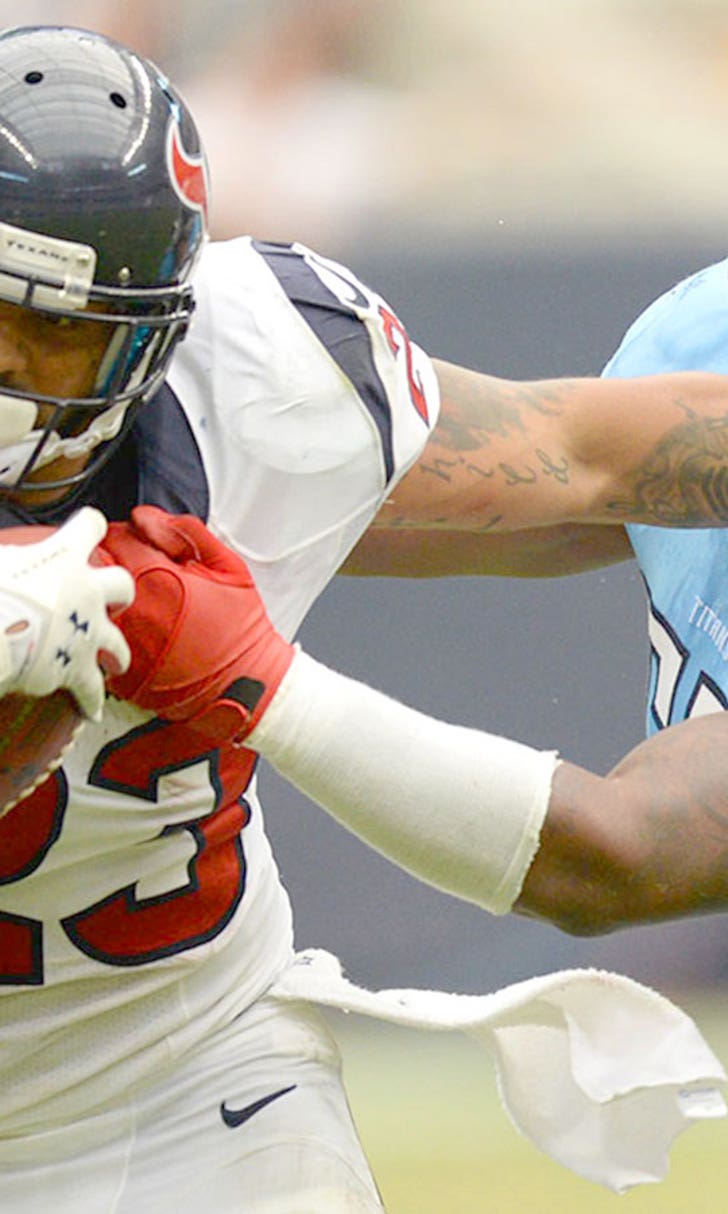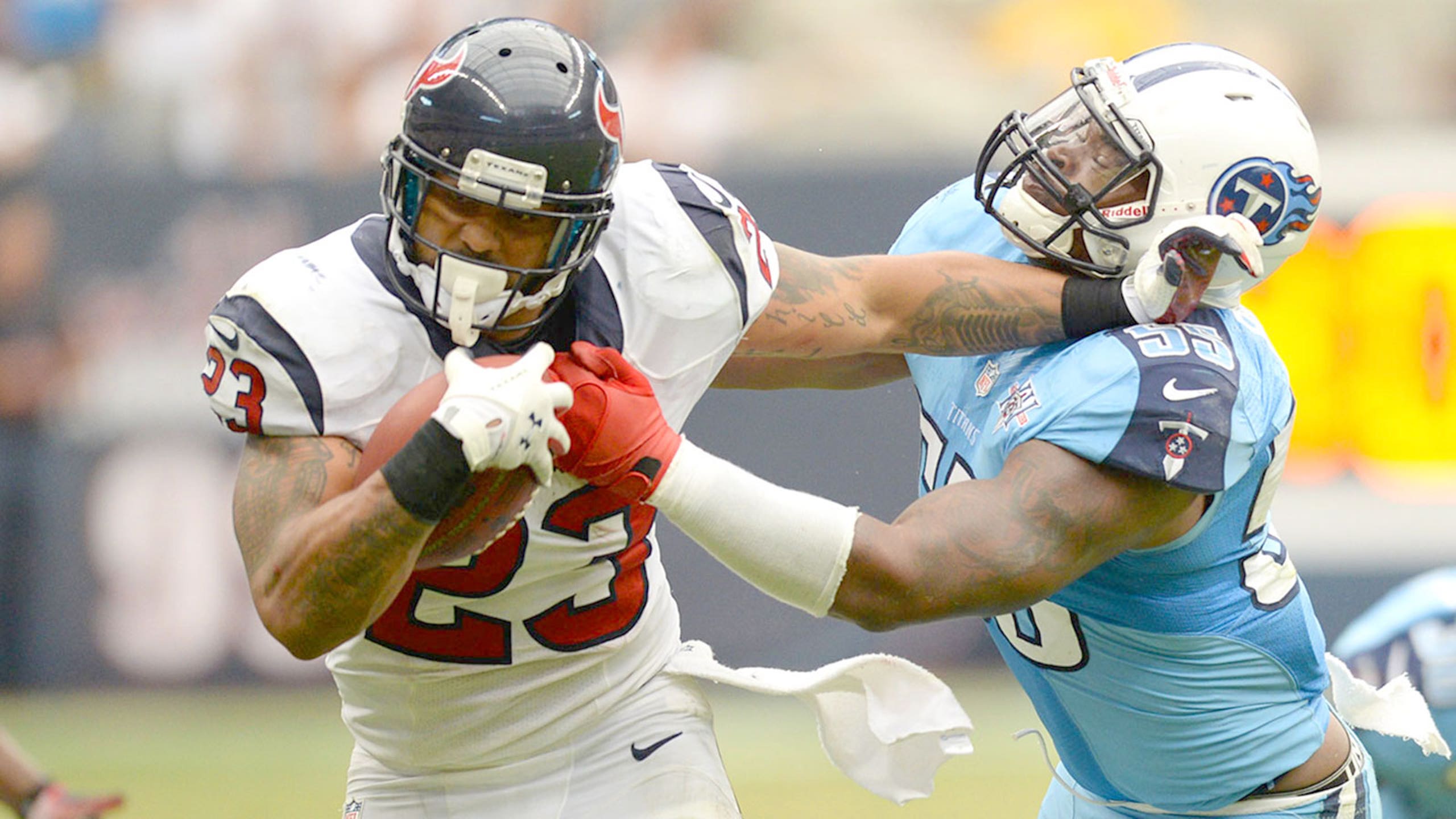 Predictions for the 2014 NFL season
BY foxsports • August 14, 2014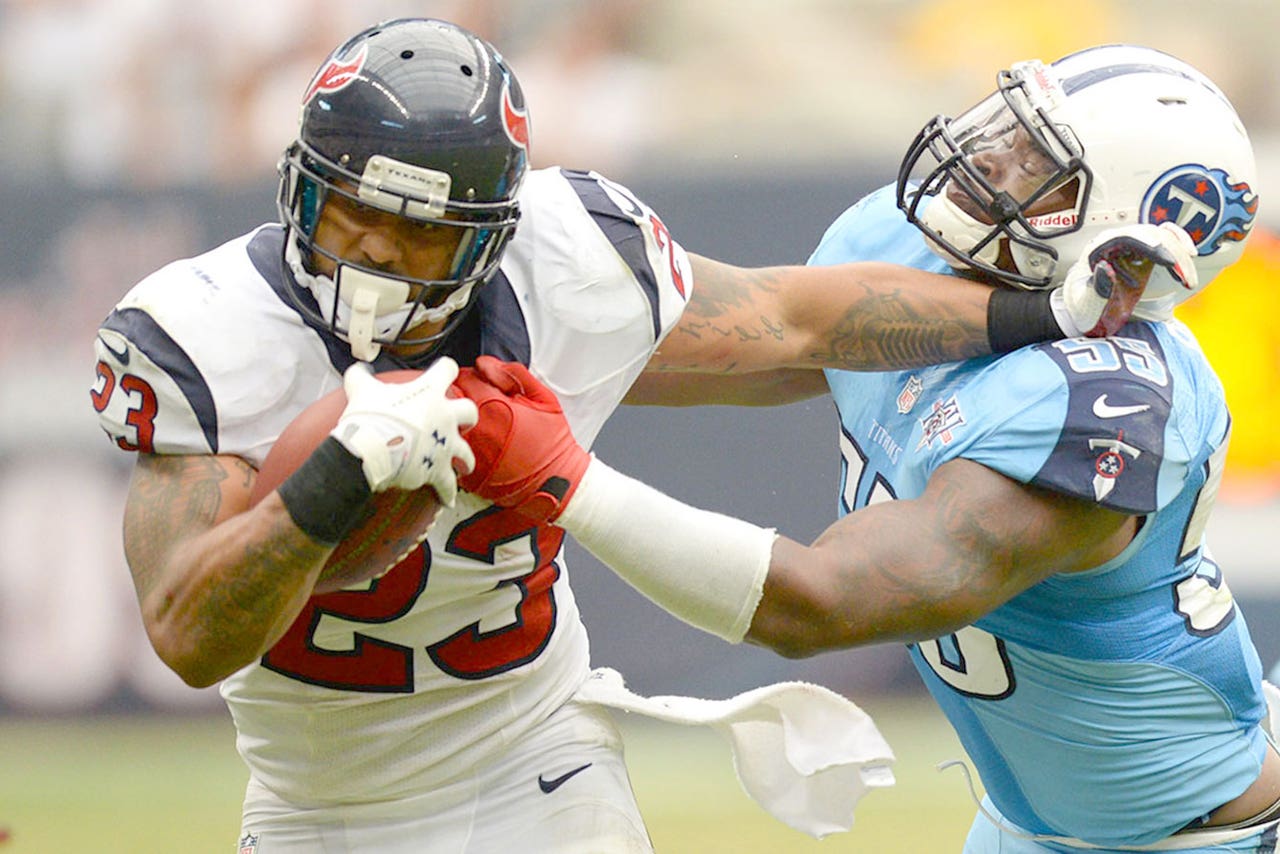 You are remembered for your rights but recalled by your wrongs. Though that sounds like a lyric from a Maroon 5 song, it's a stance known all too well by those that enter the realm of forecasting. Decca Records is one of the largest music labels in the world, yet they will go down in history as the company that turned down The Beatles. Clifford Stoll is a renowned astronomer and author; alas, his name is revoked in jest thanks to penning a Newsweek article claiming, "The Internet? Blah! Why cyberspace isn't, and never will be, nirvana." Cleveland owner Dan Gilbert…well, he's known for a lot of things, but his bold declaration that the Cavaliers would win a championship before the Heat is right up there.
Is this my way of tempering your rage at these forthcoming predictions for the 2014 NFL season? You better believe it, brother. If Steve Ballmer, a cat so loaded that dropping $2 billion on the Clippers barely raised an eyebrow from his accountant, can make inaccurate conjectures ("There's no chance that the iPhone is going to get any significant market share," Ballmer once noted in a USA Today interview), what chance does a schmuck like me have?
Toby Gerhart is the steal of your draft
Yes, that Gerhart, former Stanford standout and perennial handcuff for Adrian Peterson owners. Normally teams don't bestow $10 million to an individual with a whopping 36 attempts the year prior, but a) it's the Jaguars and b) Gerhart is a genuinely dynamic player. In 276 career rushes, Gerhart owns a sound average of 4.7 yards per carry. He's also proved himself an asset in the receiving game, and can more than hold his own as a blocker.
Gerhart is the rare entity that has game experience without the injury debt. Jacksonville's offensive line won't be confused for the Great Wall of China – mostly because that's an inanimate object – but with the Jags planning on using Gerhart as a three-down back, look for the 27-year-old to see action early and often.
Kansas City Chiefs, Carolina Panthers take a step back
Take a glance at the Kansas City schedule during its 9-0 start in 2013. The Chiefs' opponents from that span finished with a 52-92 record. Not exactly crossing the Gorge of Eternal Peril, if you catch my drift. And to add an asterisk to this caveat, the only winning team in that time frame, Philadelphia, had eventual Pro Bowler Nick Foles on the sidelines.
The back end of the schedule resided on the opposite end of the competitive spectrum, facing Denver, San Diego and Indianapolis each twice in the final two months. So it should come as no surprise that, pitted against winning squads, Kansas City stumbled toward the finish line, losing six of its last eight games, including an epic playoff collapse against Indianapolis.
The Arrowhead faithful will have plenty to cheer about this fall, and the defense isn't as porous as it appeared in the final weeks of winter. Unfortunately, with a grueling itinerary out of the gate, Kansas City could dig itself in an early hole, one that it's unable to climb out of.
As for Carolina, Cam Newton's passing and rushing yards were the lowest figures in his three-year career. One would think the Panthers would restock Newton's arsenal to cure this woe. Instead, it exiled franchise icon Steve Smith in favor of rookie Kelvin Benjamin, Jerricho Cotchery and Jason Avant. Oh, and Newton is coming off ankle surgery. In a related note, the fervor for Newton's fantasy projection is trending downward. Shocking, I know.
Luke Kuechly highlights a dangerous front seven, but Carolina's secondary has been depleted. The Panthers won't be an NFC cellar dweller, although a return to the playoffs seems unlikely.
Russell Wilson is overvalued…
As an actual quarterback, Wilson owns a championship-caliber pedigree. As a fantasy quarterback? Not so much.
In his two years in the Emerald City, Wilson's offense has ranked last and second-to-last in passing attempts. Seattle is a run-heavy offense, and the defensive dexterity often means the Hawks are keeping the ball on the ground to kill the clock. The "game manager" label has negative connotation, yet we give it to Wilson in the highest regard. Sadly, it doesn't mean these feats parallel to roto success.
Leading receiver Golden Tate left for greener ($$$) pastures, and – surprise! – Percy Harvin is already banged up. Void of serviceable targets, don't picture Wilson improving on his passing numbers in 2014.
…while Andy Dalton becomes a bargain
Say what you want about the Red Rifle – and as a Bengals fan, Lord knows I have – but Dalton ranked fifth in total fantasy points among quarterbacks last season in FOXSports.com leagues. Only Peyton Manning and Drew Brees notched more touchdown passes in 2013, and Dalton's 4,293 yards ranked seventh in the NFL. Despite these numbers, Dalton is falling to the 11th round in completed drafts behind guys like Ben Roethlisberger and Jay Cutler.
Yes, Dalton is prone to turnovers, and new offensive coordinator Hue Jackson plans on making the Bengals a more run-oriented offense. But while his game is far from aesthetically pleasing, Dalton gets it done in the box scores. Besides, last I checked, playoff performances are not equated into fantasy scoring.
I'm a proponent of waiting as late as possible to select a field general. Dalton offers great value at his current average draft position, and merits a starting spot on your fantasy roster.
Even casual fans recognize the NFL offensive landscape is more airborne-centric than ever before. Last season, the league average for passing per team was 235.6 yards per game. That figure was 221.6 in 2010, up from its 214.3 mark in 2007.
While the aerial attack is playing a bigger role in offenses, it's not necessarily at the expense of the running game. Here is the ground production from that same period:
Yet, only 13 players racked up 1,000 yards in 2013, down from 17 in 2010 and 2007. The utilization of committees has decimated the workhorse running back, with teams employing time-share situations to save the legs of their rushers while also improving efficiency. Half the league is anticipated to operate a communal backfield in 2014, which is why I advocate for fantasy owners to draft this dying breed of heavy-duty backs while they can. With only a baker's dozen falling under this umbrella, you don't want to be left out in the cold at this position.
Arian Foster returns with a vengeance
One of the aforementioned running back mainstays is Houston's Foster. Last August we predicted the elevated mileage from the previous three campaigns (1,115 touches) would take its toll, a projection that unfortunately came true when the All-Pro succumbed to injury.
Why the love for Foster? Turning 28 on August 24, there's plenty of life left in Foster's body. Backup extraordinaire Ben Tate now resides in Cleveland, leaving the Texans' depth chart bare. Moreover, with Ryan Fitzpatrick – he of 14 touchdowns and 12 picks last season - installed under center, Houston will make its offensive bones on the soil. (By the way, did you know Fitzpatrick went to Harvard? Feel like this is never mentioned.) Coupled together, along with a solid offensive line, Foster should be in line for 300-plus looks this season, a sentiment few backs can claim.
There's definitely risk with this investment, but Foster, currently sitting outside the first round according to the FOXSports.com average draft position tool, continues to flaunt the ceiling of a No. 1 overall pick.
Speaking of the Texans…
Bill O'Brien makes the Texans immediately formidable
I don't think people realize how bad of a head coach Gary Kubiak was. Houston didn't win because of his post; they excelled in spite of him. Enter O'Brien, who shined in the face of overwhelming circumstances in Happy Valley. How good is O'Brien? He turned walk-on Matt McGloin into an NFL arm. THAT good. If you're looking for a dark horse AFC candidate, the Texans are your team.
Jordan Cameron crosses the 1,200-yard barrier
As of publishing, no decision has been made on the Josh Gordon appeal, which makes sense given it's been 10 days since the hearing took place. And by "makes sense," I mean the exact opposite. It's a strong possibility that Gordon's suspension will stand, with the chance of reinstatement after eight games.
With Gordon on the sidelines, Cleveland's receiving corps is comprised of Nate Burleson, Andrew Hawkins and Miles Austin, which would be great if it was 2011. The undesirable choices at wideout highlight the importance of Cameron, who enjoyed a breakout 2013 with 80 catches for 917 yards and seven trips to pay dirt. Molded in the hybrid receiver-tight end fashion a la Jimmy Graham, Cameron is especially dependable in short routes and forays over the middle. That may not sound like a big deal, but with the inexperience in Cleveland's quarterback ranks, it's a quality that's requested.
Even if Gordon comes back, Cameron will endure as option 1B for the Browns. As such, treat Cameron as the second-best available tight end in fantasy. And since we're on the topic of Cleveland…
Brian Hoyer records more starts than Johnny Manziel
Not trying to rain on the Johnny Football parade. I legitimately think the kid is going to be a star. (What is sad: I'm now old enough where I can call rookies "kids" without irony. Dark days.) However, the Browns have a deep enough roster to compete now in the AFC North, especially with the Steelers not quite there offensively, Baltimore's backfield in shambles and Cincinnati's defense coping with the loss of coordinator Mike Zimmer. Because of this state of affairs, the Browns may choose the more reliable, albeit less exciting, Hoyer rather than deal with Manziel's growing pains. On the bright side, mentioning "Johnny Manziel" just increased this article's search engine optimization. All about those page views, baby.
Ryan Tannehill and Mike Wallace are a menacing one-two punch
This time last season, many around the league laughed at Chip Kelly's up-tempo attack, believing the pace was unsustainable in the NFL. A year later, clubs are mimicking the approach. The Dolphins are at the front and center of this activity, installing Kelly disciple Bill Lazor as offensive coordinator. Owners who enjoyed the fantasy offerings of Nick Foles and DeSean Jackson in 2013 can expect similar dividends from Tannehill and Wallace. The former has made strides in offseason workouts heading into his third professional season, while the latter is looking to bounce back from a forgettable debut in South Beach last fall.
Wallace has struggled with a hamstring injury during preseason, one that has limited his participation in training camp. Nevertheless, Lazor intends to employ Wallace as a polished wideout rather than simply a deep threat. Tannehill is the perfect fantasy back-up, one with high upside that can earn starter status or become a trade chip, while Wallace is the perfect WR2 insertion. Don't let them freefall down your board on draft day.
#FreeFitzgerald becomes a national crusade by Week 3
Fitzgerald is turning 31 at the end of the month; there's only so much gas left in his tank. Do we really want to see the eight-time Pro Bowler spend his twilight years watching Carson Palmer float wobbling ducks 10 yards over his head? Roger Goodell needs to step in and pair Fitzgerald with an adequate cannon before it's too late.
New digs, same results for Eric Decker
While everyone has been quick to dismiss Decker now that he's with Gang Green, the wideout can still be a vital cog on fantasy rosters. Decker is third among receivers in touchdowns since 2011. Yes, some of that is a byproduct of Manning's record-breaking seasons, but remember the Denver quarterback before Manning? EXACTLY.
Geno Smith is noticeably better following a rough rookie showing, and Decker has established himself as a red-zone juggernaut. He won't rack up the yards, but Decker is a solid candidate to submit 10-plus scores again in 2014.
Matthew Stafford is your 2014 Joe Flacco Memorial "Is He ELITE?" recipient
The 2009 No. 1 pick has taken a media beating lately, a posture I don't quite understand. True, Stafford's trips to pay dirt have fallen off since tossing 41 touchdowns in 2011, finding the end zone 49 times in the past two seasons. But his yardage output has stayed relatively the same, as well as his turnover rate. Also in the pro-Stafford camp, the arrival of Seattle's Tate and rookie Eric Ebron should boost his receiving arsenal.
He will need to reduce some of the timely interceptions, but having to throw-throw-THROW thanks to a weak defense hasn't helped that cause. He's not a top-five fantasy arm, but Stafford endures as one of the better quarterbacks in the league, justifying a starting spot in your lineup.
No Revival for Roddy White
He'll see a healthy dose of targets, and with Julio Jones – for now – healthy, opposing defenses should loosen their focus on White as the primary Falcons target. Yet, White was blatantly a step slower last season. Another year of wear 'n tear won't alleviate that degeneration. When receivers start to lose it, it's an overnight process. The receiving position is not conducive to rejuvenation, giving White a stay-away standing this year.
Super Bowl Prediction: Packers over Broncos
Eddie Lacy gives Aaron Rodgers the perfect backfield complement, and a revitalized Green Bay secondary could wreak havoc in the NFC North. I'm sure this angers those in Seattle, but don't be too quick to call me an idiot: I called your Super Bowl win last February, and I somewhat know what I'm doing with these picks.
Of course, there's a good chance I'm off. As the sporting philosopher Yogi Berra once stated, "It's tough to make predictions, especially about the future."
Joel Beall is a writer for FOXSports.com and WhatIfSports.com. He lives with a Golden Tee machine and a jump shot that's broken. Reach Joel on Twitter @JoelMBeall
LEAGUE RUSHING STATS PER GAME
| | | | |
| --- | --- | --- | --- |
| YEAR | Team Attempts | Yards | TDs |
| 2013 | 27.1 | 112.9 | 0.8 |
| 2010 | 27.2 | 114.5 | 0.8 |
| 2007 | 27.3 | 110.9 | 0.8 |
---
---