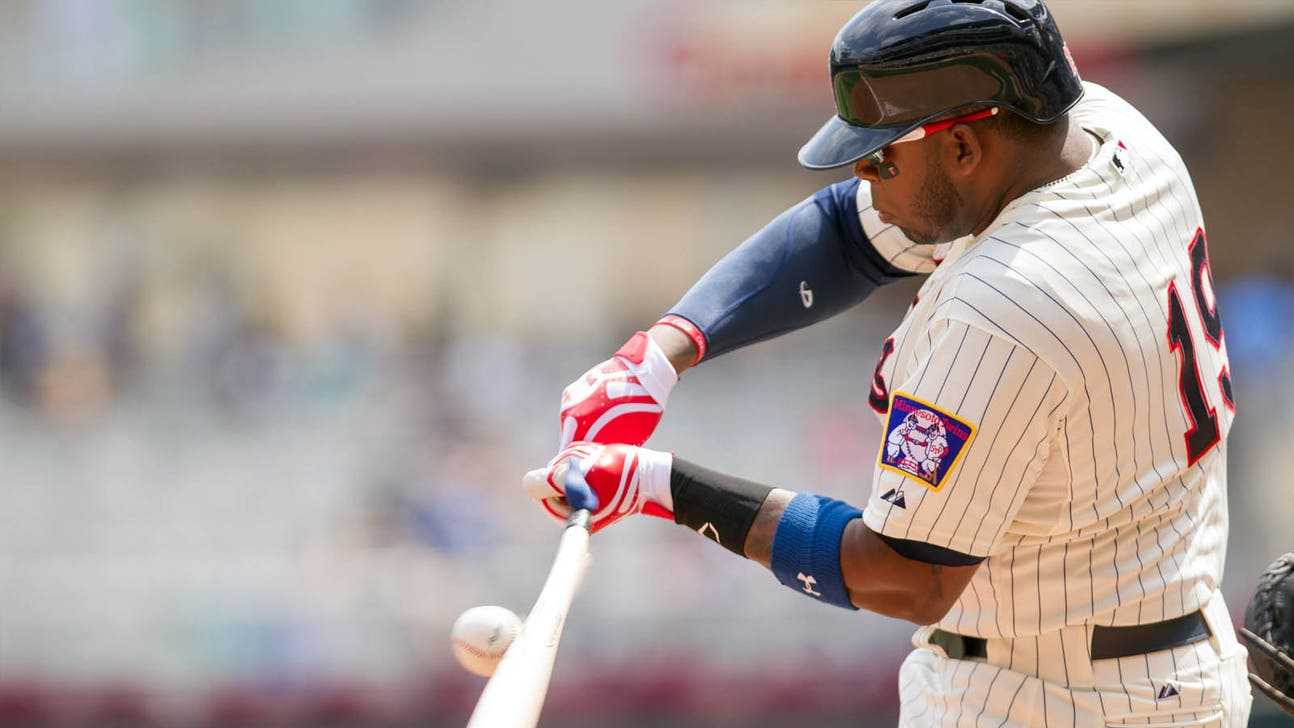 Powerful Vargas has fun hitting, Twins enjoying early results
Published
Aug. 8, 2014 1:30 p.m. ET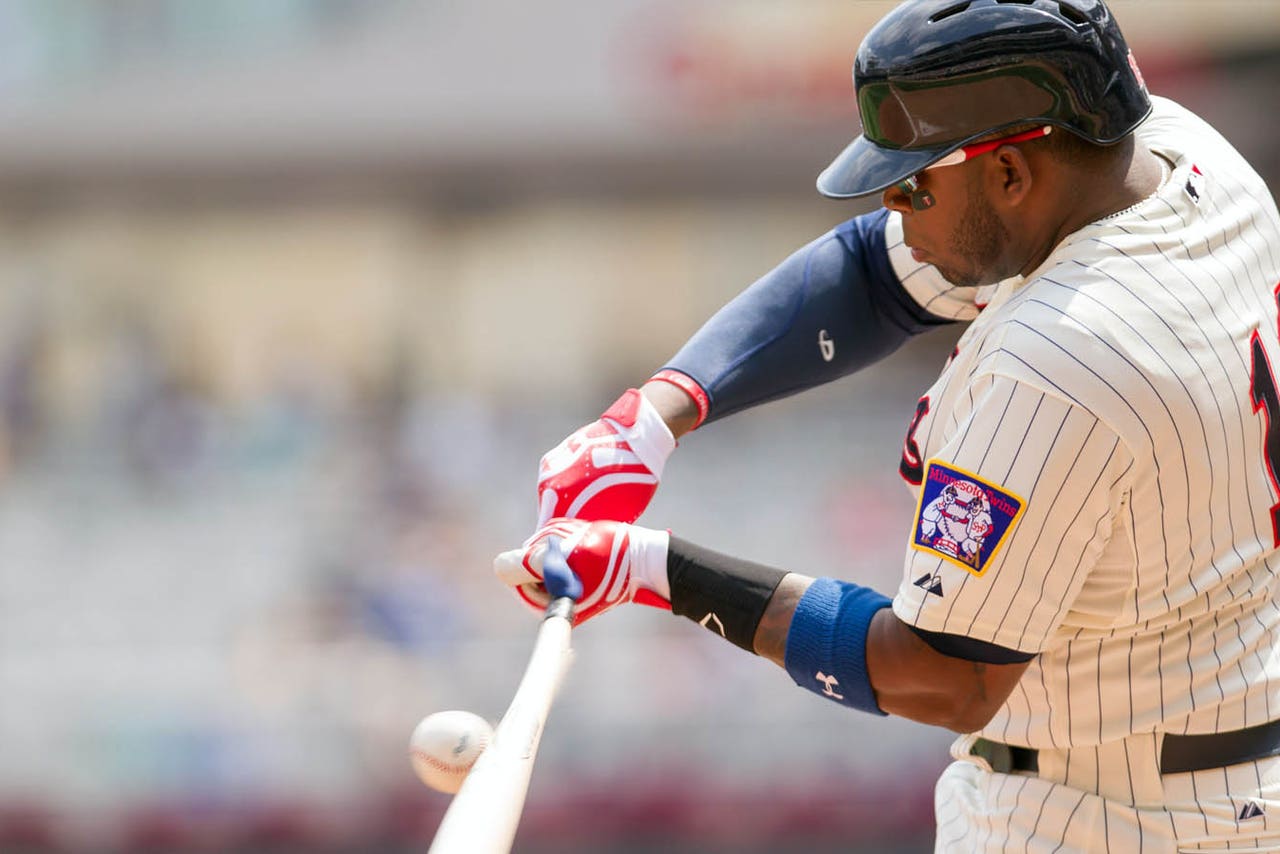 There are three things you'll immediately notice about Twins first baseman Kennys Vargas.
The first is that he's a very large man. At 6-foot-5, 275 pounds, Vargas looks like he should be playing for the Minnesota Vikings instead of the Minnesota Twins.
You'll also notice that Vargas is always laughing or smiling, or often times both. He plays a kid's game, and he has fun every day he's doing it.
Lastly, you'll quickly pick up on the fact that Vargas enjoys hitting. It didn't take Twins manager Ron Gardenhire very long to learn that. But just in case Gardenhire didn't already know, Vargas solidified that fact by carrying his bat out to the outfield to shag fly balls during early batting practice before Minnesota's game earlier this week at Target Field.
"He's carrying a bat out there in the outfield instead of a glove. That was a first no-no," Gardenhire said. "I didn't say anything to him because I wanted him to enjoy himself, but eventually we'll get the bat out of his hand when we go to the outfield to shag.  . . . That does tell you a little about what he likes to do."
Vargas has hit -- and hit well -- in six minor-league seasons since signing with the Twins as an undrafted free agent out of Puerto Rico back in 2009. Before he got called up to the majors for the first time in his career earlier this month, Vargas was batting .281 with 17 home runs and 63 RBI for Double-A New Britain.
When the call came early in the morning from Rock Cats manager Jeff Smith to tell Vargas he was going to the majors, the young first baseman couldn't contain his emotions.
"I was jumping in my bed," Vargas said.
He quickly called home to Puerto Rico to tell his family the good news.
"But nobody answer the phone. It's too early," he said. "After that, my mother was very happy."
Since he joined the Twins on July 31, bypassing Triple-A in the process, Vargas has seemingly made the transition rather easily. He turned 24 years old on Aug. 1, the same day as his major-league debut. Vargas celebrated his birthday by tallying his first big-league hit, a two-run double against the Chicago White Sox.
Three games later came Vargas' first career home run. The timing of the blast was crucial, as it gave Minnesota a 3-1 lead after the Twins had trailed for much of the game against San Diego. Vargas' homer to right field proved to be the difference in that game.
"The initial reaction on the ball he hit over the fence was it looked easy," said Twins general manager Terry Ryan. "We don't have many three-run homers around here. There's no question he's got power from both sides.  . . . In today's game, it's difficult to find power. When you do find it, you better hang on."
That power is often on display during batting practice, where Vargas tends to hit tape measure shots that drop even the jaws of his teammates. When he was taking BP with the World team before the Futures Game at Target Field earlier this month, Vargas hit one home run that landed near the top corner of the batter's eye in center field. He also nearly hit a pickup truck that was parked as a promotion behind the seats in right field.
For as long as Vargas can remember, he's always had the natural power. He started playing baseball at four years old in his native Puerto Rico. By the time he was seven, he truly enjoyed hitting the ball.
Vargas laughs when he's asked if he was hitting the ball further than his peers even as a 7-year-old.
"Yeah, yeah, always," he said.
It remains to be seen how Vargas fits into the future plans of the Twins. If he does wind up sticking around in the majors for years to come, his best bet will likely be as a designated hitter, with a handful of games at first base sprinkled in. Vargas' defense is still a work in progress, but he's put plenty of time into honing his skills on the field. However, when Minnesota first baseman Joe Mauer returns from the disabled list -- possibly as soon as Monday -- Vargas' playing time may not be quite as frequent.
Still, the fact that he's up in the majors is a pleasant surprise to Vargas, and one he's not going to take for granted. He expected at least a stop at Triple-A Rochester before the Twins called him up. Best case scenario in his mind was a trip to Minnesota as a September call-up when the major league rosters expand.
But Vargas is here now, hoping to prove he belongs at this level. If Gardenhire had it his way, he'd keep the affable first baseman on the big-league club for the rest of the season. Ryan, however, said that decision is up to Vargas. Perform well, and he'll stick around.
Seven hits and seven RBI in his first six career games? That's a good start.
"He's a strong young man. The battle's not over," Gardenhire said. "He's got a long ways to go and a lot to learn and a lot of at-bats. He's going to have some good and some bad ones. But he's sure fun to see walking up there."
Follow Tyler Mason on Twitter
---