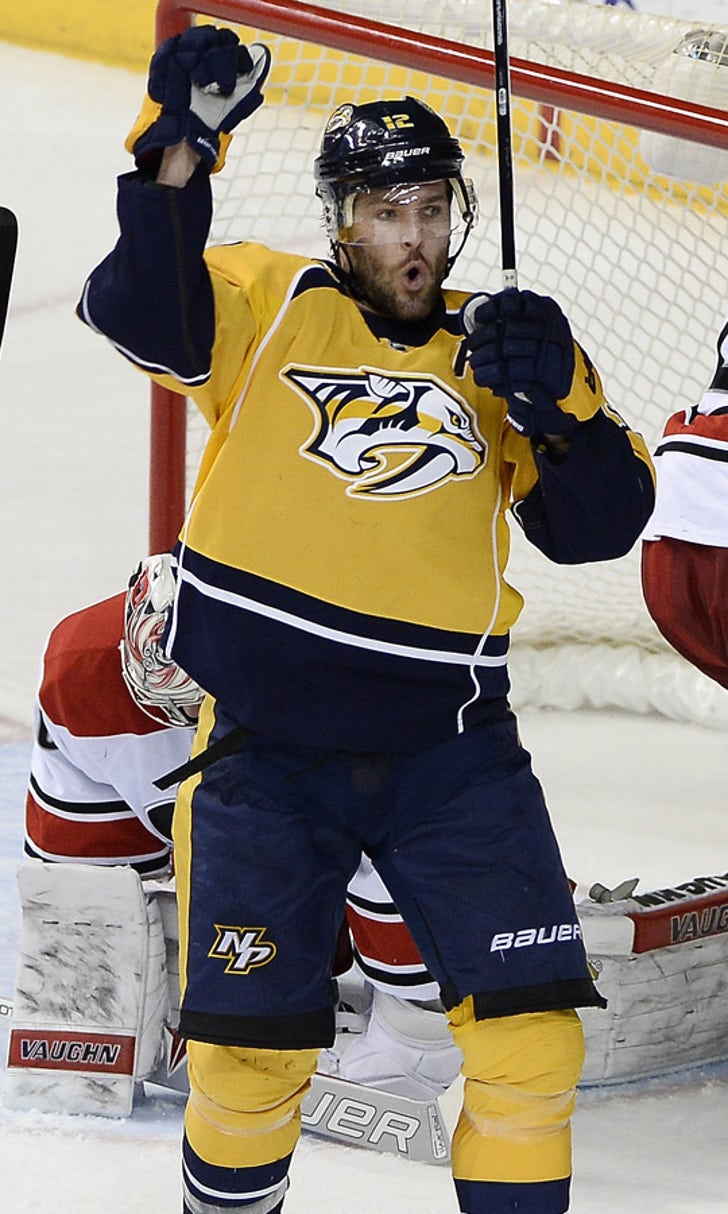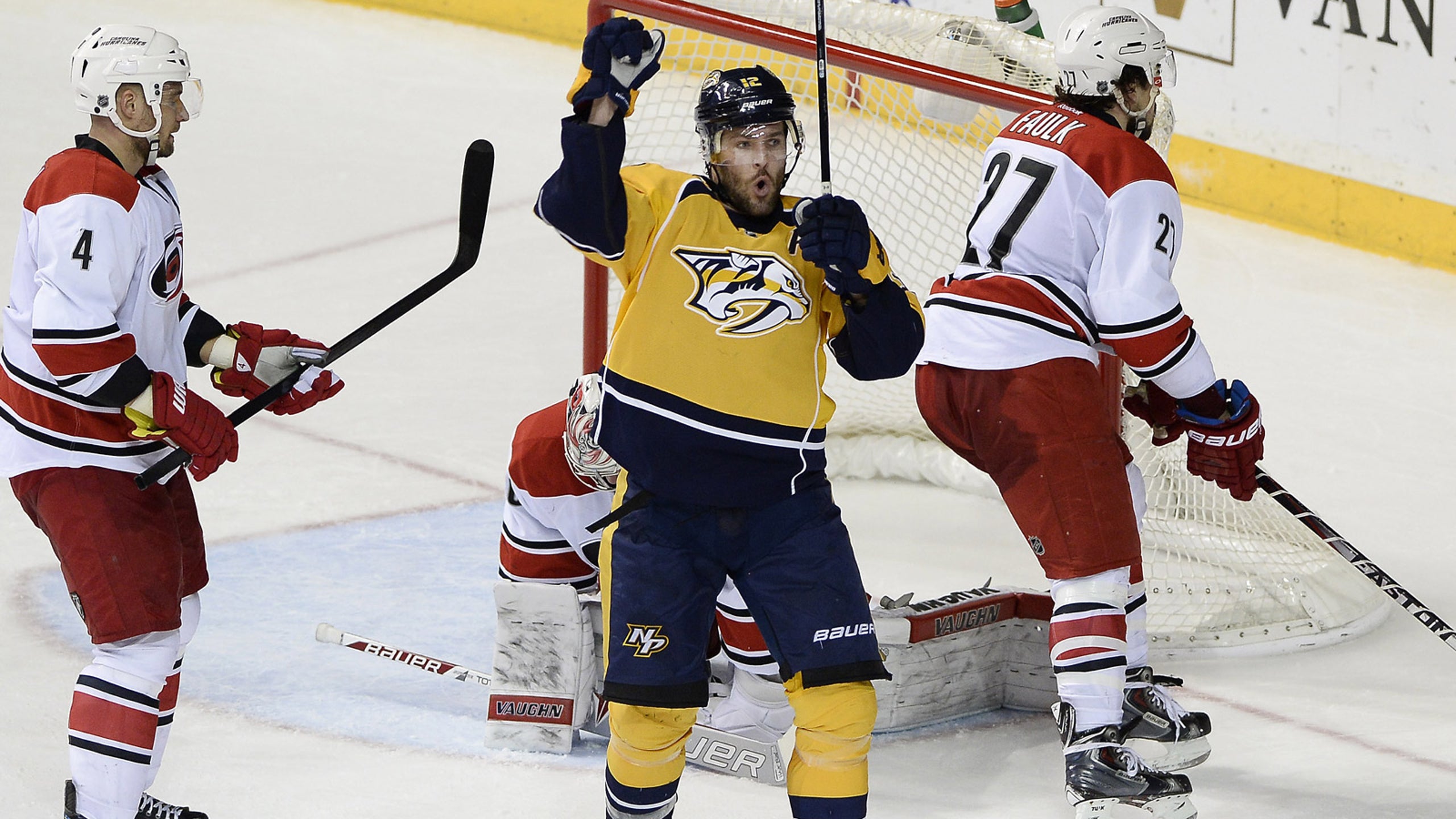 Power Play: Three third-period goals fuel Predators comeback win over Carolina
BY foxsports • January 7, 2015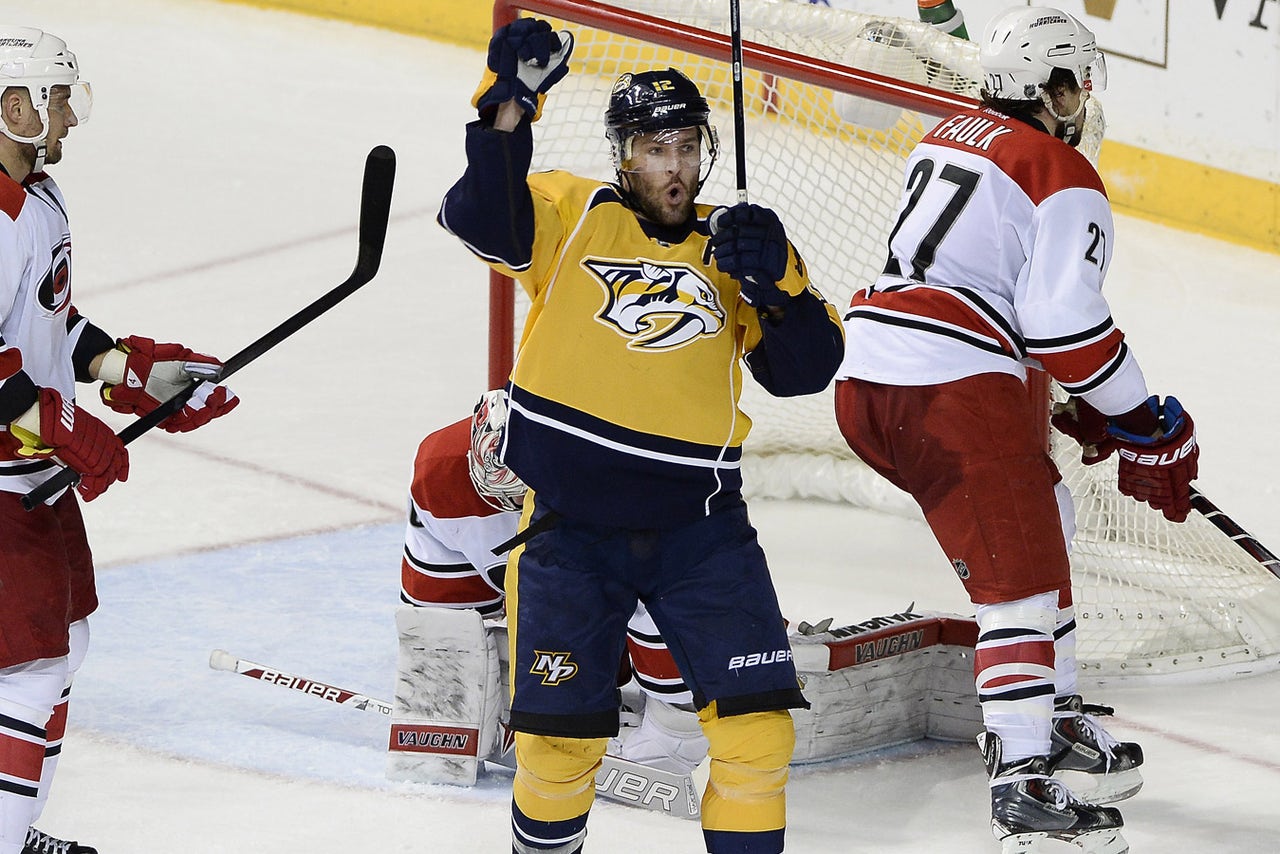 NASHVILLE, Tenn. -- Scoring three goals in the third period, the Nashville Predators (26-9-4) erased two separate one-goal deficits against the Carolina Hurricanes (12-24-4) for a 3-2 win and to sole possession of first place in the Central Division.
Impossible saves look easy for Pekka Rinne
It's one thing to say that Rinne makes some of the greatest saves in the league every time the Predators hit the ice, but it's another to actually see him make what can only be described as a near-impossible save halfway through the first period.
As Nashville was attempting to break out of the defensive zone, forward Mike Ribeiro had the puck knocked away from his stick by an engaging Victor Rask. With Rinne out of the net temporarily to try and poke the puck towards the boards, Hurricanes forward Jiri Tlusty lifted Rinne's stick and passed the puck to Nathan Gerbe with an open net in front of him. It should have been a sure goal for the Hurricanes.
"It happened so quick," said Rinne. "I tried to poke the puck, [Tlusty] was able to lift my stick, and after that I knew that I was screwed. It was pretty much an open net and I just did anything I could to just find a way somehow to have something in front."
Out of sheer desperation, Rinne, with his back to Gerbe at the time, kicked out his left leg towards the net and somehow stopped the incoming shot on net.
"I got lucky," said Rinne. "I don't have eyes behind my back. It's a desperation [move] and it ended up being a great save. It was nice to get that one. You don't really care about technique or anything, you just try to take the ice away and just have something in front of [the net]. I spun around with my stick and after that I just pushed across [the ice] with my back facing the play. 
You just hope it hits you and this time it did. Hopefully, I don't have to face that kind of stuff too often."
Trouble finding an answer against the Hurricanes
Not often this season has an opposing team been able to visit the friendly confines of Bridgestone Arena and bottle up what has arguably been one of the strongest puck possession teams in the league this season. Through the first two periods against the Predators, Carolina did just that.
Nashville battled this same Hurricanes team a little over one month ago, facing the same difficulties they experienced in their 2-1 loss against Carolina on December 2nd.
"I don't think they stopped, to be honest," said Laviolette. "I think they played hard during the course of the game. We had our hands full when we went in to Carolina. I don't think that we played a great game, but I think they played a very good game in Carolina and we knew what we were in for. They're a hard working team, competitive, and play an aggressive system. If you don't combat an aggressive system with aggressive play, you probably won't make it."
Even though the Predators registered 19 shots on net towards Hurricanes netminder Cam Ward through the first 40 minutes, Carolina was able to put enough bodies in the way of opposing shots to nullify the majority of Nashville's scoring chances.
"They're a good team. They have a really mobile [defense]. We just tried to get the puck deep and they kind of played off our pressure pretty good," said Forsberg
The rookie stands alone on top
Nobody would've guessed that Nashville would have one of their players break a franchise record only 39 games into the season. Yet, with the way Filip Forsberg's played this season, anything is possible.
Notching an assist on Fisher's game-tying goal in the third period, Forsberg broke Alexander Radulov's record of 37 points in 64 games to become Nashville's all-time leader for points by a rookie in one season.
"It's great to be able to get the record, especially in this game where we were kind of struggling," said Forsberg.
The fact that Forsberg accomplished that feat 25 games quicker than Radulov could be a positive sign of things to come in the future for the young Swedish forward.
"From the start, FIlip's been an impact player for us," said Laviolette. "Just watching him tonight, he does amazing things with the puck in small areas. He can get himself out of trouble in the defensive zone by a little drag and a little push. All of a sudden he's got 30 yards of clear ice in front of him. That's a talent that is special. I think he's earned what he's gotten to this point. He's played hard. 
Those things I think will happen for your team as your team is having success. There will be milestones reached for everybody. This is one for him and it's a good one."
Roman Josi -- Recording the game-winning goal on a beautiful feed by forward Viktor Stalberg, Josi's been one of Nashville's most underrated players this season on any end of the ice. 
Eric Staal -- Arguably one of Carolina's best players in franchise history, Staal scored a power play goal, the 300th of his career, to open the scoring in the first period for the Hurricanes and added a helper on Faulk's power play goal in the third period.
Filip Forsberg -- There may have been other players worthy of a star of the game, but Forsberg's single point this evening helped him break a franchise record for the Predators. It's not often in a season a player has the opportunity to do that.
---