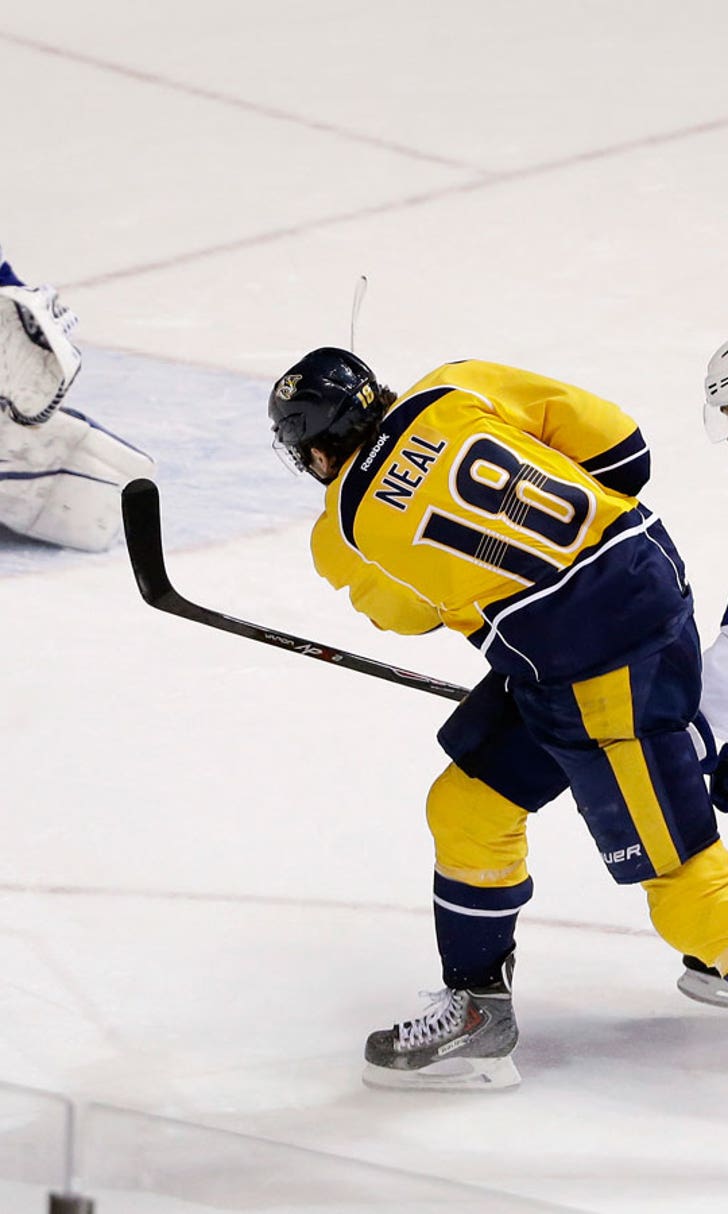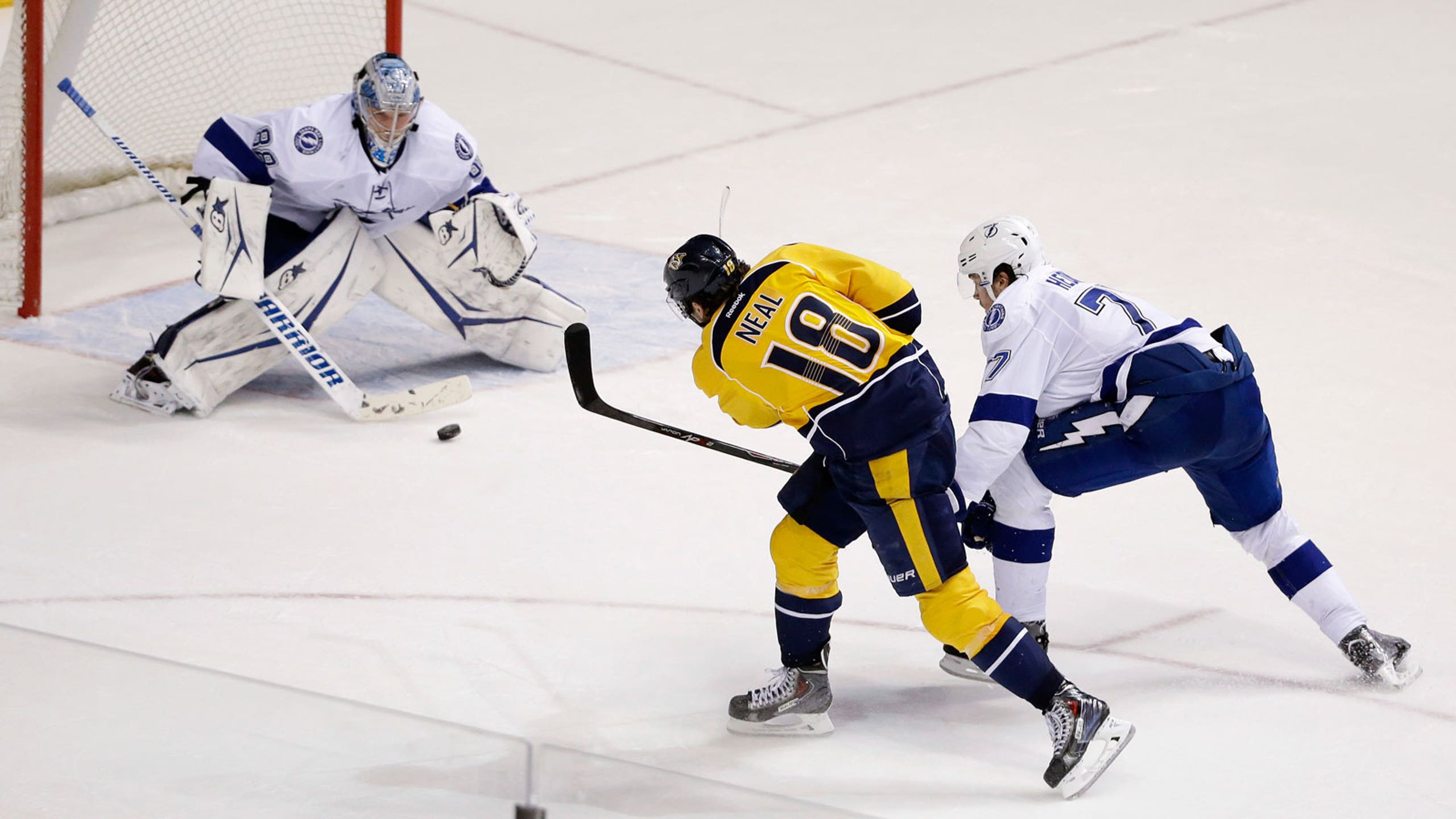 Power Play: Neal overtime goal gives Nashville 3-2 win over Tampa Bay
BY foxsports • February 10, 2015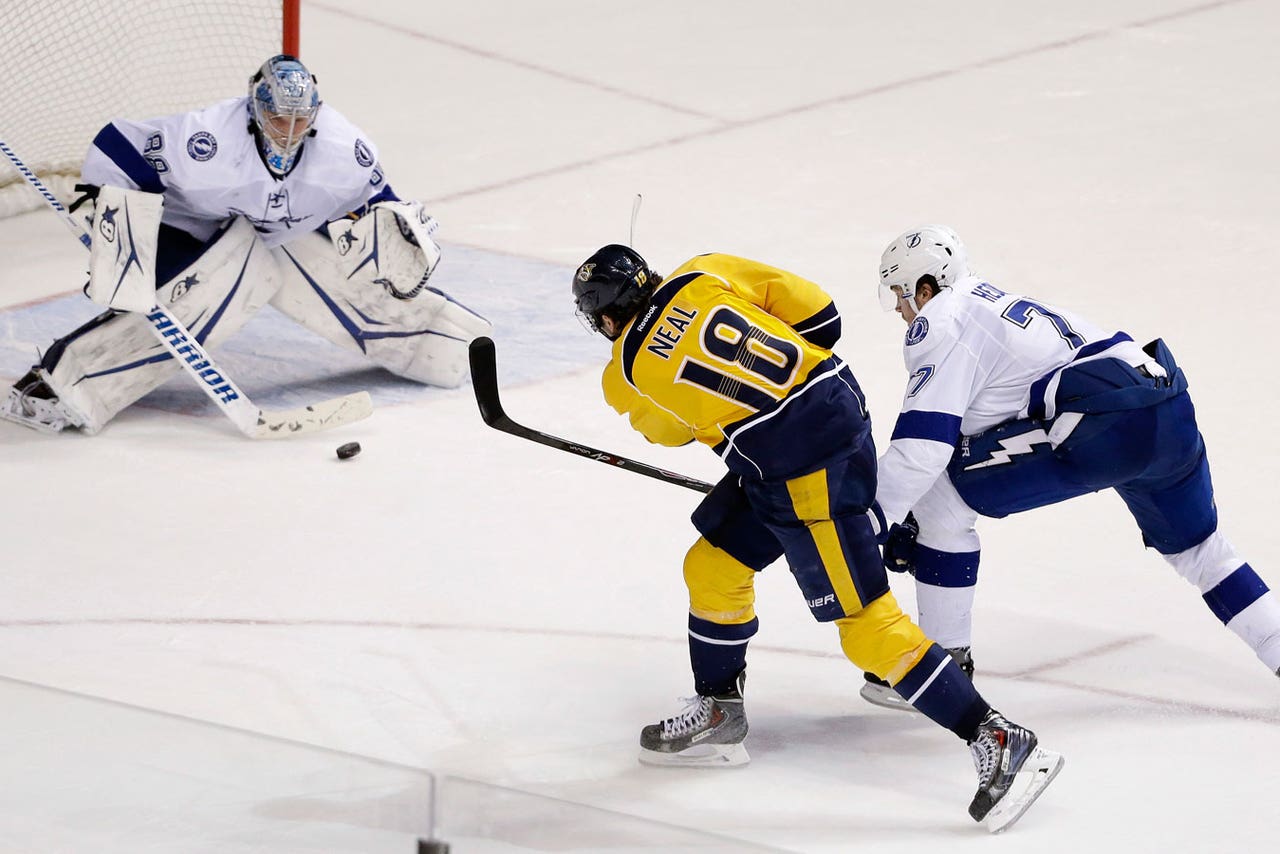 Nashville, Tenn. -- After sacrificing a two goal lead midway through the third period, the Nashville Predators (36-12-6) benefited from a James Neal goal with time ticking down in the overtime period to dispatch the Tampa Bay Lightning (34-16-6) by a final score of 3-2 in a thriller at Bridgestone Arena.
Conference-best teams battle
Nashville's seen its fair share of the NHL's elite teams over the past two weeks, fighting off the Pittsburgh Penguins, Anaheim Ducks, and New York Rangers. Now, with the Tampa Bay Lightning in town, the Predators faced off with the best team in the Eastern Conference.
It definitely lived up to expectations, on both sides of the ice.
"They're a fast team. We knew that coming in," said Predators defenseman Seth Jones. "We tried to manage the puck as well as we could. Keep it out of the middle. I thought we did a decent job. Then right in the middle of the third it kind of got a little back and forth with odd man rushes. I thought we did a great job of slowing the game down. We made good back-pressure and back-checking from our forwards."
Lightning goaltender Andrei Vasilevskiy stood on his head for nearly the full 60 minutes while his counterpart in Nashville's Pekka Rinne did the exact same. Neither team could capitalize on special teams and both struggled to break into the offensive zone. Tampa Bay easily had the most chances on net tonight, but both were evenly matched.
"Some of the Eastern teams play a faster game and take some chances," Predators goaltender Pekka Rinne said. "They have a lot of skill in their lineup. I thought tonight and in the New York Rangers game, that was a really fast game. They have some speed in the East. It feels like they play a little bit more of an open game and kind of trade chances a little bit more than in the West. I thought we did an excellent job of matching that."
It's hard to expect anything different from either team, to be honest. Both lead their respective conferences for a reason and they showed the exact same thing: a tightly contested game where mistakes would be costly.
"Not only is Tampa fast, they play an aggressive system as well," noted Predators coach Peter Laviolette. "It really forces the issue a lot. There's a lot of pressure. There can be a lot of turnovers. Not so much turnovers that we make on our own, but they're forced turnovers because of the pressure they put on. They're as fast as New York. They're deep with their lineup."
Patriotic power on the blue line
It's easy to be critical of Predators defenseman Seth Jones and his play this season. Over the past handful of games, though, Jones has stepped up in the absence of multiple pieces from Nashville's blue line. Scoring the opening goal in Tuesday's contest, Jones is riding a career-high five game point streak that's seen him score three goals and two assists in that span.
"I think I was playing good hockey," said Jones. "I just wasn't getting the bounces and the points the first 45 games of the year. I think they're coming on now. The points are starting to come. I'm just sticking with it and trying to play solid hockey."
Combined over his last 13 games, Jones has notched 10 points along the way. That's coming from a player that had scored nine points in his previous 40 games. Essentially, Jones has more than doubled his point production in less than a quarter of the number of games he's played in this season.
Giveth and taketh away
The Predators have benefited from one of the league's best goal differentials in the third period, sitting at +33 entering their game against the Lightning. Just as proof, they scored two straight goals in the third period Sunday against the Florida Panthers to secure a point in regulation just to win it in a shootout.
That's the way Nashville has played in the final frame all season long this year.
Tuesday was one of the few nights this season where the exact opposite played out. Nashville entered the third period up 2-0 and found its lead nullified only eight minutes in.
"We gave up the lead tonight. It's just the way it goes," said Jones. "A couple of bounces. I think the second goal a guy may have hit it out of mid-air. I thought we did a great job of keeping our composure. We stayed in it. The chances were back and forth."
The Predators and Lightning would battle through regulation and decide the game in overtime from a James Neal marker with 33 seconds remaining, but ultimately Nashville was unable to hold its two goal lead.
It's rare that ever happens to the Predators this season, but it was just one of those nights.
"Tonight, we gave up two in the third and we were able to score in overtime. That's what it's about," said Rinne. "Just timely goals. It's exciting, too, when you play against the top team from the east. You expect a tight game. You don't expect to walk away with an easy win or anything like that.
We knew going into the third that they were going to come hard. It took a few bounces for them and they were able to find the back of the net. But a great response in overtime. Overall I thought it was a step in the right direction from the game in Florida"
James Neal -- Scoring the overtime goal with 33 seconds to go until a shootout, Neal gave the Predators a 3-2 victory over the East-leading Lightning and helped extend Nashville's lead in the West to three points over the Anaheim Ducks.
Pekka Rinne -- 30 saves on 32 shots towards the net for Rinne as the Finnish superstar secured his 31st win of the season for the Predators in near-dominating fashion.
Andrei Vasilevskiy -- Stopping 26 of the 29 shots he faced, Vasilevskiy offered up highlight reel save after save over the course of the game to keep Tampa Bay in the contest through regulation and into overtime.
---