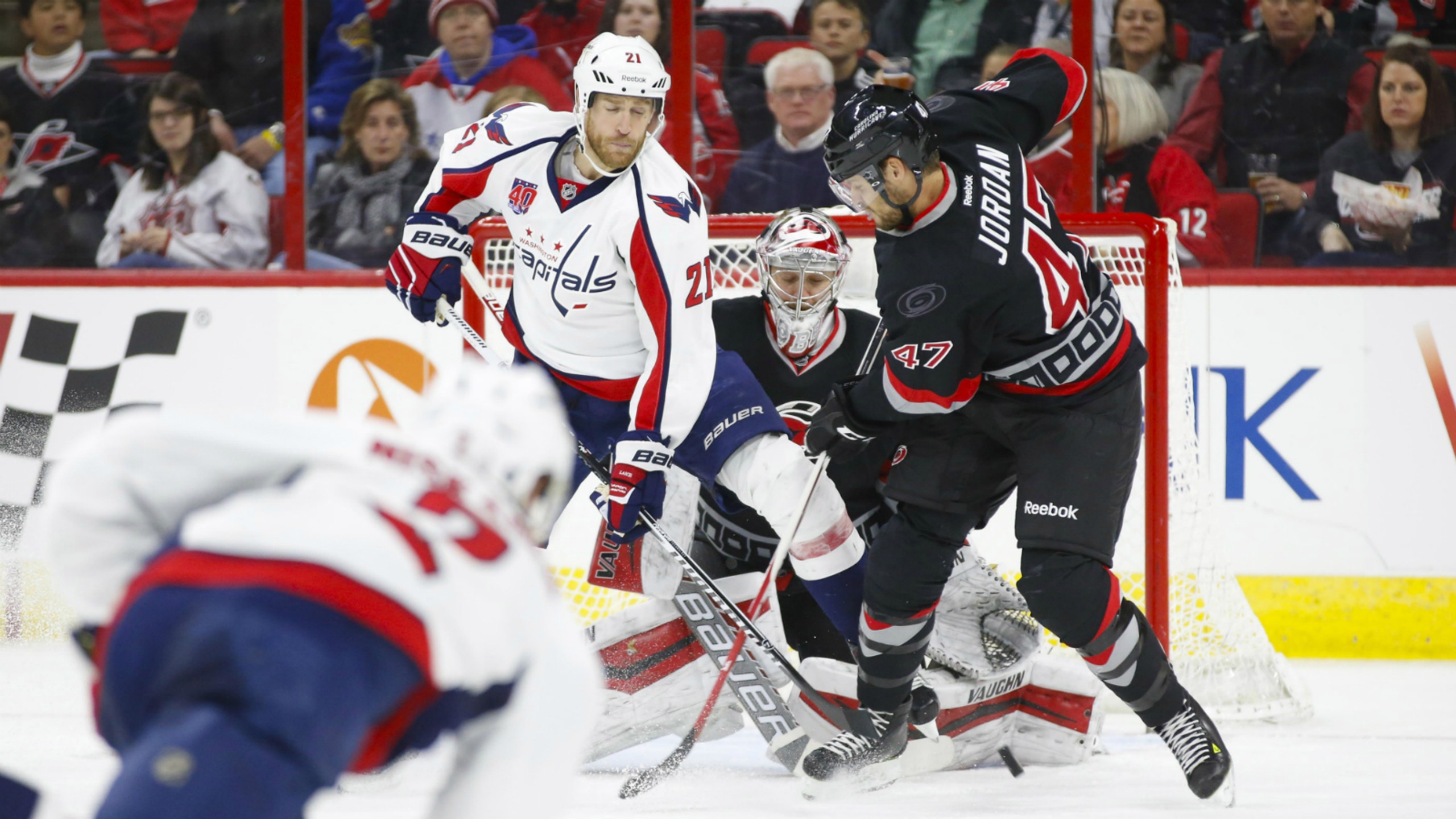 Power Play: Hurricanes honor Ward pregame, beat Capitals 3-0
BY foxsports • February 27, 2015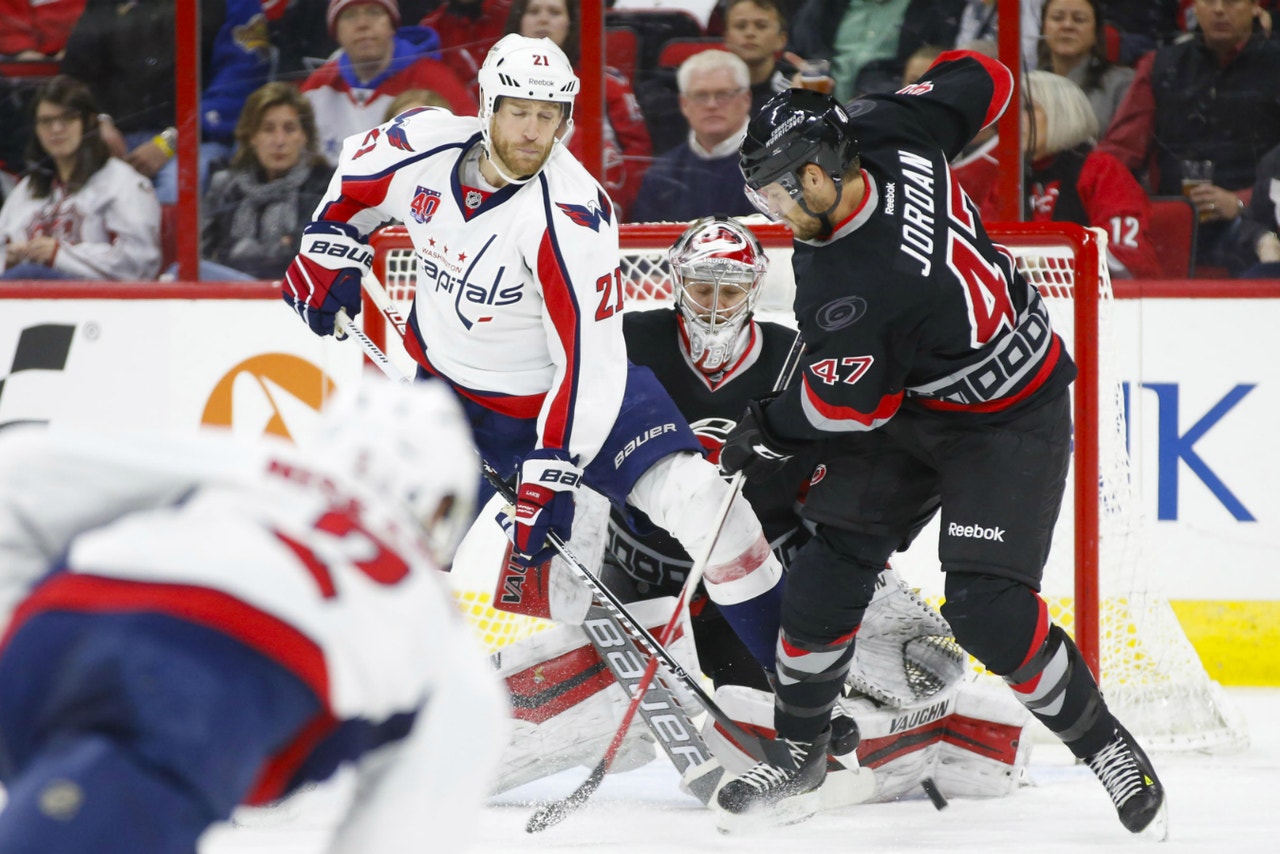 RALEIGH, N.C. -- The Carolina Hurricanes (23-30-7) continued their relatively hot 2015 with a 3-0 win over the Washington Capitals (33-20-10). It was a game the Hurricanes virtually controlled throughout, holding off a late push in the third. It was a night about the old, as Cam Ward was honored after playing (and winning) his 500th game, but also the new, as the fans got their first look at the team after trading away Jiri Tlusty and Andrej Sekera on Wednesday.
1. Cam Ward had a pregame ceremony to honor his 500th NHL game
Ward played in his 500th NHL game on Tuesday night, a 4-1 win for the veteran goalie, and he became the 14th goalie in NHL history to play them all with the same team.
He's long been a fixture in the community, and he won the 2006 Conn Smythe Award in the Hurricanes first (and only) Stanley Cup win since they moved to North Carolina. And so when many locals fell in love with the team, he was a big part of the reason, or at least closely associated with that time when everyone caught the fever.
Ward himself decided it would be best not to start the game when the ceremony itself would take place to honor his 500th game. He figured it would all be too much, and judging by his attempts to hold back a flood of emotions as he was presented with various gifts with his proud family looking on during the pregame, he was right.
Throughout the night, messages from former and current teammates played on the video board, and they'd cut to his reaction on the bench. All in all, it was a great night for him to soak it all in and enjoy the adoration of the crowd, and it was fitting that it was one of the best crowds of the year.
"I really appreciate all the time and effort that was put into creating this ceremony, but I am ready for it to end and get ready for that 501," Ward said after the game.
Anton Khudobin got the start in his place and played a fantastic game. 
"Of course, it's not too much emotion to suggest you're proud for your partner and at the same time, you kind of like -- you put yourself on his spot, the way he performed," said Khudobin. "I was really happy for him. It's kind of pumping me up a little bit, actually. It got me a little bit and I just went out there and just played."
2. Anton Khudobin may have provided a glimpse into the future
Ward has been with the team for so long, it's hard for either side to imagine anything else. But the Hurricanes still have moves to make and whether it's at the trade deadline or later, there will likely be a decision made between the two goalies.
Khudobin has played very well more often than not this year, and particularly in 2015. He got his first shutout of the year against the Capitals, saving all 28 shots he faced. And in the final period, especially the last 10 minutes, he faced what felt like a ton of them.
Ward's ceremony was lovely, and it was clear based on the turnout and their response that there are still fond feelings left for him in Raleigh. But Khudobin is a bit younger and has a more manageable contract, and if a choice has to be made between the two, it'll likely be Khudobin that stays.
He's proven a lot over his last two years, and this game was a reflection of how far he's come and how he looks closer and closer to being ready to be a full-time starter, if need be.
He got some good bounces as multiple Capitals shots bounced off the post, but considering the hard luck he had in the beginning of the year when he'd lose his starts 1-0 in a shootout or something, he'll take it.
"Games like that happen sometimes. You just can't figure out what to do there. Games like let's say in Minnesota or somewhere else where just everything goes against you. You think that you're going to stop that or you're going to clear for you, but all of a sudden it just goes through your legs," Khudobin said. "Today was that kind of game, that maybe I got a little lucky. I tried to find the puck and I was focusing on trying to find the puck.
"Posts are always friends for goalies. My old goalie coach was saying if you have the post, then it means that you scare the puck out of the way."
3. Defensive pairings make seamless transition after Sekera trade
The Hurricanes made multiple trades on Wednesday, and one of them saw defenseman Andrej Sekera sent to Los Angeles for a first-round pick. That meant the defensive pairings had to get shuffled a bit, but it was nothing the Hurricanes couldn't handle.
"Obviously those are two big pieces that we traded away, but we've got some young guys that are very talented that are going to pick up their minutes. I thought they responded pretty well," defenseman Brett Bellemore said.
The Hurricanes have some young talent they'd like to incorporate, and that will start when Ryan Murphy (21 years old) gets healthy so he can get some experience. He's close to being able to return now, Hurricanes head coach Bill Peters said. But even as they wait for him, Peters is pleased with what they've seen so far.
"John Michael-Liles is a veteran guy, nows how to play. We alluded to (Bellemore) being a warrior, his mentality and the way he plays. Ron Hainsey's more than capable and Faulker (Justin Faulk) is Faulker," Peters said. "I thought (Tim Gleason) was outstanding tonight, made some plays with the puck and he's a big part of our penalty kill. Nobody ever talks about (Gleason) in the PK, but he's a shot-blocker and he pays a price and we really appreciate what he does."
Bellemore is 26 and another youngster on defense, Michal Jordan, is going to see more time (he played 17:20 in this game). Faulk is only 22, but he was already the Hurricanes' best defenseman anyway. Add Murphy back in with Liles (who played his 700th NHL game), Hainsey (33) and Gleason (32), and it's a solid group that knows each other well.
"I think everyone feels pretty comfortable with everyone. We all know each other's tendencies," Bellemore said. "We're through a majority of the year so far, so we kind of see each other. I haven't played with (Liles) much this season, but I understand how he plays. I thought that we actually had pretty good chemistry so far."
Anton Khudobin -- Khudobin made 28 saves to earn his first shutout since March 27, 2014. It was the fourth of his NHL career as well, and -- perhaps more significantly -- it was just the third time this season that Washington had been shut out.
Andrej Nestrasil -- The 24-year-old forward is probably going to be seeing more time with Tlusty gone, and the coaching staff already liked him. He was active and a presence in front of the net, and he finished with two assists on the Hurricanes' three goals to go with three shots and two hits given.
Brett Bellemore -- He missed the morning skate with an illness that he said kept him up Thursday night, but there was never any doubt in his own mind that he was going to play. And he got rewarded with his first goal of the season. And he got in a fight to boot. "He almost had a Gordie Howe hat trick there. I'll have to see," Peters joked. "He got a goal, got in a fight, I don't know if he had an assist or not." (He did not.)
---