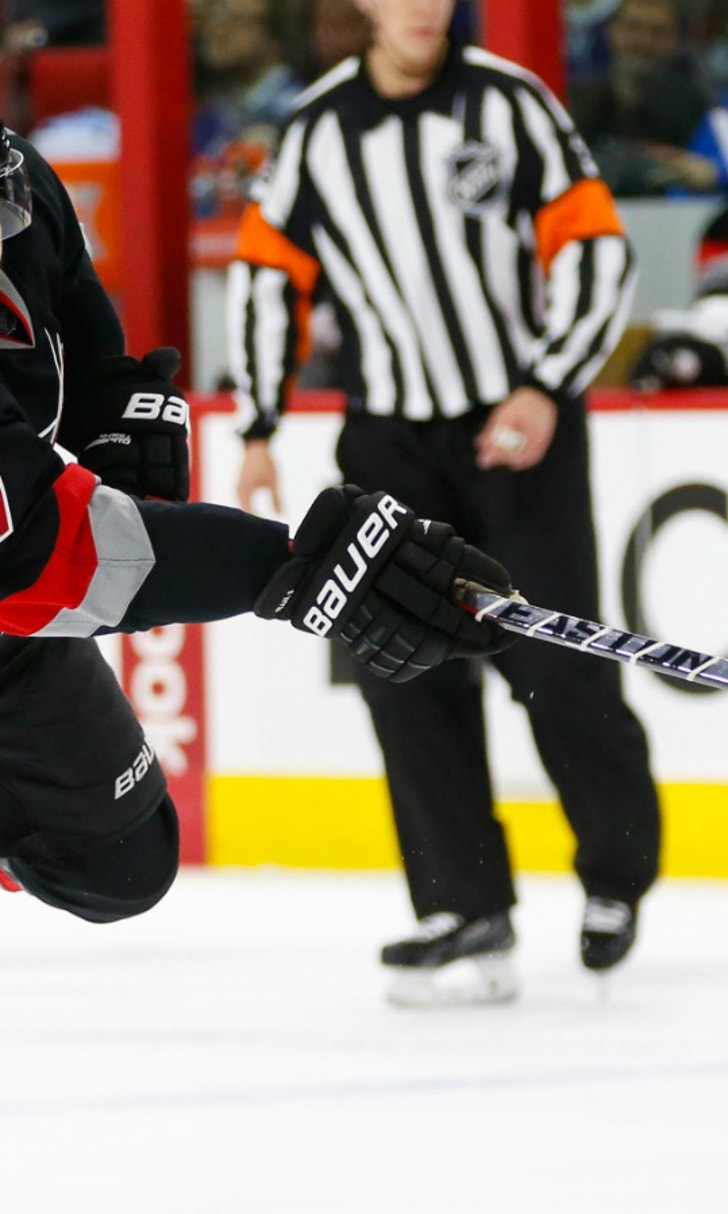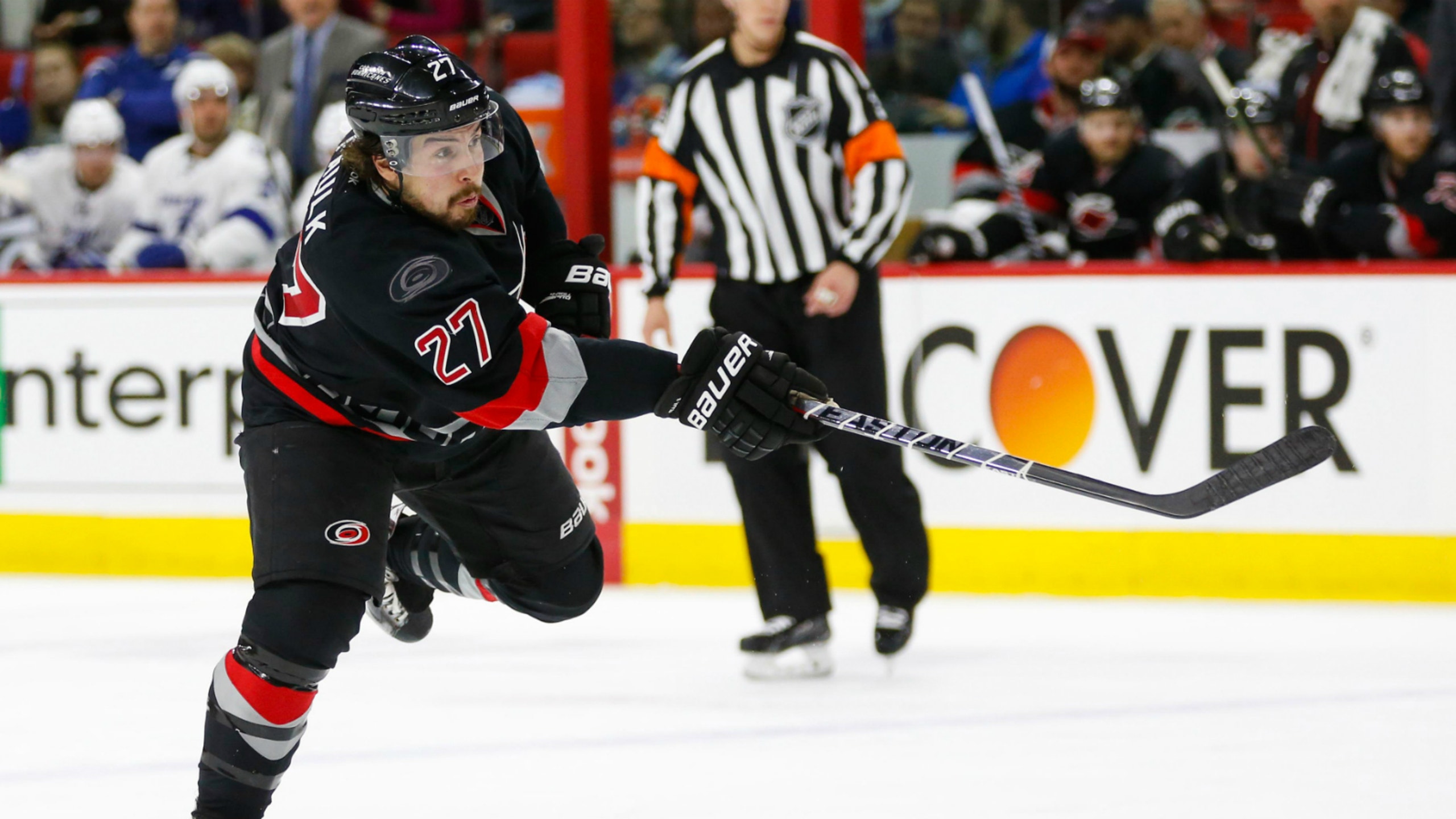 Power Play: Hurricanes get a point, but hot streak cooled a bit vs. Blues
BY foxsports • January 30, 2015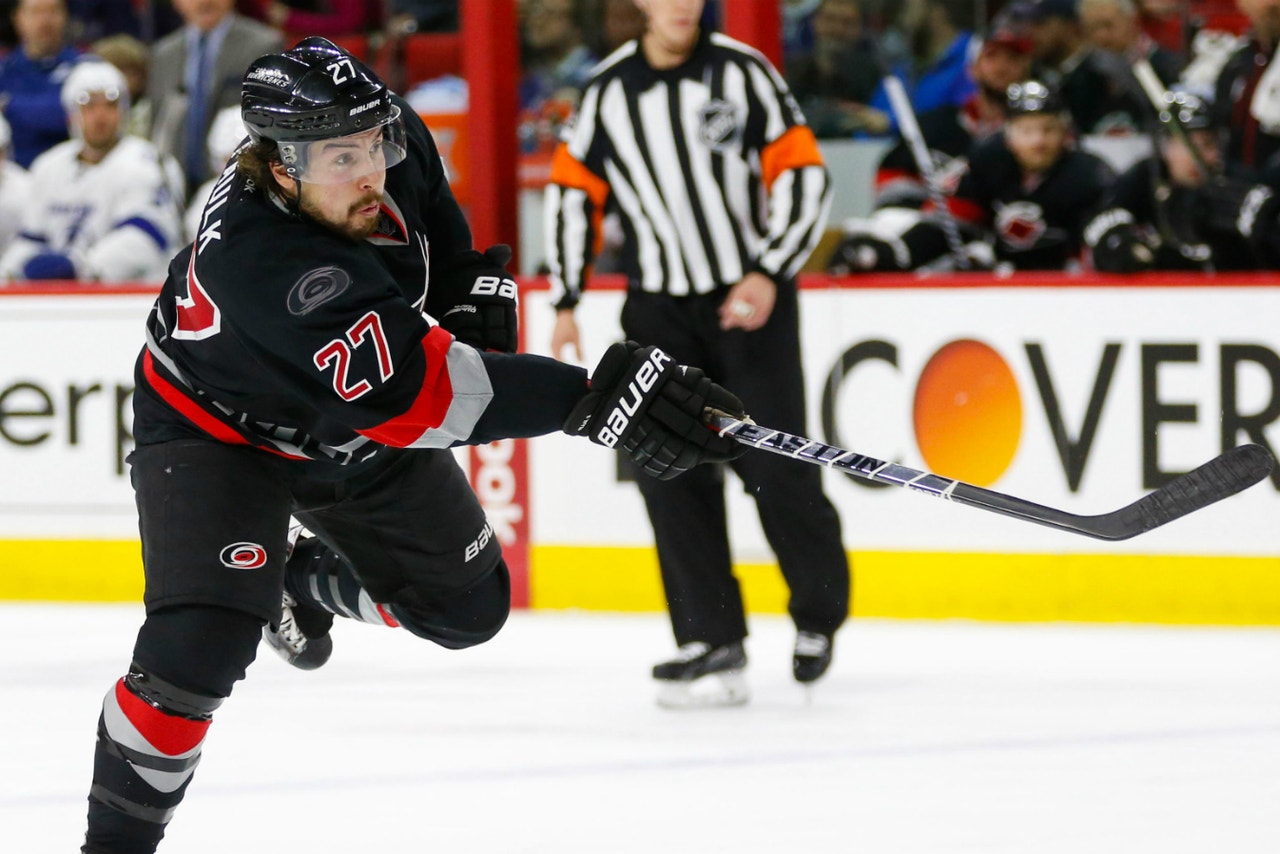 RALEIGH, N.C. -- The Carolina Hurricanes (17-25-6) and their hot January remains somewhat intact, as they dropped a 3-2 shootout decision to the St. Louis Blues (31-13-4). They had to rally from two goals down to tie it, and had chances in overtime, but ultimately they failed to get one across in the shootout and that was that. Still, they're now 7-2-2 in January with one more to go and starting to learn what winning feels like.
1. The Hurricanes had an awful start, but they can take something out of the way they finished.
One of the things the Hurricanes have done so well during this hot streak is get off to good starts.
That, most certainly, did not happen in this game as they found themselves down 2-0 just 3:25 into the first because of some bad defense. Starting goalie Anton Khudobin -- who allowed goals on two of the three shots he saw, although he was put in some awful positions -- was pulled.
"Well, they were apologizing to (Khudobin) before (Khudobin) even got to within 50 feet of the bench. It was right before, I believe, the 14-minute mark timeout. I didn't think we could get to that without another (goal allowed)," Hurricanes head coach Bill Peters said.
"I don't really have an explanation why, but it was definitely a slow start. It was 2, could've been 3-0. I thought we did a good job after that, though. The goalie change was more just to slow their momentum down and obviously not a reflection on the goaltender. But we didn't start on time, that's for sure."
That bad of a start is something that this team has experienced plenty over the last few years.
But this isn't like the last few years, where this team would lay down and surrender after going down 2-0 that quickly.
That's part of the culture Peters is trying to build, too.
"We built a game. That was good to see. Obviously, we could've went either way and guys dug in," Peters said. "We started to play harder and play smarter and realize there was a little bit more time than we thought to make plays, and we started to make more plays."
"I just like the fact that we didn't cave in. If this was three months ago and we get down 2-0 in the first five minutes, I'm not sure we get a point out of the game with a chance to win it," Peters said.
The Hurricanes got a goal 10:57 into the first, so that at least made it manageable. Then they capitalized on a power play late in the second to tie the game, and it was anyone's from there on out.
As the team goes on a nine-day road trip -- their longest of the season -- this newfound mettle and toughness they've shown against some of the league's better teams at home needs to translate on the road.
2. Cam Ward came in for the first time in two weeks and looked very good.
The Hurricanes' primary starter for most of the season had been brilliant most of the year, but his save percentage had started to slip a bit and he was pulled from the game with 40 minutes remaining on January 16. That began backup Khudobin's hot streak, which he was still riding coming into this game (and said streak is still intact, since the team came back to tie the game).
When Peters made the move to switch goaltenders, Ward had to come in cold with his team in a two-goal hole.
"It's difficult, but part of being a professional, you've got to be ready at any given time. The body needed a little bit of time to warm up but once I got in there, obviously, the adrenaline's pumping and you get comfortable as the game goes along," Ward said.
As Peters himself said, it wasn't a reflection on the goaltending that the team made the switch. But it was a good sign for both Ward and the team that he performed as well as he did after the switch was made.
And Ward himself seemed to think the switch to Khudobin was more related to how hot Khudobin was than anything Ward himself had done.
"I've been happy with my game, quite honestly. Vancouver was the only hiccup that I've had since November," Ward said. "I demand a lot of myself, but I don't want to be too hard on myself either because I've been playing some good hockey too. (Khudobin) came in and got really hot and played really well and the team played well in front of him."
3. The fourth line continues to provide a nice boost.
That's been the case all season, but it's been particularly true in January -- Brad Malone, Jay McClement and Patrick Dwyer have done a nice job during their time on the ice and tonight was no different.
Malone finished with five hits in just 10:26 of ice time, not to mention an assist on a Justin Faulk goal. McClement had an assist on that goal as well. The two of them plus Dwyer have 15 points in January and the Hurricanes are 5-0-1 when the fourth line scores a goal this month.
That depth is a luxury that the Hurricanes haven't really had all year, and it was nice to see those guys come in and continue to provide energy.
"Those depth players, they play properly. They play hard. They know they have to play hard," Peters said. "The (Brad) Malone line for us was very good. They're honest players and they're hard to play against. The go to the blue paint, and that's what you have to do to be successful."
Cam Ward --In spite of coming in cold, he stopped all 29 of the shots he saw in regulation, only letting in the third shot he saw in the shootout.
Jordan Staal -- His return to the lineup has meant everything to this team, and Peters praised his net-front presence on the power play goal which led to the assist on Ryan Murphy's goal. He finished with four hits and two blocked shots, and won 11-of-19 faceoffs.
Justin Faulk -- The Hurricanes young defenseman continues to play well, and he finished the game with a team-high six shots and a goal, the first of the night for the Hurricanes at a time when it was desperately needed. He also had three hits, three takeaways and a blocked shot. Oh, and it was his 10th goal this season. The most by a Hurricanes defenseman in a full season is 16, and it's not unreasonable to think he could pass that.
---