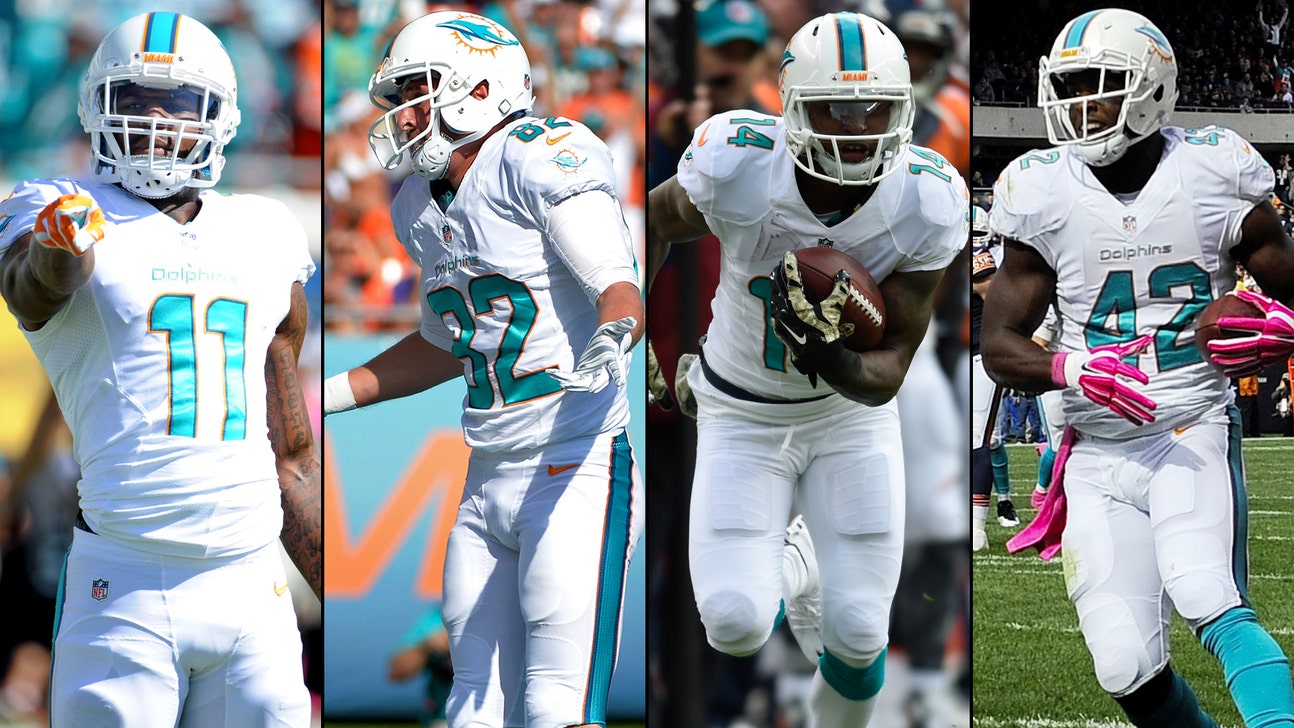 Position review: Offseason WR moves to revolve around Mike Wallace decision
Published
Feb. 1, 2015 6:00 p.m. ET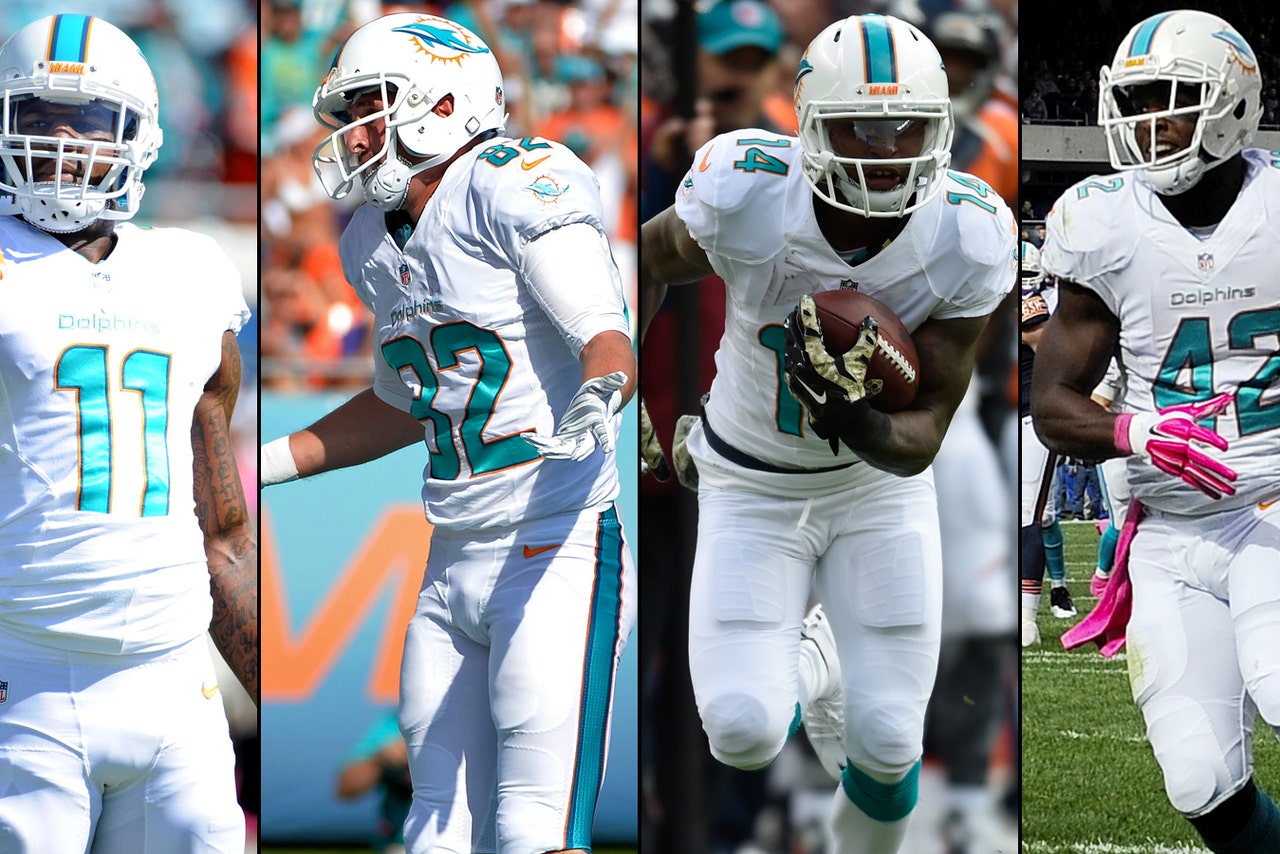 The Miami Dolphins entered the 2014 season with a league-high 18.93 percent of their total cap space invested in wide receivers. For the most part, however, the return on investment failed to live up to preseason expectations.
Brian Hartline and Brandon Gibson, who combined for over a $10 million cap hit, both underachieved in first-year offensive coordinator Bill Lazor's new offense, which averaged 254.1 receiving yards per game. At the same time, rookie Jarvis Landry picked up the slack and established himself as one of the league's most effective slot receivers.
Of Miami's regular pass catchers, only tight end Charles Clay is a pending free agent, so expect the team to trim the fat and free up cap space this offseason by cutting or restructuring the deal of at least one of the aforementioned underachievers.
In the end, though, no one player will have a greater effect on which direction Miami goes this offseason than wide receiver Mike Wallace.
Wallace, who is due $9.85 million next season as part of a five-year, $60 million contract that runs through 2017, could be on the chopping block after turning the locker room into a sideshow in Week 17 after publicly venting his frustrations over his role in the offense.
"I don't know what numbers he finished with, but I know he scored a lot of touchdowns," quarterback Ryan Tannehill said of Wallace. "We'll look to increase that. Obviously we want to hit more deep balls to him -- it's his forte. He's got great speed and we want to get the ball to him down the field. We're going to take a long hard look at the reason why we didn't this year and correct those in the offseason."
Will the Dolphins be patient with their disgruntled superstar? Or will Miami bite the bullet and part ways with arguably their most talented player?
Only time will tell.
Here's a closer look at the Dolphins' tight end and wide receiver situation ...
STARTERS
Mike Wallace (WR): The lone big-play receiver on Miami's roster, Wallace finished last season on the bench after getting into a verbal altercation with coaches before halftime of the Dolphins' Week 17 loss to the New York Jets. Still, the disgruntled wideout managed to lead the team in receiving yards (862) and touchdowns (10). Wallace and the Dolphins entered the offseason clearly at odds, but how the organization plans to handle the rift remains to be seen. Wallace is by far the most dynamic player on the offense and his production would be hard to replace if the team decides to part ways with their highest-paid player.
Jarvis Landry (WR): A second-round steal in the 2014 draft, Landry set a franchise rookie record with 84 receptions, which turned into 758 yards and five touchdowns. Additionally, his 464 yards after catch ranked 19th in the NFL. An exceptional route runner with very dependable hands, Landry reeled in 75 percent of passes that were thrown his way in 2014 -- the 13th-best percentage in the NFL. Going forward, Landry should only get better as he continues to develop into Tannehill's go-to guy.
Brian Hartline (WR): Following back-to-back 1,000-yard seasons in 2012 and 2013, Hartline's production fell off sharply in 2014 as his role in the offense diminished. Targeted more than 130 times in each of his 1,000-yard campaigns, he was thrown to just 63 times last season, resulting in a career-low 474 receiving yards. Due $5.9 million next season, Hartline's salary certainly doesn't match his numbers, which could result in his release or a possible restructuring of his deal this offseason.
Charles Clay (TE): He finished last season with 58 receptions for 605 yards and three touchdowns despite being limited by knee and hamstring injuries. Given Tannehill's comfort with Clay, coupled with the fact that Miami's base offense typically utilizes two tight ends, re-signing Clay will likely be a priority for the Dolphins this offseason. A solid pass-catching tight end, he may, however, find a bigger contract elsewhere on the open market.
BACKUPS
Brandon Gibson (WR): Coming off a major knee injury in 2013, Gibson saw career lows in receptions (29) and receiving yards (295) in 14 games last season. He began the year as Miami's slot receiver, but was quickly replaced by Landry. Like Hartline, Gibson's lofty $3.26 million salary next season could make him a cap casualty this offseason.
Rishard Matthews (WR): A training camp darling, Matthews' preseason expectations did not materialize into 2014 on-field results. Following a solid sophomore campaign in which he caught 41 passes for 448 yards, Matthews was held to just 12 receptions and a career-low 135 receiving yards last season. Entering the final year of his rookie contract, Matthews will need to bounce back next season if he hopes to stick in Miami.
Matt Hazel (WR): He was promoted from the Dolphins practice squad in December, but failed to make any sort of impact in the final two games of the regular season. A sixth-round pick in 2014, Hazel was one of Miami's final cuts in the preseason and has yet to prove he is anything more than a practice squad player at this point.
Dion Sims (TE): Already the best blocking tight end on the roster, Sims showed that he might also have an offensive upside during his sophomore season in Miami.  Sims, who started two games last season, caught 24 passes for 284 yards and two touchdowns. If Miami chooses to let Clay walk as a free agent, Sims could play a bigger role in the offense next season.
POSSIBLE FREE-AGENT TARGETS
Until Wallace's fate is decided, it's hard to forecast exactly how Miami will approach free agency. If Wallace does get the ax, a big-time playmaker like Dez Bryant, Michael Crabtree, Jeremy Maclin, Torrey Smith or Demaryius Thomas could potentially fill the void. If Wallace does return, however, slumping wideouts like Darrius Heyward-Bey or Hakeem Nicks could be affordable options to replace either Hartline or Gibson. At tight end, veterans like Jordan Cameron, Jermaine Gresham and Owen Daniels would all be nice additions to Miami's offense if Clay isn't retained.
BEST DRAFT OPTIONS
Like free agency, Miami's direction in the draft also hinges on Wallace's future. If Wallace doesn't return, Dorial Green-Beckham, Jaelen Strong, Sammie Coates and Devin Smith are a few players to watch in the early rounds. If Wallace does return, though, Phillip Dorsett, Breshad Perriman and Ty Montgomery are all intriguing options beyond the second round. At tight end, Clive Walford and Nick O'Leary are two in-state talents that could catch Miami's eye beyond the first day of the draft.
FINAL THOUGHT
The situation surrounding Miami's receiving corps certainly feels like a soap opera right now. However, it may behoove the organization to not be too quick to change the channel. The Dolphins already have one year of Lazor's offense under their belt, and bringing in too many fresh faces, especially at key positions, may send the team back to the drawing board. Tannehill is trending upward, but his continued success is directly linked to the stability of his receivers. 
You can follow Jameson Olive on Twitter @JamesonCoop or email him at JamesonOlive@gmail.com.
---