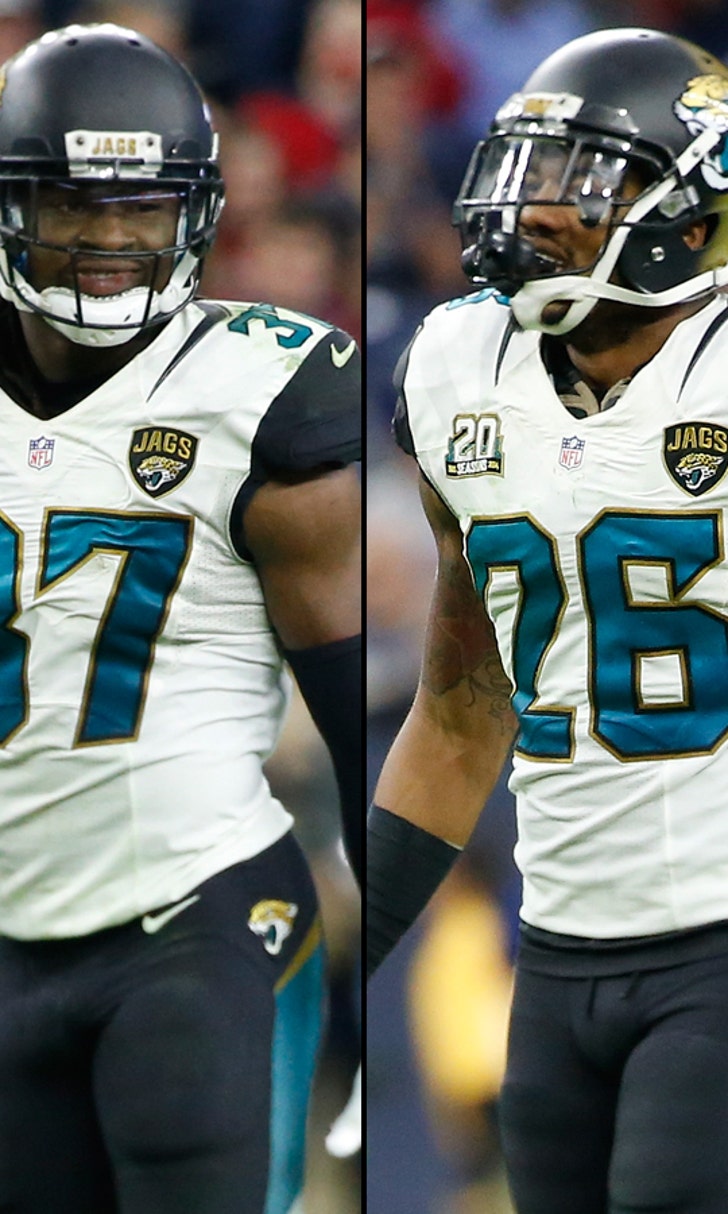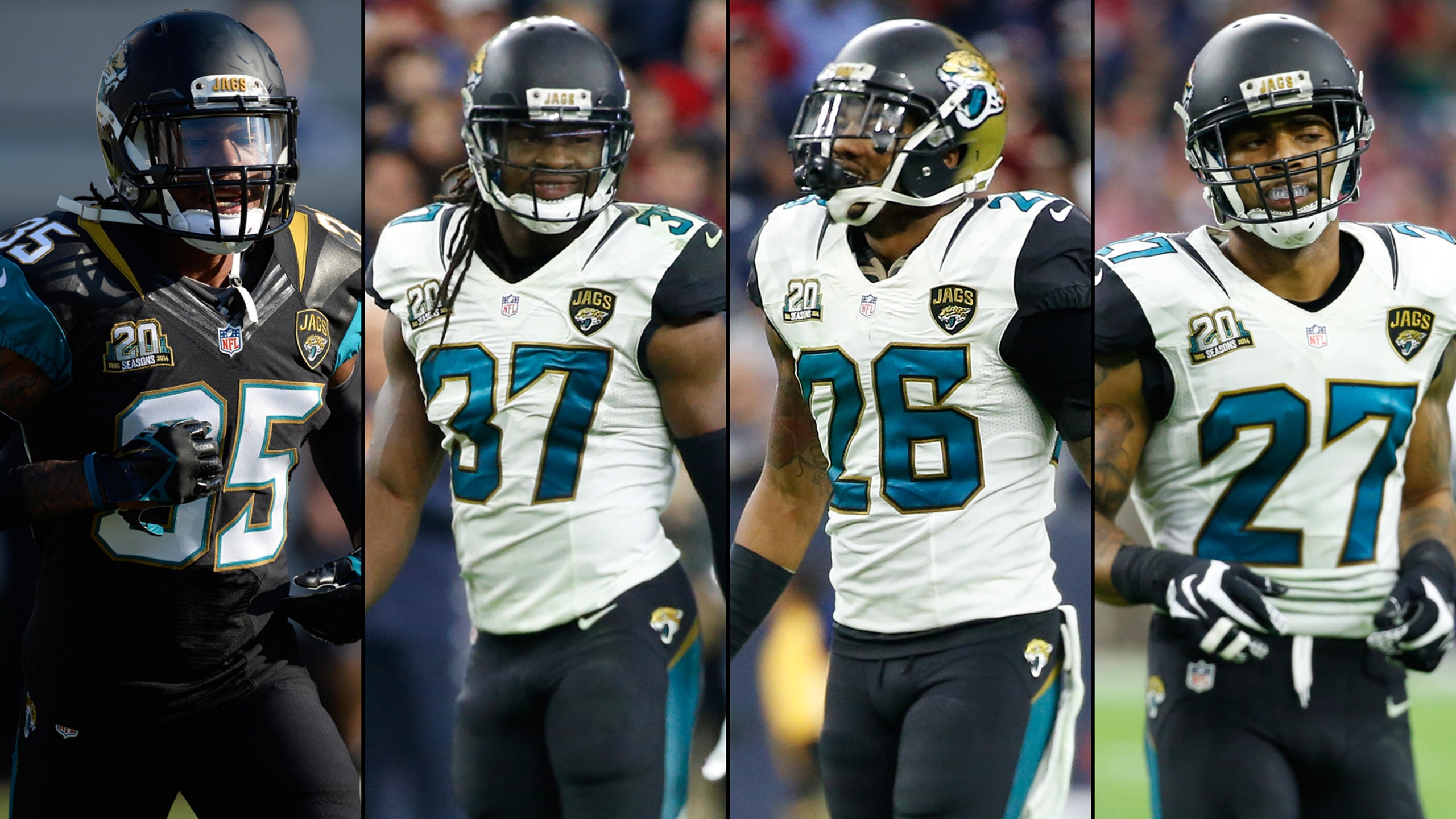 Position review: Lack of interceptions by Jaguars secondary alarming
BY foxsports • February 10, 2015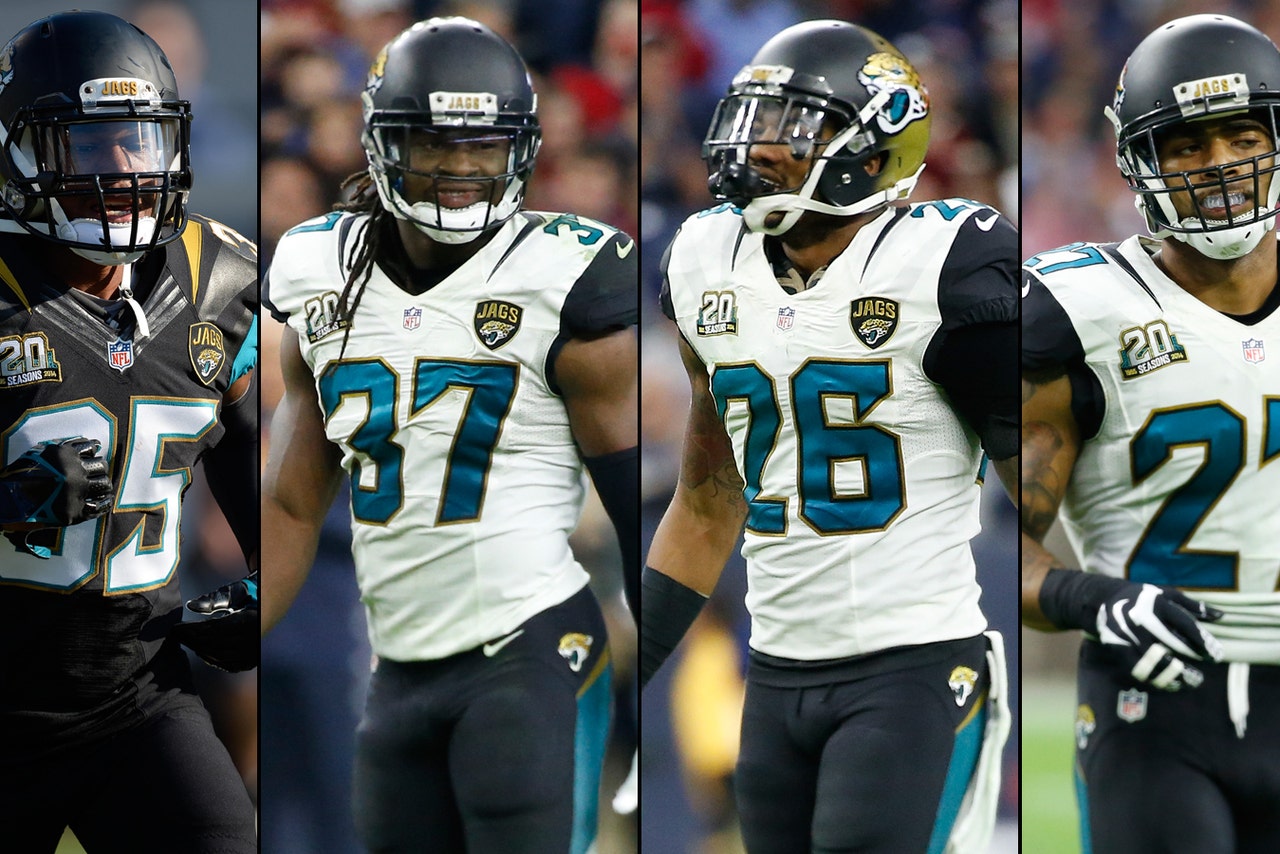 Aside from one interception returned for a touchdown in their final game, the Jacksonville Jaguars had one forgettable year when it came to their secondary.
It was by no means a dreadful year. The Jaguars improved from being tied for 25th in pass defense in 2013 to ranking 22nd in their second season under defensive coordinator Bob Babich and defensive backs coach DeWayne Walker. Their number of touchdown passes allowed also dropped from 29 to 24.
But one statistic sticks out like a sore thumb.
Not only did the Jaguars tie the Kansas City Chiefs and the New York Jets for the fewest interceptions in the NFL with six, but the starters for the bulk of the season -- cornerbacks Dwayne Gratz and Demetrius McCray, safeties Johnathan Cyprien and Josh Evans -- failed to pick off a pass through the first 15 games. A shutout from that foursome was averted when Gratz returned a pass by Case Keenum 55 yards for a score at Houston.
Through the first four weeks, opposing teams were averaging more than 320 yards passing a game against the Jaguars with a passer rating of 115.0. To put the latter figure in perspective, that was higher than the final 113.2 figure turned in by the league's highest-rated quarterback, Tony Romo of the Dallas Cowboys.
Over the last 12 games, however, no team threw for 300 or more yards against the Jaguars, and Romo was the only quarterback to pass for as many as three scores in a game. Except for a 73-yard touchdown from Andrew Luck to T.Y. Hilton at Indianapolis, the Jaguars were seldom burned on long plays after the bye week in November. Those are positives on which to build.
Still, intercepting more than six passes has to become a priority on defense for 2015, especially considering the Jaguars finished tied for sixth in sacks with 45.
STARTERS
Dwayne Gratz (CB) -- His touchdown against the Texans was the first by a Jaguars defensive back on an interception return since Rashean Mathis in 2008. Gratz also led the team in passes defended with nine. But after picking off two passes as a rookie, the 2013 third-round selection was largely quiet in his 13 starts. He suffered a concussion in Week 4 at San Diego that caused him to miss the loss to Pittsburgh the following week, and he caused the organization a fair amount of embarrassment when he was arrested for disorderly intoxication and trespassing in Miami Beach the Sunday of their bye week.
Demetrius McCray (CB) -- To say McCray had a breakout season would be inaccurate because of the absence of any interceptions. But he made the most progress of anyone in the secondary, making 12 starts compared with just one as a rookie. The last of the Jaguars' two seventh-round draft picks in 2013, his future might be more secure than that of Gratz.
Alan Ball (CB) -- The eight-year veteran started the first seven games and had an end-zone interception early in the second quarter of the season opener at Philadelphia as the Jaguars took a 17-0 halftime lead over the Eagles. But Ball was placed on injured reserve Oct. 29 with a biceps injury and may well have played his last game in Jacksonville, considering he is an unrestricted free agent.
Johnathan Cyprien (S) -- The native of North Miami Beach and product of Florida International led the Jaguars in solo (77) and total tackles (111) but never forced or recovered a fumble on a team that ranked second in the league with 14 recoveries. Cyprien's importance to the defense was evident after he suffered a concussion late in the first half of the season opener. Without him in the lineup over the next six quarters, the Jaguars gave up 75 points.
Josh Evans (S) -- For the second time in as many years since being a sixth-round pick out of Florida, Evans made the majority of the starts at free safety for the Jaguars. He recovered two fumbles but still does not have an interception though 31 career games, including 25 starts.
BACKUPS
Aaron Colvin (CB) -- One of the best things to happen during the final six games was that the fourth-round pick out of Oklahoma was added to the 53-man roster some 10 months after going down with an ACL injury while playing for the Jaguars' coaching staff at the Senior Bowl. In Colvin's second game, he returned a fumble 41 yards for a touchdown as the Jaguars rallied to defeat the New York Giants. Though used primarily as an extra defensive back, he should vie for a starting job next season.
Will Blackmon (CB) -- Until he was placed on injured reserve Nov. 4 with a finger injury, Blackmon had been an essential part of the Jaguars' nickel defense. For a team that seldom blitzes corners or safeties, the pass-rushing skills of the 30-year-old veteran make him stand out from the crowd.
Jeremy Harris (CB) -- After spending all of 2013 on injured reserve with a back injury, Harris got to play in six games. He was used as a cornerback for 10 snaps against the Miami Dolphins but saw most of his action on special teams.
Tommie Campbell (CB) -- Signed after Ball was lost for the season, Campbell had three special teams tackles in seven games.
Teddy Williams (CB) -- The Jaguars claimed Williams off waivers from Chicago on Nov. 11, and he played in two of their final four games. He's a restricted free agent.
Sherrod Martin (S) -- Out of football since suffering a major knee injury in December 2012 while with the Carolina Panthers, Martin started two games in November and had an interception at Cincinnati. He turned 30 in October and is an unrestricted free agent.
Craig Loston (S) -- He was activated from the practice squad Sept. 29 after the Jaguars waived Winston Guy, who was their starting free safety for the first three games.
POSSIBLE FREE-AGENT TARGETS
New England Patriots safety Devin McCourty could get the franchise tag next week from the defending Super Bowl champions. If he stays put, the Jaguars will likely settle for any number of available low-profile cornerbacks to make up for the likely departure of Ball.
BEST DRAFT OPTIONS
General manager Dave Caldwell drafted five defensive backs in 2013 and Colvin a year ago. The Jaguars might look to pick a free safety such as Durell Eskridge of Syracuse or Kurtis Drummond of Michigan State in the later rounds to provide some competition for Evans.
FINAL THOUGHT
In Gus Bradley's two seasons as head coach, the Jaguars have a total of nine interceptions from their secondary. For someone who helped groom Earl Thomas, Kam Chancellor and Richard Sherman during his years as defensive coordinator for the Seattle Seahawks, that number must be killing him.
You can follow Ken Hornack on Twitter @HornackFSFla or email him at khornack32176@gmail.com.
---