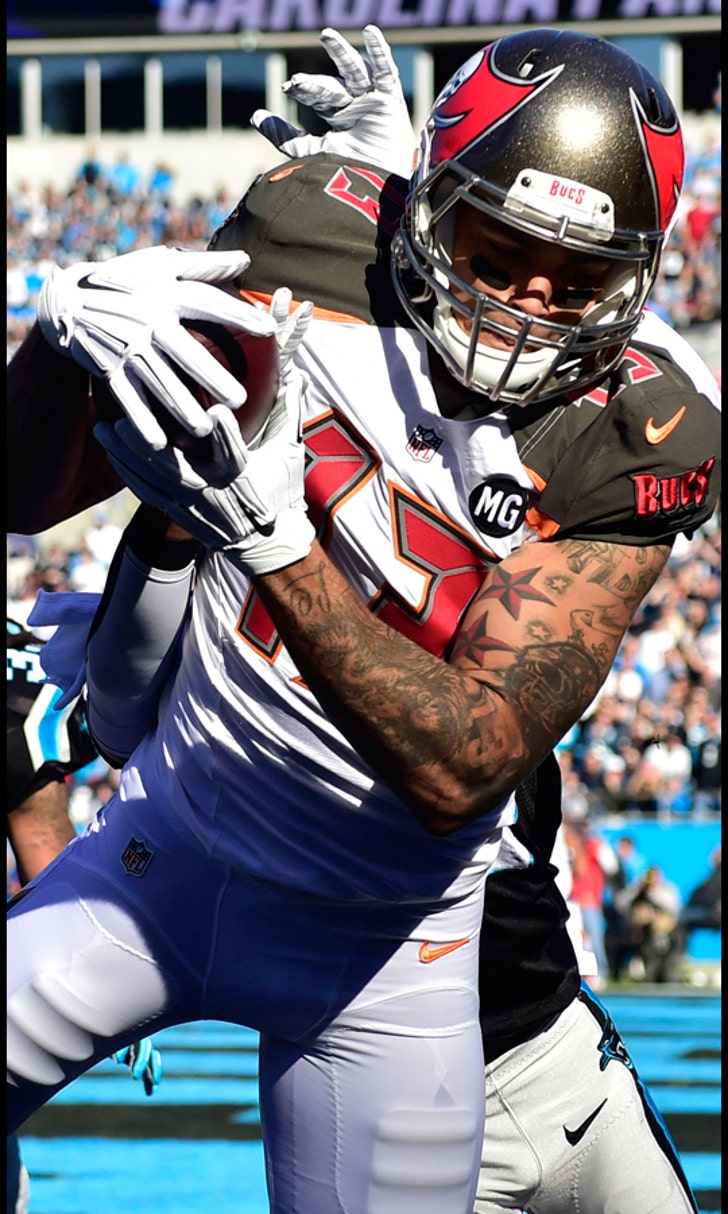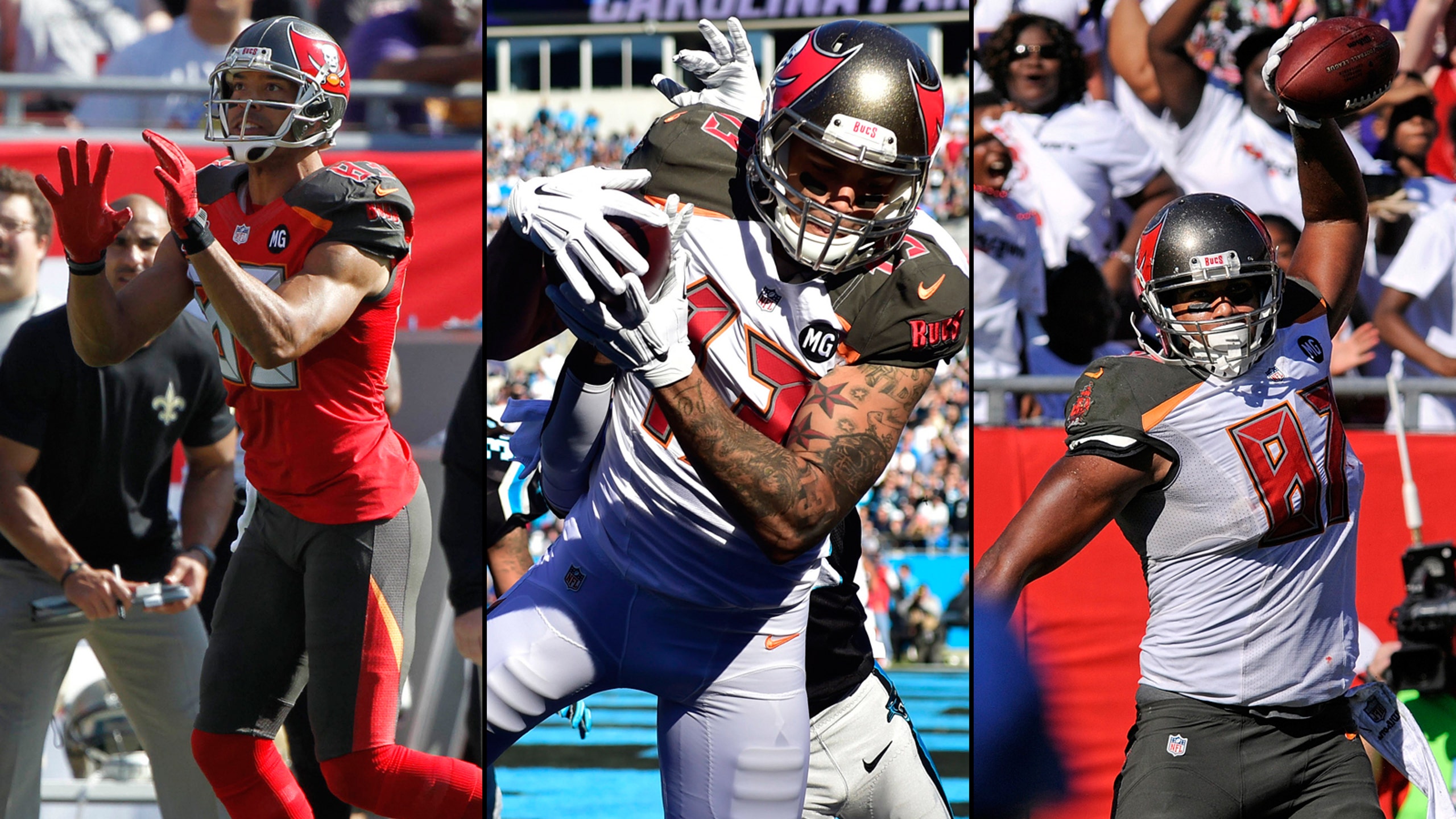 Position review: Bucs receivers are solid with star potential in Evans
BY foxsports • February 2, 2015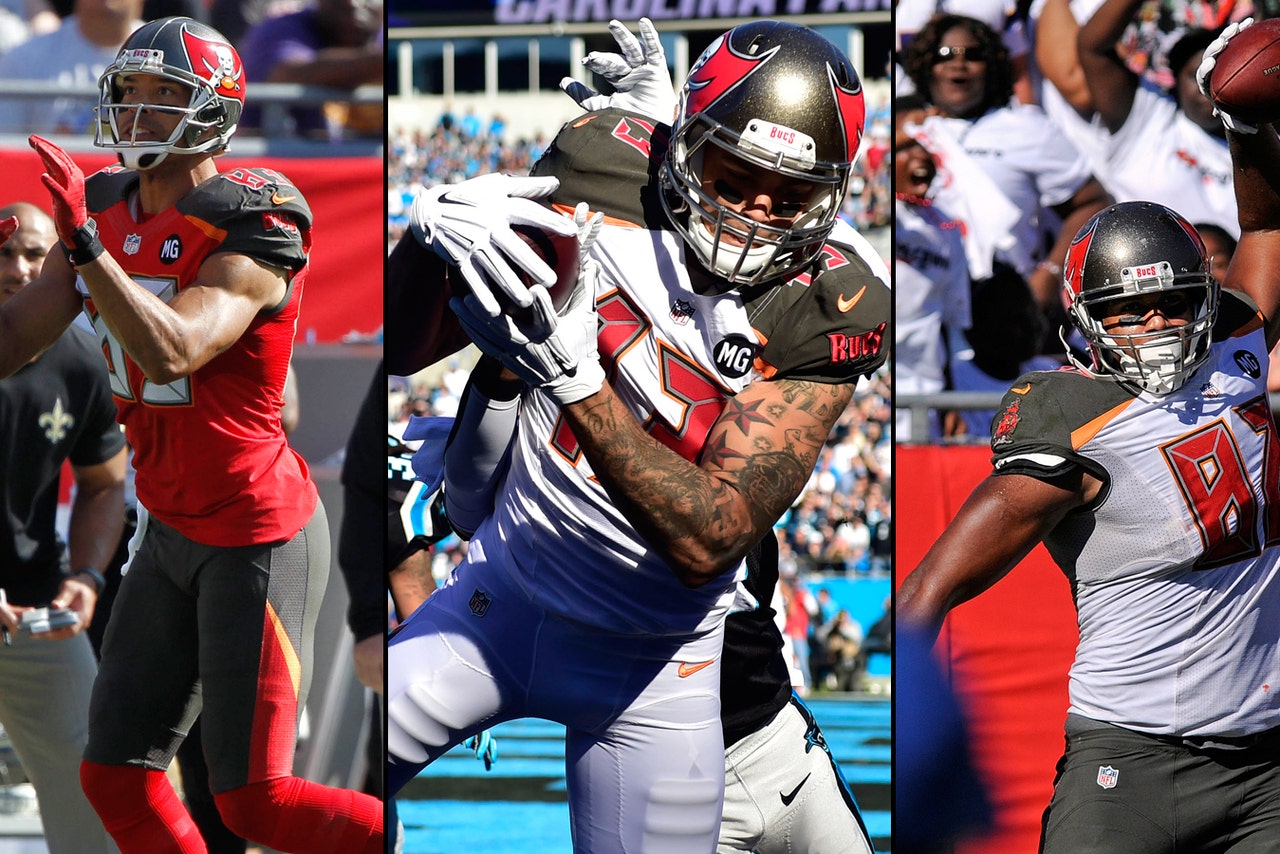 TAMPA, Fla. -- One burst onto the scene as a flash downfield. The other left many wondering, "What can he be?" as he stood on the sideline.
One delivered on his draft hype, proving that he was the right Texas A&M choice over his more celebrated college teammate, Johnny Manziel. The other showed glimpses of promise, but lingering curiosity became his legacy in 2014.
Wide receiver Mike Evans looks like a star in the making for the Tampa Bay Buccaneers. In a short time, he asserted himself as their true No. 1 pass-catching option after he was picked seventh overall last spring. Particularly early, he proved dangerous to defenses that failed to give him proper respect in coverage.
Austin Seferian-Jenkins, meanwhile, looks the part of a dynamic tight end at 6-foot-5, 262 pounds, but a back injury limited him to nine games. He left more question marks than exclamation points, a development he must fix next season.  
"There was a period of time where everyone knew they had to stop him and they knew we were going to throw the ball to him," Bucs coach Lovie Smith said of Evans. "There was a period of time where the only success we had was throwing the football, defenses knew that, and he continued to make plays throughout. You set the bar your first year. He set a pretty high bar, but that's where his bar should be set. It's going to be a lot of fun watching him grow."
"It's tough when you don't finish the year," Smith said of Seferian-Jenkins. "But what I think he got from it -- all the way back from training camp coming in making us take notice right away -- he has done enough around here for the people who've seen him to know that he has a bright future ahead of him."
Does a pleasing future await the Bucs' tight end and wide receiver corps, no matter who plays quarterback next season?
That depends on the choices made in the offseason to build depth. Evans revealed his potential, and Seferian-Jenkins still has promise despite an underwhelming rookie year. Still, complementary pieces must be added to make the Bucs more dynamic in the passing game.
Here's a closer look at how Tampa Bay's tight ends and wide receivers looked in 2014:
STARTERS
Vincent Jackson (WR): Unlike in 2013, he wasn't a one-man show. The emergence of Evans added depth to the Bucs' offense. Still, Jackson finished with more than 1,000 yards receiving for the fourth consecutive season, closing with 1,002 to stand as Tampa Bay's second-best receiving option behind Evans. But despite earning more than 1,000 receiving yards again, Jackson only had two touchdowns -- his fewest since totaling zero as a rookie with the San Diego Chargers in 2005. Jackson still makes defenses think, but it's clear that Evans is the Bucs' future No. 1 wide receiver.
Mike Evans (WR): He became a rare success story for the Bucs last season, earning a team-high 1,051 yards receiving and 12 touchdowns to evolve into Tampa Bay's most prolific pass-catching option. His highlight came during a three-game stretch in which he earned at least 100 yards receiving in consecutive weeks from Nov. 2-16. He was a deserving finalist for the NFL's Offensive Rookie of the Year award, an honor that went to New York Giants wide receiver Odell Beckham Jr. Still, it's concerning that Evans was held to 54 yards or fewer in each of the Bucs' final six games. He must adjust to how defenses approach him next season.
Louis Murphy (WR): He grew into the Bucs' third-best wide receiver and finished with 31 catches for 380 yards and two touchdowns. He caught more passes in a single season only twice in his career, when he had 41 catches with the Oakland Raiders in 2010 and 34 with the Raiders in 2009. Last year, his highlight came when he had a season-high 113 yards receiving on six catches in a loss to the Chicago Bears on Nov. 23. He signed a three-year extension in December, so the Bucs view him as a key part of their future.
Brandon Myers (TE): Likely, the Bucs would have liked to see Seferian-Jenkins grow into the No. 1 tight end, but injury problems prevented that vision from happening. Myers had 22 catches for 190 yards, but Tampa Bay needs more from its tight ends next season. Look for Seferian-Jenkins to play a larger role in 2015, if his health allows. Still, Myers will remain with the Bucs. He restructured his contract in December to stay with Tampa Bay through 2016.
BACKUPS
Robert Herron (WR): A sixth-round pick last year, the Wyoming product finished with six catches for 58 yards and one touchdown. He never had more than two catches in a single game, his best effort coming in a two-catch, 31-yard performance in a loss to the Baltimore Ravens on Oct. 12.
Russell Shepard (WR): He had four catches for 63 yards, his best game coming when he had two catches for 30 yards in a loss to the Pittsburgh Steelers on Sept. 28.
Austin Seferian-Jenkins (TE): A second-round pick last year, the Washington product figured to be a central figure of the Bucs' plans for the passing game. However, a back injury kept him limited to 21 catches for 221 yards and two touchdowns in nine games. There's plenty to like about his size. At 6-foot-5 and 262 pounds, he's an intriguing target but he needs to develop to stay on the field for most of the season. He has a chance to make a larger impression next fall in the Bucs' re-tooled offense if he can stay healthy.
Luke Stocker (TE): He had seven catches for 41 yards, a large decline from when he had 16 catches for 165 yards and one touchdown in 2012. Last season marked the first time in Stocker's three campaigns with the Bucs that he closed with fewer than 12 catches in a season. Myers is a free-agent pick of Lovie Smith and Jason Licht, and the current regime has high hopes for Seferian-Jenkins, so it's possible that Stocker will be viewed as expendable as the Bucs move forward.
POSSIBLE FREE-AGENT TARGETS
If the Bucs are pleased with Jackson and Evans as their top two options and Murphy as their third, the Bucs should look to add another face in their wide receiver corps to build depth. Chargers wide receiver Eddie Royal is a possibility, as is someone like the San Francisco 49ers' Michael Crabtree or the Jacksonville Jaguars' Cecil Shorts. At tight end, the Bucs appear set with Myers and Seferian-Jenkins as top options for at least the next two seasons. Look for pursuits of complementary names throughout the offseason.
BEST DRAFT OPTIONS
It's hard to see the Bucs spending early picks on a tight end or a wide receiver after they did just that in the first two rounds last year. It wouldn't hurt to add more depth, though, and perhaps names like East Carolina's Justin Hardy, Stanford's Ty Montgomery, Kansas State's Tyler Lockett and Florida State's Nick O'Leary would intrigue in the middle rounds. However, the Bucs should concentrate on developing Evans and Seferian-Jenkins. They represent the future.
FINAL THOUGHT
The future rests with Evans and Seferian-Jenkins. Evans lived to expectations as the draft's seventh overall pick. Seferian-Jenkins, meanwhile, has more to prove after injury problems limited him last season. Jackson is scheduled to make $9.78 million next season, so perhaps the Bucs will entertain thoughts on how much value they could gain for the 32-year-old in a potential trade. In whatever way the Bucs approach the future, both their tight end and wide receiver corps can use more depth.
You can follow Andrew Astleford on Twitter @aastleford or email him at aastleford@gmail.com.
---