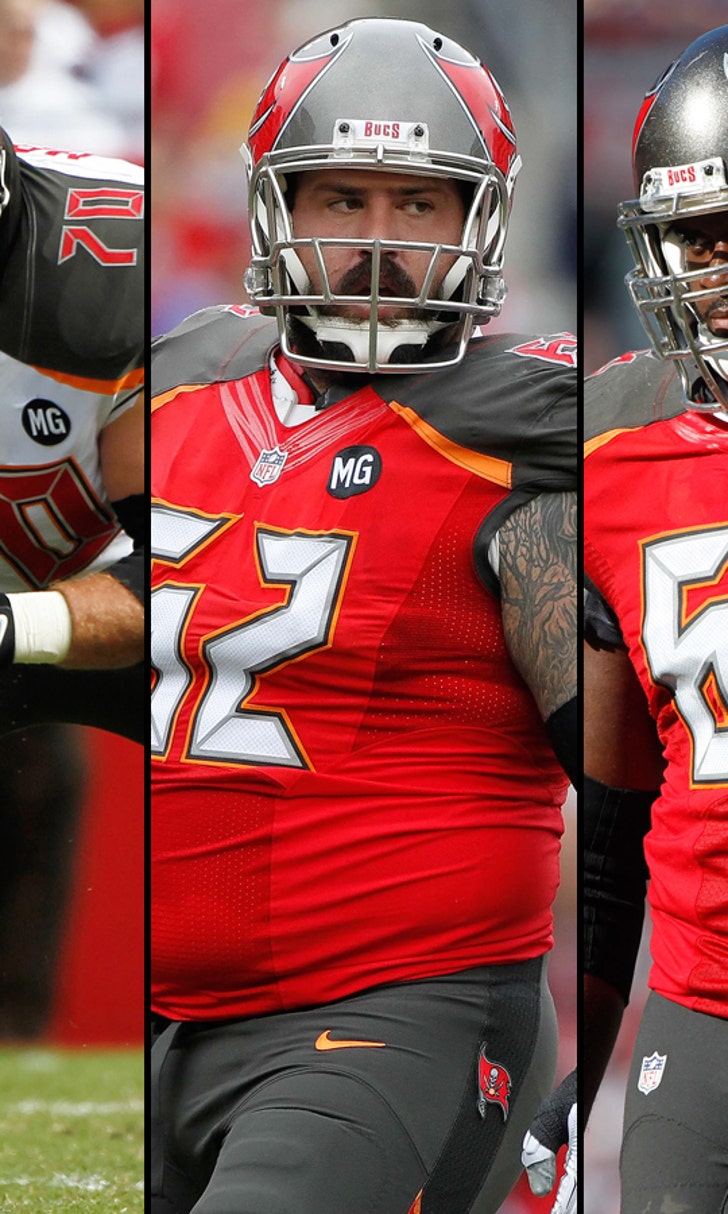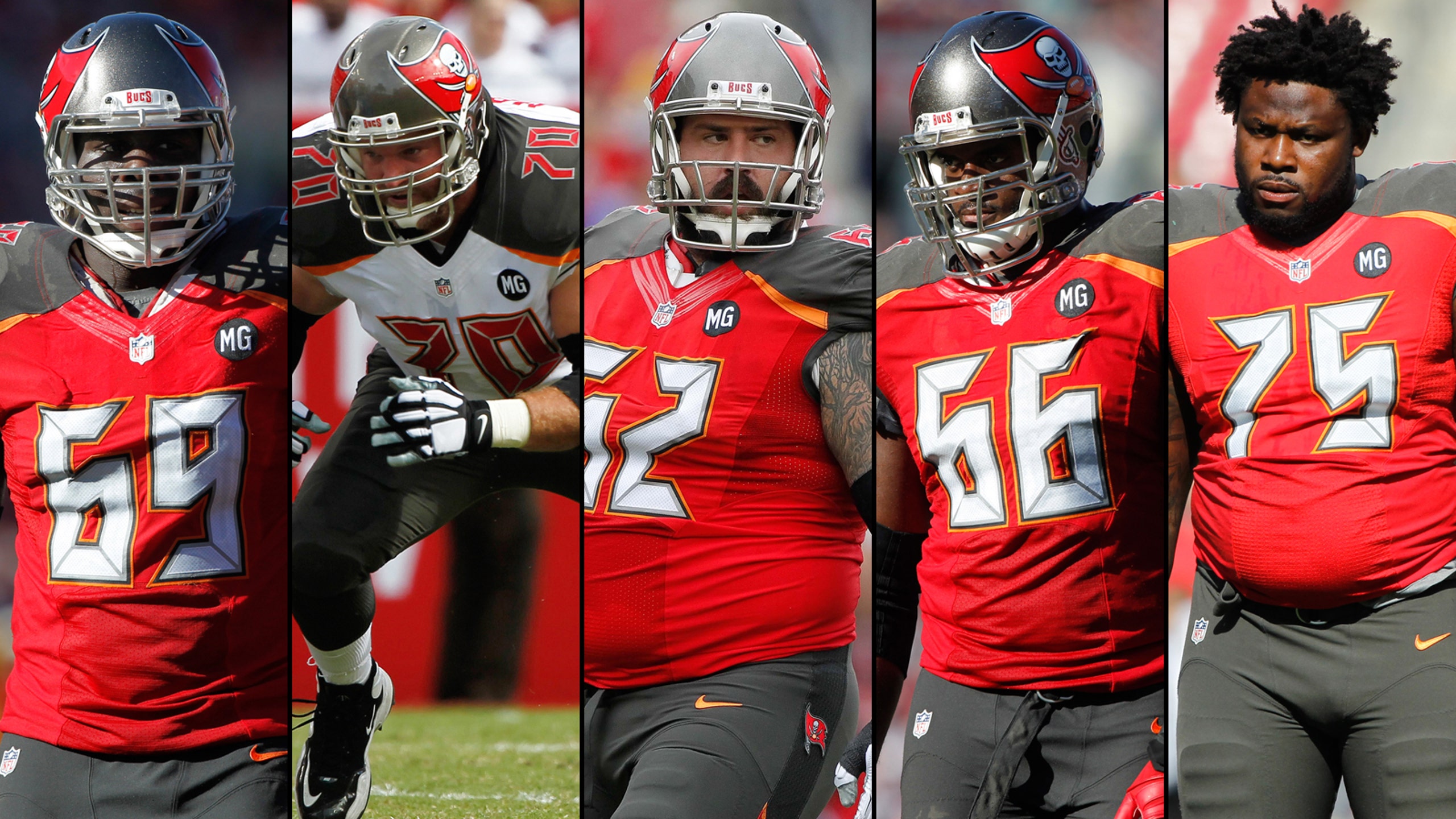 Position review: Bucs need to take another stab at reconstructing O-line
BY foxsports • February 5, 2015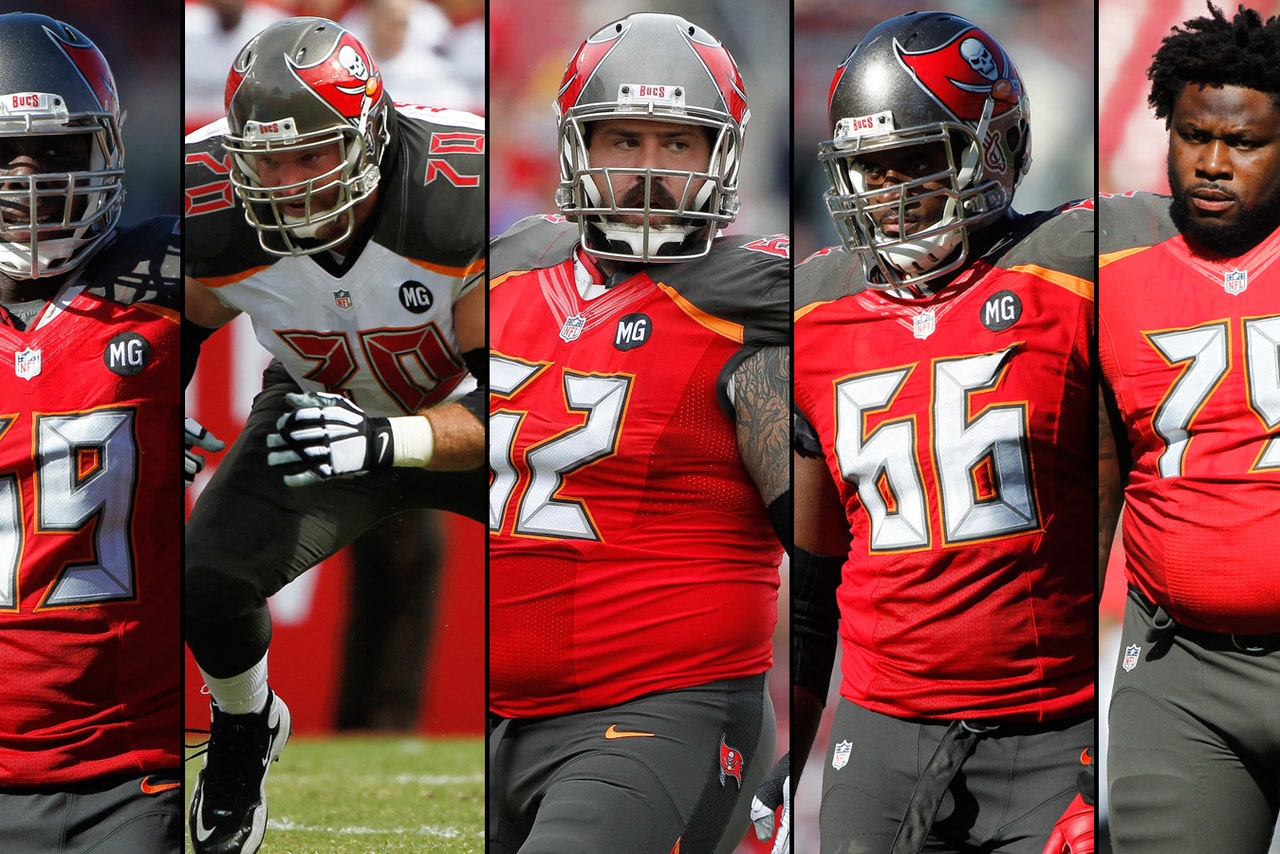 TAMPA, Fla. -- They were lambasted, laughed at and many times they forced fans to look away. They were the clear weakness in a season of misery.
Instead of a wall to protect Josh McCown or Mike Glennon, the Tampa Bay Buccaneers' offensive line became a crumbling mess that let a flood of defensive linemen through.
Where to start with the Bucs' O-line? It allowed 52 sacks, meaning only the Washington Redskins (58) and Jacksonville Jaguars (71) saw their quarterbacks planted on the turf more often. The Bucs produced 85.9 yards rushing per game to rank a miserable 29th in the NFL in the category.
Looking for a silver lining? Sorry, there are few to be found in this area of darkness.
The offensive line's failure was made worse with the knowledge that coach Lovie Smith and general manager Jason Licht remade the group in the offseason. They parted ways with Donald Penn, Davin Joseph and Jeremy Zuttah. They introduced Logan Mankins, Anthony Collins and Evan Dietrich-Smith as headline additions. None of the new faces played to the level necessary to become a consistent winner.
So what's next?
Likely, there will be more reconstruction. Likely, there will be more skepticism that the Bucs can get this part of their offense right. Likely, there will be more pressure to make sure whoever starts at quarterback next season doesn't face as much heat.
"What we tried to do this year was to add as many pieces as possible, we thought we needed some help on the offensive line, and we're going to go through the same process, and it's just not through free agency," Smith said. "I know everyone talks about the first pick in the draft, which is pretty important, but I don't know if there is any offensive lineman worthy of that pick right off the top of my head, but we also get in the second round and third at the top of the round quite a few times. We're going to get some good football players from the draft, I feel very confident of that, but also through free agency."
This much is known: The Bucs need better players on the offensive line than what they showcased in 2014. A repeat performance won't be excused. More misery can't be tolerated.
Here's a closer look at how Tampa Bay's offensive line looked last season:
STARTERS
Demar Dotson (OT) -- He played a majority of the season at right tackle, but he received work at left tackle late in the season. It's clear the coaching staff views Dotson as a possible answer at the position, and he could grow into an effective option at that important role. His year wasn't perfect, but he started all 16 games for the second consecutive campaign as the Bucs' best offensive lineman.
Logan Mankins (G) -- He arrived in Tampa with great fanfare following a trade in August that sent tight end Tim Wright and a fourth-round pick in 2015 to the New England Patriots. But the six-time Pro Bowl player didn't meet his former standard, and he never seemed completely comfortable playing left guard in pewter and red. Still, Smith praised him for his professionalism and leadership qualities in the locker room. The Bucs need more from Mankins in 2015.
Evan Dietrich-Smith (C) -- He was a major disappointment in 2014. From bungled snaps to subpar blocking, the veteran failed to live up to expectations. He seems like a solid locker-room presence, and he became a public voice for the offensive line. But his play was shockingly suspect.
Patrick Omameh (G) -- Acquired from the San Francisco 49ers' practice squad in October 2013, he lived his first significant playing time last season. He started all 16 games after becoming one of the most stable options at right guard in the preseason. Still, he's green as an NFL talent, and it's likely the Bucs will try to upgrade at the position in the offseason.
Anthony Collins (OT) -- He was the biggest bust of a woeful free-agent class. The left tackle signed a five-year, $30 million contract with the Bucs, after they considered him a find following his strong 2013 season with the Cincinnati Bengals. But Collins was terrible, and he was benched following a "coach's decision" after appearing in just 10 games. It would be no shock to see him cut in the offseason.
Oniel Cousins (G, OT) -- He saw plenty of action last season, appearing in all 16 games and making a career-high seven starts after arriving in March as a free-agent signee. All that work wasn't necessarily a good thing. Cousins received reps at guard in the preseason, but he was used at right tackle late in the year. He was a punching bag for a frustrated fan base for much of the campaign. He seems dispensable after signing a one-year deal before last season.
BACKUPS
Garrett Gilkey (G, C) -- Normally a guard, he was also used at center in the Bucs' O-line shuffle. The results at both positions weren't pretty, even worthy of a blooper reel at times. Gilkey appeared in a career-high 16 games, a large increase from the six in which he played for the Cleveland Browns in 2013.
Kevin Pamphile (OT) -- A fifth-round pick last spring, he played in just seven games with two starts, but ankle and knee injuries kept him limited most of the season. The Bucs should seek to build offensive line depth through the draft, but Pamphile offered little as a rookie.
POSSIBLE FREE-AGENT TARGETS
Likely, free agency is the quickest way to revamp the line (again) after the failure of 2014. It's unlikely that Smith and Licht can wait for a young, promising lineman to develop. The pair needs immediate results. Of course, drafting a left tackle in the high rounds would be wise. But targeting veteran players like the Denver Broncos' Orlando Franklin and the Cincinnati Bengals' Clint Boling for instant impact would be beneficial.
BEST DRAFT OPTIONS
It depends who's available, but assuming the Bucs take a quarterback with the No. 1 pick, why not use a second-round selection to secure a tackle? Iowa's Brandon Scherff, Stanford's Andrus Peat, LSU's La'el Collins, Pittsburgh's T.J. Clemmings and Miami (Fla.)'s Ereck Flowers all figure to go early. Florida State's Cameron Erving and Colorado State's Ty Sambrailo should be prime options as well.
FINAL THOUGHT
Was any personnel group on the Bucs toasted more than the offensive line last season? Its collective failure was a revealing look into the inability of Tampa Bay's new regime to judge talent in the area. Will the trend continue? It better not or more folly will come, no matter who lines up at quarterback in 2015. Dotson, Mankins and Dietrich-Smith likely will return, but everyone else could be sent packing without batting an eye.
You can follow Andrew Astleford on Twitter @aastleford or email him at aastleford@gmail.com.
---