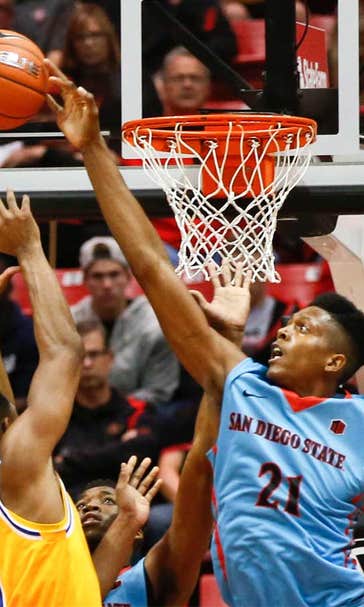 Polee leads cold No. 16 Aztecs to 51-27 win
BY foxsports • November 21, 2014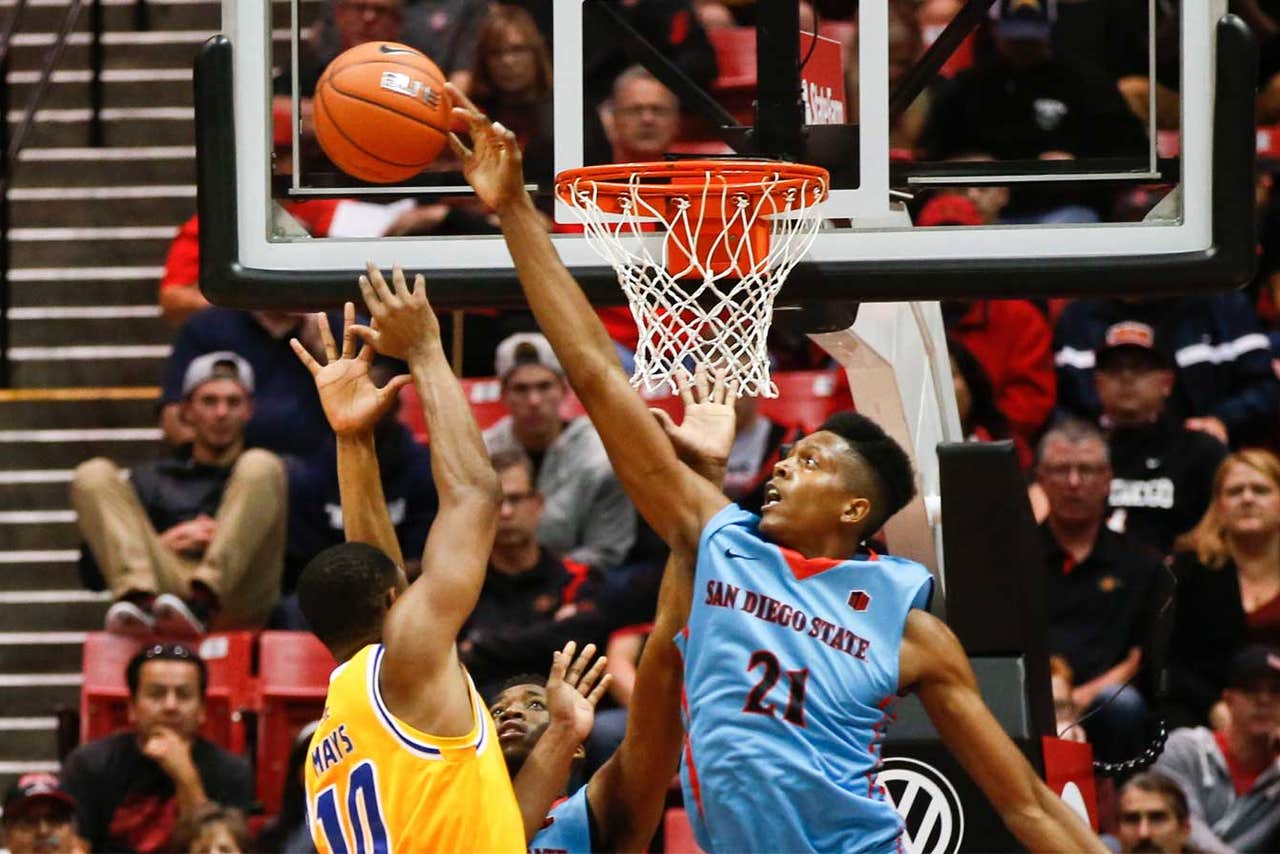 SAN DIEGO (AP) -- The only thing Steve Fisher could do after this one was state the obvious.
"We were good defensively and we were bad offensively," Fisher said after the No. 16 Aztecs survived another awful shooting performance to win 51-27 Thursday night against Cal State Bakersfield, which missed its first 20 shots.
Dwayne Polee II was the game's only player in double figures with 13 points.
The saving grace, of course, was that it was against the winless Roadrunners (0-4) whose 27 points were the lowest in Division I this season. They were also the fewest SDSU has allowed in its 45 seasons of Division I ball.
San Diego State (3-0) made just 14 of 57 shots, or 24.6 percent.
"I think the shots we had tonight were good shots, shots that you would hope we would take, shots that we're going to have to make, obviously," Fisher said.
The victory came one day after Fisher signed a three-year contract extension through the 2017-18 season. Fisher joked then that he might appoint himself as shooting coach after the Aztecs made only 32.7 of their field goals in a 53-49 victory against No. 25 Utah on Tuesday.
"I fired myself as shooting coach after the game. I resigned as shooting coach," Fisher cracked.
"You can't doubt that you can shoot the ball," he said. "The more you talk about it, the more people are going to say, `Can they make a shot? Can they make a shot?' We can make a shot. And we will."
Said Polee: "We're a confident on team on offense. If we have an open good shot we're going to take it. We're not going to shy away from any shot. They just didn't fall."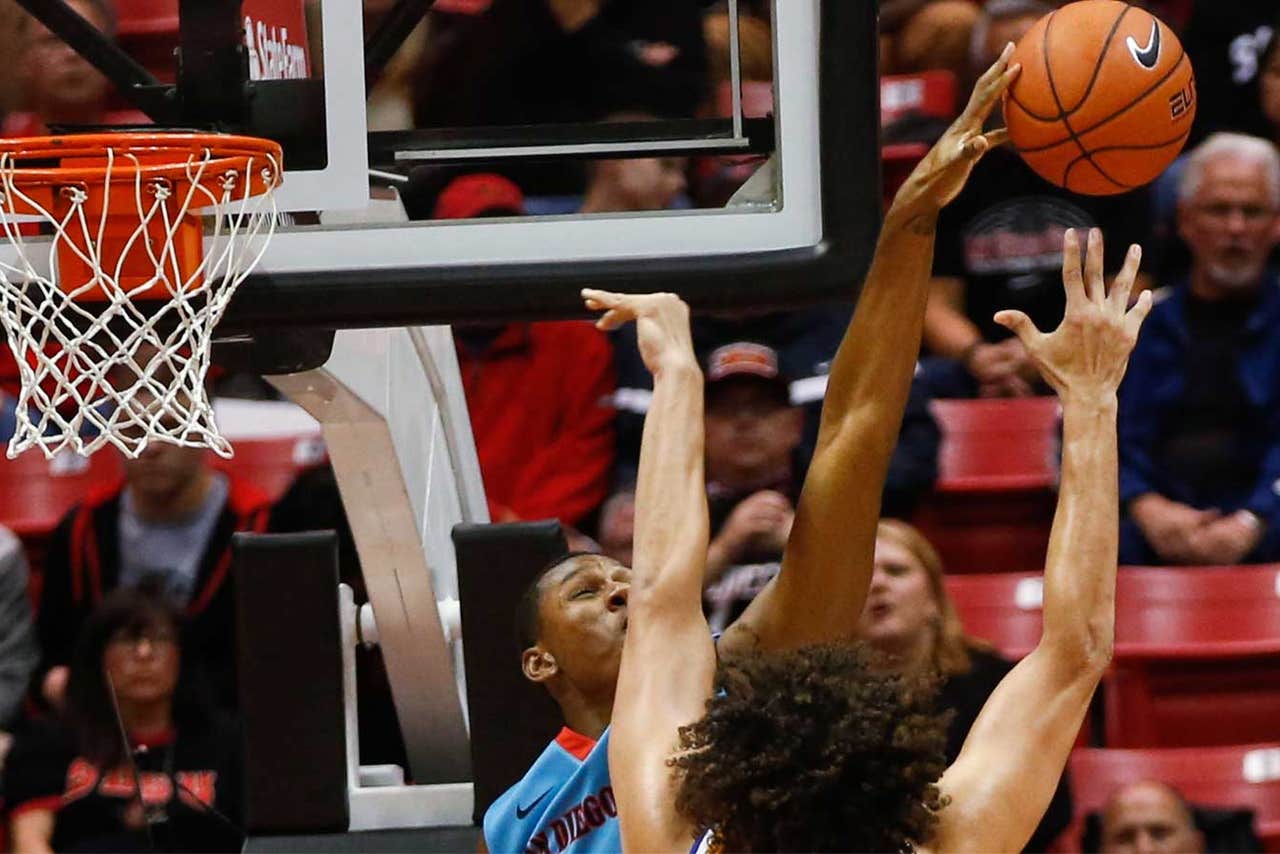 San Diego State forward Skylar Spencer rejects a shot by Cal State Bakersfield center Aly Ahmed during the first half of an NCAA college basketball game Thursday, Nov. 20, 2014, in San Diego.
Fisher will certainly have the Aztecs working on their shooting before they face BYU in the Maui Invitational on Monday.
The Roadrunners of the Western Athletic Conference had an equally rough night, shooting just 21.4 percent (12-of-56). CS Bakersfield didn't score until Brent Wrapp made a layup with 7:43 left in the first half to make it 12-2. Wrapp made two more layups in the half, which ended with SDSU leading 22-12.
"That was some of us but most of them," Roadrunners coach Rod Barnes said about their poor shooting. "That is a good defensive team. They take pride in it. We gave up a lot of shots to try and guard them inside and they struggled shooting, also."
CSUB's Javonte Maynor was 0 for 9 from the field, seven of those from 3-point range.
"I don't know what was going on. Neither team could shoot. Is it always like this here?" he asked.
The Roadrunners closed to 22-16 on layups by Aly Ahmed and Jaylin Airington before SDSU went on a 6-0 run that included a 3-pointer by Aqeel Quinn, and began to pull away.
Wrapp, Ahmed and Kevin Mays led Bakersfield with six points apiece.
The teams were awful from behind the 3-point line as well, combining to miss 40 of 44 -- Bakersfield was 1 of 20 (5 percent) and SDSU 3 of 24 (12.5 percent).
SDSU's Skylar Spencer blocked four shots.
"Our defense is ready," Quinn said. "Our offense has to pick it up."
TIP-INS
CS Bakersfield: The Roadrunners started a lineup that went 6-foot-9, 6-4, 6-3, 6-0, 6-0. Aly Ahmed, who's 6-9, committed two fouls in the first few minutes and took a seat.
San Diego State: The Aztecs wore turquoise uniforms in honor of Native American Heritage Month.
FRESHMAN UPDATE
Malik Pope made his SDSU debut. Due to leg injuries, he hadn't played since he was a junior in high school. He blocked two shots.
"We kid-gloved him with the treatment we gave him early on," Fisher said. "This was a good game to give him some game conditions."
STRATEGY
"We scouted them and they couldn't shoot very well, so we played zone," CSUB's Maynor said. "Then they hit a couple and we didn't hit any. But they are a really good defensive team."
Said Fisher: "We shot 24 3s tonight and I think at least 22 of them were where we would want them, probably who we would want shooting them. And if I were teams right now, I would say, `Let's zone them and let's make them make some shots.' I'm hoping we'll get zoned and I'm confident we'll make some shots in Maui."
UP NEXT
CS Bakersfield hosts Delaware on Sunday.
San Diego State plays BYU on Monday in the Maui Invitational.
---