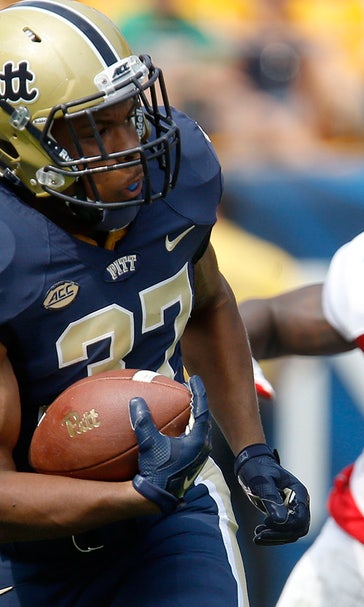 Pitt looking to committee of running backs to fill James Conner's shoes
BY Zach Dillard • September 9, 2015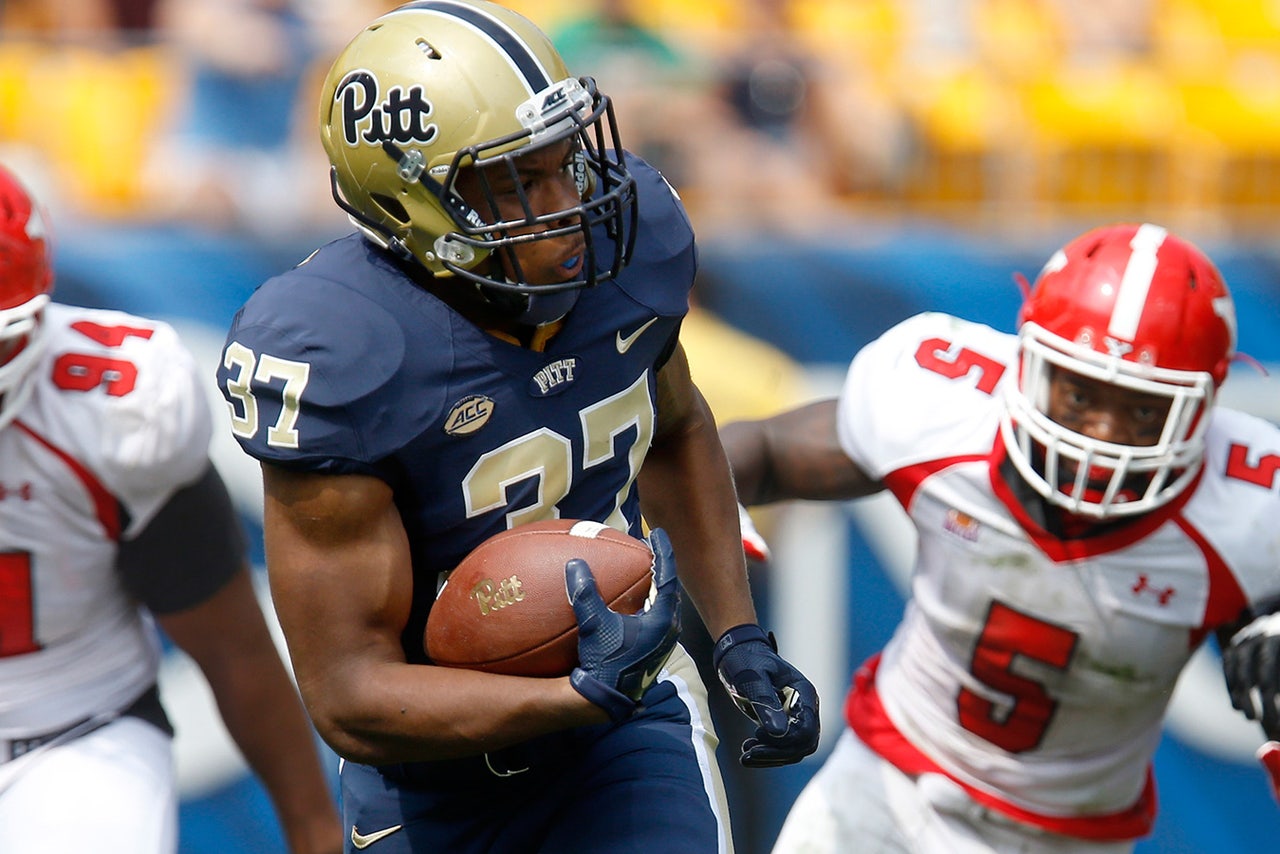 Running back misfortune seemingly comes with the territory at Pittsburgh. Pat Narduzzi's share arrived in his first game on the Heinz Field sidelines.
James Conner, the reigning ACC Player of the Year, suffered an MCL tear in the season opener against Youngstown State, an injury that requires season-ending surgery. It's an unfortunate turn of events for a first-year head coach. The bruising 250-pound back put up Heisman-type numbers behind an excellent offensive line in 2014, rushing for 1,765 yards and 26 touchdowns for a team undone by its defense. Now that Pitt's defensive-minded hire is in place, the focus now returns to the backfield.
"When you've got James Conner in the backfield," Narduzzi said, "no one finds out if you have that next guy."
Welcome to Pittsburgh.
Three of Narduzzi's coaching predecessors encountered backfield question marks, self-inflicted or otherwise, during their tenures. It seems that the only thing more common at Pittsburgh than excellent running backs is the conversation on how to replace them.
Paul Chryst, whose position Narduzzi filled when the former returned to his Wisconsin roots, inherited a favorable situation in 2012 with senior Ray Graham returning and blue-chip recruit Rushel Shell waiting in the wings. Instead of Shell carrying the torch as a true sophomore, though, the program was immersed in a transfer saga (Shell eventually landed at West Virginia) that left Chryst's staff relying on inexperienced backs in Year 2. Todd Graham was in Pittsburgh for one season and still couldn't escape the trend: Ray Graham's breakout junior season was undercut by his own season-ending knee injury after just seven full games.
Longtime coach Dave Wannstedt redshirted two of the best running backs in program history -- LeSean McCoy and Dion Lewis -- and received just two seasons from each player before they bolted to the NFL. (Neither was an end-of-the-world decision by any means, but for those who think redshirting superstar running backs doesn't matter, ask Mark Richt how he still feels about holding Knowshon Moreno out of action for his true freshman season.)
The Panthers have continuously found replacements, though.
If McCoy sticks around for his junior year, Lewis doesn't become the first Big East player since Michael Vick to simultaneously capture Offensive Player of the Year and Rookie of the Year honors. With Lewis on campus, Graham never becomes the No. 1 option. If Shell stuck with Pittsburgh, does Conner still emerge as one of college football's top workhorses?
Injuries, transfers and draft departures open doors, which leads to Qadree Ollison, Chris James and Darrin Hall.
"We really feel good with our depth (at running back). It's just another guy's opportunity," Narduzzi said. "There's nothing better, and I know James Conner will echo this, there's nothing better than when a guy goes down, someone steps up and ends up getting a chance to be an All-ACC Rookie of the Week (Ollision). ... It gives those guys a chance to be the showcase."
Ollison was the first to throw his hat into the ring.
With James sidelined by injury, Ollison, a redshirt freshman who entered the season as the third back on the depth chart, became the first Pitt freshman to rush for at least 200 yards in a season opener. And he did it in mop-up duty, after Conner had already rattled off 77 yards and two scores against Youngstown State. It was a debut that, at the very least, reenforced the coaching staff's confidence in a retooling offensive line and provides an early blueprint for the post-Conner workload. 
James and Hall promise to factor into the equation soon enough. Both are former four-star recruits -- the 6-foot-2 Ollison was a three-star prep player -- that Narduzzi is high on. James, a sophomore who rushed for 437 yards last season, will return to action against Akron this Saturday while Hall, a true freshman, has the staff's attention as its first highly touted skill-position signee.
Either way, Narduzzi says the offensive scheme will not be altered by Conner's absence. All-America candidate Tyler Boyd is back at receiver following his one-game suspension for a DUI charge, which adds a downfield dimension to the passing attack, but the Panthers will remain a run-first team.
"They know the offense. You can't have one offense for one tailback and one for another. They all run the same offense. They all executed. We practiced some 20 days of doubles, and they know the offense, so you really don't change it," Narduzzi said. "We've just seen that we've got stable of backs. Again, are they going to be as good as James (Conner)?
"Is Qadree going to be as good as James every week? Some could argue that he was just as good as James on Saturday when he rushed for 200 yards. But can he do that week in and week out? We'll find out."
In 2002, with Narduzzi entering his third season as the linebackers coach at North Illinois, a similar issue emerged. Two-time 1,000-yard rusher Thomas Hammock -- one of the top backs in school history who now serves as the Baltimore Ravens running backs coach -- was diagnosed with a heart condition during his senior season. Hammock played the season opener against Wake Forest, flirting with a 200-yard night, and then never played football again.
The Huskies needed a replacement.
"The guy that stepped up after him, nobody really knew who he was. It was Michael Turner," Narduzzi said, referencing the nine-year NFL veteran who played for the San Diego Chargers and Atlanta Falcons. Turner rushed for 3,563 yards and 33 touchdowns during his junior and senior seasons at Northern Illinois. " ... Those things happen, and nobody knew who Michael Turner was. Now all of a sudden, gosh, he's got to be an eight- to ten-year NFL vet. So it just gives other guys opportunities."
For Qadree Ollison, Chris James and even Darrin Hall, the door is open. And there are big shoes to fill on the other side of the threshold.
---
---