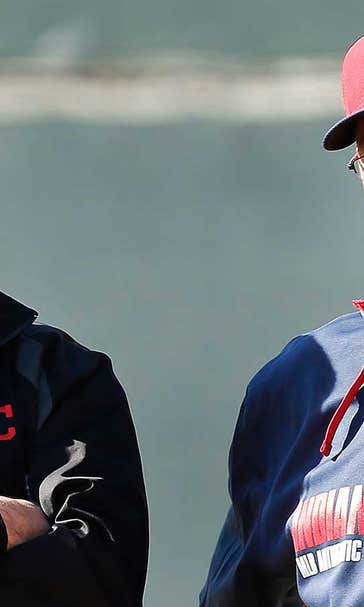 Pitching likely to be next area of focus for Indians
December 9, 2014

SAN DIEGO -- On the ninth floor of the Harbor Tower at the Manchester Grand Hyatt on Tuesday, the Indians continued to field and make calls as they try to tweak the roster. Whether any of the things in the works come to fruition remains to be seen.
General manager Chris Antonetti said most of the focus remains on trades since it is a much wider net in some respects.
"We lost some flexibility by trading Joey (Wendle) but I still feel we are well equipped if we want to make trades if there is a right one that lines up. Whether it is major league players for major league players or acquiring other major league players for minor league guys," general manager Chris Antonetti said. "Adding Brandon (Moss) to our team gives us more option and protection so we potentially can be more creative with other things."
Compared to the past couple seasons, when there has been a long list of things major things the Indians needed to fill, the main ones this offseason have been finding a power hitter, an upgrade at third base and some depth for the rotation. The power hitter was accomplished with Moss, who also gives Terry Francona some versatility at first, the corner outfield spots and designated hitter.
The focus now though could turn toward pitching and providing depth to the rotation. Yes, the rotation over the last two months had the second-best ERA (2.68) but only one member -- Corey Kluber -- has pitched a full season in a major-league rotation. That is a big reason why the Indians would like to add a veteran that would be in the middle or bottom. The top two spots are set with Kluber and Trevor Bauer.
Carlos Carrasco was great once he returned to the rotation, but can he do it over an entire year? Danny Salazar was solid after the All-Star break but the same questions apply, and T.J. House was steady as the fifth starter. There's also Zach McAllister, Josh Tomlin and Shaun Marcum, who is on a minor-league deal. Marcum has not pitched since he was with the Mets in 2013 after having thoracic outlet surgery.
The Indians also want to take a look at Charles Brewer, who they acquired from Arizona, and Tyler Cloyd, who spent last season in Triple-A Columbus.
"We have seven guys that are very competent major-league starting pitchers but you'll never hear me say we have enough pitching," Antonetti said. "Most teams go through eight or nine in the course of a season and some go 15 or 16. We have established guys but we are building upon our depth."
The other double-edged sword is that the core players are either locked up or under team control for the foreseeable future. In one aspect that puts Antonetti at ease because there aren't a bunch of expiring contracts but in other ways can be maddening.
"GMs are neurotic by nature and constantly worried about where we can improve and get better. When those areas are not as evident you try to figure out where those places are," Antonetti said. "We're not complacent with where we are and now we're figuring out how to make ourselves better."
**If media displays don't appear immediately, please click refresh**
Follow on Twitter joereedy
---